LiveChat Reviews – Features, Pricing, Benefits Explained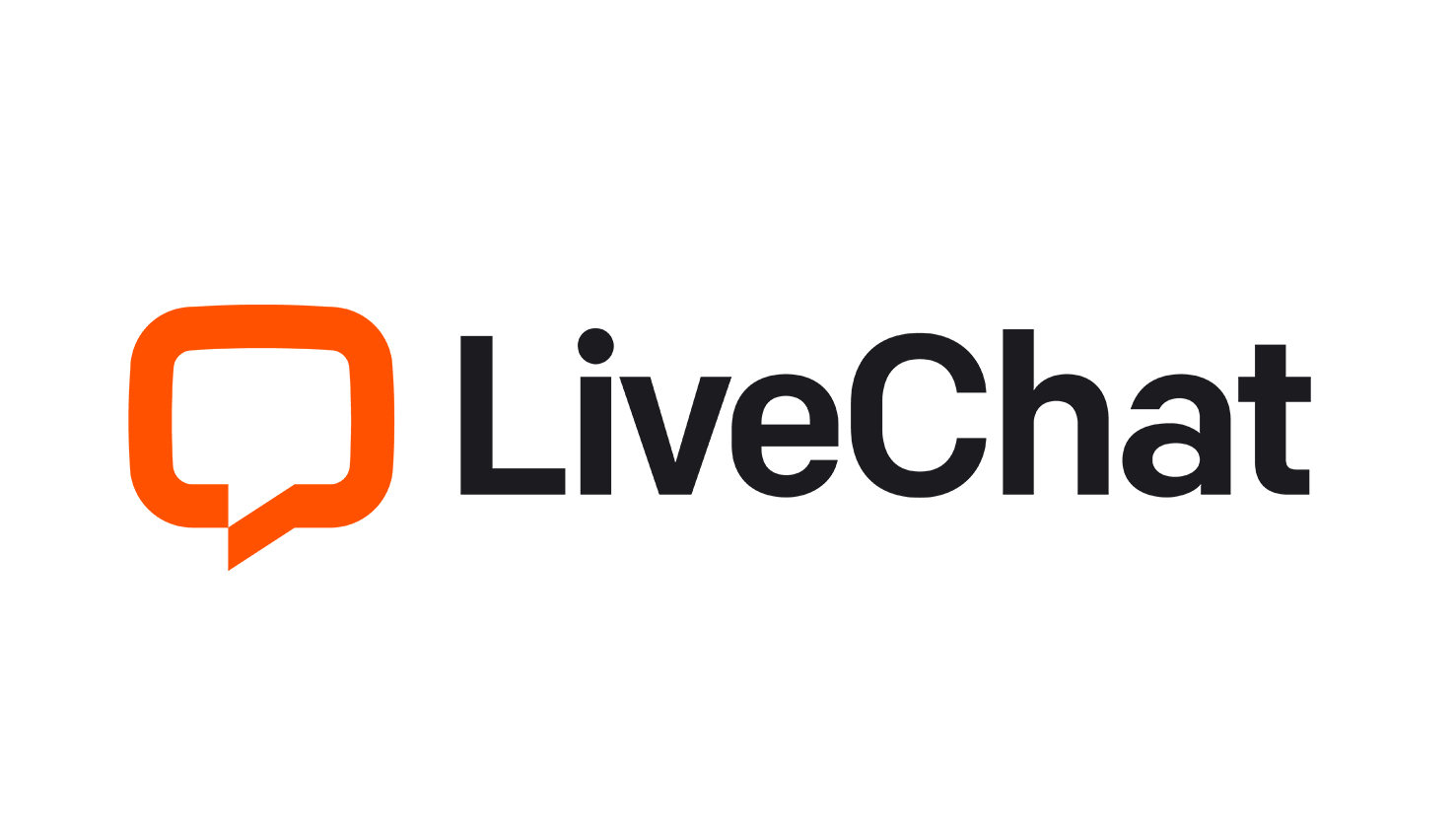 LiveChat is an integrated chat and help desk platform that allows companies of all sizes to chat with their visitors and customers. The solution embeds into the business website from where the online visitors can communicate with the agents via a chat window.
Along with core live chat functionality, it has a wide range of add-on modules, including some for sales and marketing automation, and integrations with third-party customer relationship management (CRM) platforms. Businesses can install LiveChat on multiple websites and can connect with the larger audience. Customers can also be invited to the chat box by sending the chat link to them via email and text messages. Each chat is automatically graded based on the analysis of the responses given by the customers.
LiveChat is a customizable solution, allowing users to add different themes and colors to their chat windows. It offers customer support via chat, email and phone.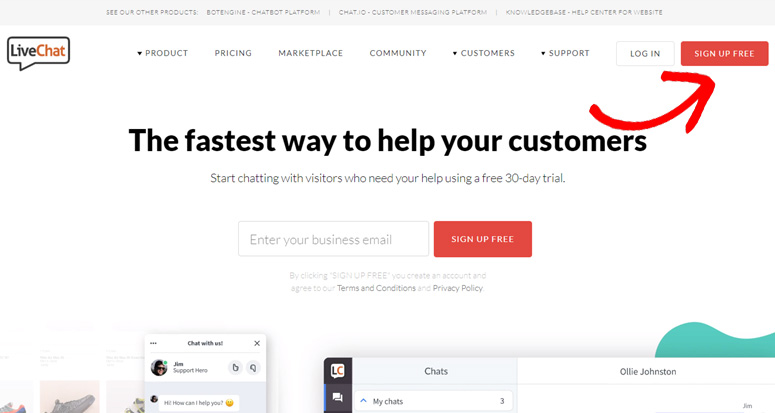 Features
LiveChat boasts a huge array of features to help you connect with customers seamlessly and monitor your support experience over time.
To start, the chat box itself is very versatile. You can share files back and forth with customers, send link buttons or a calendar to schedule a meeting, or set up canned responses to quickly answer common questions. LiveChat also enables you to easily transfer chats between support agents, which is helpful if your business has multiple departments with different specialties.
Even better, LiveChat seamlessly integrates messages from across all the platforms your business is using. You can use LiveChat on multiple websites and mobile apps, even with a Starter subscription. You can also import Facebook Messenger, email, SMS, and Apple Business Chat messages into your LiveChat system to make managing support requests easier.
Another thing we liked about LiveChat is that it helps you ensure that your customer support is high-quality and consistent over time. The software comes with several premade surveys that you can send to customers after a chat, and Team and Business users can create custom surveys as well. There are numerous reports available to show how long it takes for agents to respond to new chat requests and whether chat support is leading to more conversions.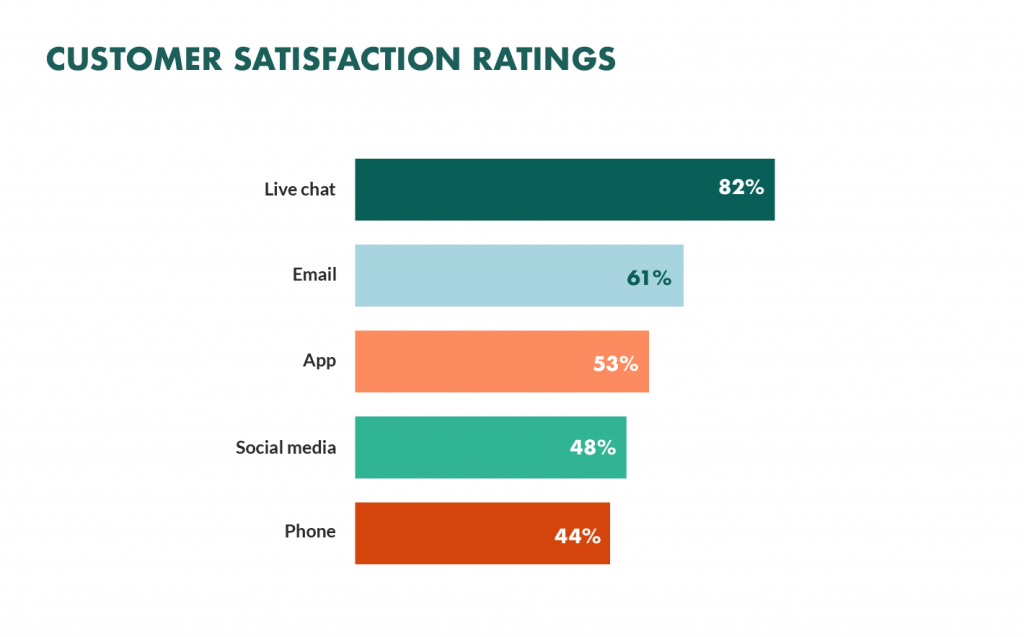 Business users also get access to a handy scheduling prediction feature, which uses past chat data to estimate how many agents you will need on hand for an upcoming surge in web traffic.
LiveChat offers a 14-day trial for their Team plan (no credit card required). You can either pay per month or per year. If you choose per year, you'll see a discount applied to your bill.
There are four different pricing tiers to choose from: their most affordable package "Starter" is priced at $16 per month per agent.
If you need more than just four themes and a full chat history, you should take a look at the "Team" ($33) plan.
The "Business" ($50) tier is designed for larger teams and adds a staffing prediction as well as a work scheduler module.
"Enterprise" provides you with a dedicated account manager at a price of $149 per month.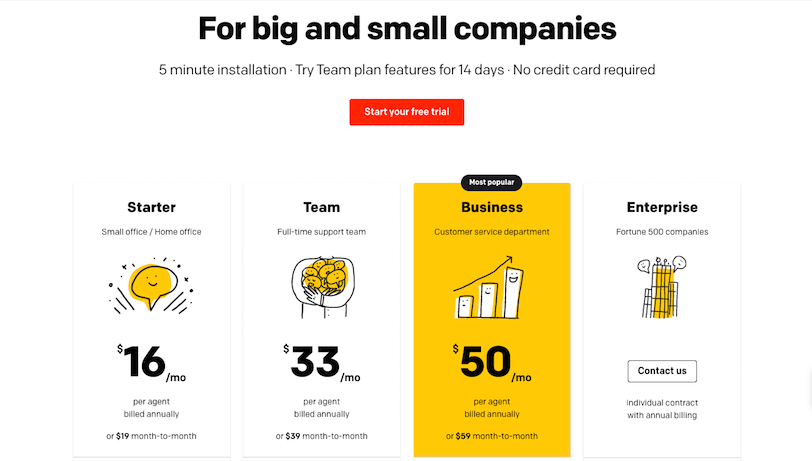 How secure is LiveChatInc?
Since you (can) collect sensitive user data, it's absolutely essential to have a high-security standard. Therefore, LiveChatInc secures every conversation with a 256-bit SSL encryption.
To avoid credit card abuse, LiveChat masks the credit card number and doesn't store the data. Due to different legal requirements, it's possible to store data in the United States or the European Union.
There are different ways to secure your account: logging in with a Google account if you are tired of remembering new passwords, 2-step verification to add another security layer or access restriction via IP limitation. This means only users with a certain IP address can log in.
Overall, both users and agents benefit from a high-security standard.
Final verdict
LiveChat is an extremely powerful and flexible tool for messaging with your customers across all of your online channels. The platform integrates chats from multiple services, makes it easy to work within teams of support agents or across departments, and takes a proactive approach to support and security. The only thing we don't love about LiveChat is the price tag, but given the quality of this software, we think it's still solid value for your money.