A Review of Adorama Camera on Amazon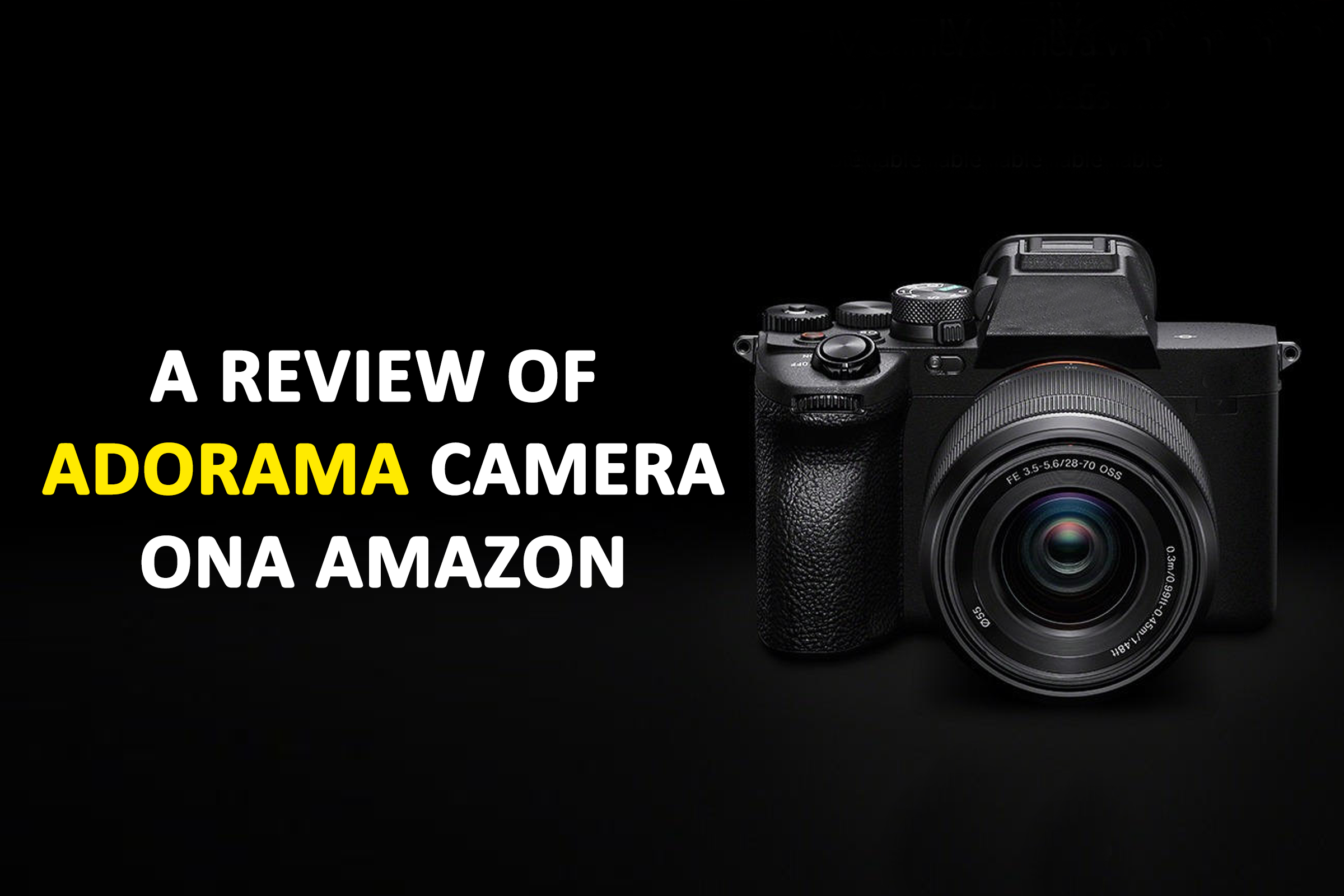 Adorama Camera is a camera and photography store on Amazon. With over 50,000 items in stock, and a large sales volume, they are the biggest camera store currently selling on Amazon.
They call themselves the "photography people". Does that mean you should purchase from them? Let's take a closer look. This won't be a review after purchasing from them once or twice. This will be a comprehensive look at their selling history and business practices.
They currently have earned about 545,000 positive feedback ratings, with a 97% overall satisfaction rate. On Amazon, 1 out of every 10 buyers leaves feedback, which means their lifetime sales volume is roughly around 5 million transactions. That's quite a large number!
You definitely can't earn that much feedback, and that large of a transaction count unless you're offering authentic merchandise, and great customer service. So on the surface, Adorama Camera does look like a legitimate business.
This is a snapshot taken from their Amazon profile.

Post edit: This post was written in March of 2018, and the feedback percentage above might not be current when you read this. This is their feedback page with current stats.
What they sell
Adorama Camera sells the usual camera and photography related products like digital cameras, DSLR cameras, camera lenses, tripods, digital imaging products, etc. But they also do sell office electronics and supplies, like memory cards, hard drives, printer supplies, etc.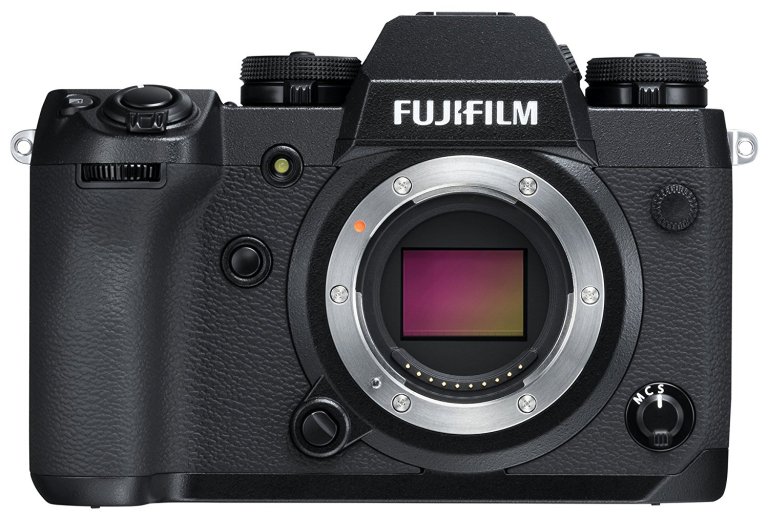 Items like a Fujifilm X-H1 Mirrorless Digital Camera Body, or a Canon EF 50mm f/1.8 STM Camera Lens, or a Manfrotto MTPIXI-B PIXI Mini Tripod.
With over 50,000 items in stock, you'll find all of the usual photography brands like Canon, Nikon, Olympus, Giotto, Manfrotto, Rode, Yungnuo, Tamron, Tokina, etc.
Returns and Warranty Information
Adorama Camera offers a 14-day refund policy for most items.
TV's 47″ and below have a 30-day refund policy. TV's 48″ and up cannot be returned.
The following items also have a no returns policy: Printers (if toner or ink has been installed), notebooks, tablets, and computers (if the package has been opened), underwater equipment (if the item has been used underwater), and smartphones (if the phone has been used).
New products come with the original manufacturer's warranty. Used products come with a 90-day warranty.
Company Profile
Adorama Camera is located in New York, NY. They have been in business since 1974, with retail locations in New York, as well as their current online presence.

They have been accredited with the Better Business Bureau since 08/24/1992, and currently do hold an A+ rating with the BBB. It's important to look at a seller's BBB rating because most merchants these days sell on different platforms, like their own site, as well as 3rd party sites like Amazon, eBay, etc. They might be doing well on Amazon, but not on other platforms. So it definitely helps to see the entire picture.
Feedback in Detail
With the general information out of the way, let's take a look and see if Adorama Camera is worthy of your business.
All of their items are guaranteed to be authentic, but what does their feedback say?
Even though only about 10% of buyers leave feedback on Amazon, those select few are very motivated to share their experience with other users, whether it be positive or negative. You can really get a glimpse into a seller's legitimacy by looking at their feedback history and comments. Especially when the store is selling something expensive like digital cameras, DSLR cameras, etc.
With that said, currently, over the past 12 months, Adorama Camera has earned 9,707 positive feedback ratings, with only a 3% negative rate. That's actually very impressive! Anything under 5% is actually quite positive considering that Amazon buyers offer the most scrutiny of any selling platform out there.
The image below is a snapshot of their feedback history as of March 23rd, 2018. You can also read their current feedback stats here.

Now let's look at what their customers have to say. It's important to know what to look for when analyzing a seller's feedback history. No seller is perfect, and all sellers receive their portion of negative feedback ratings. You can't please everyone – but you can try your best.
Things that aren't really a big deal:
Late shipments – It happens. And half the time, it's not even the seller's fault.
Unsatisfied with the product – It's not the seller's fault if the camera doesn't meet your expectations.
Price of item – You have the ability to shop around – you can't really hold the price against a seller.
Handling of returns – Buyers manipulate returns all the time. It's just not an accurate reflection of a seller's performance.
Order cancellations – Again, it happens. When you sell on multiple platforms like Adorama does (retail, website, Amazon, etc.) sometimes your inventory numbers aren't refreshed in time.
Shipping cost – Everyone expects "free shipping" these days, but someone has to actually pay for it. Free shipping isn't actually free. If a buyer complains about shipping costs – ignore it. (In this case, Adorama Camera does offer free shipping for most items).
So what should you look for?
Comments that speak about not receiving an item, receiving counterfeit or non authentic merchandise, or receiving used products, when a new item had been ordered.
It's important to note: Everyone online these days is an "expert". So one or two comments reflecting these red flags is ok, but a handful or more is not indicative of an honest seller.
Let's look at what buyers have to say about Adorama Camera:
Scanning through their recent feedback comments, you mainly see the usual positive comments, things like "great seller" or "item received as promised". Comments like these: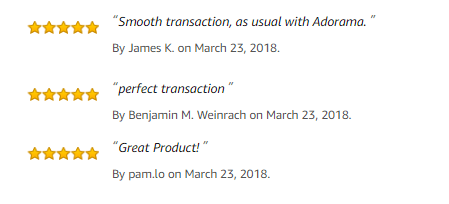 Obviously positive comments don't paint the entire feedback picture. Let's look at some negative comments as well: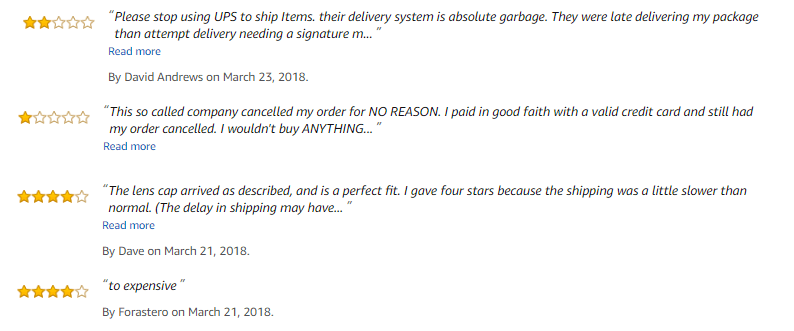 If you actually read those comments, two of them mention slow shipping, one complained about a cancellation, and one was about expensive prices. No mention of the red flags like items not being received, or non-authentic merchandise.
Everything looks good up to this point; Adorama does appear to be legit. Let's just confirm one more important factor:
Authorized Dealer?
They say they are an authorized dealer for all of the brands that they carry, but let's just confirm if that's true or not.

You might be wondering why it might be important to purchase from an authorized dealer.
An authorized dealer is a seller that purchases their merchandise directly from the manufacturer, or an authorized distributor. It's one way to ensure that the product you are receiving is authentic, and the correct regional version.
More importantly though, it ensures that you receive the full original manufacturer's warranty. If you purchase your new camera, or camera lens from a non-authorized dealer, you are not entitled to the original warranty – even if the seller claims that you are!
With that said, let's verify if Adorama Camera is in fact an authorized dealer for the major photography brands that they sell.
Let's start with Canon. You can't get much bigger – everyone has heard of Canon, and most people have used a Canon product.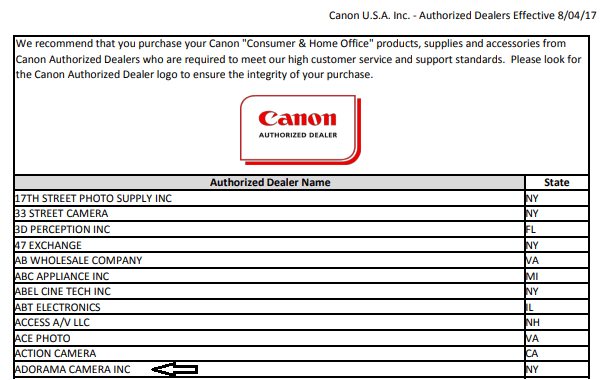 Yes, they are authorized to sell the Canon brand of products.
How about Nikon? Nikon is as big as Canon.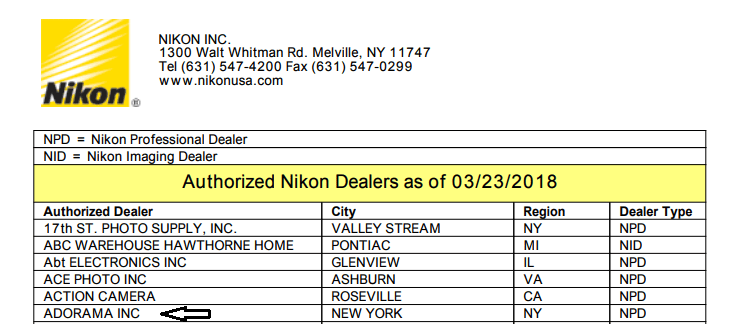 Yes, they are authorized to sell the Nikon brand of products.
How about Panasonic? Their Lumix line of cameras and lenses are quite popular.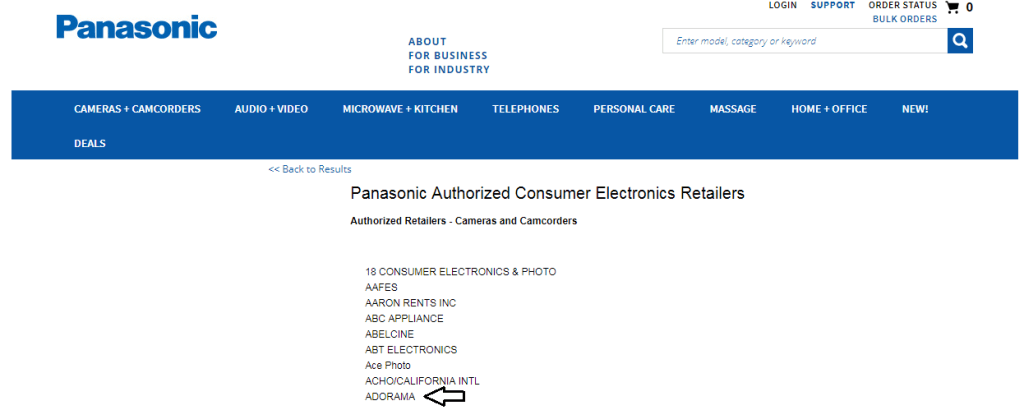 Yes, they are authorized to sell the Panasonic brand of cameras and camcorders.
Let's check one more just to be safe. How about Olympus?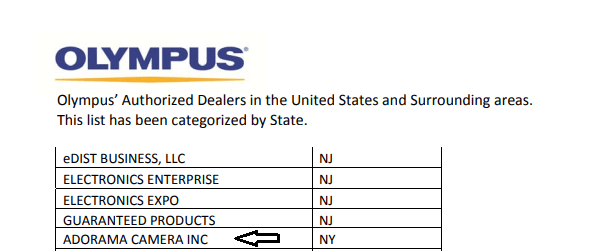 And yes, they are authorized to sell Olympus products.
If you're ever curious whether a seller is an authorized dealer for a specific brand, just go to their website. They'll usually have an area that says something like "locate an authorized dealer".
Conclusion
Based off of their excellent feedback history, Better Business Bureau rating, and confirmation of their authorized dealer status, I would have to say that yes, Adorama Camera is legit. They are in fact an honestly run camera and photography business. Buy from them with confidence!