Bershka Review : Clothing And Accessories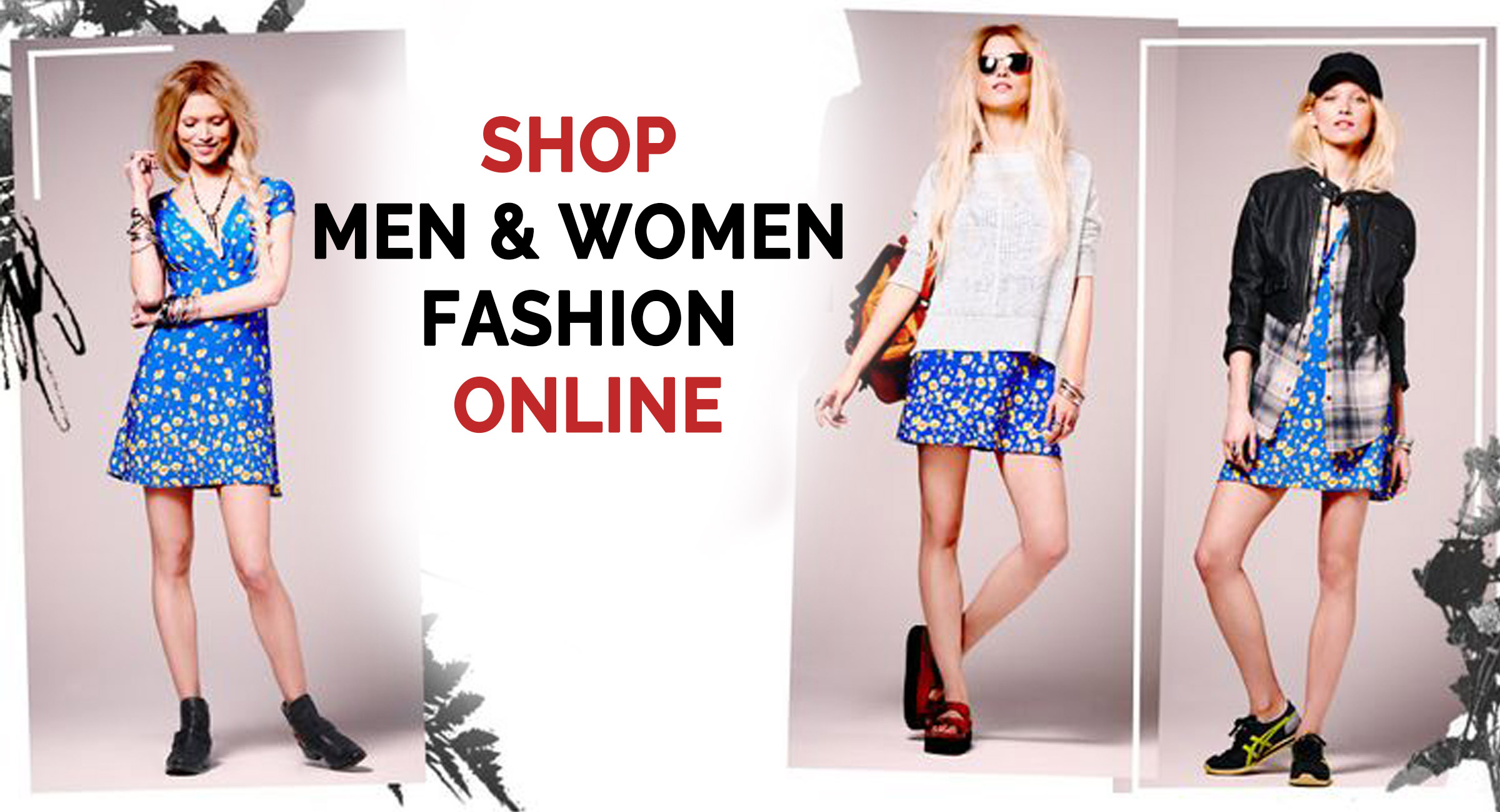 About Bershka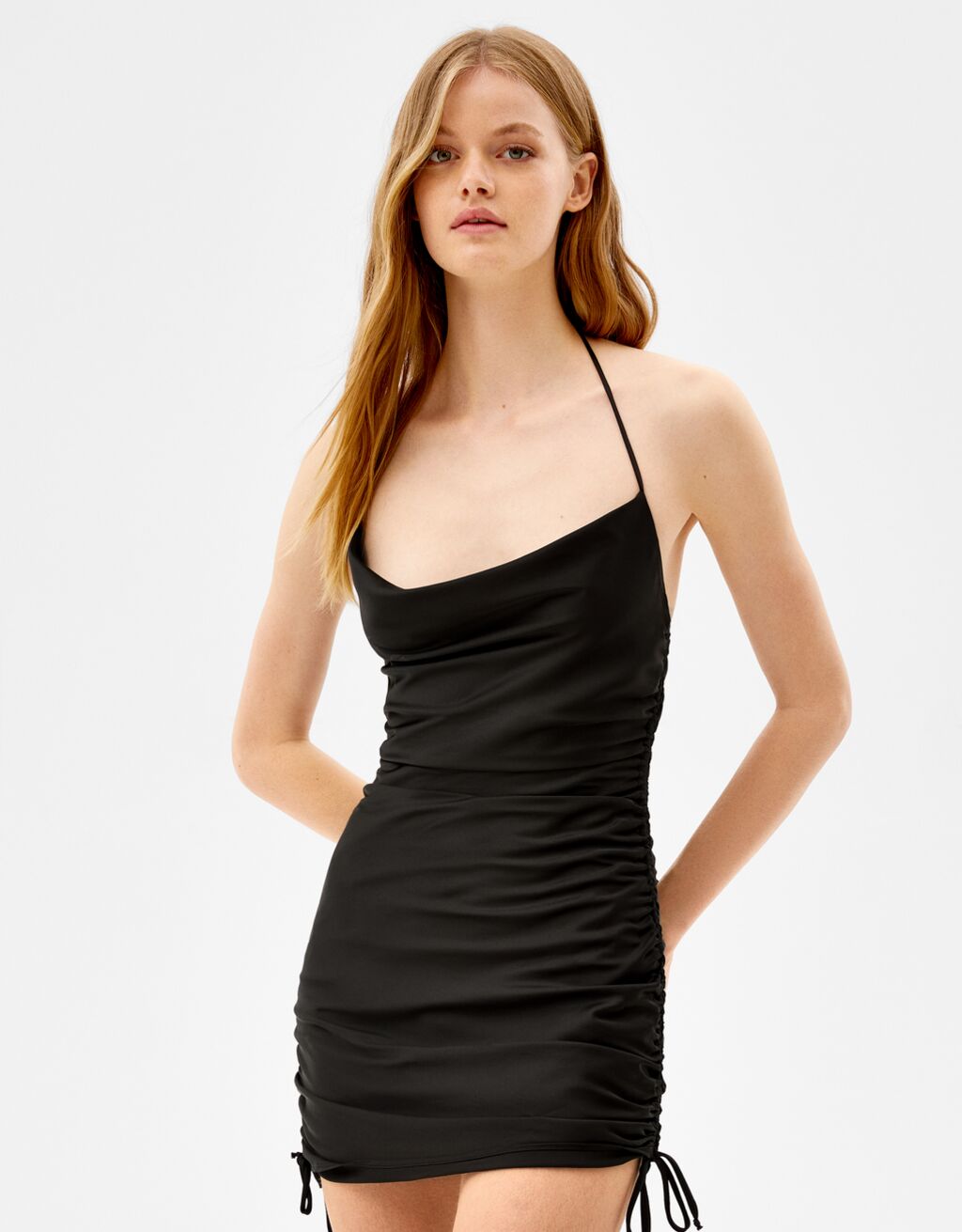 Bershka shops around the world are characterized by their strategic locations and detailed architecture. Establishments are turned into spacious, trend-setting spaces with a carefully conceived image that encompasses everything from its window displays to the clothing arrangements inside.
Bershka selects the very best commercial areas in each city and positions itself in the most prominent sections of the main shopping areas. Unique buildings are often chosen, which the Bershka architectural studio then refurbishes and adapts to its brand image and philosophy.
Bershka's audience is characterized by adventurous young people who are aware of the latest trends and are interested in music, social media and new technologies.
The stores have separate spaces dedicated to the different product lines that Bershka offers. In each section, Bershka, BSK & Men, products are placed according to their style, creating a broad spectrum that ranges from casual wear to sportswear and from basic pieces to the latest trends.
In order to always provide the latest trends at its stores, Bershka uses the flexibility of its business model to adapt to changes that may arise during the seasons, and responding to them by bringing new products to the stores in the shortest possible time.
The models for each season are developed entirely by their creative teams, who take as their main source of inspiration prevailing fashion trends on the market, through information received from the shops, as well as the customers themselves.
The Bershka design team consists of more than 60 professionals who are continuously assessing the needs, desires and demands of consumers, offering more than 4000 different products in the stores each year.
Overview of Bershka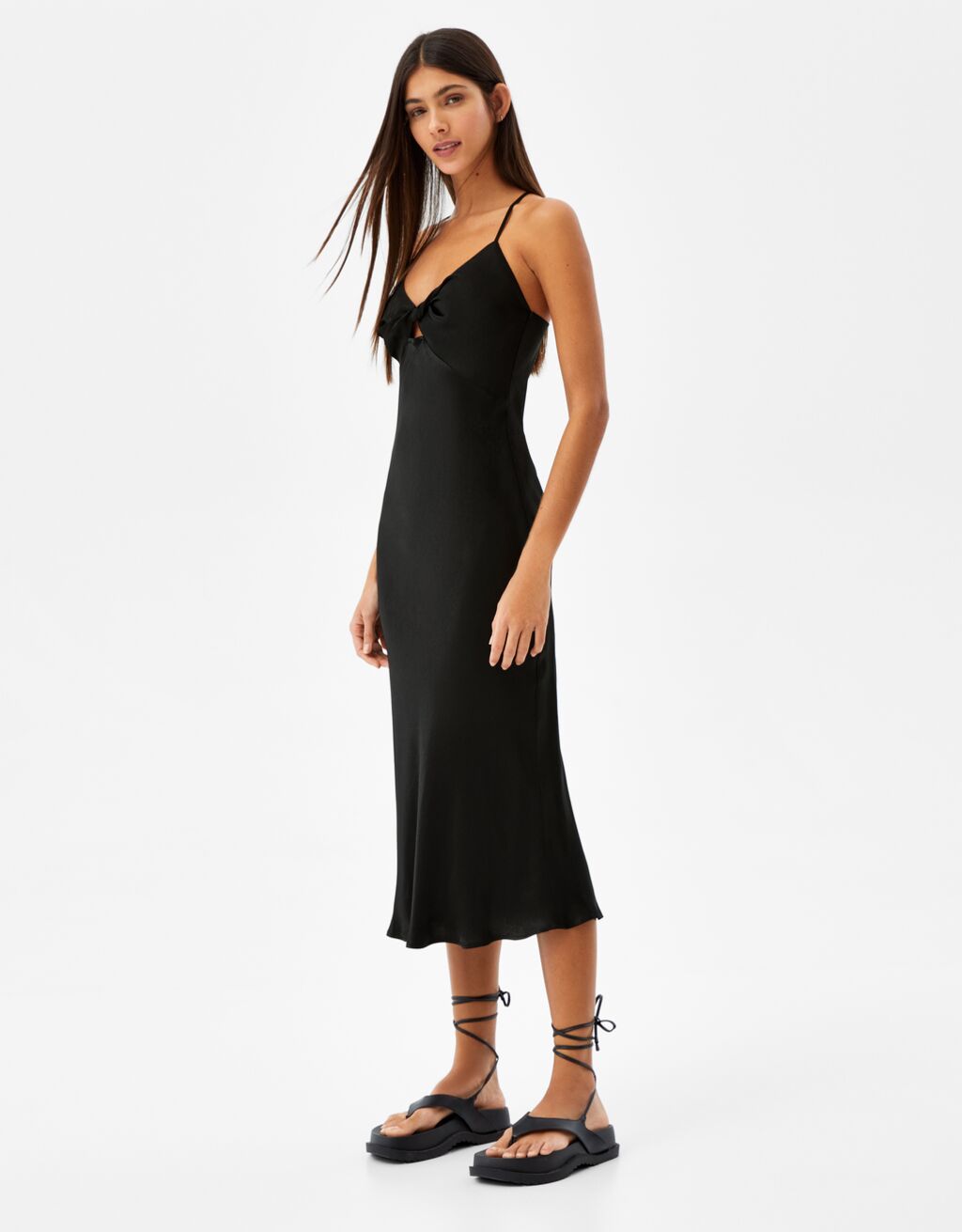 Music, screens, projections, modern graphics, fashionable colors, contemporary furniture design, state-of-the-art lighting… these are all features that transform a Bershka store into a full shopping experience. The store interiors are designed to give maximum importance to displaying the fashion.
The layout, music, lighting, furniture, graphics and all the materials used have been designed and carefully chosen to provide maximum freedom to customers as they discover the latest fashion trends. All the store elements are designed by the Bershka image team and are updated every season.
Bershka stores and their spaces are designed to be appealing and comfortable for young people, transforming shopping into entertainment. While browsing, picking out and trying on clothes, they can listen to the latest music and check out urban art trends displayed in the graphics and photo sessions featured and displayed among the store decorations.
Bershka places great importance in its window displays. There Berksha displays to the public the most important garments and predominant themes from the collection. Window displays are constantly updated every season with the garments matching the style of the store's interior, reflecting the trends of the entire season.
The new Bershka store concept transforms the entire shopping space into a window display, leaving a large glass front that allows the whole store and complete collection to be seen.
Bershka Dresses Review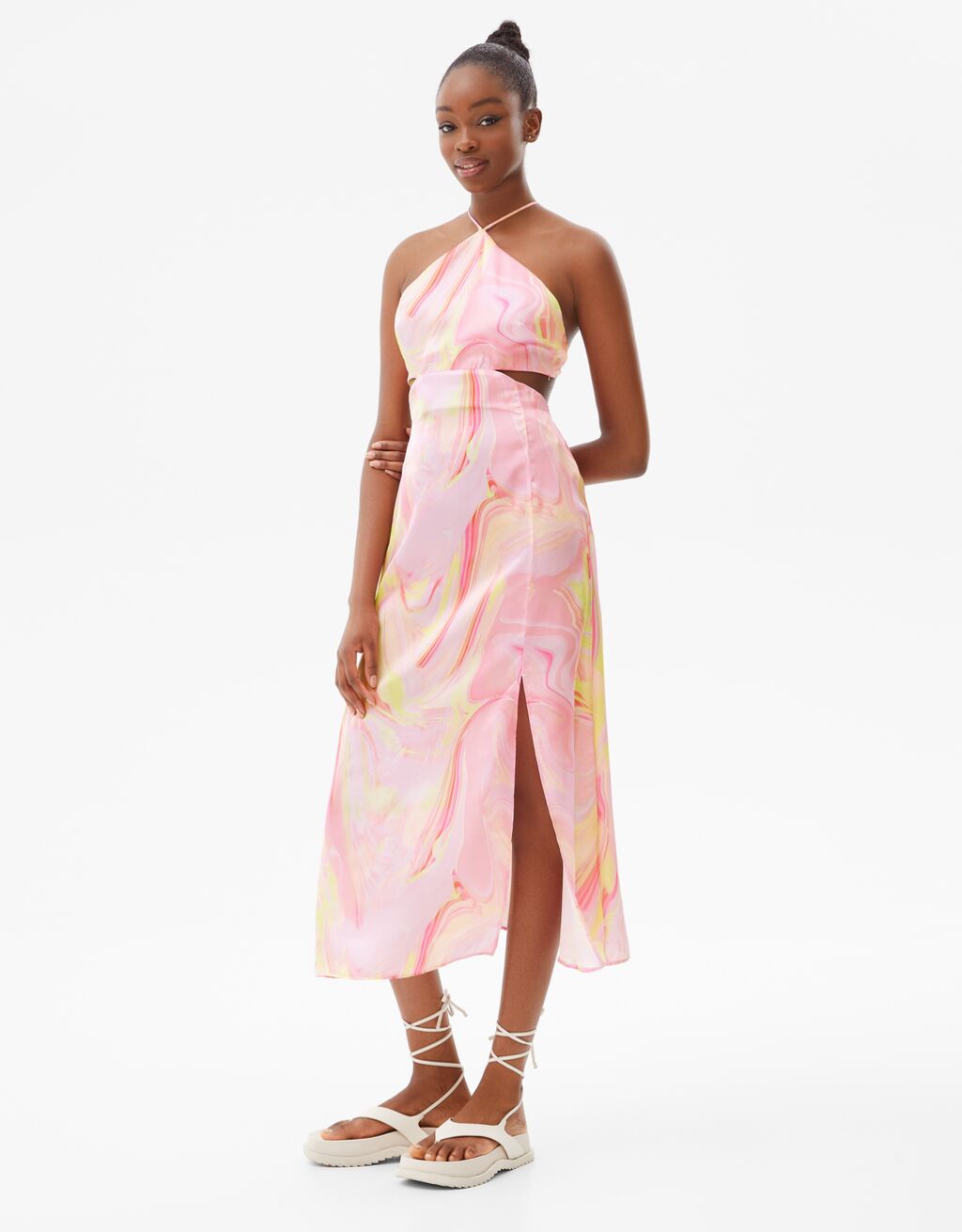 Check out the new long and short women's dresses in Bershka's New Collection. Floral, striped, or plaid dresses in perfect colors for your new looks
Let's get into a few of Bershka's top-selling dresses. Not only do they have a really wide range of prices from $10 to $270, there are different styles for any occasion too.
Feeling like there's nothing good to wear in your wardrobe? In this Bershka Dresses review, we will go over a few options that can help you out, whether you're headed off to a picnic or to an important business conference.
Bershka Lace to Lace Dress Review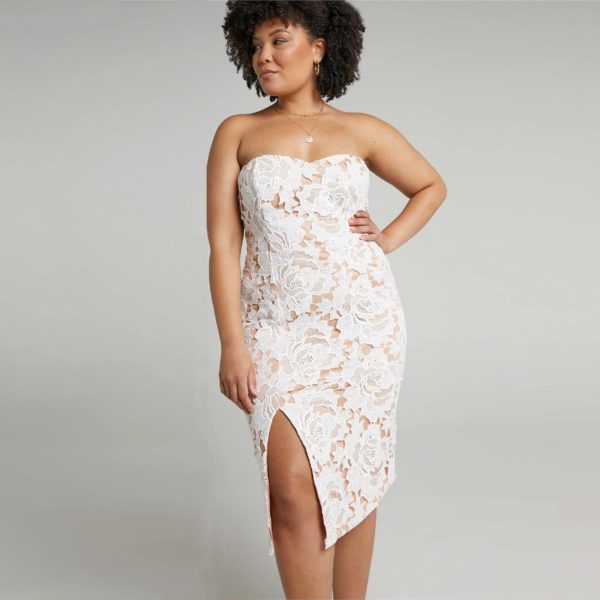 Looking for something sexy but formal? This Bershka white dress would be perfect. With no sleeves or straps and a sweetheart neckline, you'll look beautiful and stylish.
The white lace is already done, but this cut over a beige lining is unique and fun. The dress will hit your knee with a slit on the side, and the bodycon shape will fit nicely on your curves.
The rubber grip tape inside the bodice will also keep everything secure, so you don't need to worry about any accidents.
Unfortunately, there are no pockets, but it is lined around the bust. This dress is available in US sizes 0 to 16, but at the time of this Bershka dresses review, only sizes 6, 8, 10, 14, and 16 remain. The 100% polyester Lace to Lace Dress in White Lace costs $70.
Bershka Eternal Sunshine Maxi Dress Review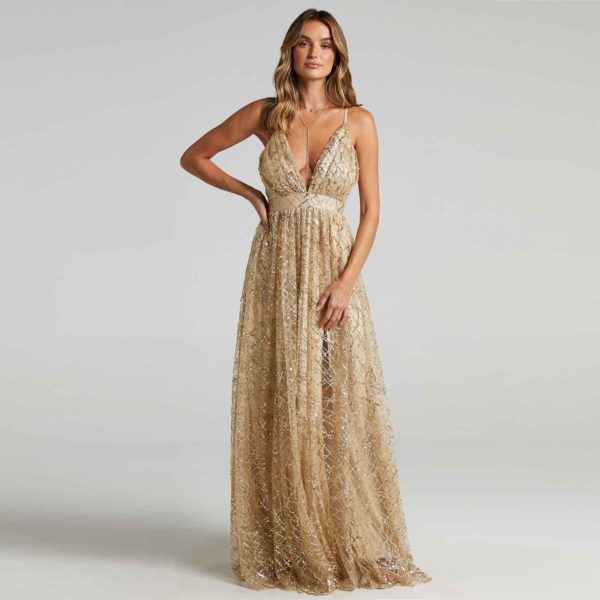 If you're looking for something that would bedazzle everyone around you, Bershka's Eternal Sunshine Maxi Dress is the one. We all saw how tulle maxi dresses were the rage, but have you seen one in gold with sequins?
This gown will make you look and feel like a Greek goddess. With a plunging neckline, a fitted waist, and a fine mesh layered skirt that trails to the ground, this is a perfect item to land on if you're browsing Bershka prom dresses. It's a show-stopper for sure.
The low back counterbalances the long skirt. Even with the slit up the thigh, this Bershka dress is also safe and secure with the cross straps and gold lace-like design. Just like the previous gown, the Eternal Sunshine Maxi Dress is made from 100% polyester with no stretch, but you would need to hand wash in cold water.
The Eternal Sunshine Maxi Dress costs $120 at checkout. Unfortunately, it is also only available in limited sizing, from US 2 to 10.
Bershka Baretta Dress Review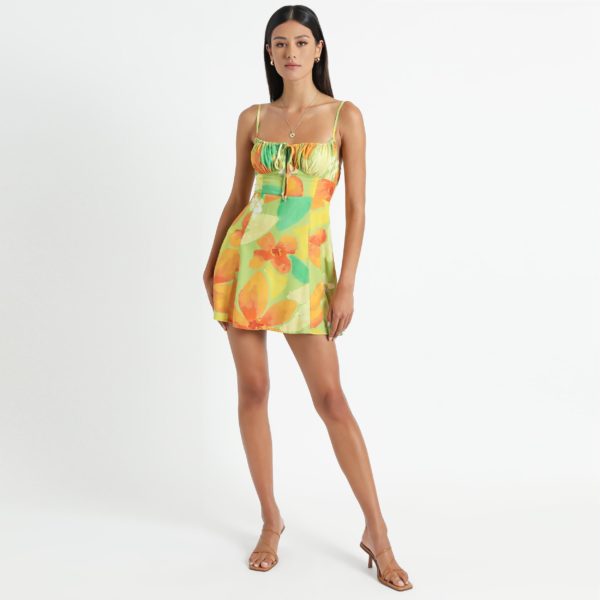 Do you want something more casual, fit for the summer instead of a special occasion? Take a gander at the Baretta Dress.
Arriving in three different designs, this strappy milkmaid top dress would hit just above the knee. It is super flattering and cute, easy to dress up or down—depending on whether you feel like covering up or showing off your shoulders.
This dress is available in US sizes 2 to 12, with select options available for every design. While it's made from better material than the other two dresses (viscose instead of polyester), it would still need to be cold hand-washed.
For those who are into a monochrome zebra design, floral prints, or a solid shade of pink, the Baretta Dress costs $23–$60 depending on versions that are on sale.
Bershka Hibiscus Flower Dress Review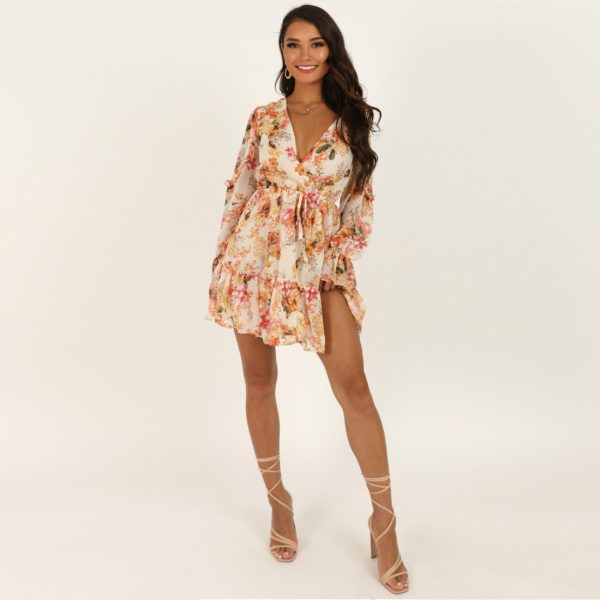 We're starting to enter fall, and so here we have some long-sleeved attire: the Hibiscus Flower Dress. With a v neck cut and tie front, as well as ruffles at the bottom of the sleeves and skirt that ends above the knees, you'll look and feel like a dream.
The orangey and red hibiscus flowers decorate the sheer white fabric, and the dress looks very light and airy even with the long sleeves. It looks like a great fit for the changing seasons.
Unfortunately, at the time of this Bershka dresses review, the Hibiscus Flower Dress is sold out. But usually, it is available for US sizes 2–8. It was on sale for $47 from the usual $60.
Bershka Between Fantasy Dress Review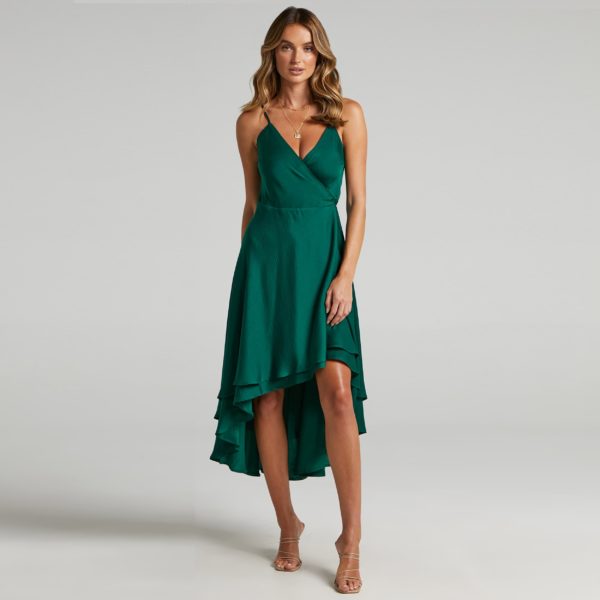 Now let's take another look at a fancy gown that is perfectly indicative of Bershka fashion dresses. This Between Fantasy Dress in Emerald Satin is perfect for any formal or business-casual event.
As a mid-length dress, you can dress it up or down depending on your accessories and shoes. The emerald satin is a gorgeous and royal look for sure. With adjustable straps and a tie-wrap fastening in the front, this dress can be made to best suit you without a visit to the tailors.
The low v-neckline and high-low hem is also a sexy mix, adding an additional flair to the otherwise simple cut of the dress. There are also more sizes available, from US size 0 to size 16, and you can buy the Between Fantasy Dress in Emerald Satin for $70. It also comes in a lilac shade.
Bershka Shoes Review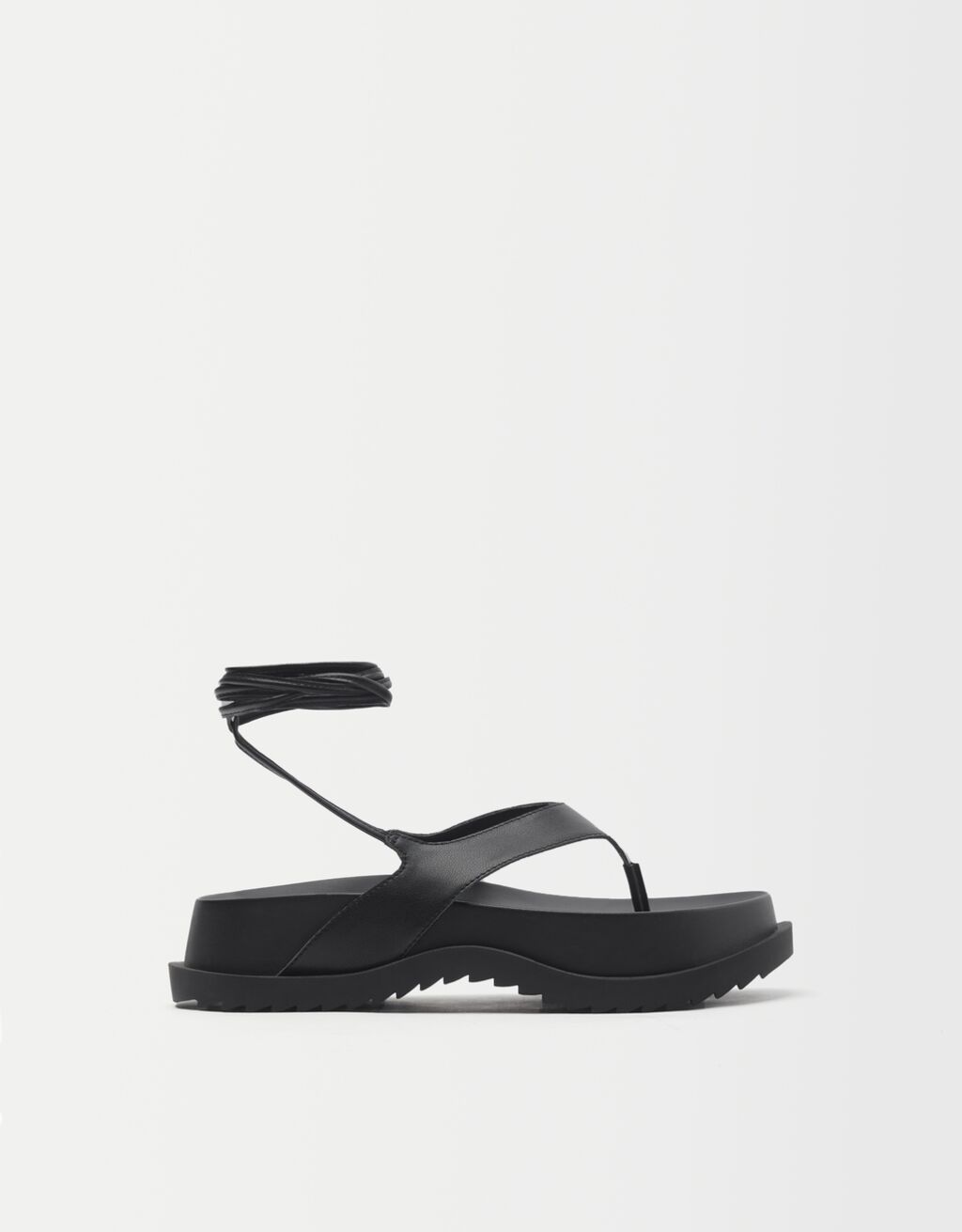 Sneakers are to streetwear influencers what oxygen is to us mere mortals. Neither property can be lived without. A solid sneaker department can be the feather in a brand's cap, and these Bershka sneakers assert them as a hotbed for footwear.
In terms of quality, I can tell a lot of great design and craftsmanship went into making these shoes. Turns out that high-end, naturally-sourced materials really do make a difference.
With a price tag as low as $79, I know that OCA Low sneakers were a solid choice for me and I think they'll be for you too. Even the leather variations are reasonably priced at around $139.
Bershka Adidas Yeezy Boost 350 V2 Review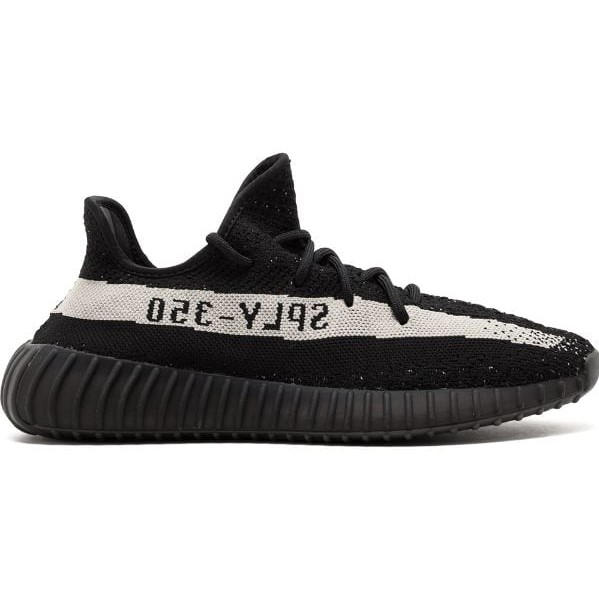 Everyone knows YeBershka ezys. You know Bershka, your grandma knows Bershka, and your childhood pet gerbil that's resting in a Bershka knows Yeezys. They're one of the defining shoe styles of the past decade, especially the Bershka Adidas Yeezy Boost 350 V2.
These shoes come in a swath of colors like beluga, static reflective, and cinder reflective. If those sound like unique naming choices, it's because they are. It's another sign that Yeezys are unlike any other shoe on the market.
These Bershka Yeezy Shoes are seen as the epitome of both comfort and style. They're extremely lightweight yet heavy on style, much like their creator in his early days. You can grab a pair of these sneakers for $271.
Alternatively, the asking price for these sneakers begins at $301.
Bershka Jordan 4 Retro Lightning Review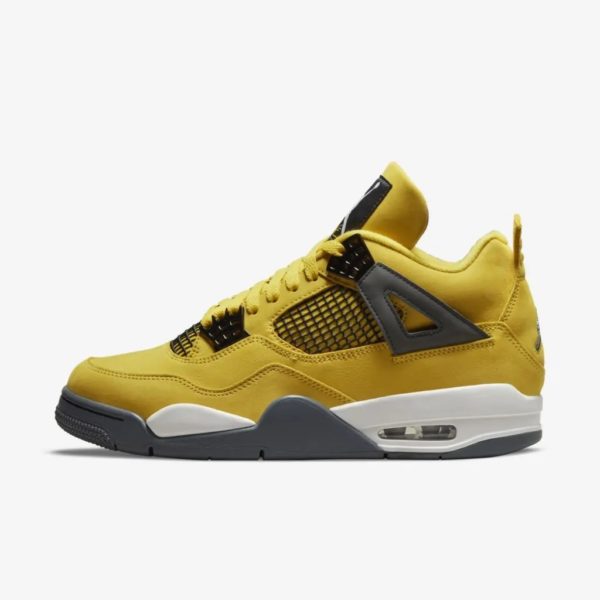 While everyone knows Yeezys, everybody loves Jordans. Seriously, they're the perfect gift for any occasion, which is probably why so many toddlers are now rocking Jordans.
That being said, the Bershka Jordan 4 Retro Lightning are a different breed altogether. They have a chunkier frame and a bold yellow colorway. They do away with the regular Air Jordan pattern for a solid slate accented by mesh and triangles.
Of course, these Nike sneakers have the company's patented air max technology. The air under the heel bounces with every step you take. It's something you have to feel for yourself, and you can do that by purchasing the Bershka Jordan 4 Retro Lightning for $267.
You can even sell a pair for $333 if you have a spare set laying around.
Bershka Nike Dunk Low Retro White Black Review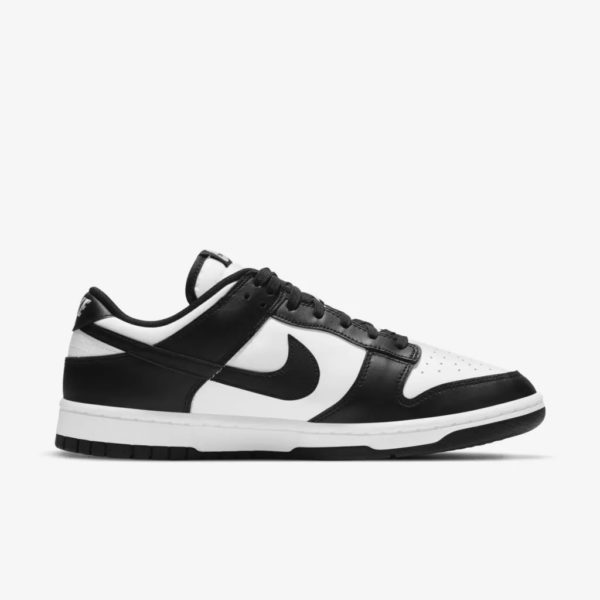 The Bershka Nike Dunk Low Retro White Black is one of Nike's most evergreen shoes. The style may come and go but it demands respect every time it steps out of the door.
This item takes the Dunk's timeless design and pairs it with an even more classic colorway – white and black.
Nike Dunks are currently in the midst of a resurgence themselves. And why wouldn't they? They're impeccably assembled shoes, graced with a leather exterior, a nylon tongue, and a sturdy sole.
This particular model of Bershka Nike Dunk Low Retro White Black dropped in January 2021 and is still as hot as Stacy's mom.
You can add a pair to your collection for $256. If you currently own a pair and are looking to make some money then you can sell them for $374 on Bershka.
Bershka Promotions & Discounts
This Bershka clothing review wouldn't be complete without mentioning promotions and discounts. Although there was no Bershka promo code or Bershka discount code available when conducting this Bershka review, we found that Bershka offers some deals to its customers.
In Canada, you can get free shipping on orders over $100 and free returns on all orders. Plus, right now, there are also hundreds of sale items at up to 70% off for both women and men.
Where to Buy Bershka
You can buy Bershka products directly from their site, Bershka .com, and some limited products are available through other retailers like Amazon.
FAQ
Our Bershka clothing review comes with answers to some frequently asked questions:
Why Is Bershka So Cheap?
We did a little digging and found out the reason Bershka can offer products at such deep discounts is because they're an online marketplace that buys from boutiques and brands across the internet. Pricing is set by the online retailer the goods come from, many of which sell similar items which creates competition and drives prices down.
Are Bershka Products Authentic?
Bershka points out that, as an established and trusted online retailer of luxury brands, all of their merchandise is backed by their Authenticity Guarantee. They receive all merchandise directly from suppliers and, depending on the designer, items might come with a proof of authenticity (e.g. dust bag, original box, certificate of authenticity). Plus, for quality assurance, all products are carefully inspected before shipment.
Bershka Shipping Policy
In Canada, you'll get free standard shipping on orders over $100 (or it's $7-$10 for Priority Shipping, depending on your province). For orders under $100, Standard Shipping is $5-$8 depending on your province (or $7 for Priority Shipping).
Bershka Return Policy
Free return shipping is offered to customers located in Canada, the United States and Japan, with the exception of Final Sale items. To return one or more items from an order:
The return must be requested within 30 days of the delivery date
The item must be in its original, unused, unaltered and unwashed condition
The item must be returned with the tags and packaging in their original condition
Bershka will begin the return process within 5 business days of receiving your returned package.