Best Gender Neutral Baby Clothes Carters (5)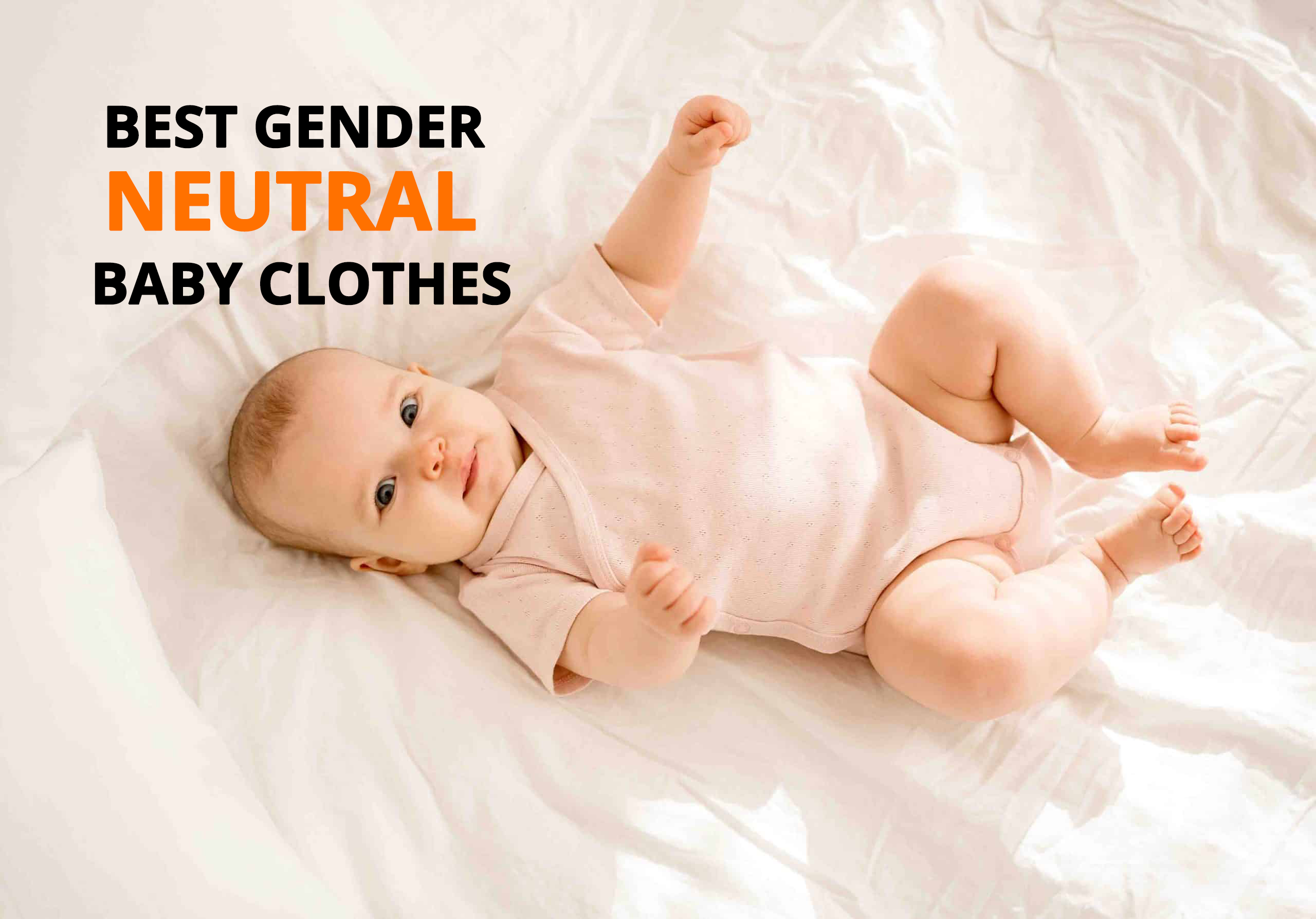 Rainbow brights or black and whites, gender-neutral clothing is a smart registry staple.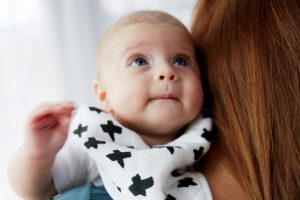 Whether you've opted to keep the sex of your baby a surprise or you plan to have another kiddo down the line, gender-neutral clothing is a smart registry staple.
Unlike in the past when "gender neutral" was just another way to say "yellow," modern clothing companies offer an array of cute clothes that will allow your little one to go forth fashionably.
We've curated some of our favorite gender-neutral finds into this handy sample registry to help you jumpstart your baby's wardrobe.
And a pro tip about registering for baby clothes: While friends and family will be eager to purchase the irresistibly itty-bitty newborn outfits, it's a good idea to register for clothing in a range of sizes and for a variety of seasons. Preparing a stash ahead of time will make life easier down the line.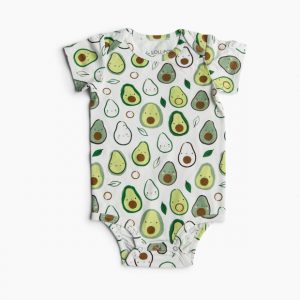 We're crazy about these cute avocados, a design that's both on trend and gender neutral. And Loulou Lollipop makes some of the softest, comfiest bodysuits around, made from antibacterial rayon from lavender with a printed inside label (no itchy tags!).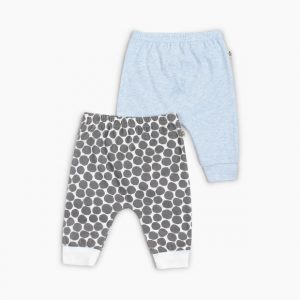 100% cotton keeps these pants at their comfiest, and the slightly baggy harem style means there's plenty of room for a diaper without making the pants look bulky.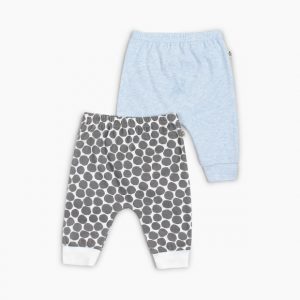 These tiny shoes are more than just stylish—they're eco-conscious, too! Made from 45% recycled material, you can feel good about putting these on your baby's feet.
Long Sleeve Rainbow Stripe Babysuit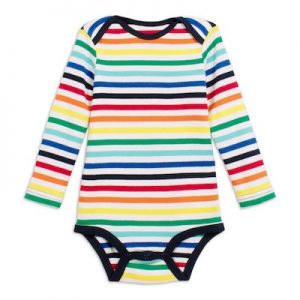 Primary is known for brightly colored basics—in virtually any shade—that work for any baby.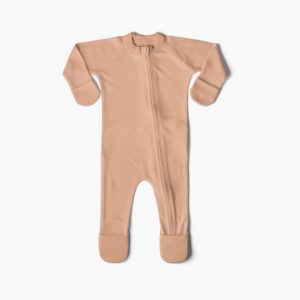 Footies are the ultimate day-to-night transition piece when your baby is tiny, and the footie from Goumi Kids makes it even easier with fold-over mittens and socks. Not to mention the bum flap makes checking for dirty diapers a breeze.
H&M 2-pack Cotton Hats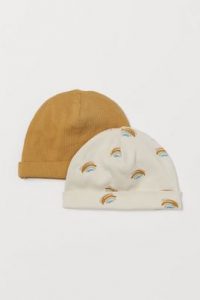 Sometimes babies heads can get cold easily, and these organic cotton jersey hats are perfect for when the weather starts to cool down.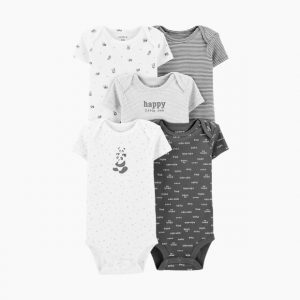 We're huge fans of Carter's cotton bodysuits (and not just because they make gender neutrality look so cute). The shirts in this set are versatile for mixing and matching and perfect for layering.
Copper Pearl Bandana Bib Set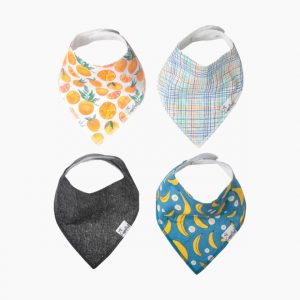 You've never seen bibs with more style! They'll compliment any little one's outfit and help keep 'em clean.
ZOOCCHINI Swim Diaper and Sun Hat Set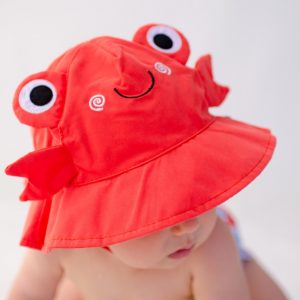 When the weather starts warming up and it's time to head to the kiddy pool, any baby is going to look adorable in this crustacean-inspired swim set. Both the swim diaper and the sun hat have UPF 50+ sun protection with no added chemicals, so you and babe can play safe in the sunshine.
Magnetic Me Fleece Jacket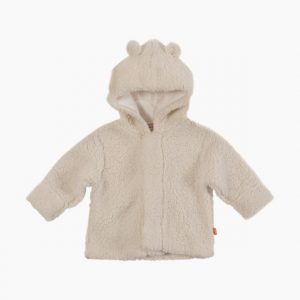 And for when the weather starts to get chilly, you'll want to have a cozy jacket like this one already on hand. And no need to fuss with zippers, buttons or snaps on this one—it closes up with magnets, so just line them up and they snap together automatically!
Zutano Cozie Fleece Booties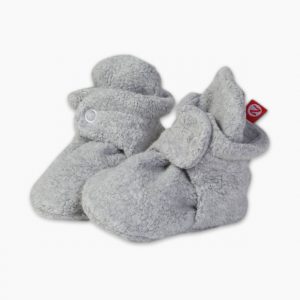 Perhaps the absolute favorite cold-weather gear of many parents (as the reviews can attest to), these booties really, truly stay one your little one's feet—no matter how wiggly they are. Toes stay toasty warm, and the material stays soft and in shape through countless washes.