Doodly Video Creator Software – Features, Pricing, Pros and Cons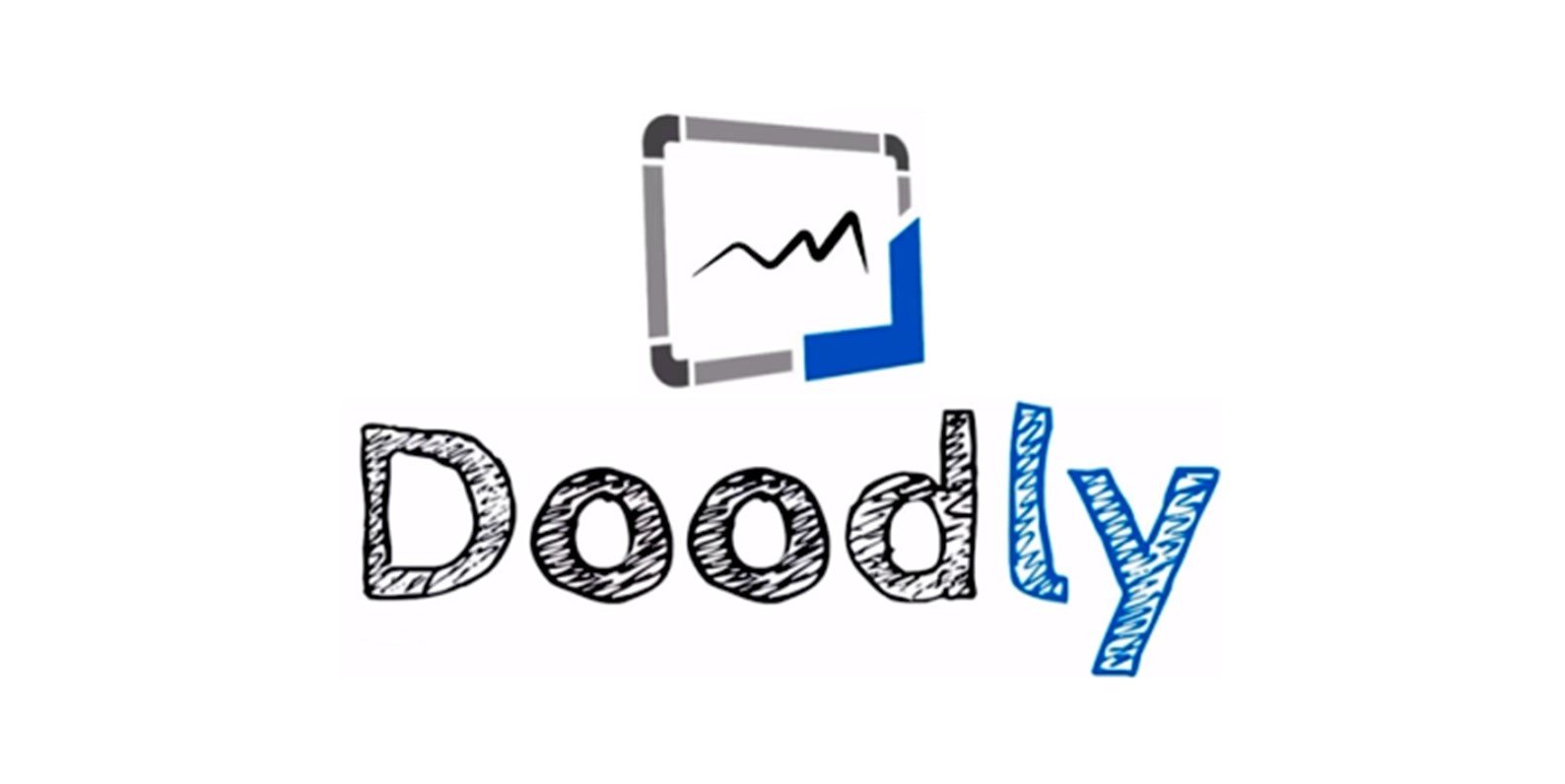 Doodly is a whiteboard animation software with a drag-and-drop interface for creating sketches. It is popular because it is so easy to use as anyone, experienced or not, can use it to create marketing, classroom, social media, and other kinds of videos in just minutes.
The software has thousands of custom-drawn images in its library. All you need to do is select the image you want, drag and drop it on your canvas, and the doodle is sketched. You can also create and upload your own images. You can also add sound to your whiteboard sketches from the royalty-free audio library.
Doodly can be installed on multiple computers (both Mac and Windows) and the number of images you could draw are unlimited.
Doodly Key Features
As we have already mentioned, Doodly is easy to use. You do not need any skills or technical expertise to use it. All you have to do is choose a canvas, add images and audio. To do that, you only need to navigate to the left side of your computer screen, where you will find the library. Doodly also allows you to record voiceovers and import them into your videos. Here are the key features to expect from this tool.
Easier to Use
Doodly has a short learning curve. After opening the tool, everything you need to make an animation video will appear on your screen. You do not need any experience or technical expertise to make videos with this tool.
A Vast Array of Custom Images
Doodly comes with thousands of custom images in its image library. All images are from professional graphic artists, meaning that they will all work. The images consist of 200 characters, each with over 20 poses.
The library also provides hundreds of props and 20 backgrounds. Put differently. You will have something to use regardless of the topic or niche you select. If none of the images fits your niches, you can contact Doodly customer representatives. Their team of artists will provide one.
Easy Customizable Export and Share Feature
After creating videos on Doodly, you can share them with your friends or upload them to your social media platforms easily. Choose the frame rate, resolution, quality, and destination when the video is ready. After that, click on the "Share" button for the video to reach your target audience. Doodly allows you to export your videos to YouTube, Facebook, and Instagram or your website.
Royalty-free Music Tracks
You can add sound to your Doodly video sketches easily. Doodly offers two soundtrack slots – one for the voiceover and the other for the background music. You will have a chance of trying many slots until you get a perfect blend.
Still, you can add many different video clips to one video if you trim them down to the right length. The number of music tracks you get will highly depend on the package you choose. For example, if you choose the Gold option, you will get 20 tracks. The Platinum option will provide you with 40 tracks, while the Enterprise option will provide you with 80 tracks.
Easier Video Addition
The process of editing videos is complicated. So, you have to always choose a tool that allows for easier editing. Doodly is a great application when it comes to easier editing. You will edit your videos easily by reordering, deleting, or duplicating some scenes.
Even more, you can edit the video style and the hand drawing your video. You will have all the elements in your video and the time you added them on the right side of your screen. That will facilitate faster editing.
Various Hands
To allow customization of every animation video, Doodly offers a variety of hands. So, when creating a whiteboard video, you will have to choose a hand that will appeal to your audience. You can choose female or male hands of different sizes and colors.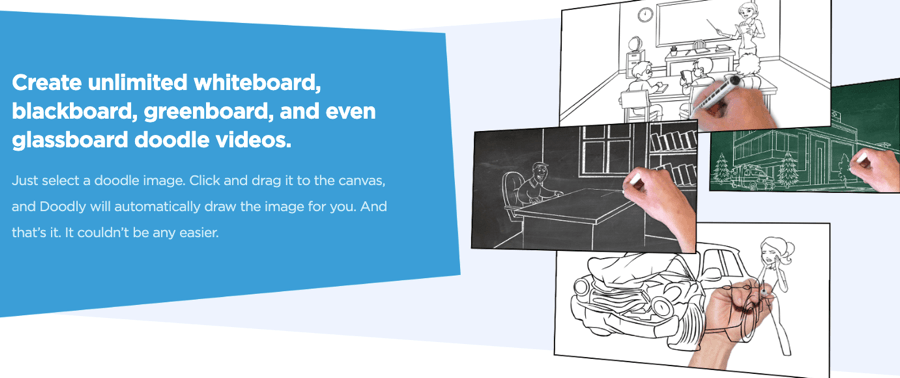 Doodly offers many benefits. Still, it has its drawbacks. Here are the benefits to expect.
Inexpensive
Paying an expert to build your animation videos will cost you a lot of money. On the other hand, Doodly is inexpensive. You can choose the one-time payment, monthly payment, or annual payment option to access all the features.
Easier to Use
You do not need any special skills to use Doodly. The software is easy to use, and the Drag and Drop features are excellent.
Large Library
The Enterprise plan offers a wide range of characters, photos, soundtracks, and props. Moreover, the creators update the software continuously, meaning that you will find more content each day. Doodly will change any of your images into an animation.
Versatile
Doodly is a versatile software tool. You can use it to make instruction videos, ads, book reviews, or any other type of presentation video. It will help you get more views on your YouTube channel.
Supports Custom Images
If your creation of animation videos requires many mathematical images, symbols, and statistical information, you can use custom images. Doodly does not offer any symbols or mathematical images. So, you will have to import them from other sources.
The software is a versatile program that can be used in several ways. You can use Doodly to:
Market and advertise your products
Makes explainer videos
Upload to social media to drive engagement
Create educational videos
There are several good points about Doodly. As we reviewed it, here's what we liked the most:
The most impressive thing about Doodly is the fact that it's so easy to use. You can create a video in a matter of minutes. It is ideal even for young students.
The image and audio libraries are quite extensive, and are updated regularly.
It is one of the cheapest whiteboard animation software out there, especially when you consider the functionality and features it has to offer.
No internet connection needed to use it.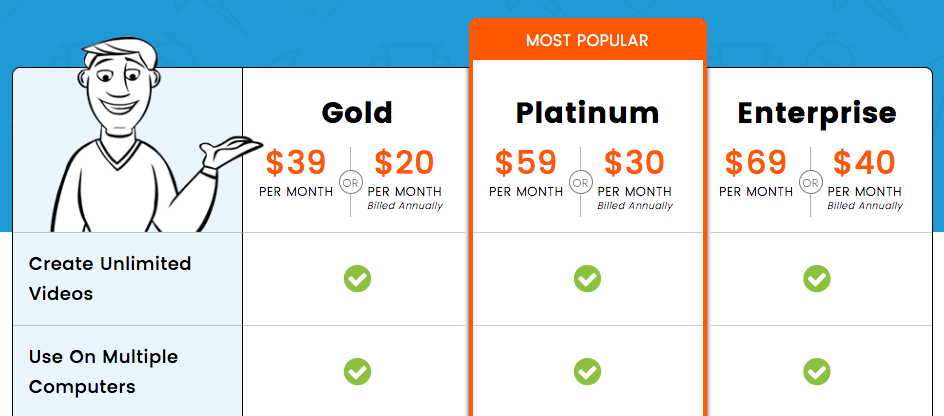 Although Doodly doesn't have a free trial, it is one of the cheapest whiteboard animation software in the market. It's priced in two tiers: monthly and annually.
Monthly
Standard for $39/month
Enterprise for $69/month
Annually
Standard for $20/month
Enterprise for $40/month
Conclusion
From the review so far, we hope you have gained a better insight into the features, benefits, and drawbacks of this software to decide whether it is for you. If you want animation software that is easy to use, you'd be hard-pressed to find an easier option than Doodly.
Everyone works differently, so Doodly might not be for everyone. Although it doesn't have a free trial to play with, you will get a money-back guarantee if you are not satisfied with the product. So install it today and see whether it is for you.