Drip Reviews – Features, Pros & Cons, Pricing, Best Alternatives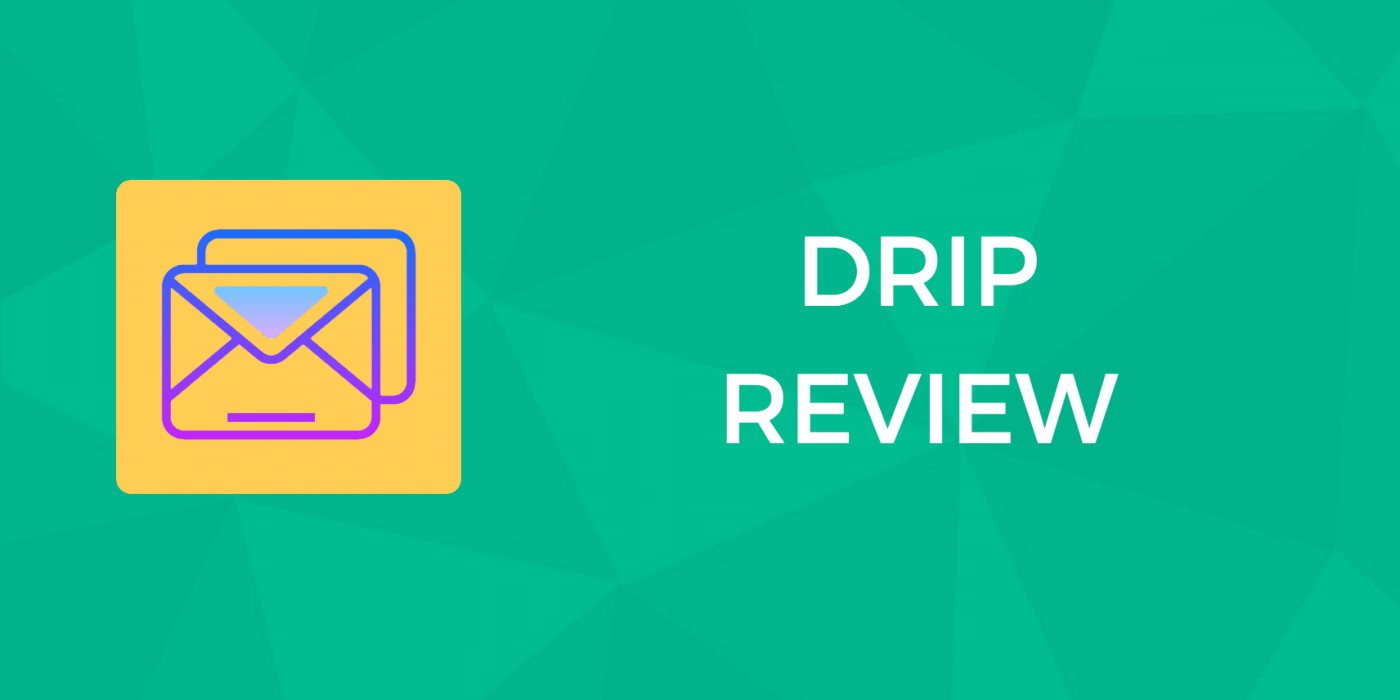 Drip is a marketing automation engine, giving marketers the tools they need to build stronger and more profitable relationships with their customers at scale. More than 27,000 marketers around the world utilize Drip's comprehensive tracking, hyper-segmentation, and robust email marketing automation to grow their businesses. Graduate from simple email platforms, bloated CRMs, and overhyped marketing automation tools, and make more money with Drip.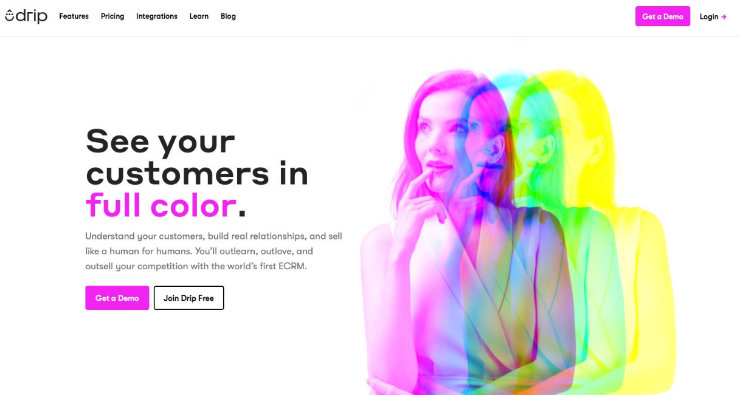 Who is Drip For?
This review will look at both the strengths and weaknesses of Drip, as it relates to the development of the strategies discussed above. My goal is to help you learn if your business will be best off with Drip, or if you should continue looking at other email marketing options.
You have high levels of traffic
You have many different segments (types of people) of traffic
You'd like to use more advanced marketing techniques.
But if you only get a few hundred visitors per month, or just want a tool that sends out basic emails, you won't be able to get the most out of Drip. Let's get more specific now and look at the most remarkable features.
PROS
Specialist eCommerce CRM
Strong automation features
Solid integrations
Easy-to-use
CONS
Kind of pricey
Email templates could be better
Platform can be buggy
Lacks CRO features
Form builder is limited
The key selling point of Drip is that it's designed from the bottom up for eCommerce brands selling physical products online. The software integrates excellently with a number of eCommerce, including Shopify and you also get a bunch of pre-built automations that you can use right out of the box.
As you can see, Drip kicks off its pricing at $49/mo for the Basic version of its platform. This comes with a limit of 2,500 contacts, which is about right at this price range although it's a touch lower than you get with some alternatives (such as ActiveCampaign, which gives you 2,500 contacts for $39/mo).
This is part of Drip's revised pricing policy so keep this in mind when reading other reviews, which might be out of date. You used to only get 1,000 contacts for $49/mo on the basic version and this was a common complaint – so this is one area where Drip has improved in recent years.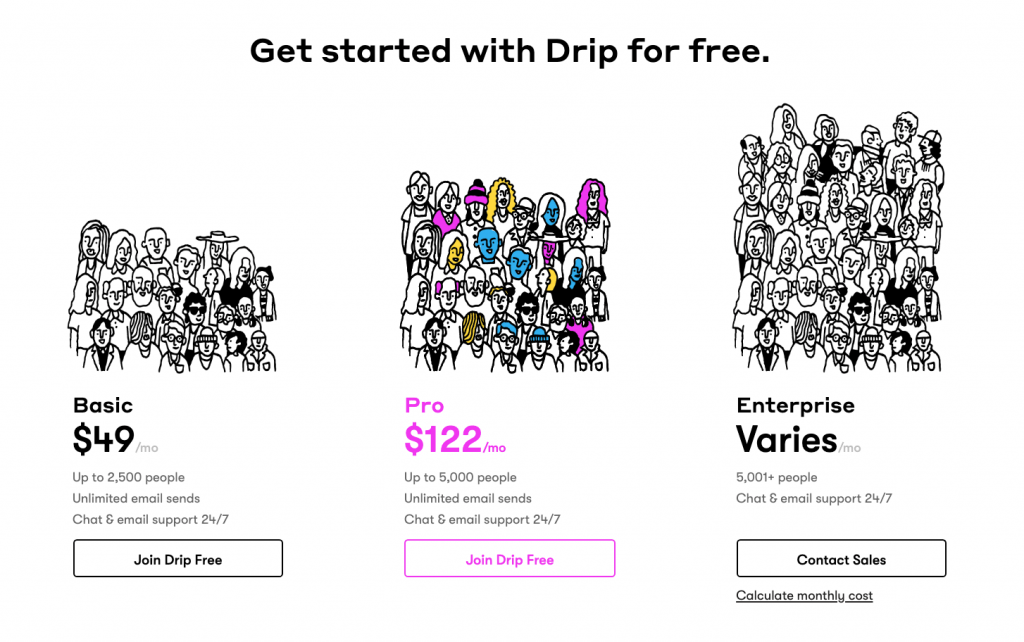 The problem with Drip pricing (aside from being a touch more expensive than similar platforms to begin with) is prices increase steeply when your contact list grows. Keep this mind when you're comparing Drip with alternative platforms and consider how you expect your online store to grow.
Drip will argue its specialist eCommerce features are worth the expense but only you can decide whether these features add enough value to your brand to justify the price tag.
When it comes down to it, Drip is a CRM platform and the feature list is going to look pretty familiar if you've already checked out alternative options. The difference is these features are designed specifically for eCommerce campaigns and this can make it easier to get your head around them if you're new to using tools like this.
Marketing automation
Drip's email builder will help you create designs quickly although it would be nice if the platform had a better range of templates on offer to speed the process up even further.
It's easy to forgive Drip, too, because it has plenty to offer when it comes to automation workflows. It comes with a bunch of pre-built automation workflows for you to use – all designed for real-world eCommerce functions like cart abandonment, customer win-back, Black Friday/Cyber Monday deals and so much more.
Personalization
Another key function Drip aims to fill is personalisation, allowing you to create unique customer journeys. This is a crucial strategy for eCommerce brands to maximise sales and repeat purchases after the initial conversion.
Multichannel marketing
Email and on-site interactions are two of the most important processes for eCommerce brands to manage but there are other channels you need to integrate into your sales/marketing strategy.
Analytics & reporting
To prove your CRM is having a positive impact on your marketing strategies and profit margins, you need reliable data. Drip's analytics and reporting features aren't the most extensive but they don't need to be as comprehensive as platform's like HubSpot because they're laser-focused on eCommerce performance.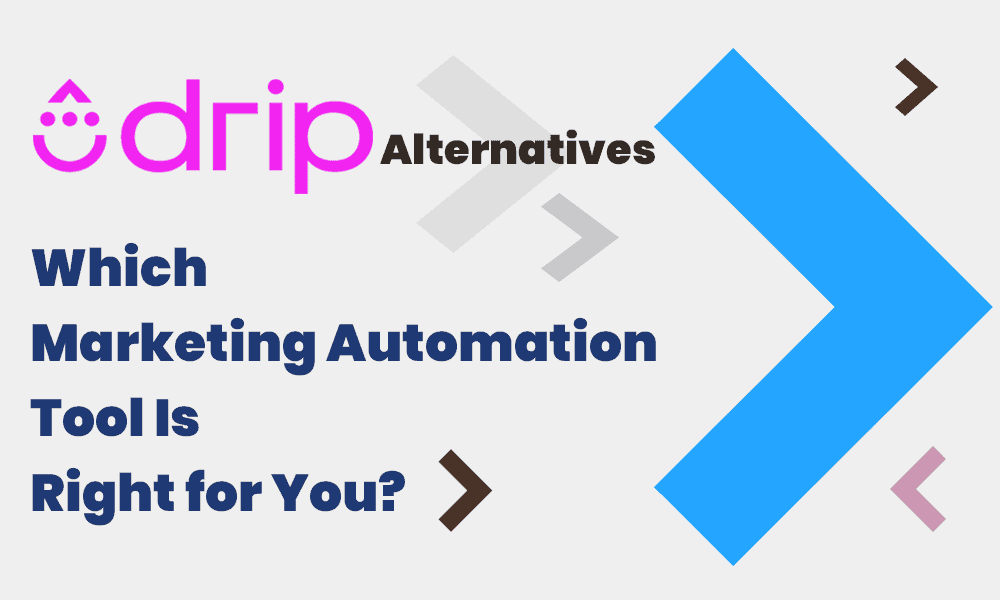 Drip Best Alternatives
During your search, you may have heard of popular email marketing platforms like MailChimp, AWeber, and GetResponse and you're wondering how Drip stacks up.
MailChimp
MailChimp is a popular option for small businesses. It's easy to use and is known for offering a simple way to do email marketing. It comes with a range of templates and some advanced marketing automation.
AWeber
AWeber is another affordable email marketing service. You can select from 700 templates and get access to a drag and drop editor. Its entry-level plan comes with a 500-email limit, but there's no limit to the number of subscribers.
GetResponse
GetResponse has 500 templates and you can browse through a stock library filled with over 1000 images. The price of the plans increases as your list gets larger.
Final Verdict
Drip is a highly-capable CRM and a great platform for eCommerce brands who are using this kind of platform for the first time. Everything is geared towards online retailers and this makes the features so much easier to get to grips with if you've never used a CRM before.
Sadly, this convenience can only last so long and the frustration of a sometimes-sluggish and often-buggy interface will last until Drip decides to address these issues (assuming it will).
The only other gripe I've got with Drip is the steep price increases for larger contact lists. This is a common problem with CRM platforms but I hope we're going to see more providers like ActiveCampaign come in with more reasonably-priced options to drive down costs across the industry.
To sum up, Drip is a great option for eCommerce businesses looking to get their first CRM platform but I don't think it quite does enough to establish itself a the CRM you'll keep using for years to come.