For Hers Review: Hers for Women's Health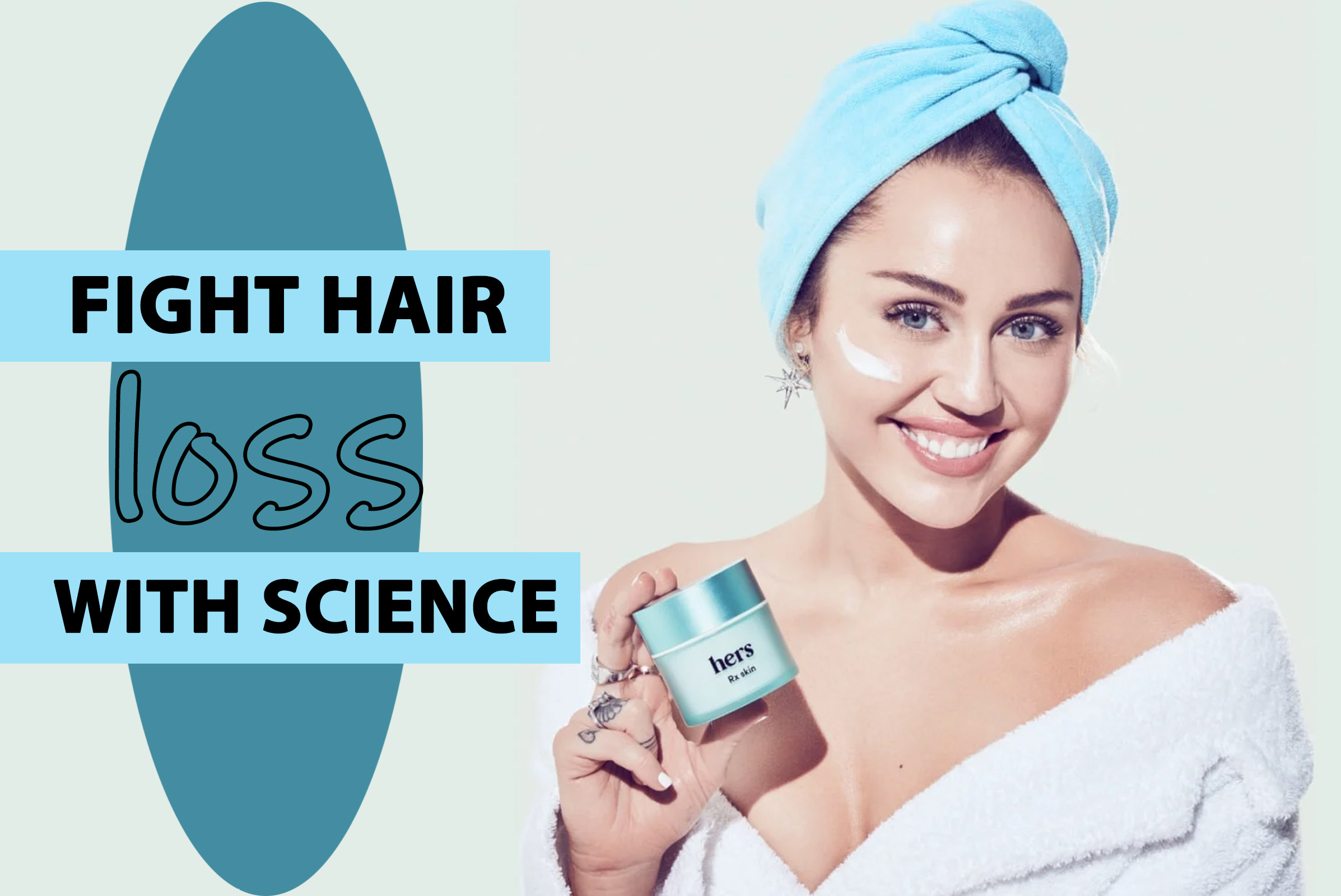 About For Hers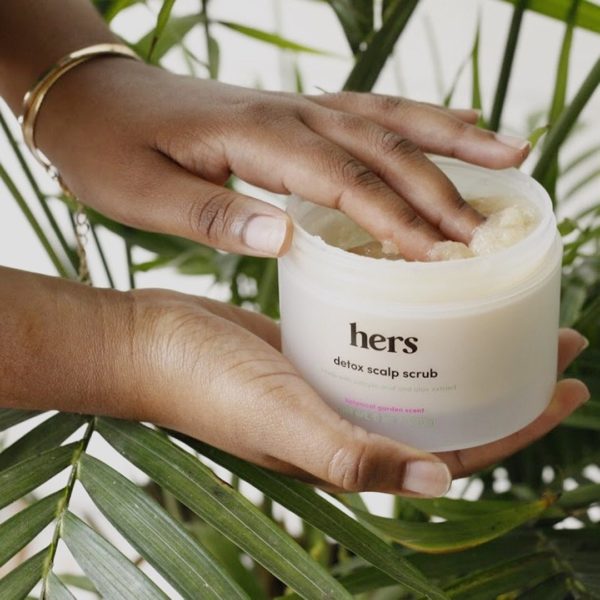 For Hers is on a mission to make female-focused, medical-grade products more accessible. This "telemedicine" site connects women to licensed medical professionals to help them get a diagnosis. Then, they'll ship the treatment right to customers' homes.
Offering treatments for problems concerning skin, hair, mental health, sex, and nutritional deficiencies, it's no wonder this brand has been featured by Forbes, The New York Times, and Business Insider. And, women have clearly taken notice—the company boasts more than 135k followers across Instagram and Facebook.
If you're considering checking out this brand's acne treatments, hair solutions, or birth control pills, this For Hers review can help you make that decision.
In the following sections, we'll take an in-depth look at the company, its mission, collection, customer ratings, promotions, and more. By the end, you'll have all the information you need to decide whether or not For Hers's products are for you.
Overview of For Hers
For Hers is actually connected to another brand titled Hims. Together, these direct-to-consumer digital health lines offer targeted products for men and women.
Hims & Hers Health was founded by Andrew Dudum, a serial entrepreneur, in 2017. He knew how inaccessible certain healthcare products were for the average person, whether that be because of stigma or funds, so he sought to shake up the industry.
The female-focused collection of Hers products seeks to aid women in all areas of her mind and body. Its products cost up to 80% less than what is currently offered at most local pharmacies. And the best part? Everything is available from the comfort of your home.
The line is led by a board of medical advisors—all of which are women. Indeed, the brand's mission is: "As women who value our health, we're here to do what we do best – roll up our sleeves to get it done right."
In addition to its products and medical services, Hers offers a blog that covers information about treatments, sexual health and pleasure, and mental health. This research-based blog aims to educate women and make certain topics less taboo.
The company now operated from its headquarters in San Francisco, CA. Now that you know more about the brand and its mission, this For Hers review will cover the pros and cons:
Pros
Wide range of wellness products that are tailored to women's bodies and needs
Telehealth service that lets you access healthcare privately and discreetly, from the comfort of your own home
Access prescriptions to its products directly through the website
Informative blog that aims to educate women, as well as remove the stigma around certain topics
Products are more affordable than in stores
Subscription to save
Free US shipping
Money-back guarantee between 60-90 days with full returns available
Cons
Only ships to the US
Limited testimonials online
For Hers puts women first through its carefully curated line that is tailored to the female body and its needs. Whether you're focused on your hair, skin, mental health, sex, or a number of other wellness areas, the brand likely has something for you.
Some of its products are even customized to your unique needs. For example, you'll have to take the For Hers skin care routine quiz and virtually meet with a healthcare professional before receiving a custom acne treatment.
Up next in this review of the brand, we'll take you through some of its top-selling products. From For Hers medication to shampoo, and treatments to cleansers, your new must-have item might be waiting in this lineup.
For Hers Review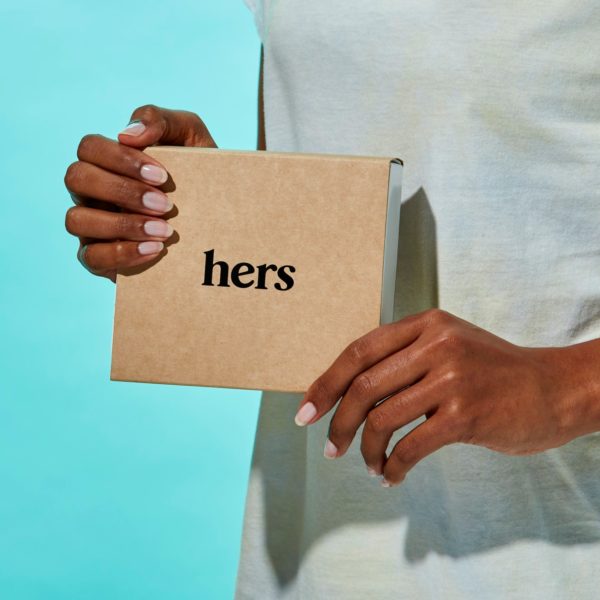 Whether you are looking for For Hers birth control, acne treatment, condoms, or shampoo, this brand has you covered. But, you might need to virtually meet with one of its licensed medical professionals before you'll be able to order your desired products. Up next, we'll take a look at some of the company's prescription and non-prescription bestsellers.
For Hers Customized Rx Acne Cream Review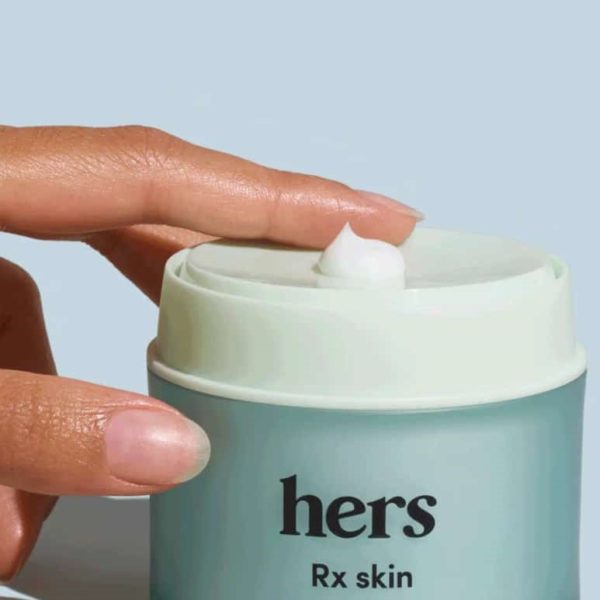 If breakouts, uneven texture, clogged pores, fine lines, and other common skin concerns have you down, and nothing seems to be working, it's time to switch to something more personal. The For Hers Customized Rx Acne Cream will be personalized to treat your unique concerns.
But, this product isn't for everyone, and you'll have to get a prescription. When you head to the product page, you'll be asked a few questions about your skin. You'll get to choose what your goals are, such as clearing clogged pores and boosting firmness, as well as what areas of your body you struggle with acne (face, back, chest, or other).
After a few more questions about your skin, you'll be matched with a healthcare professional who will determine whether or not you need a prescription.
If you're prescribed the Customized Rx Acne Cream, the brand will then mix up your own unique blend. It'll contain up to five potent ingredients: tretinoin, clindamycin, azelaic acid, zinc pyrithione, and/or niacinamide.
You've likely seen some of these ingredients in top skincare products. They each have a different purpose, such as removing old skin cells, preventing future breakouts, or unclogging pores. Because they're potent, you'll only get what you need.
Your Customized Rx Acne Cream will always be free of fragrances, dyes, and parabens. Plus, it'll arrive in a vessel that features an antimicrobial pump that disperses the correct amount of product without letting bacteria back into it.
Your matched healthcare professional will give you instructions for usage. Your For Hers skincare routine will ship directly to your door. Though the brand does not advertise how much this cream usually costs, new customers can get it for $5 for their first few months.
For Hers Acne Treatment Review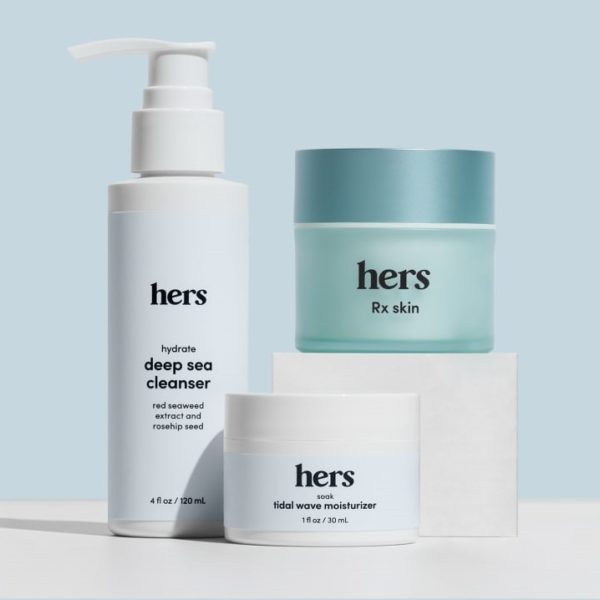 There's a reason why a three-step skincare system is so popular. It's a manageable amount of steps and it usually works. The For Hers Acne Treatment is designed to heal adult acne.
Your new skincare regimen will include three products when you purchase this system:
Deep Sea Cleanser (4 fl oz)
Custom Acne Cream
Tidal Wave Moisturizer (1 fl oz)
Though we've already taken a look at the Custom Acne Cream, the other two products are impressive, too. Deep Sea Cleanser does more than wash your skin. This gentle and hydrating cleanser features ingredients like rosehip seed and red seaweed extract to provide nourishment and prep your skin for your prescription cream.
Meanwhile, the Tidal Wave Moisturizer is made with hyaluronic acid and squalene. It locks in hydration and protects your skin's natural barrier.
This routine uses the fingerprint formula method to create a personalized acne cream that is unique to you. Just like if you were to only get the custom cream, you'll have to answer questions about your skin type and goals before meeting with a healthcare professional to acquire a prescription.
The Acne Treatment is available for $10/month for new customers. But, the brand does not disclose how much it costs after your first two months.
For Hers Anti-Aging Cream Review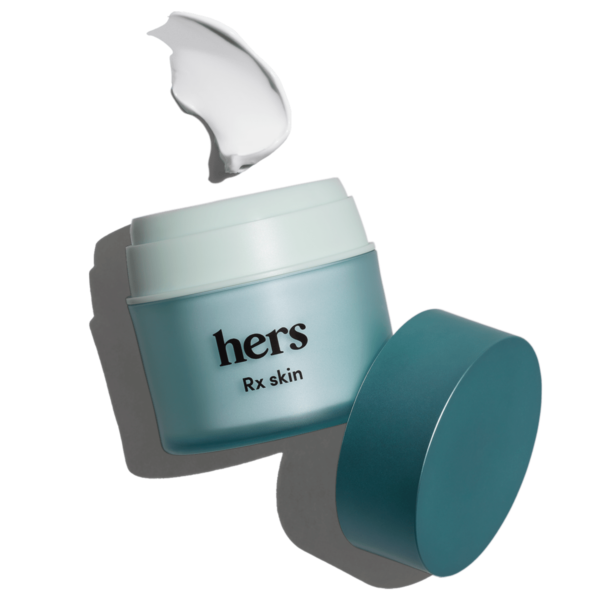 Let's face it—we're all trying to fight the look of aging skin. The For Hers Anti-Aging Cream is a personalized prescription product that helps minimize the appearance of fine lines and wrinkles.
Plus, this product will help firm up loose skin, improve uneven textures, and aid in the cell turn over process. It features well-known and clinically proven ingredients like tretinoin (a vitamin A derivative) and squalene.
Like some of the brand's other products, you'll need to acquire a prescription through the site to order the Anti-Aging Cream. Start by taking the For Hers online anti-aging quiz so the company knows how to customize your cream.
Though it fights signs of aging, people in their 20s and 30s can use this product as a preventative measure. You can purchase it at an intro price of $10 a month, but the company does not specify how much it will cost after that time.
For Hers Rapid Repair Hair Mask Review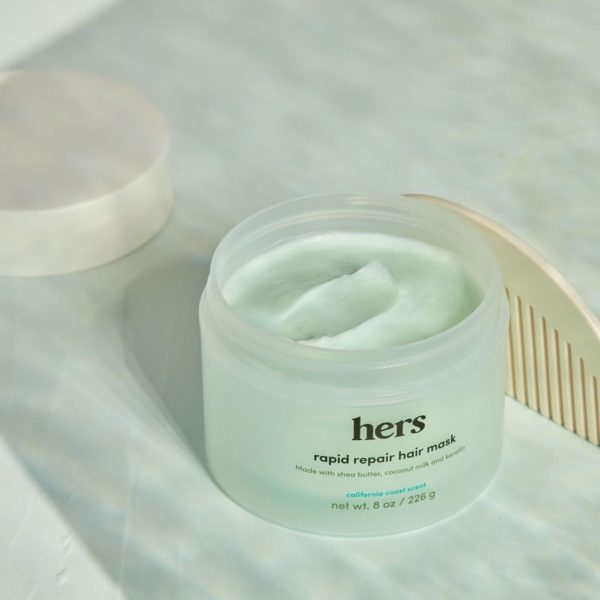 JLo is known for more than her talent. The singer and actress always looks incredible and has enviable hair. That's why For Hers teamed up with JLo to develop the Rapid Repair Hair Mask that gives you salon-worthy results at home.
This JLo-approved product repairs damaged hair without parabens, phthalates, sulfates, or animal byproducts. Instead, it contains hair-loving ingredients like jojoba seed oil, keratin, coconut oil, cupuacu butter, shea butter, and murumuru seed butter.
It features a light "Costal California" scent that embodies the ocean with notes of driftwood, sea salt, and woodsage. In other words, this product will transform your shower into a beachy spa with every use.
Best used twice weekly for up to five minutes at a time, the Rapid Repair Hair Mask leaves your hair looking smooth, hydrated, and shiny. Get it for $22 (8 oz).
For Hers Minoxidil Solution Review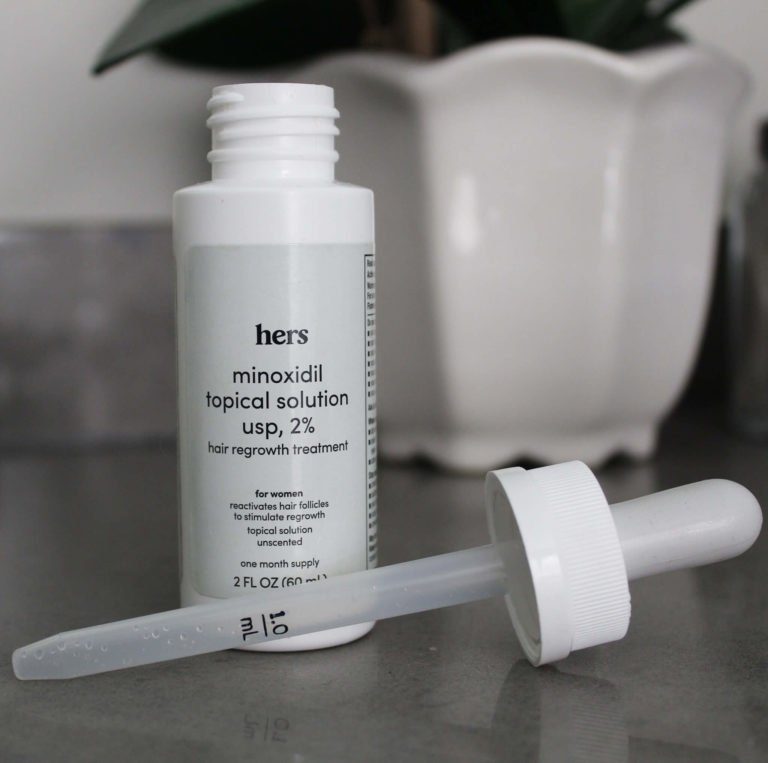 Hair loss isn't something that only men experience. Although it isn't as common or widely discussed, many women suffer from it too. Well, the For Hers Minoxidil Solution is here to help.
This product works by penetrating the scalp to activate hair follicles and extending the life of each strand. Women should start seeing results in 3-6 months.
The Minoxidil Solution is best used twice daily. Use the dropper to apply 1 ml directly to your scalp anywhere you are experiencing hair loss. When regrowth begins, be sure to continue using the product, otherwise, improvement might stop.
For a one-time purchase, this product costs $45. Your order will include enough of the solution for three months, which is three 2 fl oz bottles.
For Hers Shampoo Review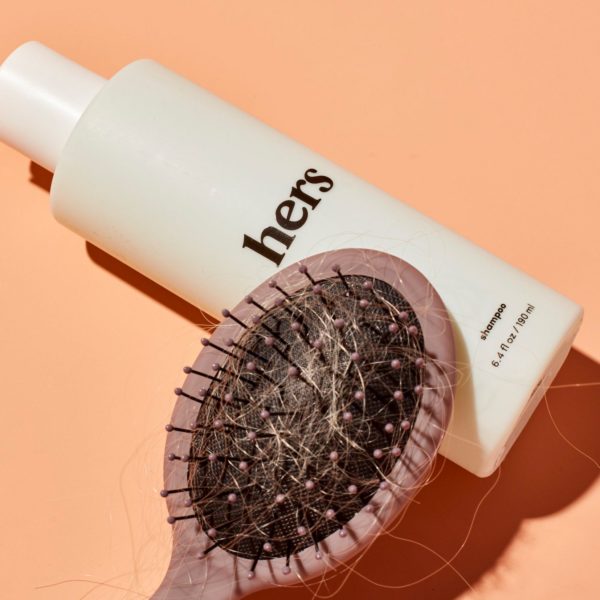 Suffering from hair loss? The For Hers Shampoo can help. If you're plagued by a constantly clogged shower drain, a floor that's covered in strands after each brushing, and leaving a trail of locks in your wake—it's time to do something different.
This product cleanses your scalp while focusing on removing excess sebum. The result? Well, a cleaner scalp will make the hair appear more voluminous. And, thanks to the lack of sebum, you'll have fewer clogged follicles—meaning more growth and less shedding.
The Shampoo should replace whatever product you're using now and should be used on a regular basis. After scrubbing, make sure to let the product sink in for a minute before rinsing.
For a one-time purchase, customers can get two 6.4 fl oz bottles of this For Hers thickening shampoo for $38.
For Hers Shampoo and Conditioner Review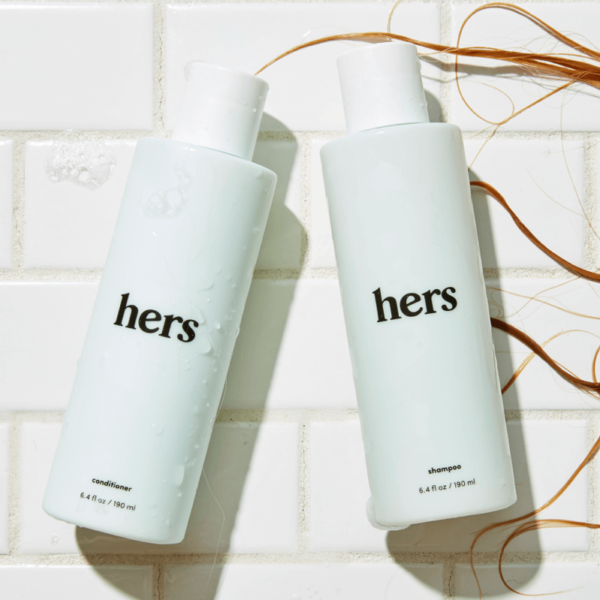 Start your hair routine off right with the For Hers Shampoo and Conditioner. Designed for people who shed more than usual, this duo features saw palmetto. This ingredient rids the scalp of breakage-causing buildup and oils.
Plus, it'll leave you with hair that feels soft, nourished, and strong. Use the shampoo and conditioner as you normally would, but leave the shampoo on for an extra minute before rinsing.
The Shampoo and Conditioner duo is only available through a subscription. Each month, you'll receive a 6.4 fl oz bottle of each product, for a total of $33.
For Hers Complete Hair Kit Review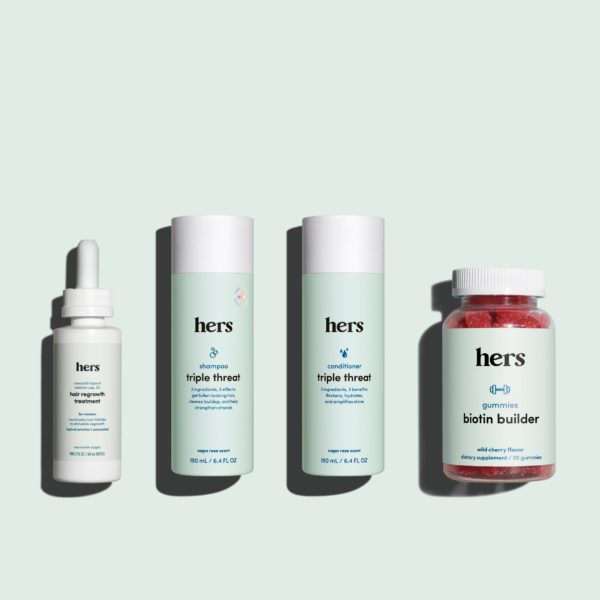 If you're just starting on your journey to longer and stronger hair, test out what the brand has to offer with the For Hers Complete Hair Kit. Formulated for those who experience too much shedding, and whose hair is in need of some TLC, this bundle includes:
1x Biotin Builder (30 gummies)
1x Hair Regrowth Treatment (2 fl oz)
1x Triple Threat Shampoo (6.4 fl oz)
1x Triple Threat Conditioner (6.4 fl oz)
The For Hers minoxidil treatment works to topically treat hair loss. Meanwhile, the Biotin Builder supplements ensure your body is getting the nutrients it needs for optimal growth.
Together, the shampoo and conditioner remove excess sebum and soothes each strand. These two products feature hair-loving and oil-fighting ingredients like biotin, salicylic acid, and saw palmetto, as well as pumpkin seed, argon, and coconut oils.
Customers typically see results after three months of consistent use. Add this For Hers hair kit to your routine for $55.
For Hers Salon Strength System Review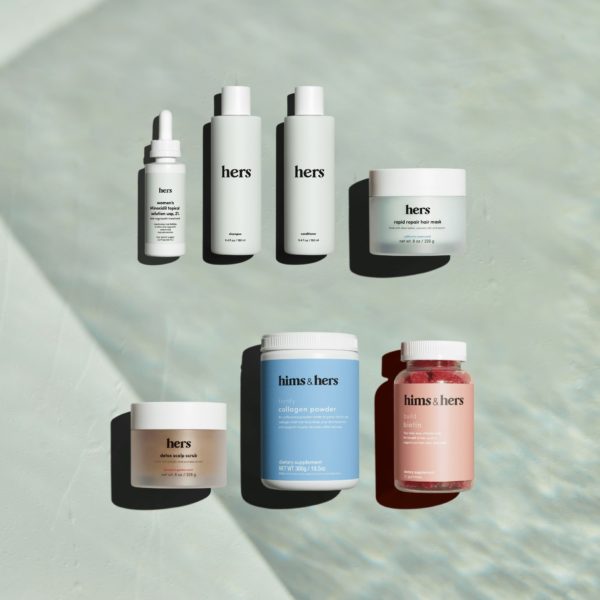 Looking for a complete hair transformation? Look no further than the For Hers Salon Strength System. Featuring seven of the brand's best-selling products, your body will be prepped for optimal hair growth—inside and out. You'll receive:
1x Minoxidil Solution (2 fl oz)
1x Shampoo (6.4 fl oz)
1x Conditioner (6.4 fl oz)
1x Rapid Repair Hair Mask (8 oz)
1x Detox Scalp Scrub (8 oz)
1x Collagen Powder (10.5 oz)
1x Build Biotin multivitamin (30 gummies)
This bundle is JLo—approved. In fact, she worked with the brand to develop the Rapid Repair Hair Mask and the Detox Scalp Scrub.
Products like collagen and biotin supplements should be consumed daily, and the minoxidil treatment should be used twice per day. Meanwhile, the shampoo and conditioner can be incorporated into your existing hair wash routine, whether that be daily or a couple of times a week.
On the other hand, the Rapid Repair Hair Mask and the Detox Scalp Scrub can be used twice each week. These products work to promote healthy and longer hair by removing buildup and nourishing strands.
Get the Salon Strength System for $94.
For Hers Reviews: What Do Customers Think?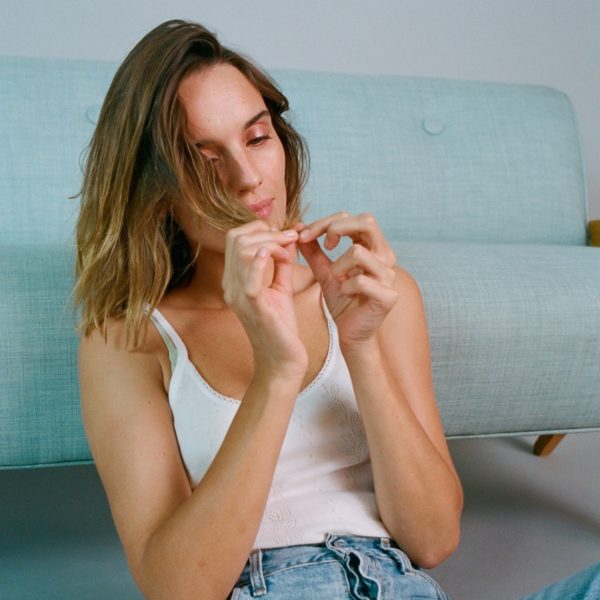 For Hers's products, as well as its mission to make healthcare for women more accessible, seem promising. But, what do customers think?
This For Hers review turned to the web to find out. Below, you'll find testimonials sourced from the company's website, Reddit, and Influenster. But, comments on the brand were exceptionally rare.
Not all of For Hers's products can be rated. But, the ones that can have all been reviewed dozens of times. Here's how they stack up:
Minoxidil: an average score of 4/5 stars from 39 ratings
Multivitamin Gummies: an average score of 5/5 stars from 46 ratings
Shampoo: an average score of 4.5/5 stars from 33 ratings
All NaturalCondoms: an average score of 5/5 stars from 46 ratings
Glide Aloe VeraLubricant: an average score of 5/5 stars from 43 ratings
Hers UT: an average score of 4.5/5 stars from 57 ratings
Miconazole for Yeast Infections: an average score of 5/5 stars from 67 ratings
Collagen Peptide Powder: an average score of 4.5/5 stars from 58 ratings
We chose to take a closer look at the Collagen Peptide Powder because it's one of the brand's most-reviewed products. Overall, customers praise the clean ingredients, how well the flavor mixes into a beverage, and the improvements they see in their skin and nails.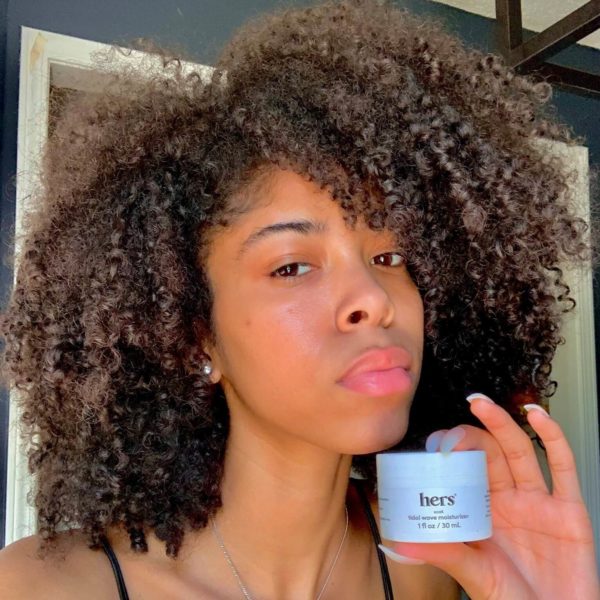 One woman reports that it serves as a good recovery supplement post-workout: "I have been using it as a supplement for about two weeks now and it seems to be doing a good job of helping muscle recovery after a work-out and the joint pain that I usually feel after working out seems to have been reduced quite significantly."
Meanwhile, another user writes that For Hers's supplement is the only collagen powder that has given her results. She continues, "I feel like my skin is more plump and smooth, which is amazing! My skin is really dry and prone to wrinkles and this seems to be working great for me. I'm impressed!"
Because the comments on the company's website were so positive, we turned to other sources to get a more well-rounded picture. On Influenster, some of its products have garnered a handful of ratings.
The most discussed products are the Complete Hair Kit and the Latisse solution. The former bundle earned 4.4/5 stars from 11 ratings and the latter treatment earned 4.7/5 stars from 9.
On the lash treatment, customers report significant results after a few months of consistent use. Take this woman's experience: "I've been using this for 3-4 months now and I can REALLY see the difference. My lashes are much longer and a little fuller than they were. My husband noticed the difference too and he never notices things like that!"
Next, we turned to Reddit. Here, shoppers have discussed the For Hers's personalized acne treatment minoxidil. Of her custom formula, one Redditor writes, "I just started it a month ago and so far I really really like it."
Overall, For Hers reviews were exceptionally sparse. And, negative comments were even more so. We did find that some users struggled to blend the collagen powder into their beverages without clumps.
Still, the positive ratings far outweigh the negative ones. We hope that as the For Hers grows, more customers share their honest experiences.
Is For Hers Worth It?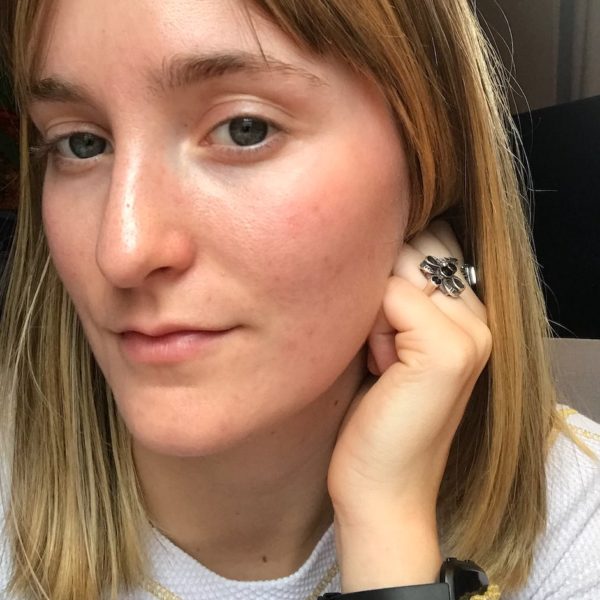 Based on our research, this For Hers review thinks that its best-selling products are definitely worth it. We particularly love that the brand is working to make healthcare for women more accessible.
Plus, the company educates women on topics that are often considered taboo. The For Hers meaning and mission of working to remove the stigma around female-focused healthcare is one that we can get behind.
In For Hers acne reviews, shoppers report transformative results due to the customization. And, its hair products perform well, too. But, ratings and comments were exceptionally rare, so it's best to take them with a grain of salt.
There is also For Hers primary care where you can receive non-urgent medical care from the comfort of your home. And, the brand will ship your prescription directly to you!
For all of these reasons, we think this telehealth service and its products are worth trying out.
For Hers Promotions & Discounts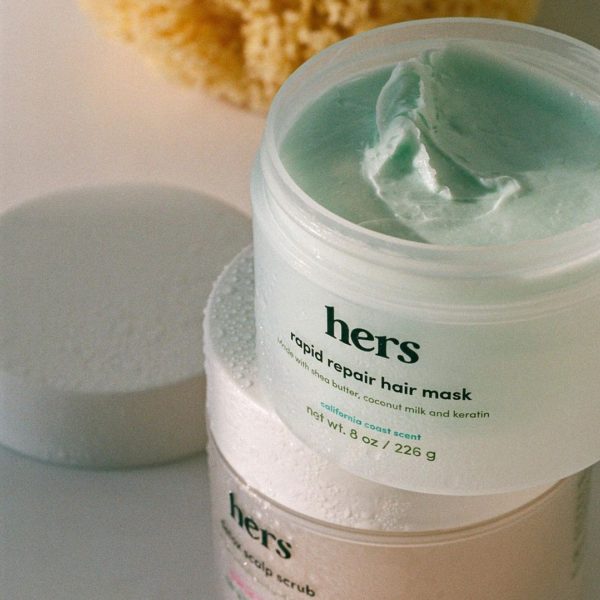 This For Hers review discovered that the brand is running a promotion. Right now, get two months of the Clear Skin System for just $10 per month, or two months of just the treatment for $5.
Where to Buy For Hers
You can only shop the brand's full collection from its website ForHers.com. But, some of its products are available through other retailers, such as Target and Bed Bath and Beyond.
FAQ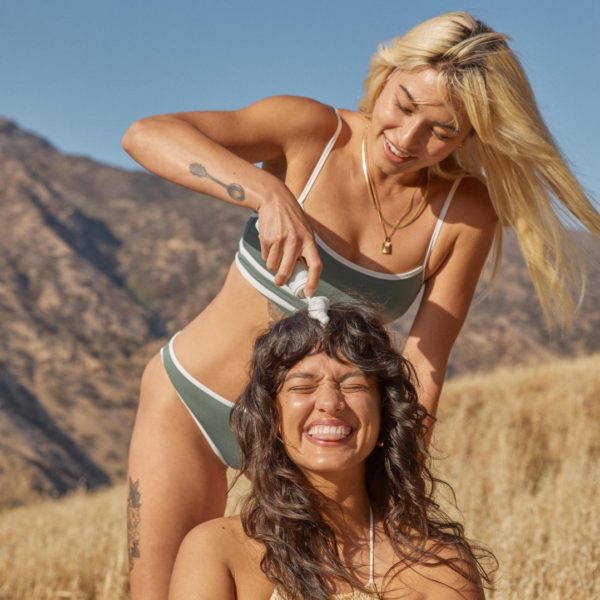 How do I cancel my Hers subscription?
If you want to cancel your Hers subscription for any reason, it's easy to do so. Simply call, email, or message the brand up to 48 hours before the monthly processing date of your subscription.
What is For Hers' Shipping Policy?
For Hers knows that, because of the nature of its products, time is of the essence. So, the brand usually ships orders within one day. In some areas, you might also be eligible for same-day delivery or pick-up.
Currently, the company only ships to the US. But, it does offer free shipping.
What is For Hers' Return Policy?
This For Hers review learned that you can get your money back during the return period for the product you purchased. Depending on the product, this time period ranges from 60-90 days.
To get a full refund:
The product must have been used how and how often the medical provider suggested
It is in the refund period
You submitted a refund request including your order number to [email protected] .com
You cannot get a refund after the refund period is over. You may be asked to return the remaining product.