FreshBooks Review | Features | Benefits | Pricing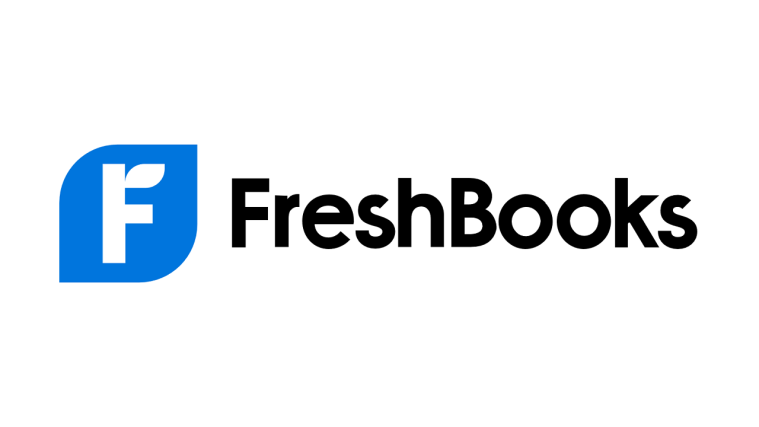 FreshBooks is an online accounting and invoicing service that saves you time and makes you look professional – Fortune 500 professional. We believe financial record keeping should be easy and fast but still detailed enough to satisfy your accountant. Try FreshBooks free for 30 days.
FreshBooks is one of the biggest names in the invoicing and accounting scene and is the software choice for over 10 million customers. FreshBooks has a number of key accounting features, double-entry accounting, and numerous integrations. FreshBooks has finally stepped up to the plate with its feature-set and joined the big leagues with other accounting competitors, such as QuickBooks Online and Wave.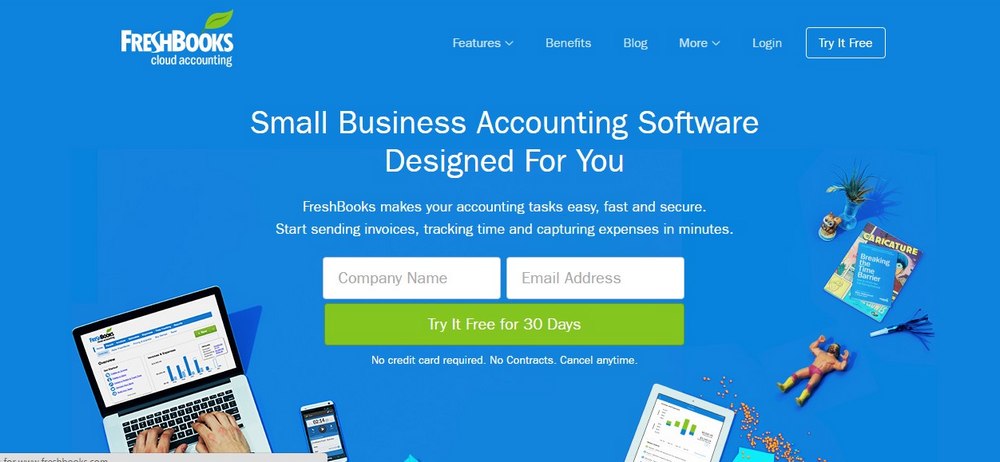 While there are several positive aspects to this accounting software, there are still several drawbacks to consider. The app is expensive. Each plan only comes with one user, so the cost of additional users adds up fast. There are also some features missing that you'd find with other accounting software, such as built-in payroll.
Despite these drawbacks, FreshBooks is incredibly easy to use and has some of the best customer support on the market. It's also one of the few programs to offer built-in proposals. This software could be a good option for some small businesses.
Now that FreshBooks has an amazing new version rich with improved features, the list of benefits became considerably long. Below we analyze the most important among them and explain how they can benefit your company.
Innovative accounting solution
Freshbooks is constantly adding and updating the features of their platform to continuously improve its functionality. Advanced features such as non-invoice income recording and bank accounts reconciliation are expected to be added. Some of their most recent updates include enabling saved credit cards to be visible on the Client's Profile and filtering by Uncategorized expenses when searching in the Expense section. Meanwhile, Freshbooks Classic, the previous version of Freshbooks, is still available should you choose to keep it.
Dynamic solution for SMBs
The developers of Freshbooks keep small teams in mind when developing the software. Hence, they continue to constantly reinvent the wheel of how midmarket accounting should be done and eliminating even the slightest possibility of human errors that lead to harmful inconsistencies. The proof of this dedicated approach is their new FreshBooks version, which simplifies the function of the current system, and adds long-awaited, advanced features. The new version lets you enjoy a beautified and modernized interface, natural collaboration with your team companions and partners, and improved quality of work. Managing your business is much simpler than it used to be, having in mind their automated task prioritization, the redesigned dashboard with outstanding customization possibilities and late payment tracking features.
Responsive mobile design
Freshbooks mobile apps ensure you stay connected and continue managing your business even when you're away. Available on both iOS and Android devices, you can create and send invoices, take a photo of receipts, manage expenses, keep up with updates, communicate with clients, and sync data across all devices on-the-go. Both mobile platform function impeccably, and feature secure backups to keep your data safe. With the new version of the product, they are even empowered with a comprehensive Projects suite which empowers streamlined and seamless communication.
Time-saving auto-bills and recurring payments
To save time, Freshbooks lets you set up a billing schedule. Automating recurring payments with auto-bills charges your client's card automatically and securely. Invoices are also sent in any currency you and your client prefers. What is really facilitated in the system now is capturing expenses, as all tasks are prioritized by the system, and displayed in a way which helps you depict the most important assignments for your team.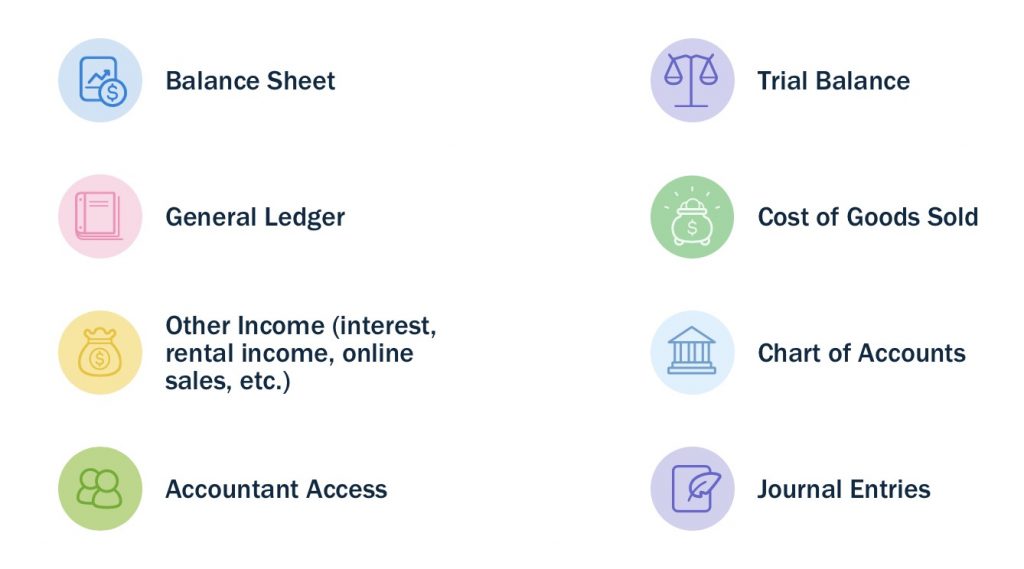 Preserved simplicity
Features are and, as designers promise, will continue being customizable, and allow you to attach all the files you want, trigger notifications and set alerts for delayed payments, assign expenses and different rates for each project, track billing, and brand invoices in an easy manner. This is one of the many fields in which FreshBooks is completely unsurpassed.
Invoice-to-payment functionality
Freshbooks has a reliable invoice-to-payment functionality. For instance, you can see when a client receives and opens the invoice you sent. This can help you deal with customers who claim they didn't get the invoice. FreshBooks effectively gives you the certainty that your invoices have been properly delivered to clients. In the latest version, you will also be able to set invoice due dates, charge late fees, and turn on new online payment options.
Optimize expense tracking
Freshbooks makes it easy to keep track of expenses. Receipts can be attached and organized in the software. They will be prepared during tax time and help you stay in budget with an easy-to-read summary. You can also easily track which expense belongs to which client or add the expense to an invoice as a reimbursement deal with a particular client. It is also possible to link the Expense Tool to your bank or credit card account and import expenses directly from your bank. All these features make it really easy to track your company's day-to-day expenses.
Accurate time tracking
You can track time against specific clients and projects in Freshbooks. A Chrome extension is available to enable time tracking in apps such as Basecamp, Asana, and Trello. This gives you more confidence to bill clients for tracked hours with accuracy as you can add the hours you've logged into your client's invoice. In addition, FreshBooks offers flexible billing features: you can charge an hourly or flat rate according to your agreement with the client. Your team members can also log in their time separately for projects, allowing you to track individual and team time worked, and calculate a running bill for payment.
Brilliant reporting
Entering data in a spreadsheet is time-consuming and error-prone. FreshBooks is a much better alternative as it enables you to generate financial reports by simply processing data already entered. You can easily generate a profit and loss report with just a few clicks. You can also create an expense report to track monthly costs and monitor your balance sheet in real time. Handling taxation issues is likewise simple. You can easily filter your accounts records and generate accurate tax reports and tax summaries. These reports can be then exported to a CSV file or other popular formats for sharing with a tax adviser or accountant.
FreshBooks has added a ton of features recently, all designed to make your life easier. These include the Quick Expense Creation feature, which allows you to create an expense directly from the Expenses tab instead of having to click over to another screen.
The Retainers option is particularly useful if you're an attorney, accountant, or provide some kind of service, allowing you to budget and reserve blocks of time while billing your clients a retainer fee.
My other favorite new feature is the addition of ACH payments to FreshBooks Payments, which means you'll likely get paid even faster. But perhaps the most important addition to FreshBooks is double-entry accounting, which is no big deal if you work solo, but it's a major deal if you have even one employee working for you.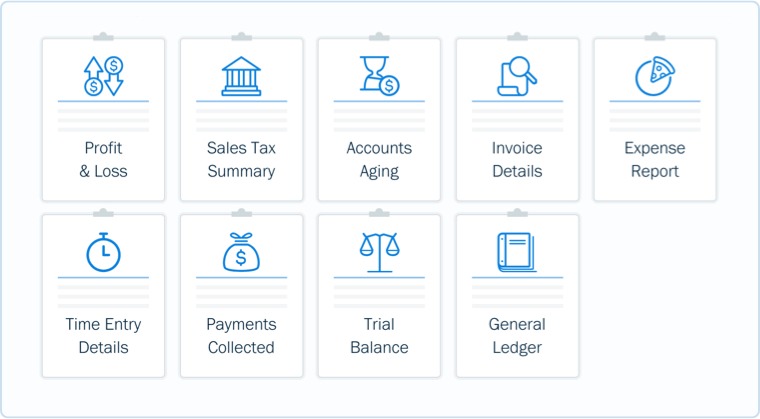 This addition allows FreshBooks to compete with products such as QuickBooks Online and Xero. FreshBooks does not currently offer budgeting capability, but it does offer integration with nearly 100 apps in categories such as CRM, e-commerce, inventory management, marketing, project management, and tax preparation.
Everything in FreshBooks is designed to help you do things faster, whether that's invoicing a client, recording a payment, tracking your time spent on a project, or snapping a photo of your lunch receipt and uploading it to FreshBooks. In fact, FreshBooks offers much more than standard invoicing and expense tracking. You can also:
• Invoice clients
• Record and track expenses
• Track time
• Manage a project
• Make client estimates
• Record payments
• Utilize double-entry accounting
• Produce reports
• Invite team members with My Team
FreshBooks offers three different pricing levels. Only the two largest plans come with double-entry accounting and the subsequent accounting features. You can make monthly payments or purchase a yearly subscription, which will get you a 10% discount. There is a free 30-day trial. No credit card or banking information is required, and the service can be canceled at any time. A custom plan option is also available.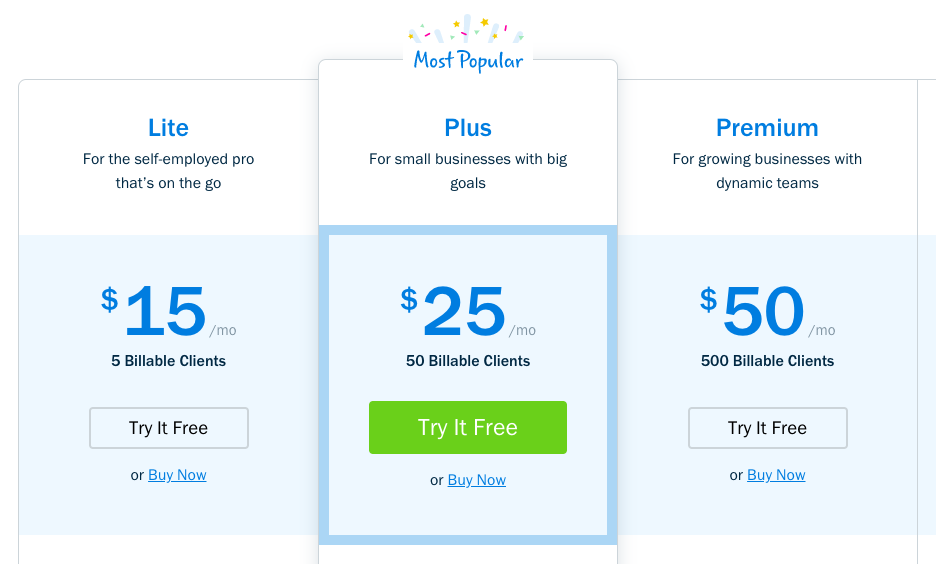 FreshBooks also offers a generous referral program where you can receive $5 for each referral that ends in a free trial and $55 for referrals that end in a paid subscription. There is also a 30-day money-back guarantee if you change your mind about the software.
Here's what you get with each FreshBooks pricing plan:
Lite
FreshBooks Lite costs $15/month and includes:
• Unlimited invoices
• Unlimited estimates
• Expense tracking
• Contact management
• Project management
• Time tracking
• Mobile mileage tracking
• Reports
• Five billable clients
• One user
Plus
FreshBooks Plus costs $25/month and includes everything in the Lite plan, plus:
• Double-entry accounting
• Advanced reports
• Proposals
• Live bank feeds
• 50 billable clients
• One user
Premium
FreshBooks Premium costs $50/month and includes everything in the Plus plan, plus:
• Bill-tracking
• 500 billable clients
• One user
If you have more than 500 clients, FreshBooks offers a fourth service called FreshBooks Select. FreshBooks Select includes all of the features of FreshBooks Premium but adds more users and more features, such as advanced payments, QuickBooks and Xero integrations, and a dedicated account manager.
Contact FreshBooks directly for a quote for FreshBooks Select.
Extra Costs To Consider With FreshBooks Pricing
Before purchasing FreshBooks, there are a few extra costs you may have to factor in, depending on your business's needs:
•             Additional Users: Each of the plans above only supports one user. Additional users cost $10/month per user. FreshBooks has recently added a new manager role to help you better control user permissions. You can add contractors for no additional cost. (The contractors will have to pay for the software if they invoice to more customers than just your business.)
•             FreshBooks Payments: FreshBooks Payments allows you to accept payments from most major credit cards directly from your invoices. Payment processing costs 2.9% + $0.30 per transaction for most credit cards.
• Advanced Payments: Advanced Payments is an add-on that allows you to save and charge credit cards, manage subscription-based billing, and use it as a virtual terminal. This service costs an additional $20/month.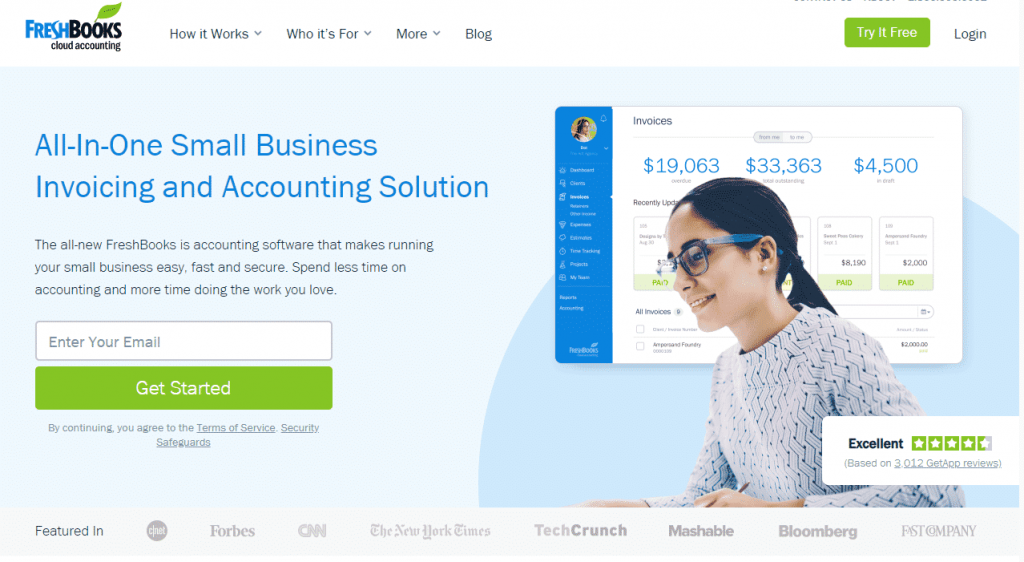 Final verdict
We're really pleased with the way the latest incarnation of FreshBooks looks and performs. It's been around for a while now and that is obviously a strength as the FreshBooks folks have refined the essence of the accounts package, while making it a wonderfully straightforward user experience.
It's easy to setup and configure, the menu systems and sections are plain and simple, plus there's plenty of power behind it to ensure things keep on ticking even if you're asking a lot of it. All told, FreshBooks seems like a mighty fine way to do your accounting and, depending on your requirements, is actually pretty cost-effective.