Freshdesk Review – Features, Benefits, Product Strengths, Pricing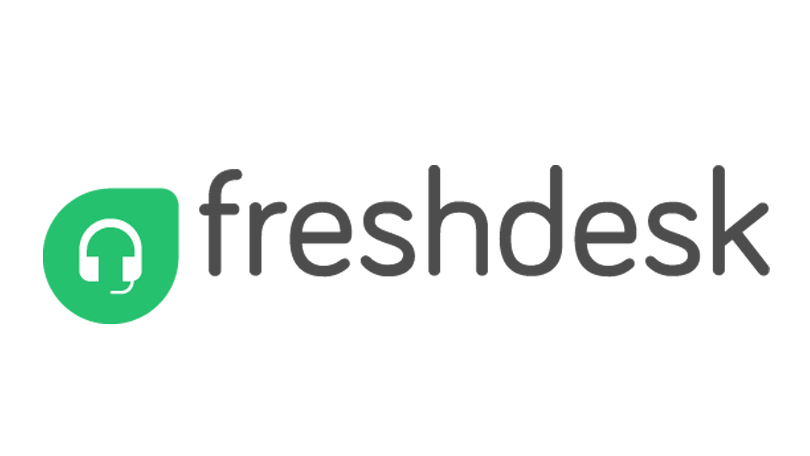 Freshdesk is a cloud-based customer support software and helpdesk solution by Freshworks. It is a platform with a comprehensive set of tools and features to help businesses support all the needs of their customers. Companies around the world use it to deliver exceptional customer service and experience. They are able to streamline their processes and provide multi-channel support. The software also helps customer agents become more productive through automations and game mechanics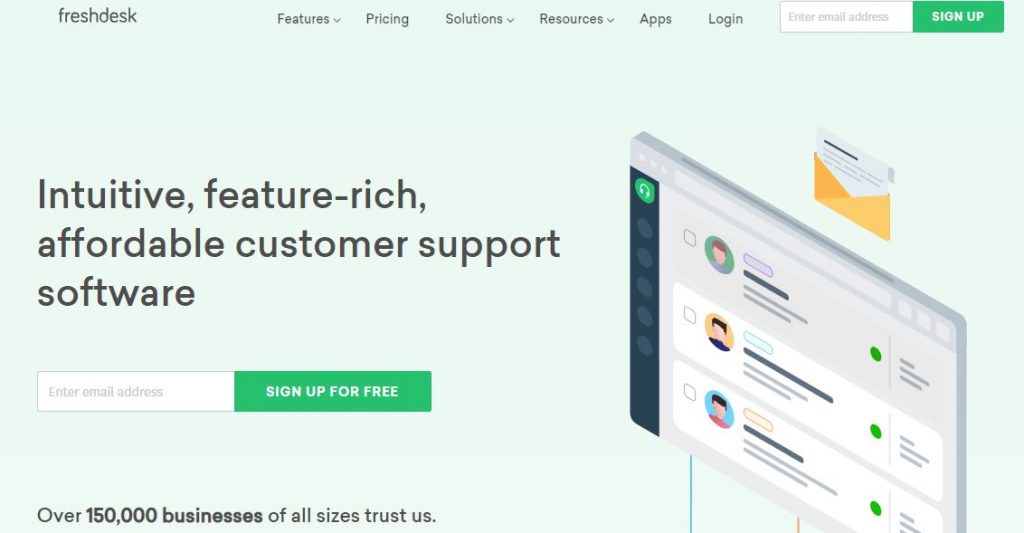 Main features of Freshdesk are:
Convert email to ticket
Knowledge base
Customer self-service portal
Service Level Agreements
Automated ticket routing and scenario automations
Social channel support like Facebook & Twitter
Community Portal with Idea Management & Voting
Multi-brand helpdesk channels
Freshbooks, Google Apps, Harvest, CapsuleCRM integration
Support for different languages and global locations
Freshdesk Customer Satisfaction Surveys
Leaderboard & gamification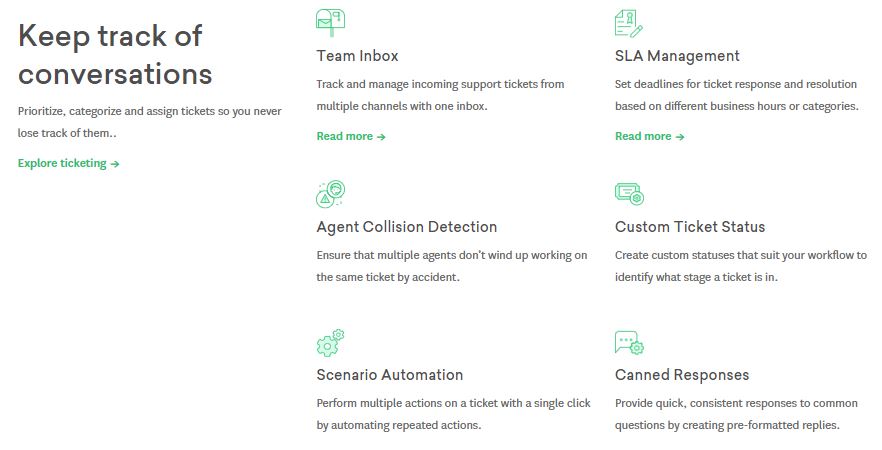 Transform your inbox into a collaborative platform. Agents can see a single panel with status updates so they can help each other address the problem. With more eyes, no email is left unaddressed.
Freshdesk's proactive agent-collision detection avoids two reps replying to the same customer and, worse, with different answers.
The one thing that we cite about this software in our Freshdesk reviews is that you can create ticket labels and route them to the right staff for the right answers or resolution.
Tickets are easy to customize in a way that makes sense to your business work flows.
Automated processes fast track the process from dispatch tickets to resolution; tickets are also categorized, role assigned, and prioritized according to urgency.
Track mentions of your brands across social networks and address a complaint quickly to prevent escalation or maximize opportunities to get more business.
Your support agents get visibility in various social networks.
Get intuitive suggestions from knowledge base to help your agents feed the correct answer.
Help customers help themselves using your knowledge base portal, while offloading repetitive queries from your support team.
Create a community of happy customers and brand ambassadors by encouraging them to share tips, share experiences, and even provide answers.
Monitor customer-agent engagement and keep track of time to identify patterns, bottlenecks, or opportunities across your support infrastructure.
Create independent helpdesk channels for your various brands using only one system.
Freshdesk supports different languages and global locations.
Get the big picture at once with dashboards or drill down to details.
Freshdesk's Customer Satisfaction Survey allows you to measure your customer service performance.
Gamify your support service to motivate agents and watch your overall customer service improved.
Freshdesk offers a freemium pricing plan with different configurations to fit different company requirements and sizes. The free Sprout plan includes up to 3 agents and email support channel, standard phone channel and knowledge base features. Higher plans include more advanced features. 24×7 email support and 24×5 phone support is included in all plans. A 30-day free trial period is also available, where users start on the Estate plan.

The following Freshdesk integrations are currently offered by the vendor:
FreshBooks
Salesforce
SugarCRM
Capsule
Facebook
TwitterHarvest
Gmail Gadgets
Google tools
HelpOnClick
JIRA
Snap Engage
iContact
Zoho CRM
Nimble
FetchFlow
Knowlarity
MailChimp
Campaign Monitor
Highrise
Olark
Constant Check
Shopify
Userlike
Magento
Woo Themes
OneSky
Why Freshdesk
Freshdesk is a complete solution for companies to support their customers. It has powerful and usable features. It is affordable, scalable, integrates with other apps and designed to help support agents be more productive and helpful to customers.