HelloFresh Review: America Meal Kits | Fresh Meal Delivery for Home Cooking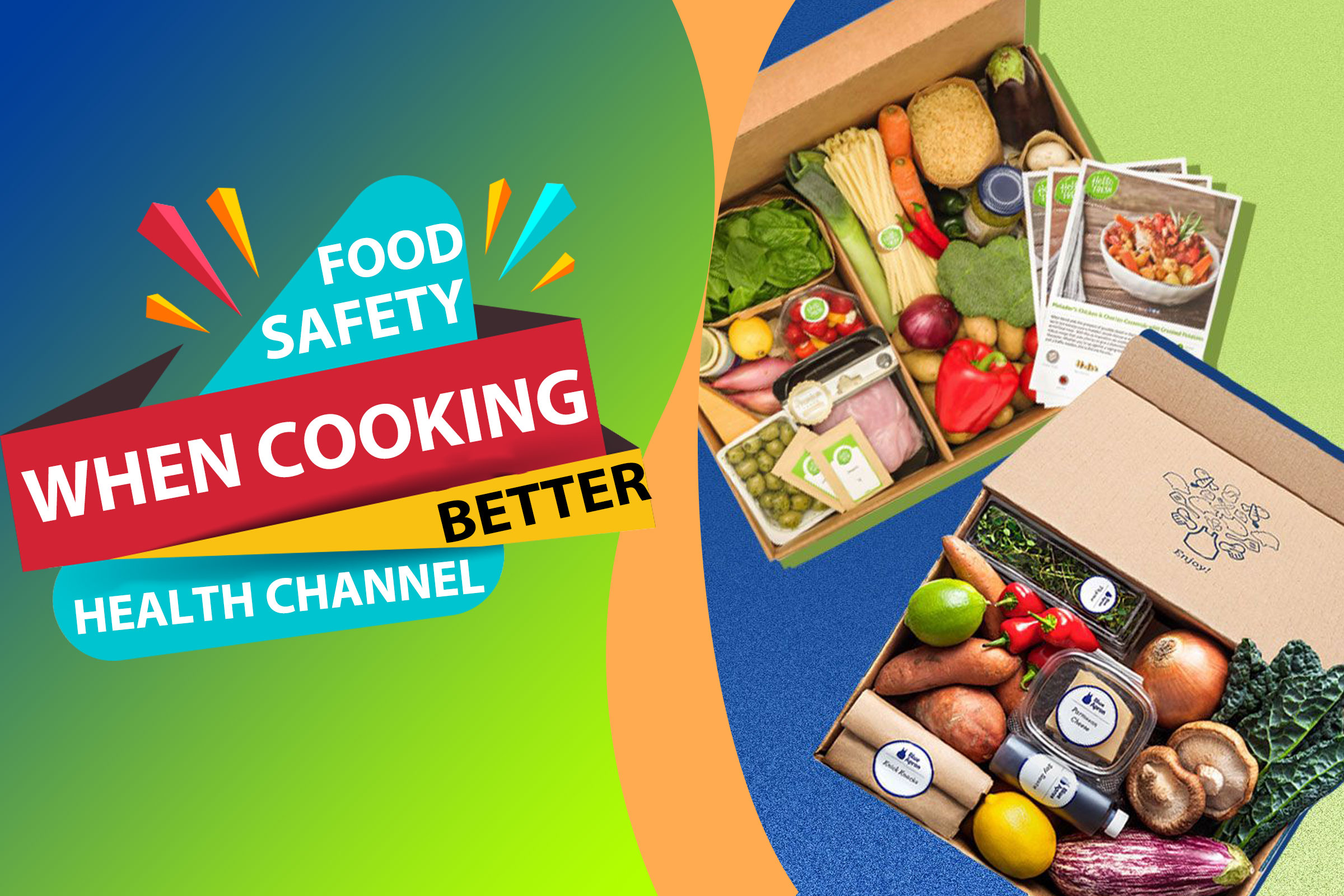 About HelloFresh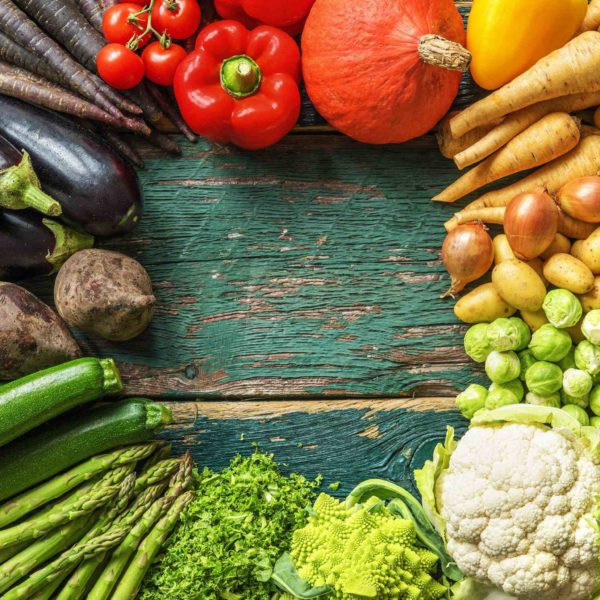 HelloFresh is recognized as the largest meal kit company in the US. They sell fresh ingredients needed to cook a variety of healthy dishes, and provide straightforward recipe cards to make the process smooth and easy.
With a following of 556k on their Instagram, HelloFresh has been endorsed by many social media influencers and reality TV stars. They were named USA Today's America's #1 Meal Kit, and won Newsweek's America's Best Customer Service 2019 award for their innovative ideas.
This HelloFresh review will take a closer look at the brand and its products, customer ratings, promotions, and more, to see if their service is worth subscribing to.
Overview of HelloFresh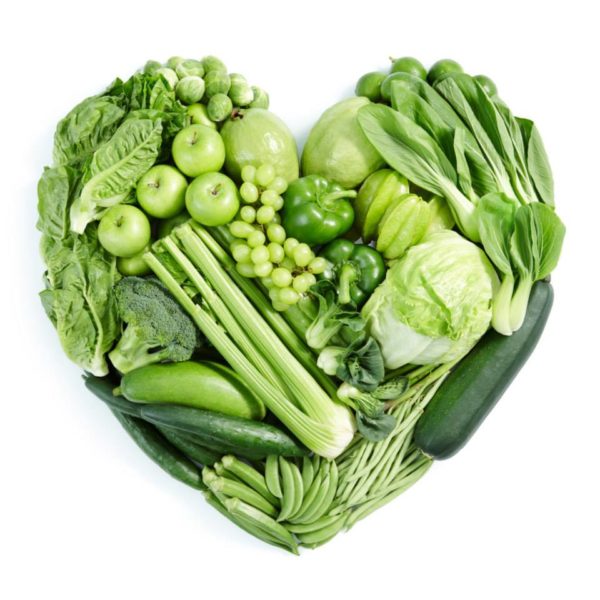 HelloFresh was founded in Berlin, Germany by Dominik Richter, Thomas Griesel, and Jessica Nilsson. The company had its humble beginnings way back in 2011, when they were initially hand-delivering packages to their first few customers.
The brand started to prosper in 2012, when their fanbase started multiplying. In that same year, they expanded overseas to the UK, Netherlands, Australia, and the US. By 2014, HelloFresh was delivering approximately 1 million meals every month.
Four years later, they acquired Green Chef, which is an organic meal kit service, and a similar Canadian company called Chef's Plate. Around that time, HelloFresh also started a wine subscription service in the US. Talk about an unstoppable force!
HelloFresh now offers countless recipe combinations, suitable for those following specific diets. They cater to both individuals and families, handing over full control over how many meals you need per week.
HelloFresh's mission: "Provide every household with wholesome, hassle-free homemade meals." They free customers of the stress of grocery shopping and meal planning. Everything you need is provided, from meat to spices—all you have to do is throw it into a pot.
Before going any further, This HelloFresh review will now go over pros and cons about the company.
Pros
Wide variety of delicious meals that take vegetarian and family needs into consideration
The service delivers pre-measured groceries and recipes to your door
Detailed instructions provided
Inclusive meal options that can be adjusted according to number of people in your household
A fun way to try new foods and ingredients
No charge for cancelling and pausing the subscription
No waste
Student discount
Savings on the first three orders
Many influencers offer promo codes
Cons
Shipping fees per Recipe Box
Some subscribers have reported receiving wilted or rotting produce, but
customer service is available to remedy the situation
Prep time could take longer than specified on the recipe cards
HelloFresh does not offer dairy, gluten, or nut free meals
No specific HelloFresh keto or paleo meal plans
How Does HelloFresh Work?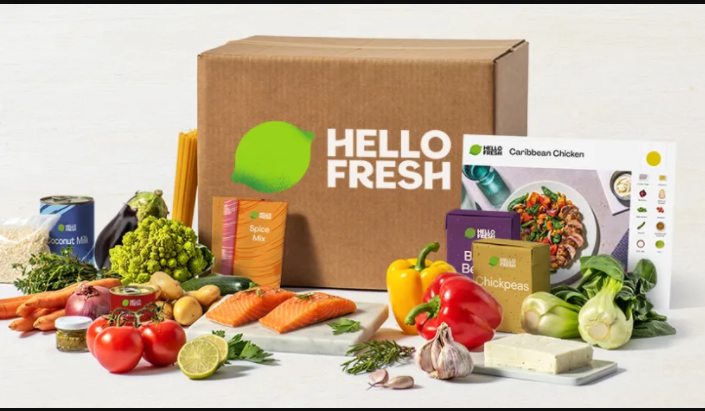 This HelloFresh review will go over the process of the brand's meal delivery service and how it works. We'll go in depth and explain the step-by-step process, while taking a look at some of their plans.
The benefits of HelloFresh's Recipe Boxes include:
Deliciousness: HelloFresh recipes are tested many times to ensure your dinner is as tasty as can be
Simplicity: From the easy HelloFresh Log In process to the foolproof recipe cards, they aim to make your life easier
Flexibility: HelloFresh aims to accommodate all types of households and busy schedules
Stress-free: HelloFresh meals are pre-planned and come with little clean up
Diversity: HelloFresh takes special diets into consideration, offering vegetarian and calorie-smart options
No waste: Your HelloFresh box will come with sustainable, recyclable packaging
To get started, you're going to need to:
Personalize a HelloFresh plan by selecting from 4 dietary preferences, and specifying the number of people in your household (minimum 2)
Schedule your delivery by number of recipes you'd like to receive per week
Browse the menu and pick out 3–4 dishes
This HelloFresh review found that you cannot buy products separately without signing up for their subscription. On the bright side, there are no commitments; you can skip a box or cancel at any time.
Below, we've listed the Recipe Box plans:
Vegetarian
Carb Smart
Family Friendly
Special Recipes
20-Min Meals
Beyond Meats
This HelloFresh review will now go over each meal plan, to provide details on their contents, pricing, and more.
HelloFresh Vegetarian Menu Review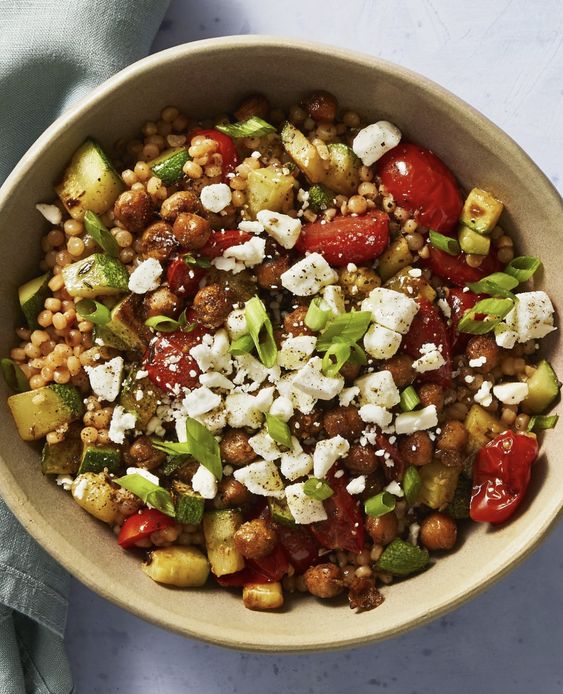 Going meatless doesn't have to limit your palate. The HelloFresh Vegetarian Menu features recipes from all over the world, incorporating garden-fresh vegetables and herbs. The brand also lists calories per dish for the health-conscious.
Invite your friends over for dinner, and divide up the chopping. Visually, these dishes may look intimidating, but HelloFresh carefully labels each ingredient for an effortless assembly. Most of these recipes can be prepared in under 30 minutes!
Some examples of HelloFresh's vegetarian options include Zucchini and Tomato Flatbreads, Italian Garden Veggie Soup, Veggie Shepherd's Pie, and Southwest Stuffed Zucchini Boats. Everything arrives in insulated packs, so you can rest assured that all your greens will remain fresh until they're ready to be plated.
The price of this subscription varies from $50–$120 per week.
HelloFresh Carb Smart Menu Review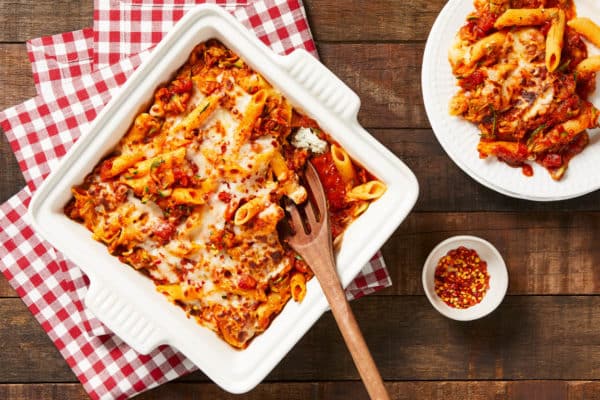 Have you ever heard the saying, "Abs are made in the kitchen"? If you're exercising round the clock and not seeing a difference, it might be time for a change. The HelloFresh Carb Smart Menu features dietician-approved meals that range around 650 calories each. It takes the guesswork out of what to eat post-workout, assisting with your weight management goals.
Bread is delicious, no doubt about it. Luckily, complex carbohydrates can also be found in some vegetables and beans. When subscribing to a Carb Smart meal plan, you'll be able to browse through many lean protein-reliant options. These help improve your mood, and allow you to feel more confident about making healthier lifestyle choices.
Some examples of HelloFresh's Carb/Calorie Smart meal kits include Miso Chili Chicken, Saucy Pork Burrito Bowls, and Tuscan Pork-Stuffed Peppers. The best part? You can try out unique ingredients without having to spend money at the grocery store for full-size products. If you've always wondered what Gochujang tastes like, order a Bibimbap.
To try out your own favorites, subscribe for $50–$120 per week.
HelloFresh Family Friendly Menu Review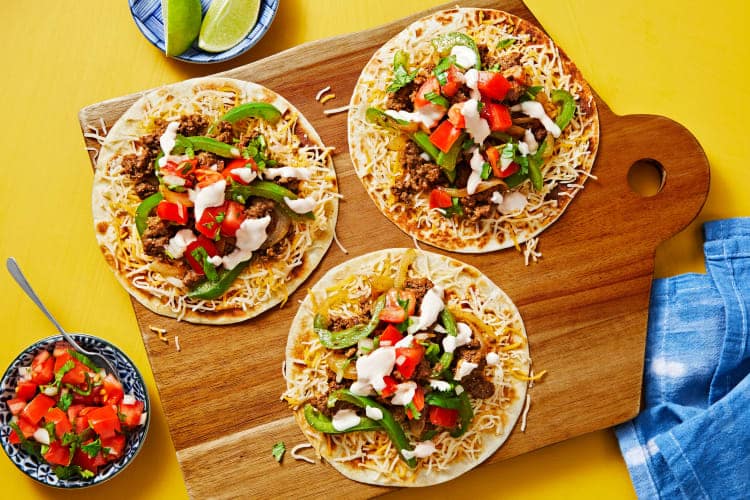 HelloFresh knows that children might not appreciate a Brussel Sprouts Salad. They've designed the Family Friendly Menu to feature recipes that the whole family will love. Your little one can even jump in and help you prepare these safe and simple meals.
The Family Friendly meal subscription is perfect for families of all sizes, too. Minimize stress by setting up delivery 4 times a week, or opt for 2 special dinners for the weekends. As long as you have your pans and spoons ready, the process should take less than an hour—from doorstep to table.
Some examples of HelloFresh meal kits from this spectrum include Pork Chops & Apple Rosemary Pan Sauce, Bacon Penne Arrabiata, and Italian Sunday Supper.
Planning a weekly meal rotation for finicky loved ones is no easy feat. This HelloFresh review gets it. To expand your kids' horizons (and your own!) with some new foods, subscribe to the Family Friendly kits for $50–$120 per week.
HelloFresh Special Recipes Menu Review
HelloFresh's Special Recipes Menu has the least amount of limitations. It offers a variety of meat and fish, as well as fresh produce ingredients that will have everyone wanting more. When ordering from Special Recipes, you might even become overwhelmed with options to choose from. That's hardly the worst problem to have—this meal plan is inclusive of many preferences!
This HelloFresh review can just picture it: You're binge-watching Masterchef and your mouth is watering from everything you're seeing on TV. But, you don't have the culinary skills of Gordon Ramsay, or the motivation of the contestants. What a perfect time to pull out your HelloFresh Special Recipes box and make your own 5-star dish, with half the effort required. Some appetizing examples of meals under this category include Cheesy Smothered Mushroom Chicken, Szechuan Pork & Green Bean Stir-Fry, and the Salsa Verde Enchiladas.
Give the Special Recipes Menu a test run for $50–$120 per week.
HelloFresh 20-Min Meals Menu Review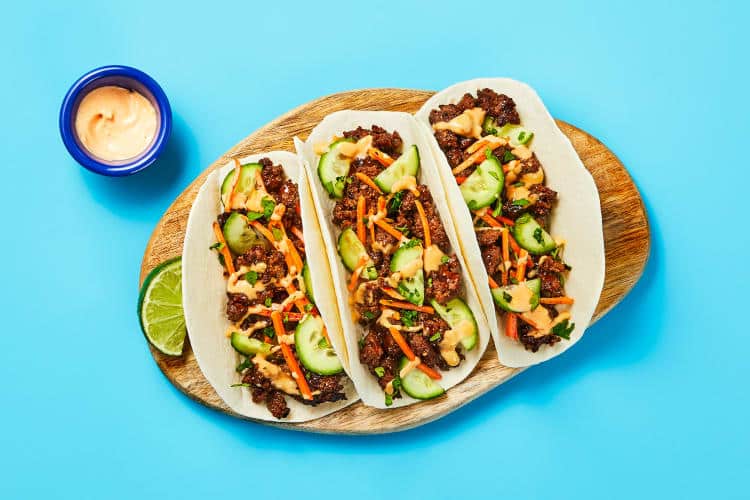 If you've exhausted the local takeout options, or all the restaurants are under lockdown, don't lose hope. The HelloFresh 20-Min Meals Menu features recipes that you can cook from the comfort of home.
When ordering these quick and tasty 20-Min meals, you'll be saving time, while cutting shopping and cooking duties in half. Not to mention, reducing the aftermath of cleaning up! If you've got a long night of work or studying ahead, these meal kits might just save the day.
With this HelloFresh option, you have dishes like Harissa Chicken Bowls and Banh-Mi-Style Beef Tacos at your fingertips. Go ahead, pick out the tomatoes. It is a fully customizable meal, after all.
You'll appreciate the efficiency of the 20-Min Meals Menu. Subscribe for $50–$120 per week.
HelloFresh Beyond Meats Menu Review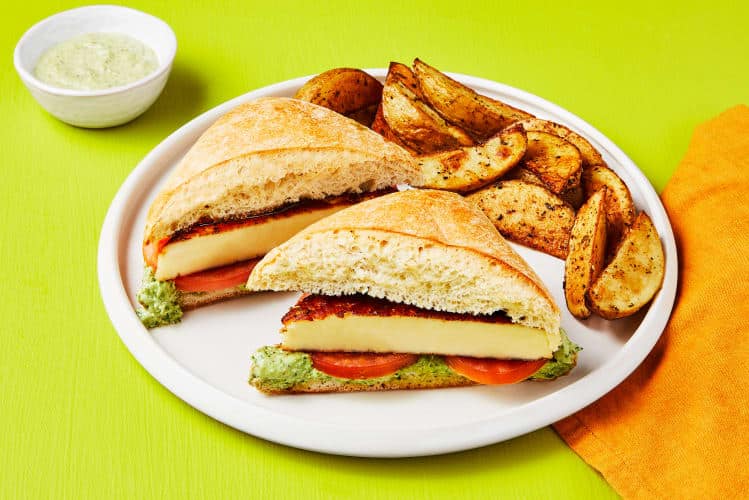 Sometimes, even the most dedicated vegetarians crave a good burger. HelloFresh's Beyond Meats Menu offers meat alternatives that taste just as good as regular meat. When choosing recipes from this subscription, you'll receive exciting foods that will allow you to stick to your diet.
For all vegetarians and pescatarians, these meal kits include delicious dishes such as Creamy Pesto Grilling Cheese Ciabattas, Mighty Meatless Bolognese, and more. This HelloFresh review recommends hosting a barbeque in nice weather and trying out some of HelloFresh's gourmet meatless burgers. Who knows, you might even prefer soy patties over beef!
Prank the hardcore meat lovers in your family for only $50–$120 per week.
Our Favorites from the Menu
This HelloFresh review has scoped out some of the best foods that can be found on the company's website. See if anything below stirs your appetite, too!
When Steak Met Potatoes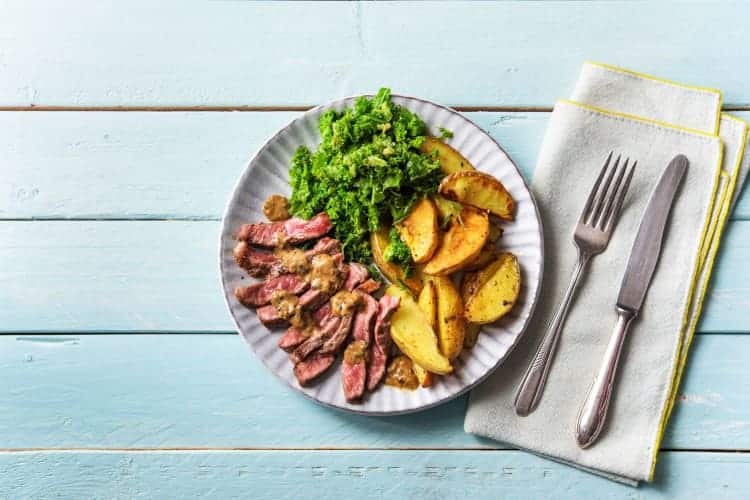 When Steak Met Potatoes with a side of Creamed Kale with Peppercorn Sauce is a classic meal that really hits the spot. It features only 7 ingredients: sirloin steak, Yukon Gold potatoes, sour cream, beef stock concentrate, kale, shallots, and black peppercorns.
Dates can get awkward when you're just waiting for your food to arrive, while trying to make small talk for an eternity. Why not make things a little more dynamic by whipping up dinner together? The total cooking time for When Steak Met Potatoes is only 30 minutes, and the difficulty level is rated as easy.
Consisting of 525 calories, this meal is delicious and packed with protein. All you're going to need is a baking sheet, large pan, and a regular pan. Practice your flipping skills before the big night!
Teriyaki-Style Chicken Stir-Fry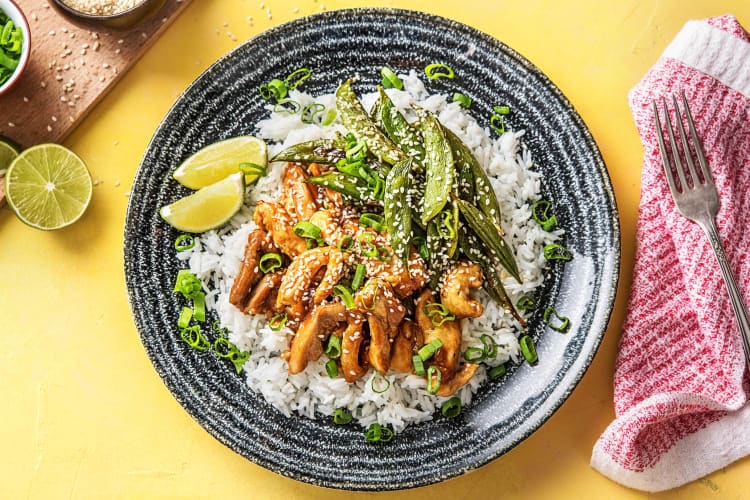 Teriyaki-Style Chicken Stir-Fry with Sesame Broccoli and Jasmine Rice is the perfect sweet and savory meal with a bit of spice. Listed as one of their takeout favorites, this HelloFresh meal comes with these 11 ingredients: garlic, broccoli, rice wine vinegar, sweet soy glaze, jasmine rice, miso sauce concentrate, ginger, ponzu sauce, cornstarch, chicken breast strips, and sesame seeds.
Everyone has a lazy Sunday now and then. Fire up your favorite show, and settle in with a big bowl of steaming Teriyaki-Style Chicken Stir-Fry that you made with your own hands. Stretchy sweatpants and chopsticks are optional.
The total cooking time for this easy dish is only 30 minutes, and prep time is 10 minutes. Consisting of 710 calories, this 6-step meal is suitable for anyone, beginner or not.
Shrimp and Asparagus Risotto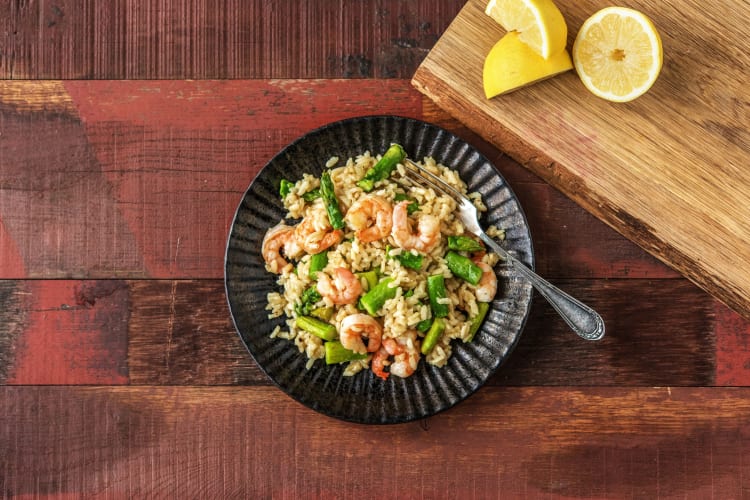 Shrimp and Asparagus Risotto with Meyer Lemon and Parmesan is definitely a comfort meal that'll make you feel warm inside. The mix of shrimp, asparagus, warm risotto, and lemon makes for a zesty and flavorful lunch. All you need is a tall glass of white wine to pair it with.
This meal comes with just 8 ingredients, including shrimp, asparagus, garlic, veggie stock concentrate, arborio rice, yellow onion, parmesan cheese, and meyer lemon.
The total cooking time is 45 minutes with a medium difficulty rating. All you need is a small pot, zester, large pan, bowl, slotted spoon, and a regular pan. This mouth-watering meal consists of 580 calories, and is a great option to cook up for a special guest.
Rapid Stir-Fried Beef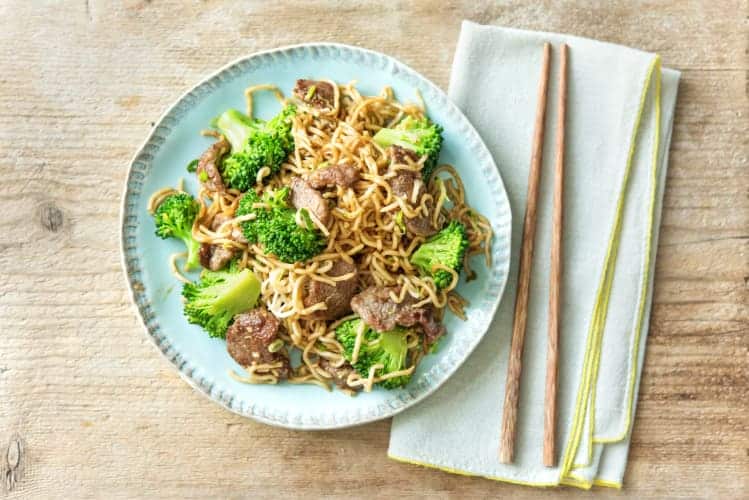 Rapid Stir-Fried Beef and Broccoli is an easy go-to when you've had a long day but still want a nutritious meal. This stir-fry can be made in no time, and it's sure to please your taste buds.
This spicy Asian-style recipe comes with 12 ingredients, including beef sirloin strips, garlic, ginger, ketchup, hoisin sauce jar, sesame oil, scallions, cornstarch, Yakisoba noodles, soy sauce, broccoli, and Sriracha. The total cooking time is a speedy 20 minutes.
Consisting of 754 calories, this meal isn't necessarily calorie-conscious but it's definitely indulgent and tasty. All you need to make this tempting meal is a large pot, strainer, large bowl, and a large pan. Once you've tried it, you'll be happy to have it on a subscription.
How Much is HelloFresh?
HelloFresh prices vary depending on your individual subscriptions. Here is an average breakdown of expected HelloFresh costs:
For a 2-person household:
2 recipes per week: $50/week
3 recipes per week: $54/week
4 recipes per week: $72/week
5 recipes per week: $90/week
For a 4-person household:
2 recipes per week: $72/week
3 recipes per week: $90/week
4 recipes per week: $120/week
All of the six menus covered in this HelloFresh review fall in the same price range. The values of individual meals range from $7.49 to $9.
HelloFresh Reviews: What Do Customers Think?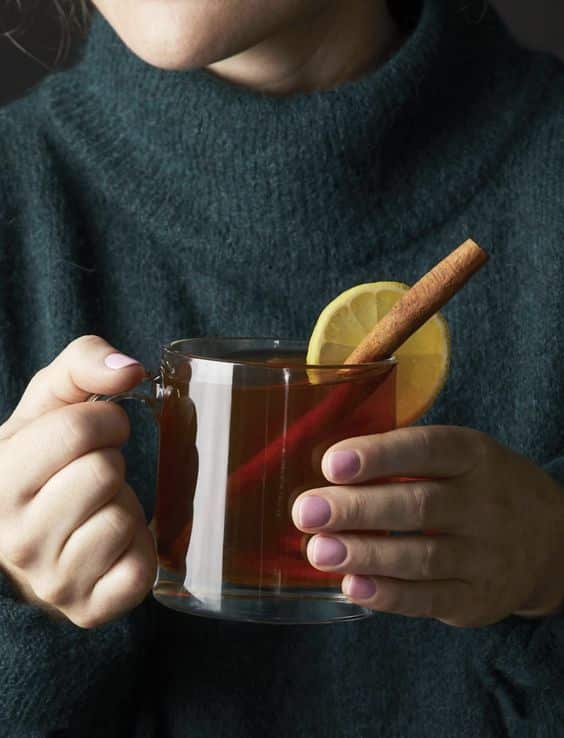 This HelloFresh review will now go over customer feedback to see what subscribers really think about the brand. Below are reviews from the brand's website, as well as ratings from other sources including ConsumerAffairs and Influenster. Keep reading to uncover truths about HelloFresh's product quality, taste, effectiveness and customer service.
On their website, HelloFresh features reviews from Trustpilot. On Trustpilot, the brand has 38,660 reviews with an overall 4.4/5 star rating. One customer shared:
"Overall, I do enjoy HelloFresh and their meal boxes. I have had some issues with rotten produce, which customer service has given me credit for. Their meals are tasty, but can take longer to prepare than noted on the recipe card. I do wish they had more 'side' options, other than roasted potatoes, which I love, but not for 3-4 days straight. […] I thought customer service was quick to fix my complaints."
The brand received 4/5 stars from 5,621 testimonials on ConsumerAffairs. One subscriber left a quick comment, "I like the flexibility of only needing to order two meals a week but if you want more you can."
On Influenster, HelloFresh scored a 4.3/5 rating from 9,240 reviews. One customer commented on the price, "The one, and, biggest thing I struggle is that the price for a vegetarian box is not worth the cost of the box, the produces and ingredients provided are amazing, but they don't add up cost wise."
This HelloFresh review would advise paying close attention to the brand's guidelines and policies to avoid common issues. One customer had an important disclaimer to give about HelloFresh's promotion advertising:
"You offer new subscribers 12 free boxes, but it's actually only $90 off and you're spending at least $20 on your first boxes and spending more for the next 4 boxes…talked to an agent and it took her forever to finally straight up say you won't receive 12 free boxes. Very disappointed with this company."
This HelloFresh review would advise paying close attention to the brand's guidelines and policies to avoid common issues.
Judging based on the company's wide span of reviews, we found that the brand rates average to high, with most reviews being over 3 stars. There are a handful of negative ratings, but overall, there are more compliments and pleased customers.
Is HelloFresh Subscription Worth It?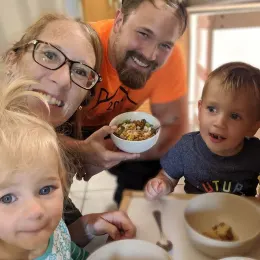 After seeing the brand's name everywhere, it's not hard to wonder if HelloFresh is really worth it. To help provide you with some clarity, we've determined the brand to have a good mission, fair ratings, and versatile meals. When it comes to subscribing to the meal kit service, this HelloFresh review recommends you do so depending on your needs versus your actual household situation.
If you're not great with grocery shopping and putting well-proportioned meals together, we definitely recommend looking into HelloFresh meal kits. It's quite convenient having pre-measured ingredients and cooking instructions set up for you. Most recipes are compatible with beginner skill levels, so you don't have to excel at cooking from scratch.
HelloFresh is a wonderful option for people who need that extra creativity when it comes to cooking. Also, if you're looking to eat healthier or need portion-control, the meal kits can definitely help you out with that. At a fairly comparable price point, we see it to be a great system to explore, especially with their consequence-free options to skip a week or cancel entirely.
Although we do suggest HelloFresh is worth it, we also advise to proceed with caution and make sure you're aware of the subscription cancellation process. Many customers left negative reviews about being continuously charged, being deceived by promotional advertising, as well as reports of rotten ingredients. That being said—with each negative review, we found the HelloFresh customer care team left prompt replies, looking to compensate.
HelloFresh Promotions & Discounts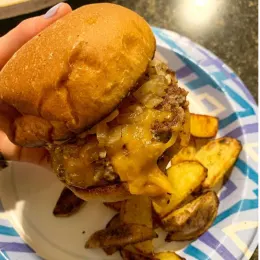 This HelloFresh review has found that the brand offers savings on your first three orders.
51% off your first box
36.26 off your second box
14.51% off your third box
Students are also eligible for a discount via UNiDAYS. Check for a HelloFresh promo code under the Meal Preferences tab in your account settings. It's important to note that only one promo code, discount, or credit can apply to a Recipe Box at a time.
Many social media influencers work with HelloFresh to provide promo codes for the general public. If you come across a sponsored HelloFresh ad on someone's account, chances are you will find a discount code.
If you are using a HelloFresh gift card, keep in mind the subscription service will continue if you do not actively delete your account 5 days prior to your next scheduled delivery.
Sign up for HelloFresh Subscription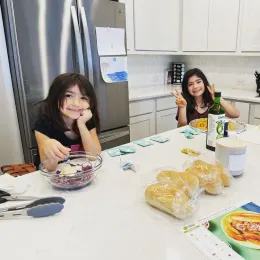 Once you're ready to sign up for a HelloFresh subscription, follow these simple steps:
Go to their homepage and click "Our Plans"
When selecting a plan, choose your preference of HelloFresh menu (ie. Veggie, Meat & Veggies, Calorie Smart, etc.)
Apply a HelloFresh coupon code if you've got one
Proceed to customize your plan to number of people and recipes per week
You will then register with your email or pre-existing social media account
The "Shipping Page" will prompt you to enter your information
Fill in your payment information
Now comes the fun part—submit your order to continue with choosing meals
FAQ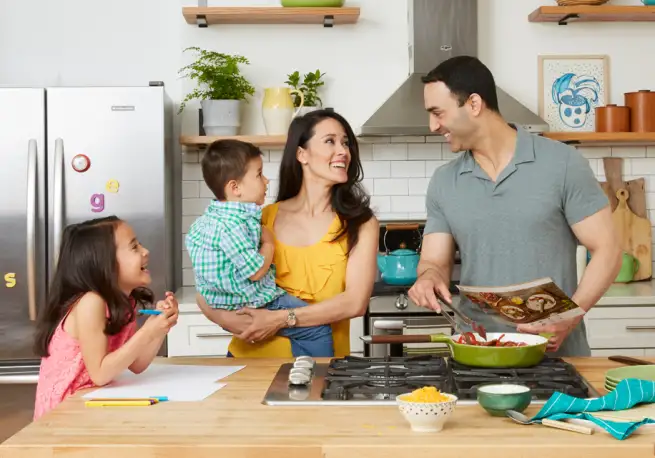 What is HelloFresh?
HelloFresh is a convenient meal subscription service. They offer fresh ingredients and recipe cards that customers can follow to put interesting meals on the table in under an hour. These hassle-free kits ease the stress of grocery shopping and daily meal planning.
Is HelloFresh cheaper than grocery shopping?
This HelloFresh review found the following information on hellofresh. com:
"After completing a 10 week price comparison study analyzing our customers' costs versus the costs of those that shop at nationwide grocers, we discovered that HelloFresh is 75% cheaper than grocery shopping. Here's why:
We go directly to suppliers and don't mark up the price of ingredients
We deliver everything so you save on transportation
We keep it seasonal to get the most bang for your buck
We pre-portion ingredients and kiss food waste goodbye"
Can you lose weight on HelloFresh?
HelloFresh offers many healthy food options. To meet weight management goals, you will have to order meals accordingly. The nutrition information for each meal box can be found on the brand's website next to each recipe.
Where is HelloFresh packaged in Canada?
The meals you order are sustainably packaged in your local region, as HelloFresh avoids shipping food long distance. This ensures quality and freshness, while reducing the brand's carbon footprint.
HelloFresh is not able to disclose information on specific distribution centers, but the ingredients delivered to you are sourced locally whenever possible.
Does HelloFresh have free shipping?
No. There is a shipping charge for HelloFresh delivery which will be calculated at checkout. This fee is required to guarantee fresh ingredients.
How is HelloFresh shipped?
HelloFresh caters to the US, Canada, Western Europe, New Zealand, Denmark, Sweden and Australia.
The brand uses specially designed boxes that contain insulated liners, gel packs, and additional cooling materials to keep food at an optimal temperature. They also adjust packaging based on the season/location. Once your package has shipped, you'll have the opportunity to track it via a confirmation email.
How long does HelloFresh shipping take?
HelloFresh sends their products out on Wednesdays, Thursdays, and Fridays in certain areas, and on Saturdays, Sundays, Mondays, and Tuesdays in others. Deliveries are set to arrive between 8 AM–8 PM.
When you're checking out, HelloFresh will prompt you to set a delivery date, depending on your area. Deliveries will take place on that same day of the week, every week, unless they are paused or cancelled.
How do I return HelloFresh?
If you're not satisfied with your HelloFresh order, you'll need to reach out to their customer service team within 5 days of receiving your Recipe Box. Depending on your specific situation, you may be issued a partial or full refund for your meal kits.
You may be required to return, or at least provide pictures of, your displeasing product before receiving any sort of refund or company credit.
How do I cancel my HelloFresh subscription?
If you're going away on vacation for a few weeks, or just need a break from HelloFresh, be sure to skip delivery. Follow these steps to press pause:
Log in to your HelloFresh account
Click "My Menu"
Select the delivery day you'd like to skip and click "Skip Week"
Maybe you just needed some culinary inspiration, or the HelloFresh subscription you ordered was a gift. In that case, here are seven step to cancel HelloFresh subscriptions:
Log in to your HelloFresh account
Locate your name and click on it
Click "Account Settings"
Scroll down on the "Plan Settings" page
Under "Status" section, click "Cancel Plan"
Follow the instructions accordingly
You will receive a cancellation confirmation message