Hostinger Review for WordPress: Is It a Good Option for You?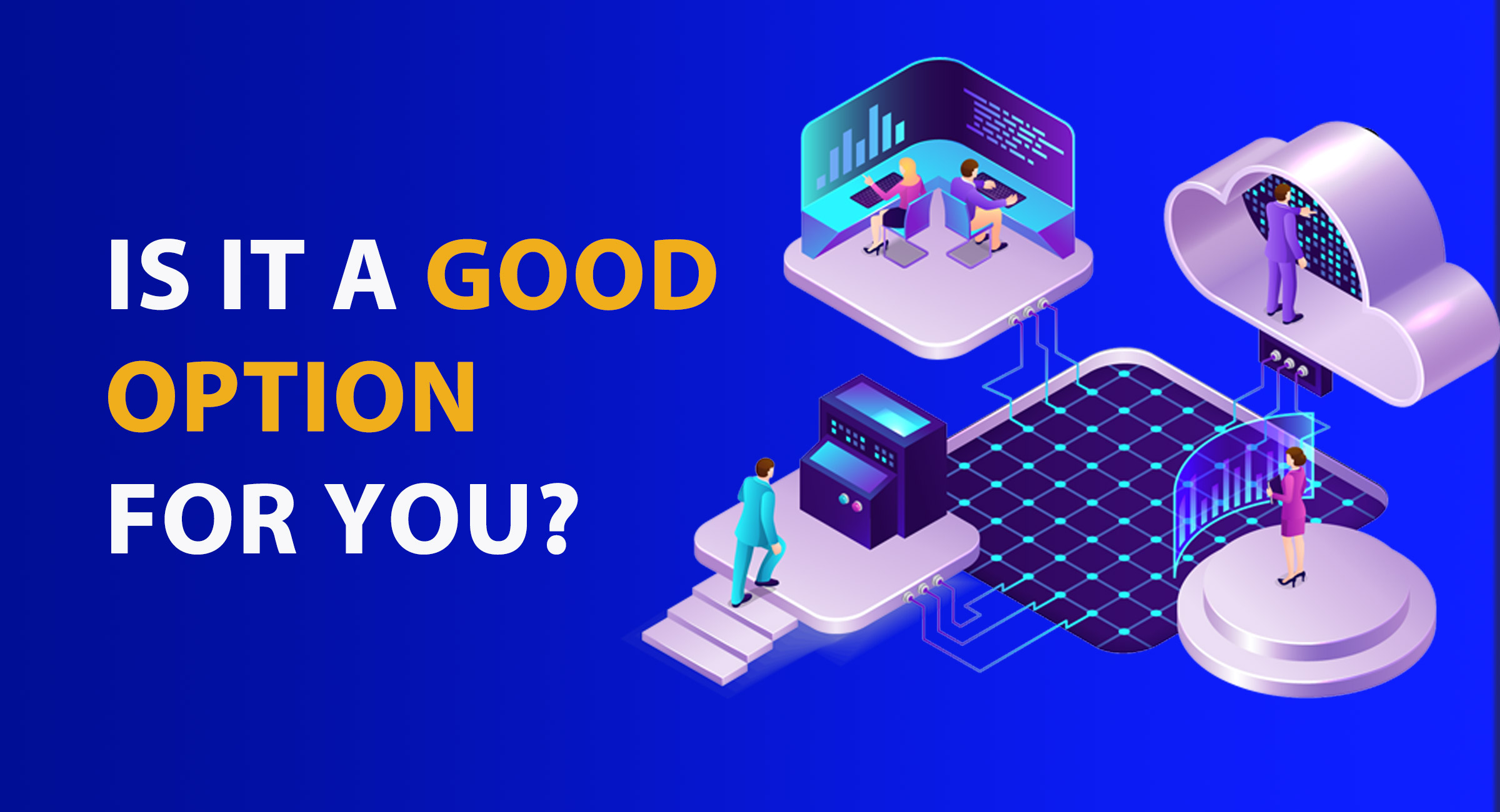 Hostinger started out in 2007 as a free web hosting service and has developed into one of the best shared and cloud hosting providers around. You can build a website and get high-quality hosting at some of the lowest prices around with Hostinger. Whether you're creating a new home on the web or looking for an upgrade over your current lackluster hosting provider, we've put together a comprehensive review of Hostinger to help you make your decision.
Compare Hostinger to The Best Web Hosting Sevices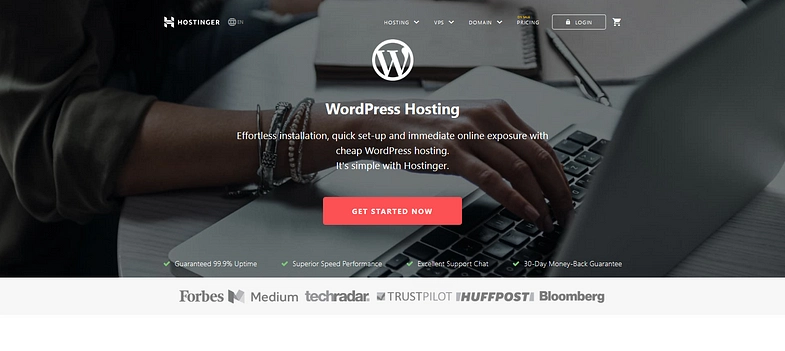 The right web hosting service is key to a successful website, and we want to help you make the right decision. So, we did some of our own digging to determine whether Hostinger is as good as people say it is. We researched, reviewed, and analyzed a variety of web hosting services and from there, narrowed our list down.
What did we find? We found that Hostinger is so great that we awarded them the top spot on our list of favorite web hosting services.
Why is Hostinger number one on our list? Because it provides the best service for most people–meaning it works for a variety of people looking to build a website.
To top that off, it is also the most affordable option. Hostinger plans start at just $1.99 per month. That is something you'll want to take advantage of.
The thing we love most about Hostinger's low price is that it doesn't mean that your service will be cheap. In fact, the platform is a solid competitor for others on our list whose prices are much higher.
While Hostinger is our favorite web hosting service, it is just one of many different hosting options that may be a good fit for your specific needs. Whether you have a small business, a large company, a strict budget, or a real need for speed, there is something on our list for you. See all of our top picks here, do some reading, and decide which is the perfect one for you.
If Hostinger sounds like a possibility, read on for our in-depth review of this web hosting service.
Like any product on the market, there are pros and cons to choosing Hostinger as your websites' web host. We want to call out a few of the key elements that work in Hostinger's favor and a couple potential drawbacks, so you get the full story on whether they're the best choice for you.
The Good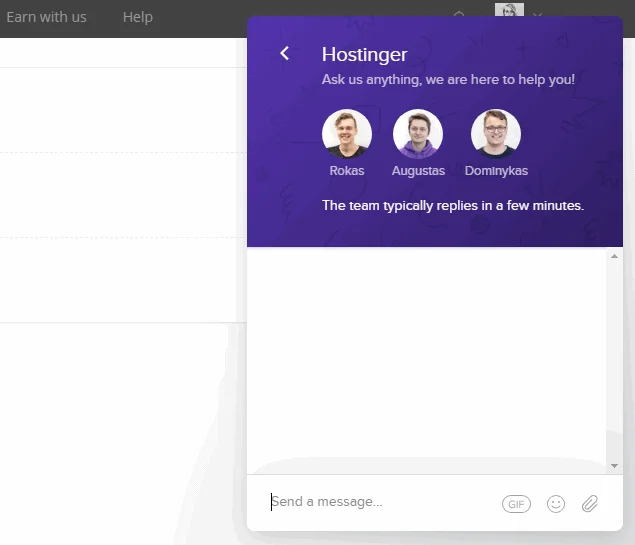 Fast Load Times: It's no secret that the loading time for your site is very important. If a visitor comes to your website and has to wait for things to load, they won't stick around. In fact, many people aren't willing to wait for more than a couple of seconds for a site to load.
That's why we love that Hostinger provides quick hosting speeds. And we're not just going off of what they tell everyone on their webpage copy, we've tested them out for shared hosting, VPS hosting, and WordPress hosting.
And Hostinger delivers. For each of those hosting types, we put a test site through FreshPing for a full month. Each one averaged well under one-second load times, with Hostinger's VPS and WordPress hosting averaging right around 470 milliseconds. That's wonderfully fast and better than just about every other hosting provider we tested in those categories.
Hostinger has servers not just in the United States, but also in Asia and the UK, so that helps keep the overall loading times quick no matter where you or your visitors are located.
Fantastically Affordable: Not only do you get blazing fast site speeds on a Hostinger plan, but those plans come at some of the most competitive price points around.
Shared hosting starts as low as $1.99 per month for a single site, with plans that support multiple sites or allot more resources starting at $2.99 per month. WordPress and VPS hosting don't require much more of an investment, either, starting at $1.99 and $3.95 per month, respectively.
Now, keep in mind these attractive rates are for a long-term commitment up front of 48 months. That can be a bit of a sticking point if you're not ready to commit to four years right away. On the flip side, though, it means you lock in that attractive rate for a good while. And, since it's such an affordable monthly rate, you're only looking at a payment of $96 for 48 months of shared or WordPress hosting.
However, if you don't want to commit to four years right off the bat, Hostinger has generously extended it's best pricing for the Premium Shared Hosting plan to one-year commitments as well. That means you can pay just $41.88 today and snag Hostinger's most popular shared hosting package for a full year, one which also comes with a free custom domain.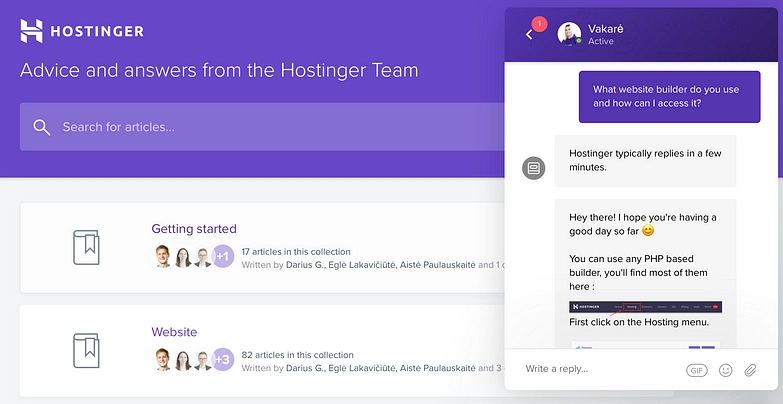 With all that in mind, the next few positives that follow should further put your mind at ease about committing to Hostinger and the value you're getting.
Money-Back Guarantee: Not happy with your Hostinger purchase? No problem. You have 30 days to try it out and get your money back if your experience is not all you were hoping for. However, be sure to note that redemption fees, domain name renewals, and privacy protection are the only things not part of the 30-day money-back guarantee, so keep that in the back of your head.
Otherwise, the hosting, domain transfers, and SSL certificates are all refundable within 30 days of purchase.
Free Domain: You need a domain to go along with your hosting, and while you can buy your domain and your hosting from separate companies, it's nice when you can do everything in one place. It's even nicer when you can get the domain for free. That's an option for those who opt for any of Hostinger's web hosting plans above the single-site tier.
Free Website Builder: Hostinger's partnership with Zyro gives you access to one of the better website builders for free with your plan.
Zyro's easy-to-use builder is great for whipping up a company website, but you can also build out a fully functional online store with it, too. Start from one of over 100 templates or drag-and-drop your way to a beautiful home on the web from scratch.
Either way, you get a site builder for free with Hostinger that doesn't make you sacrifice any customization capability.
Simple to Get Started: One of the other things we've loved about Hostinger when testing their hosting products out is how easy it is on users when they're starting out. With a clean interface, guided setup, and a dashboard that doesn't make first-timers take a whole class in order to use it, Hostinger is beginner-friendly without skimping on powerful tools and reliable servers.
That extends to building a site right after you've finished signing up for Hostinger and setting up your hosting plan.
Let Hostinger's wizard walk you through each step. You'll be amazed by how quickly it results in a fully functional website for you.
The Bad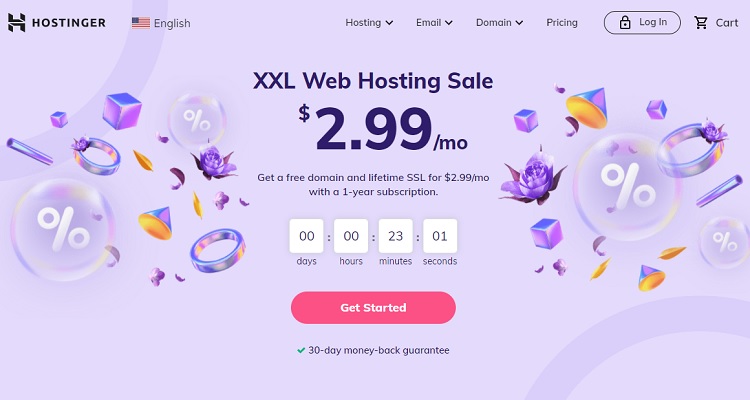 No Phone Support: Sometimes you need a real human on the phone to get help with a problem, and unfortunately Hostinger does not offer that option. The only way to get in touch with customer support is via a live chat, which is good, but isn't the same as a phone call to walk you through things that are likely frustrating.
Spotty Uptime on Shared and WordPress Hosting: Speed and uptime are the two sides of the web hosting quality coin. Whereas speed relates to how quickly your pages load for visitors, uptime is a measurement of server reliability. Hosting servers can go down for any number of reasons, from planned maintenance to unforeseen errors.
Hostinger's lower-octane plans haven't performed too well compared to their peers. With their shared hosting and WordPress hosting, we've seen a lot of downtime, in the ballpark of one to two hours per month. That's almost a full day per year that your website wouldn't be available to visitors.
Fortunately, we've seen vast improvements when testing their burlier hosting offerings. Hostinger's VPS hosting turned in only 17 seconds of total downtime when we tested it in late 2021.
Missing Features on Budget Plans: While not a dealbreaker for everyone, there are some helpful features missing from Hostinger's entry-level plans that we've seen on comparable ones from their competitors. The most notable case is with their WordPress hosting, which doesn't include a content delivery network (CDN) and automatic daily backups on the two cheaper plans (Single and Starter).
Make sure you look over the full feature set for the hosting plan you're considering. You may have to pay for a higher tier to ensure you're getting all the features and tools you need.
Hostinger Pricing and Options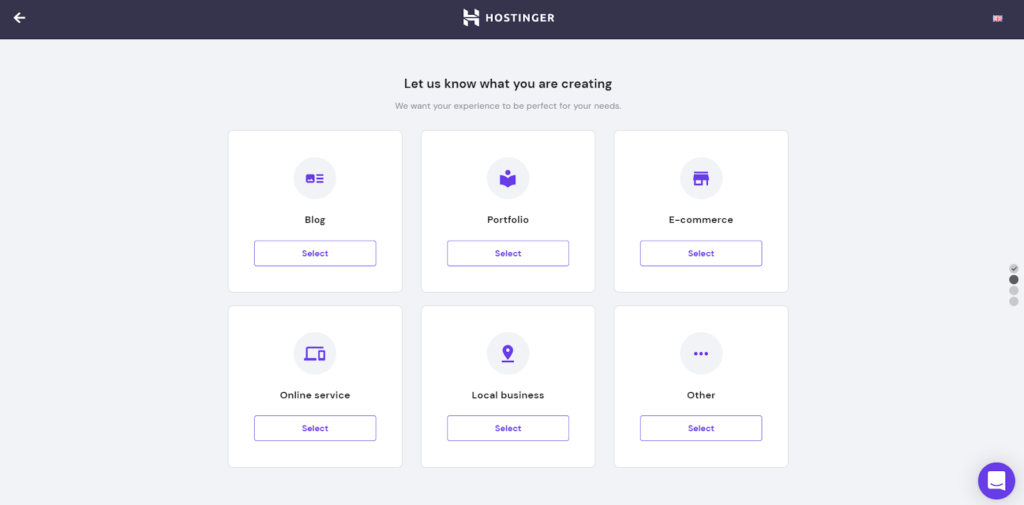 Hostinger has a number of different packages for you to choose from. Each one offers unique things that are suited for specific needs.
There is no free plan available with Hostinger, but the Single Shared Hosting plan is so affordable it almost feels free. This is a great place to start.
Hostinger Single
Hostinger's most basic plan is part of the shared web hosting offerings, which means that your website exists on a server with other websites. This is great for those who don't have a budget for expensive web hosting, as the cost of the server is split between numerous others. However, the bad thing about this is site speed could be compromised because there are so many other people using the same server.
However, if you are just starting out with a website, the Single plan gives you what you need to get the ball rolling.
The Single plan pricing starts at $1.99/month with a 48-month commitment, and that price jumps all the way up to $9.99/month if you sign up for a monthly commitment.
This plan gets you 1 website, 30 GB of SSD storage, 100 GB bandwidth, 10 GB solid-state storage, a free SSL certificate, 1 email account, and much more.
Hostinger Premium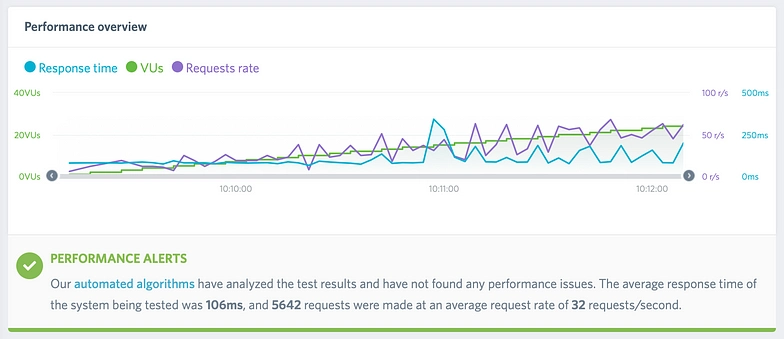 Hostinger's next level, the Premium, offers everything the Single does as well as some added bonuses, including free domain registration (for the first year only), unlimited bandwidth, up to 100 websites, 100 GB of SSD storage, up to 100 email accounts, and more.
Pricing for this starts at $2.99/month with a 48-month commitment, all the way up to $11.99/month for a monthly commitment.
Hostinger Business
If you're looking to level up your plan, then Hostinger's Business option may be right for you. With this plan you get everything included in the Premium plan, plus daily backups, 4 times the processing power, 200 GB SSD storage, and much more.
Pricing for the Business plan starts at $4.99/month for 48 months and goes up to $16.99/month for a monthly commitment.
Cloud Hosting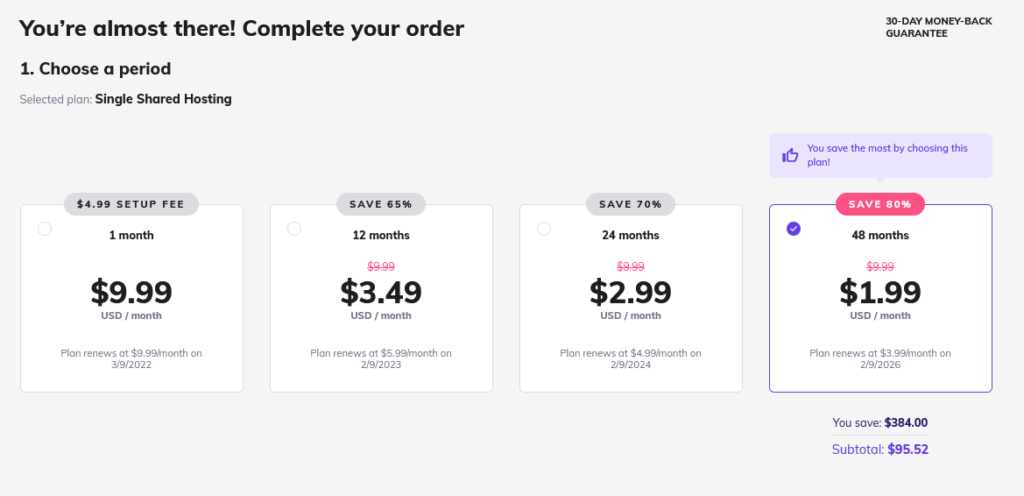 Cloud hosting plans begin with the Startup at $9.99/month for 48 months. This is a great starting place. If you are looking for something more, Hostinger's recommended cloud plan is the Professional, which starts at $18.99/month for 48 months. And if you need more than this still, the Global plan may be just what you're looking for, and that will cost you $69.99/month for 48 months.
The massive jump in price from the Professional to Global plan is due to a few features including 4 times the speed boost of the Startup Plan, 16 GB RAM, 8 CPU cores, and much more.
VPS Hosting
If you are looking to make waves with your business' website, then VPS hosting may be right for you. VPS stands for virtual private server, and it means that you have your own server as opposed to sharing one with other users.
Hostinger offers six different VPS hosting plans, starting at $3.95/month for 48 months. That price point gets you 3 GB RAM, 60 GB storage, and 3 TB bandwidth. The plans offer a few more features than the ones prior and take you up to the VPS 6 plan which includes 8 GB RAM, 160 GB storage, and 8 TB bandwidth. That will set you back $38.99/month for 48 months.
Minecraft Hosting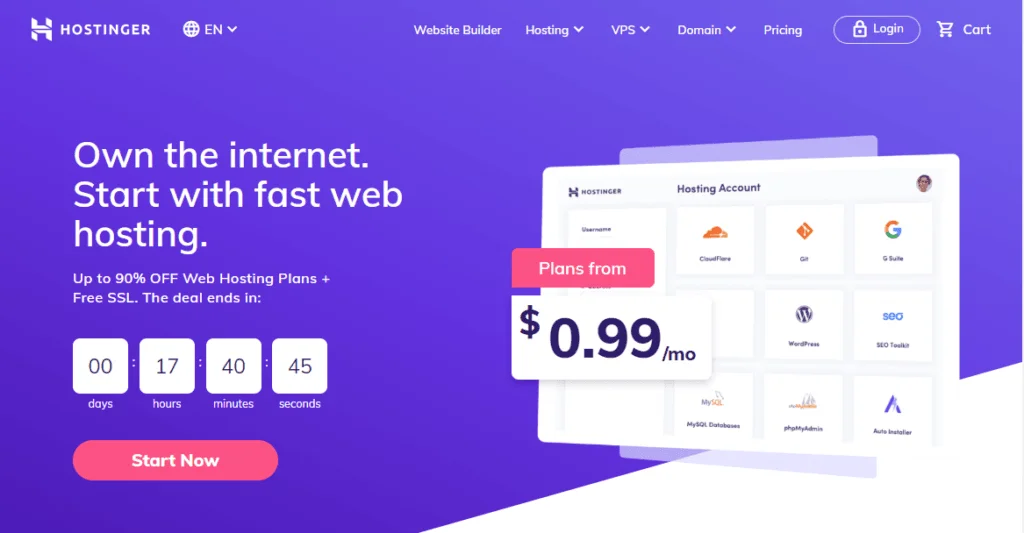 Hostinger offers a unique hosting service that many of its competitors don't: a Minecraft hosting that is geared towards gamers. This hosting starts at $8.95/month for 48 months and offers plans that go up to $29.95/month for 48 months.
With this service, you can install your own game mods, along with many other things.
If you're considering cloud hosting vs. traditional shared hosting, take a look at Hostinger's offerings. Not sure what cloud hosting is? We've got you covered. How cloud hosting differs is that rather than your site being hosted on a single server, it is hosted in the cloud, which allows for more flexibility and easier scalability
Price is often a factor when it comes to choosing web hosting. However, you may be tempted to overlook a poor feature set in order to obtain something within your budget – so doing some research beforehand is paramount. Our Hostinger review will take a look at this budget-maximizing option, and offer the information you'll need to make an informed decision.
In just over a decade, Hostinger has grown from a small web host to one used by over 29 million people, which is due in part to its WordPress specific plans. On top of that, Hostinger publicly displays its server status, and its uptimes are consistently solid.
In this Hostinger review, we'll look at key elements such as features and performance, to help you decide whether this host is worth your time and money. Let's get started!
Hostinger review for WordPress: Features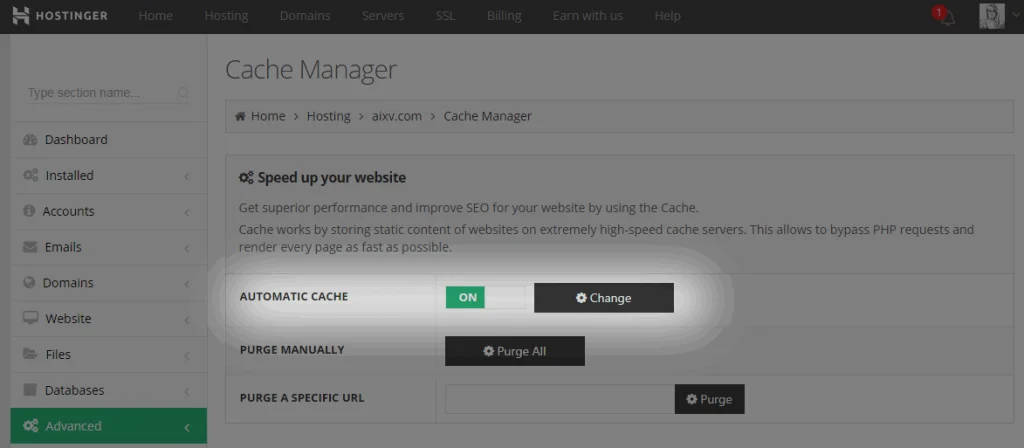 To start with, let's take a look at some of the plans Hostinger offers. You'll find a full range of options here, including shared, cloud, virtual private server (VPS), and dedicated plans.
What's more, you can opt for a WordPress-specific plan, and get additional support options and one-click installation. These plans are low-cost, shared hosting – perfect for a variety of website types. You also have a choice between single, premium, and business plans, although the business plan is recommended if you're using WooCommerce.
If you're considering a shared plan to get your site started, Hostinger has you covered. Some of its features include:
24/7 WordPress support in 20+ languages
One-click WordPress installation
A free domain name
Enhanced security features, such as daily backups and a free SSL certificate
Practically unlimited bandwidth
As you can see, Hostinger's shared WordPress plans come with a solid set of features. For most first-time website owners, you'll have everything you need. In addition, all of this is offered at an affordable price, which we'll get to in a minute. First, however, let's look at the support you'll get.
Support options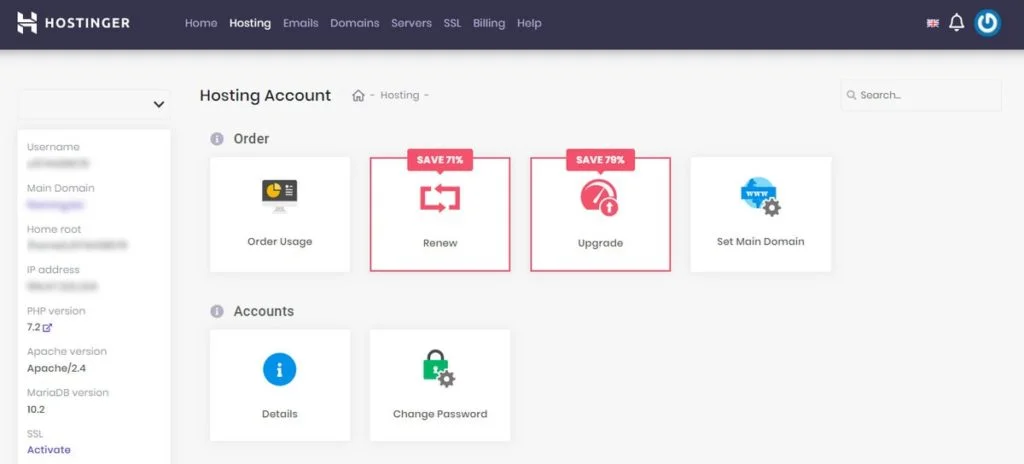 For many users, one of the most important hosting features after price is support. While you're setting up your website using shared WordPress hosting, you're bound to have some questions. While the internet is filled with lots of helpful hints and instructional posts, a direct line to answer your specific inquiries is always a boon.
The good news is that Hostinger's support team is available 24/7 in 20+ languages. You can either give them a call or send them a message:
To see how Hostinger would respond, we sent a general inquiry of our own. We received a response in a little over four minutes, which is good but not great:
Overall, the support representative we spoke to was friendly and helpful. The chat included useful and actionable information, as well as screenshots for clarification. For any of your general inquiries, Hostinger is easy to contact, and its response times are reasonable.
Performance

Above all else, the sign of a quality web host is how well its servers perform. After all, having a fast website is crucial for providing a positive user experience (UX) to your visitors, and keeping your bounce rate low. Fortunately, Hostinger offers the following performance-specific features:
Solid State Drive (SSD) hardware
99.9% uptime guarantee
Custom built cache manager
Even better, unlike many other hosting providers, Hostinger offers public information on the performance of its servers. This includes uptime data for the last 24 hours, as well as for the past week and month:
Server uptime depicts the amount of time a server is fully-functional and online. In general, you want to be as close to 100% as possible, as even .1% downtime means ~45 minutes of downtime per month. Above, you can see that Hostinger's uptime can be a little shaky, which is one of the tradeoffs you'll make for its cheap prices.
In this case – with the numbers being as low as 99.3% at times – you can experience even 10 minutes of downtime per day. No good.
Page speed tests with Pingdom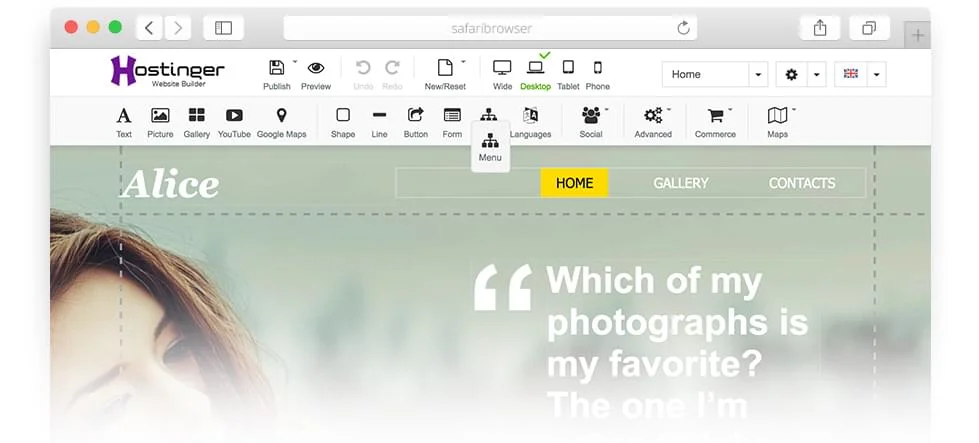 Of course, it's also helpful to get a real-world take on performance. For that, we can use Pingdom to test page speeds and Load Impact to analyze loading times under pressure.
First, let's do some page speed tests. Pingdom is an effective and popular tool for this, and a basic test is free. To complete our test, we set up a simple website on Hostinger's servers, loaded with the default theme, a smattering of plugins covering various essential features, and the WordPress Theme Unit Test Data. We then input our site's URL into Pingdom and ran the test from several different locations.
The following results demonstrate the averages of three tests from each location:
Washington D.C.: 0.81 seconds
San Francisco: 1.12 seconds
London: 0.54 seconds
Sydney: 2.49 seconds
Tokyo: 1.57 seconds
Overall, these results are quite good. It's considered a best practice to keep your page loading times under two seconds. Anything over that can have a negative impact on your bounce rate (how many visitors leave after viewing only one page).
Based on these results, we can see that Hostinger's servers are performing quite nicely on either side of the United States, and exceptionally well in London. What's more, both of the other locations we tested are within acceptable limits. From this data, we can conclude that Hostinger is likely to provide serviceable speed in the majority of the English-speaking world.
Page speed tests with Load Impact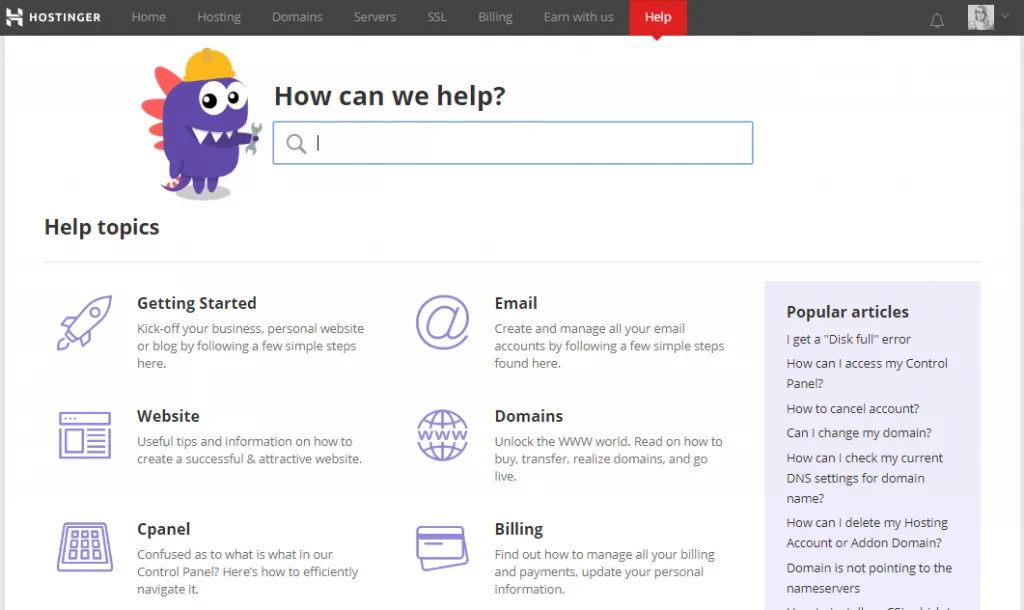 Next, let's see how our site handles traffic. For this, we're going to need a different tool – Load Impact. This lets you simulate a number of virtual visitors to your website, and is a great way to see if your website can hold up under pressure.
We ran our test site through Load Impact's tool to see how it would perform:
From this test, we can see that loading times were generally solid. The response time (the blue line) did get a little choppy as the requests rate increased (the purple line), but Load Impact didn't find any performance issues.
For many sites, Hostinger's shared servers will function just fine. However, if you are planning to maintain a high-traffic site – or see sudden fluctuations when your site is live – it may be best to consider an upgraded plan.
Hostinger's pricing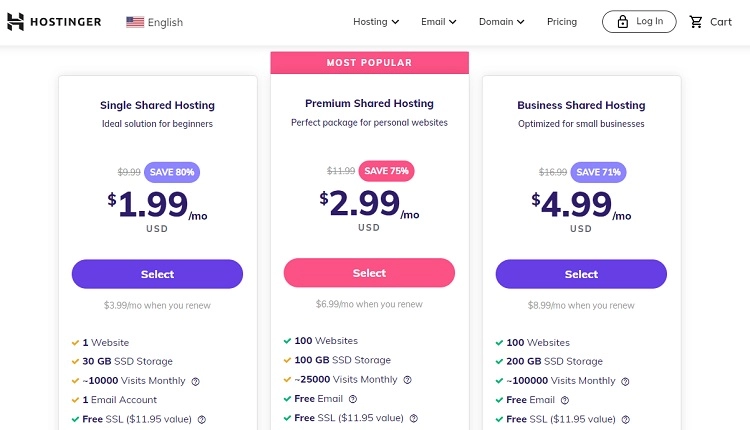 Finally, we come to the pricing section of our Hostinger review. For many, this will be one of the most important factors when considering a web host. After all, awesome hosting won't do you much good if it breaks your budget.
With that in mind, Hostinger has some surprisingly low pricing plans for the services it offers. For example, a single website starts at just $1.99 per month with promotional pricing (which only applies to your first billing cycle):
If you're willing to shell out a little more ($2.89 per month), you'll also get a free domain name to go along with your hosting. In addition, higher-tier plans offer free backups and enable you to build unlimited websites on your account.
Along with the cheap hosting plans for beginners, Hostinger also provides advanced hosting options including cloud hosting (from $9.99), VPS hosting (from $3.95), email hosting (from $0.99), Windows VPS hosting (from $26.00), and Minecraft server hosting (from $6.95).
All in all, Hostinger is a very affordable option. This is especially true when you consider its server speeds. For newbies, this is a great place to start, and you can always look at upgrading your plan as your site grows.
Overall pros and cons
To wrap up our Hostinger review, let's quickly summarize its pros and cons. After all, it's important to consider the whole picture before committing to a web host.
Pros
Free domain name and one-click WordPress installation
Good performance results for the US and the UK in particular
Publicly-displayed server status
Cons
Moderate response times for support
Modest performance results for locations outside of the US and UK
Uptime is a little unreliable
Conclusion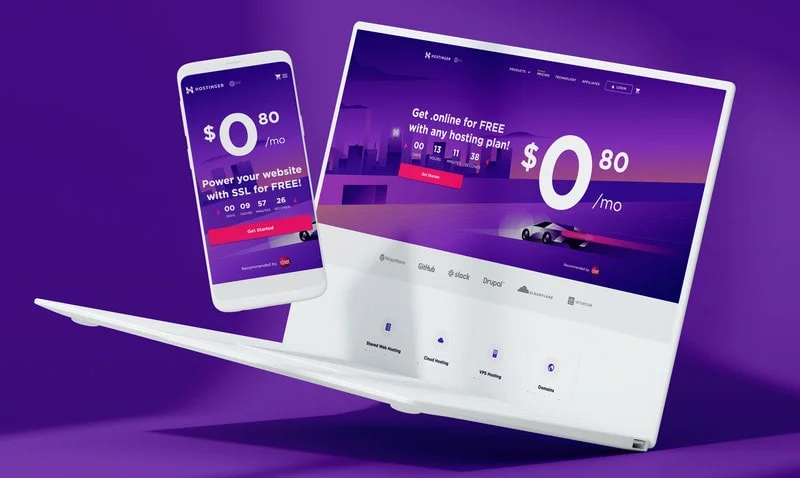 Overall, Hostinger is a strong choice for both experienced WordPress developers and newbies. It offers fast speeds and knowledgeable customer support. However, while its performance is solid overall, you may experience performance blips now and again on heavy-traffic sites.
If you're still unsure and are looking to consider a few other options, consider taking a look at some of our past hosting reviews:
Do you have any questions about our Hostinger review that will help you make a decision? Ask away in the comments section below!
This post contains affiliate links, which means that if you click on one of the product links and then purchase the product, we'll receive a commission. No worries though, you'll still pay the standard amount so there's no cost on your part.