Hulu Review: Is It Worth Subscribing To?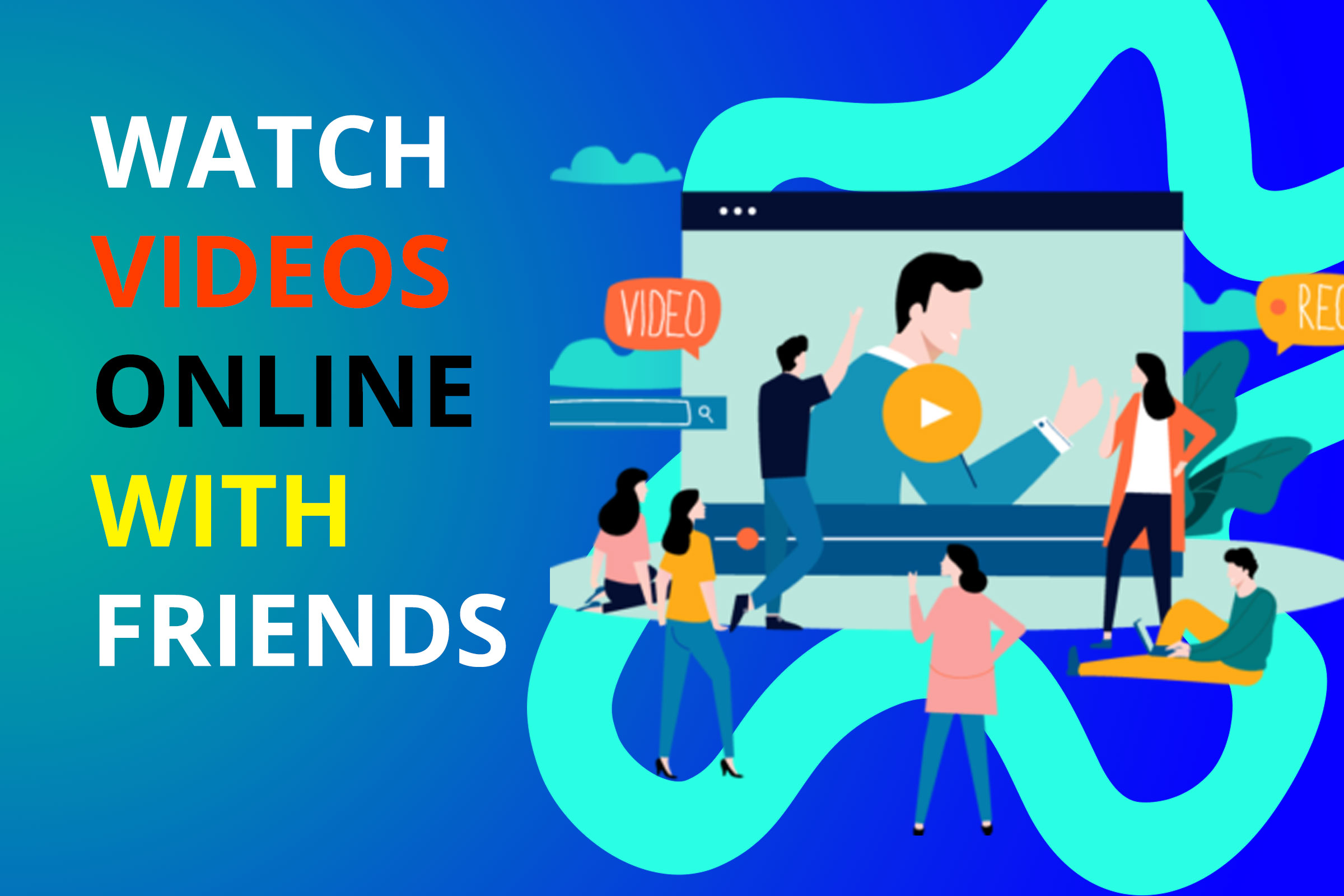 The skinny bundle market just got even more crowded. Hulu, the streaming video on demand service that is best known for competing with the likes of Netflix and Amazon, has waded into the skinny bundle market with a live TV service. Hulu + Live TV offers Hulu subscribers exactly what the name suggests: live streaming TV networks, which puts the company in competition with skinny bundle veterans like Sling TV. Hulu + Live TV is still in beta, but we took an early look at the fledgling service to see how it stacks up against its more established competition. Here's our Hulu + Live TV review.
What is Hulu Plus Live TV?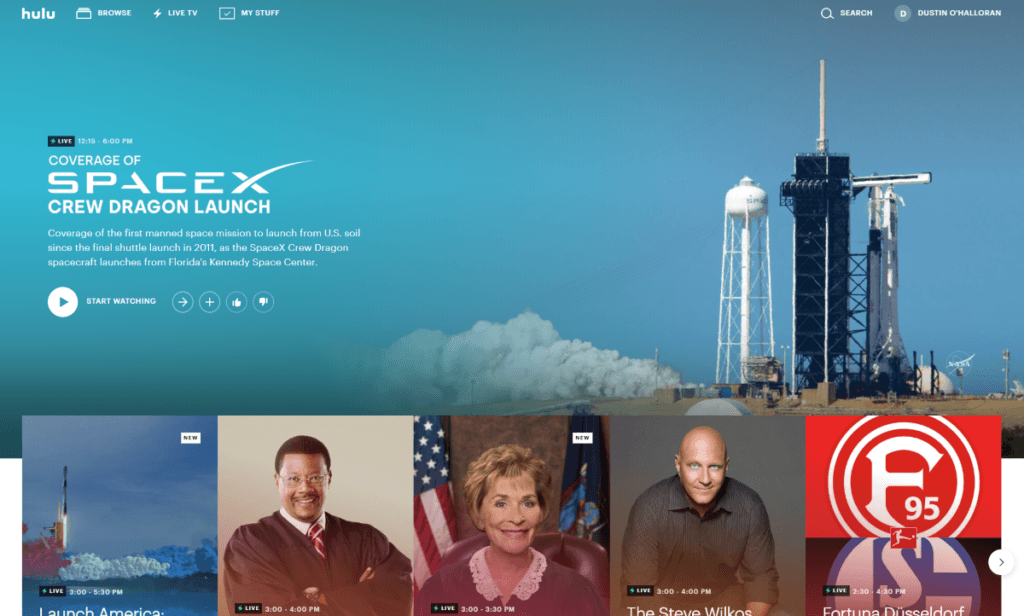 There are few streaming services as well-known and as popular as Hulu. One of Netflix's oldest competitors, Hulu is an affordable streaming service that boasts a great selection of on-demand movies and TV shows — including an impressive slate of originals that holds its own against the legendary lineups on Netflix and HBO Max. But Hulu is in a crowded market (or two of them, actually — for more on Hulu's entry into the live TV streaming market, read our review of Hulu + Live TV). Can it hold its own against Netflix and HBO Max — or, for that matter, its sister service Disney+? I revisited Hulu this year to find out, and I was impressed by what I found.
Hulu Pros and Cons
Pros
Extremely affordable
Great original content
Recent episodes of some shows available
Can be bundled with Disney+ and ESPN+
Cons
Basic plan includes ads
Smaller library than some pricier competitors
What You Can Watch on Hulu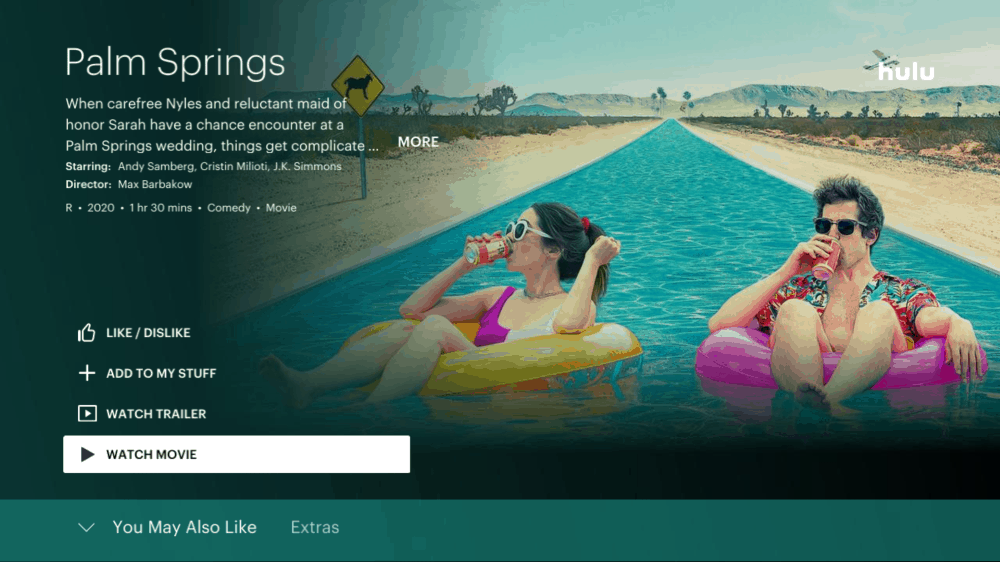 Hulu offers two main subscription options: "Hulu" and "Hulu + Live TV." The first one, which we'll be talking about in this review, is an on-demand streaming service. Paying your subscription fees each month gives you access to a catalog of movies and TV shows, and you can stream any of those titles as much as you want and whenever you'd like to. (The second option, "Hulu + Live TV," includes a cable-like selection of live TV channels. It competes with cable, as well as with other live TV streaming services like DIRECTV Stream. It's so different from the basic Hulu plan that it merits its own review, which is why I'm only going to be talking about plain-old "Hulu" in this review.)
Industry insiders who look at Hulu's on-demand service would call it "SVOD," which stands for "subscription video on demand." The rest of us would just say that Hulu looks a lot like Netflix: It charges you a few bucks a month for unlimited streaming of a limited catalog.
There's one major difference between Hulu's approach and Netflix's, though: Hulu has ads. On the basic subscription plan, your on-demand streaming will be periodically interrupted by short commercial breaks. These ads aren't skippable. In my testing, I found the length of Hulu's ad breaks to be pretty reasonable. Personally, I don't mind breaks so much — they give me time to refill my glass of water or grab a snack. If you can't stand them, though, you can always pay a little extra to subscribe to Hulu's ad-free plan and do away with them entirely.
Like Netflix, Hulu has original content. Much of it is excellent. Hulu has won critical praise for The Handmaid's Tale, a grim but excellent series based on Margaret Atwood's novel. Hulu has made hits out of Little Fires Everywhere and Letterkenny, too, and it's hoping to do the same with its recent reboot of The Animaniacs.
Hulu also makes original films. If you're looking for a place to start with those, I'd recommend the hilarious Palm Springs (2020). (I'm no culture critic, but you don't have to take my word for it.)
Hulu's licensed library is impressive, too, though it's not quite as large as the ones you might find with some competitors (Netflix, for example, has more shows and movies — though it's also more expensive than Hulu, which is something we'll talk more about in a later section).
Hulu's streaming rights deals aren't always exclusives, so don't be surprised if you see licensed titles in Hulu's library that are also available on Amazon Prime Video — or even on a free service like Crackle. But some content deals are exclusives, and Hulu's library is generally very impressive. It feels like something in-between the massive quantity of Netflix and the highly curated little library of HBO Max: A medium-sized library with a lot of enjoyable content and very few true stinkers.
How It Felt to Use Hulu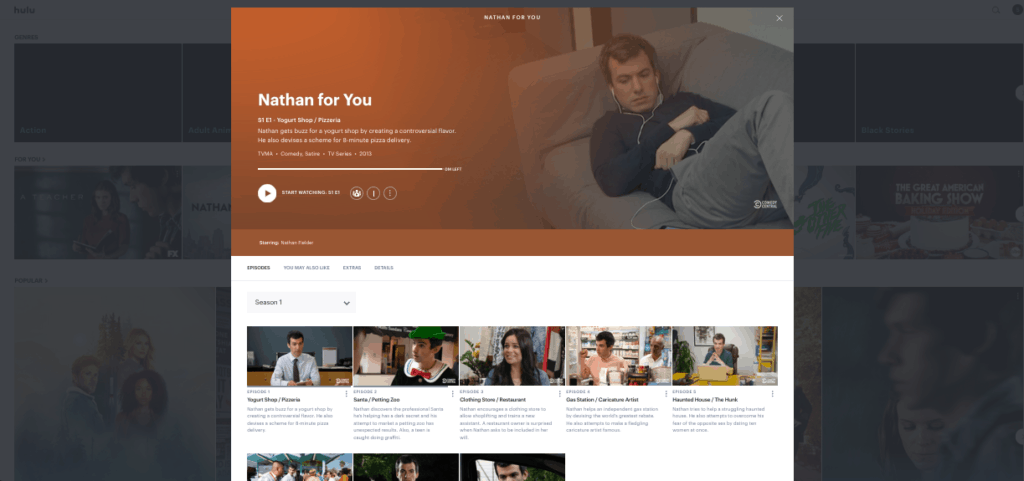 Like most other streaming services, Hulu puts a lot of focus on content discovery features. Its menus are packed with recommendations, trending content, and other lists of movies and TV shows that its algorithms suggest you'll be interested in watching.
Sometimes, all of the content discovery features on streaming apps like Netflix can annoy me. I know I can be pretty indecisive sometimes, but I'm okay with that: I'd rather just be able to look through an organized menu and figure things out for myself. I find it particularly frustrating when services like Netflix or Amazon Prime Video hide my watchlist, favorites, or "previously watched" sections behind their excessive recommendations. I have some great news: Hulu doesn't have this problem.
While there are plenty of recommendations to be found in Hulu's app, it's also very easy to find your saved shows. It's also shockingly easy to find menus of just movies or just TV shows, and — wonder of wonders — you can even drill down by genre within these categories (no "secret Netflix codes" required). This can sometimes make it clear that you don't have a lot of options, which might be why other streaming services avoid it; I occasionally worked my way through every single title Hulu had in a given genre without finding something. But I'd rather have that happen and then go read a book than spend my whole evening flipping through algorithmic menus like the ones on Netflix, seeing titles multiple times in different categories and never being sure if I've seen every option or not.
Like its fellow Disney-backed service Disney+, Hulu also has a "hub" system that makes it easy to find content based on larger brands (and, in some cases, genres or themes). This doesn't work quite as well on Hulu as it does on the brand-dominated Disney+, where categories like "Star Wars" and "Marvel" are obviously pretty meaningful to fans. But it's a nice feature all the same, and it helps make Hulu feel a bit more organized and a bit easier to navigate.
I found Hulu's user interfaces and menu systems to be superb. Interestingly, I think they work better with just-plain Hulu than they do with Hulu + Live TV because the latter starts stuffing TV-related content where it doesn't belong (for more on that, check out my review of Hulu + Live TV). Hulu's on-demand service gets full marks here, and I hope more streaming services take Hulu's lead in the user experience department.
Using Hulu's Features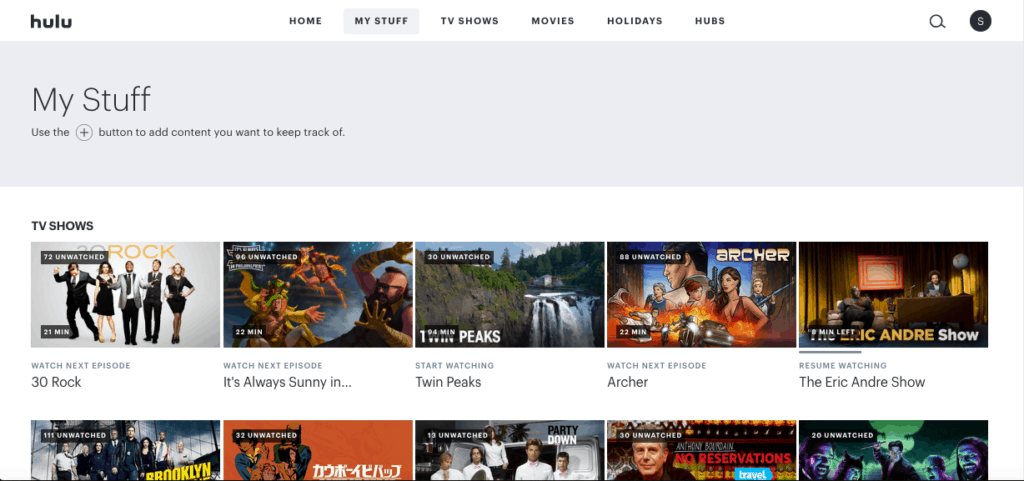 While performing my testing, I realized that I'm not a particularly demanding Hulu user. Other than adding titles to "My Stuff" — Hulu's simple and very effective watchlist/favorites system — I didn't feel much need to use many of Hulu's features. (I still tested them all out, of course!)
You'll most often use Hulu to stream videos, but you can also choose to download a few for offline viewing. This feature is limited to mobile platforms. You can download videos and movies to up to five different mobile devices at one time, and you can save up to 25 total movies and TV show episodes (each download on each device counts separately toward this total).
Hulu also has user profiles, which is a very standard feature but still nice to see. You can set your own preferences and generate your own personalized recommendations without messing up the algorithm for your roommate, sibling, or significant other.
Hulu Streaming Quality
Hulu's on-demand content streams at 60 frames per second and features picture quality as high as 4K Ultra HD — though the 4K content is pretty limited, and you're more likely to end up watching your show or movie in 1080p. Hulu marks 4K-compatible content with a little "4K" badge, so it's easy to track down 4K content in the service's menus. Among other titles, Hulu's originals are available in this top-tier streaming quality.
In my trials, I found Hulu's streaming quality to be very impressive. As I'd expect from a long-tenured on-demand streaming service, Hulu was able to deliver reliable, high-quality streaming on all of my devices regardless of whether I was using a wired, Wi-Fi, or mobile network connection.
Hulu Platform Support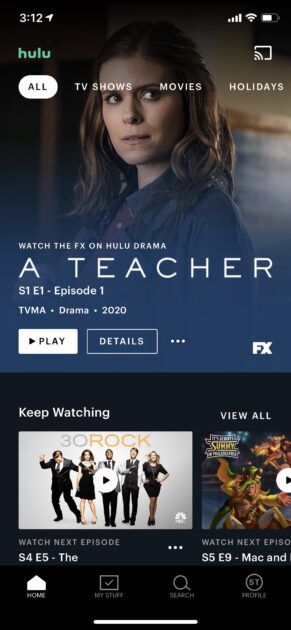 Platform support is a real strong suit of Hulu's. Hulu's latest app, which includes support for Hulu + Live TV as well as the on-demand version I'm talking about here, is available on every major streaming platform, mobile platform, web browser, and video game system. That includes all of our familiar favorites (like Roku, Fire TV, the Chrome browser, iOS, and Android) as well as some options that aren't always supported by Hulu's competitors (like the Nintendo Switch and — to my delight — the Firefox browser).
I found the Hulu experience to be very consistent across all of the different platforms. No matter which device or platform you're using, you'll recognize the Hulu approach and the great user experience I've been praising.
I tested Hulu on Roku, Fire TV, Chromecast, iOS, Android, Chrome, and Firefox.
Hulu Value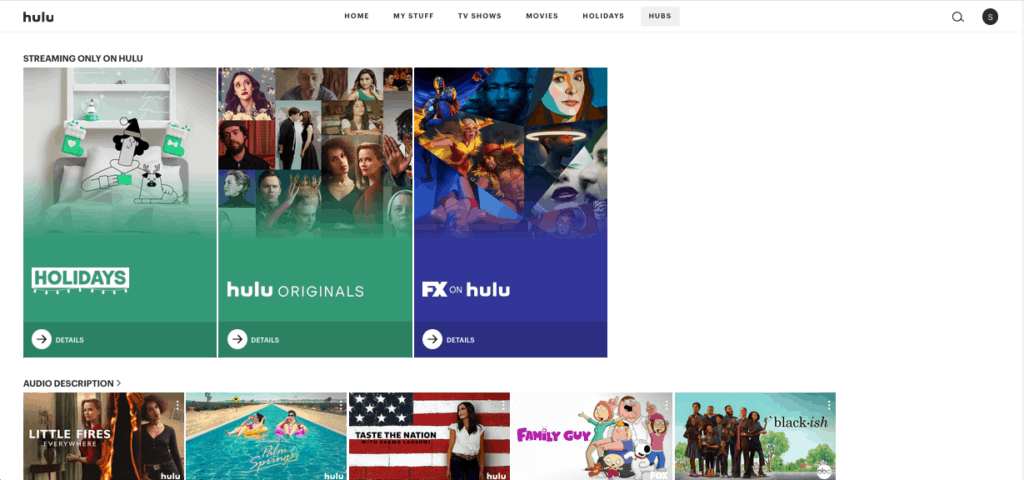 Hulu has a lot going for it, but its strongest suit may be its value. Hulu is strikingly affordable for a streaming service: It's just $6.99 per month, which is half the price Netflix charges for its standard plan.
Of course, Hulu is different from Netflix. Its catalog is smaller. It also has ads, which users can pay a bit more to remove — ad-free Hulu costs $12.99 per month. But even with those differences accounted for, Hulu looks like an incredible value for the money.
Hulu's pricing is reminiscent of Disney Plus pricing, which makes sense: They're both owned by Disney. These streaming services are very cost-effective and seem to be built with subscription stacking in mind. It's very easy to justify adding Hulu to an existing streaming budget without canceling something else; it's even easier to combine Hulu with Disney Plus. The two are offered in a bundled deal that throws in ESPN Plus for free.
Hulu Review Verdict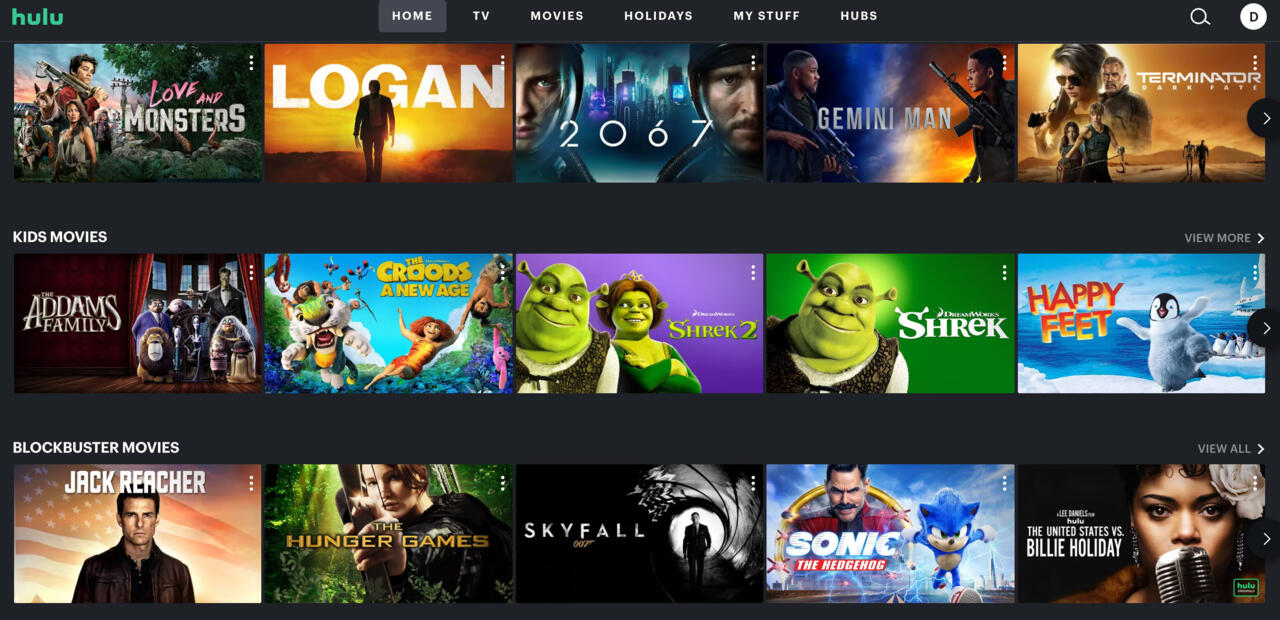 Hulu began life as a Netflix competitor, and it has long felt like a little brother to the biggest name in streaming. In some senses, that's still the case: Netflix is bigger, more popular, and even more flush with quality originals than Hulu. But this competition isn't about streaming libraries alone. Hulu is much cheaper than Netflix, which makes it much easier to add to a budget or combine with other streaming services. It offers more bang for your buck, and it chips away at Netflix's dominance with little advantages like the more straightforward organization of the Hulu menus and the enticing discount deal that bundles Hulu in with Disney+ and ESPN+.
In short, little-brother Hulu has some big-time appeal. It seems to only be improving with time. Now one of the elder statesmen of the on-demand streaming service, Hulu doesn't feel like a knock-off or a newcomer. Pound for pound, it's one of the very best streaming services that money can buy.
The last two years have seen a huge growth in the number of streaming services available, as many of the major studios launched their own platforms to compete with Netflix and Amazon. But alongside Disney+, HBO Max, Peacock, and Paramount Plus, there is a major streaming service that has been around longer than most–Hulu.
Hulu launched to the public way back in March 2008. It was a joint venture between several studios, including News Corporation and NBC Universal, to aggregate episodes of popular TV shows in one place. Disney became a stakeholder in 2009, adding to the platform's growing content library.
Disney's control over Hulu grew in 2019, when it bought Fox's entertainment assets, giving it a 60% stake in the company. This was quickly followed by both AT&T and Comcast selling their shares to Disney, giving the studio complete control over the platform.
Today, Hulu reportedly had 43 million subscribers in the US. However, some questions about Disney's plans for the platform remain. With the main studios taking their content back for their own services, Hulu is no longer the place to head to find top shows under one roof. But equally, Disney has its other platform–Disney+–which seems to be far more of a priority for the studio in terms of growing a subscriber base and producing original content.
So is Hulu worth subscribing to in 2021? Let's take a look at how much it costs, and what you get for your money:
Cost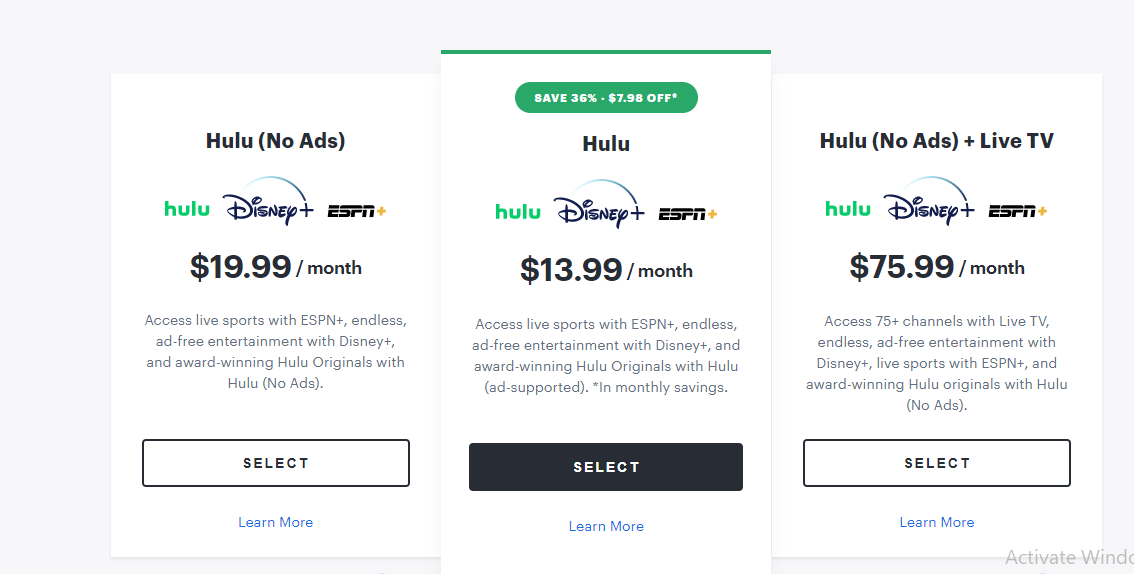 A subscription to Hulu costs $13 per month for the ad-free version or $7 per month with ads. The ad-supported version is also available as an annual subscription for $80 a year, which drops the monthly cost to $5.80.
There are also some bundle options available. Ad-supported Hulu with Live TV costs $65 per month, while the ad-free version with Live TV is $71. There's also a bundle that includes ad-supported Hulu, Disney+, and ESPN for $14 per month, or $20 for Disney+, ESPN, and ad-free Hulu. Finally, ad-supported Hulu, Disney+, and Live TV is $73 per month.
User Experience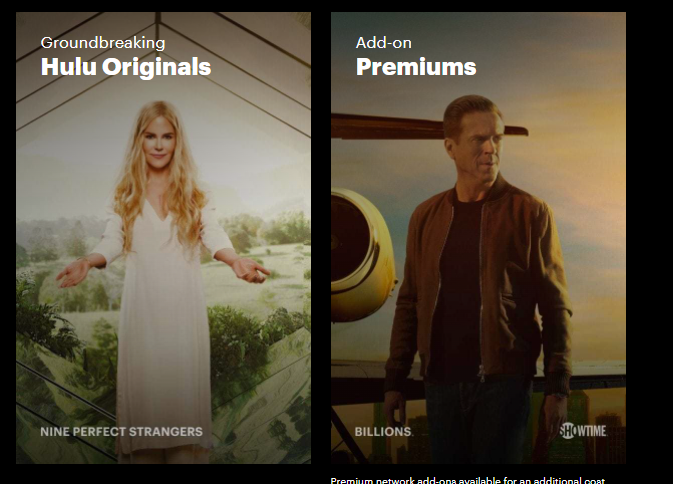 The Hulu site has a clean, well-organized design. Like most streaming services, the homepage features a large banner for a high-profile new release, followed by some more personalized TV and movie suggestions, presumably based on past watches (two of the six movies it suggested for me starred Nicolas Cage so it clearly knows something). That said, the TV suggestions seem more random, pushing some of Hulu's new originals ahead of content from the other studios. Other sections on the home page include "Hulu Picks," "Newly Added Movies," and "Award-Winning TV."
There are currently five links at the top of each page. The Movie and TV sections are divided by genre, with these running from more obvious "Thrillers" and "Horror" to sub-sections like "Lifestyle and Culture" and "Food and Drink." Impressively, there are also sections for "Black Stories," "LGTBQ+," and "Latino." There are also links for "My Stuff," which shows your wishlist, plus "Hubs," which provides access to specific content from studios and brands such as Fox, Freeform, Adult Swim, SyFy, MTV, and National Geographic. The fifth link is a temporary one for "Holidays," collecting all of Hulu's seasonal shows and movies.
Throughout the site, if you're looking for a more comprehensive list of what content Hulu has, then this is easy to find. Full listings can be accessed from every page and section, with alphabetical lists of every film and show revealed by clicking "View More."
The Android and iOS apps are very similar in layout to the site and easy to navigate around. Movies and shows can be downloaded via the app for offline viewing. One thing missing that Disney+ or Netflix users might miss is a group watch functionality. But this is a small omission from an otherwise well-designed and user-friendly experience.
Content
So, the big question is–what can I watch on Hulu? There's certainly no shortage of titles on the platform, both in terms of originals, Disney-released titles, and licensed content. So let's take a look in more detail:
Movies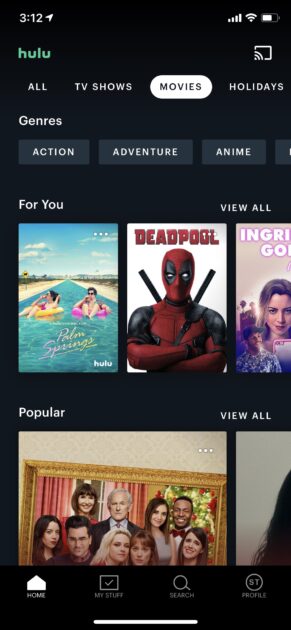 Hulu has a large selection of films available–but there are a few caveats. You won't find many big, new blockbusters on Hulu, with the big studios keeping their films for their own services, and Disney+ the place to go for Star Wars, Marvel, and Pixar. However, fans of international, arthouse and independent cinema will find much to enjoy. Some of the most acclaimed films of the last year can be found there, such as Nomadland, Pig, and Another Round, alongside R-rated Disney-owned titles that won't be found on Disney+, including Deadpool.
There's an assortment of big catalog movies from other studios available, such as The Matrix, Skyfall, The Hunger Games, and Terminator: Dark Fate. Beyond that, Hulu has a good range of genre films, particularly horror and sci-fi, and its selection of Hulu Originals continues to grow. Recent releases include the horror movie Run and the time-loop action comedy Boss Level. In all, there's no shortage of movies to watch on Hulu, but don't expect to find any specific title available–looking through the movie section is more reminiscent of browsing the shelves of a video store and picking up something that looks interesting.
TV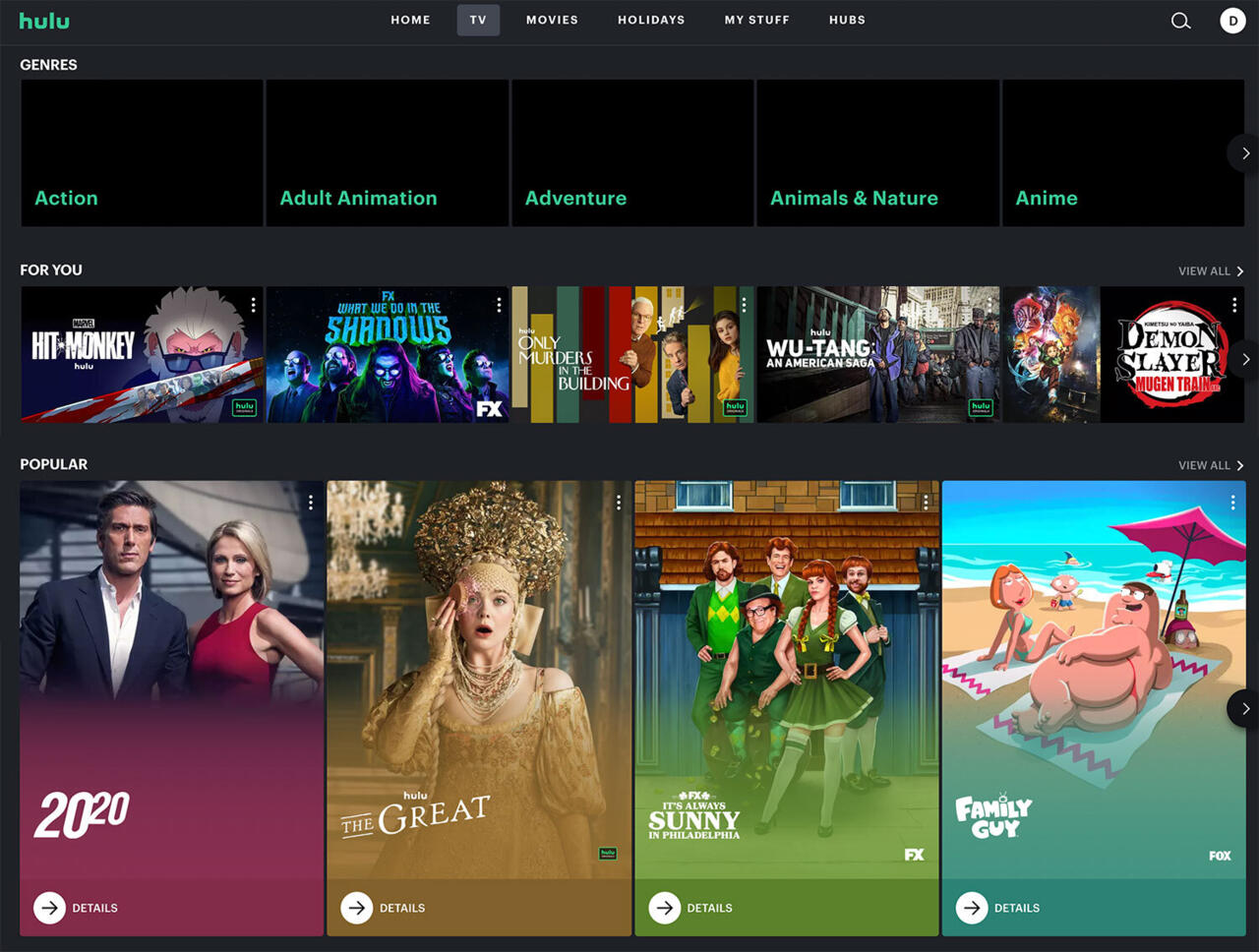 Hulu's real strength lies with its TV content. The company has produced some superb shows over the past few years, including The Handmaid's Tale, Nine Perfect Strangers, and The Great, while Dopesick and the comedy Only Murders in the Building are recent additions to its line-up of acclaimed series. The Fox deal has also meant Fox and FX shows can be found on Hulu, such as What We Do In The Shadows, American Horror Story, Y: The Last Man, and It's Always Sunny In Philadelphia. There's also a wealth of catalog comedy and drama, documentaries, and reality programming.
Anime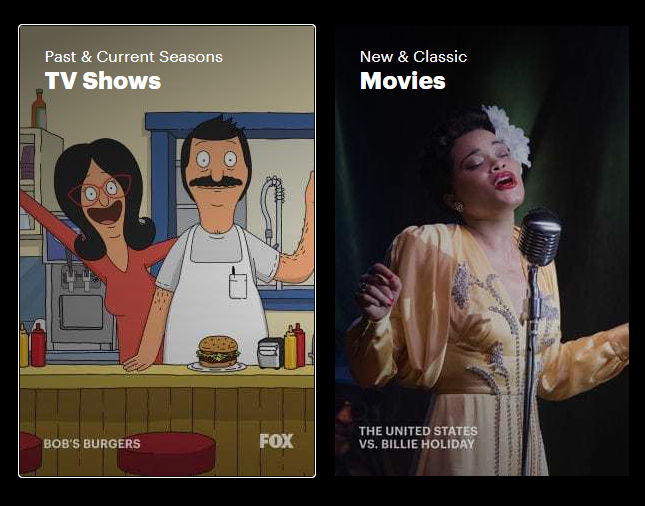 Hulu also boasts a fantastic selection of anime shows and movies. Highlights include One Piece, Attack on Titan, Akira, Yu-Gi-Oh!, and Demon Slayer. You can check out GameSpot's guide to the best anime shows and movies on Hulu here.
So is Hulu worth the cost of a subscription? If you're a fan of quality TV drama, comedy, and documentaries then it's definitely worth the price, especially with the ad-supported model keeping the monthly cost low. Equally, if you already have Disney+, then the bundle is well worth it if you're looking to broaden your choice beyond the more family-oriented offerings there.
However, if you already have Netflix, Amazon Prime, and some of the other big services like HBO Max or Peacock, Hulu might not offer a huge amount you're not getting elsewhere, especially in terms of movies. Sure, the film selection is very varied, but with so much choice already available, then it could be a monthly cost you can live without. Equally, while the anime selection is impressive, hardcore anime fans might already be subscribed to services like Crunchyroll or Funimation. Nevertheless, more casual anime fans will find it a good addition, giving them access to some of the genre's best releases without having to pay for one of those specialist platforms.
In all, Hulu has a lot to offer, but it might be worth checking to see if it's exactly right for you before signing up.