Introducing Notino Review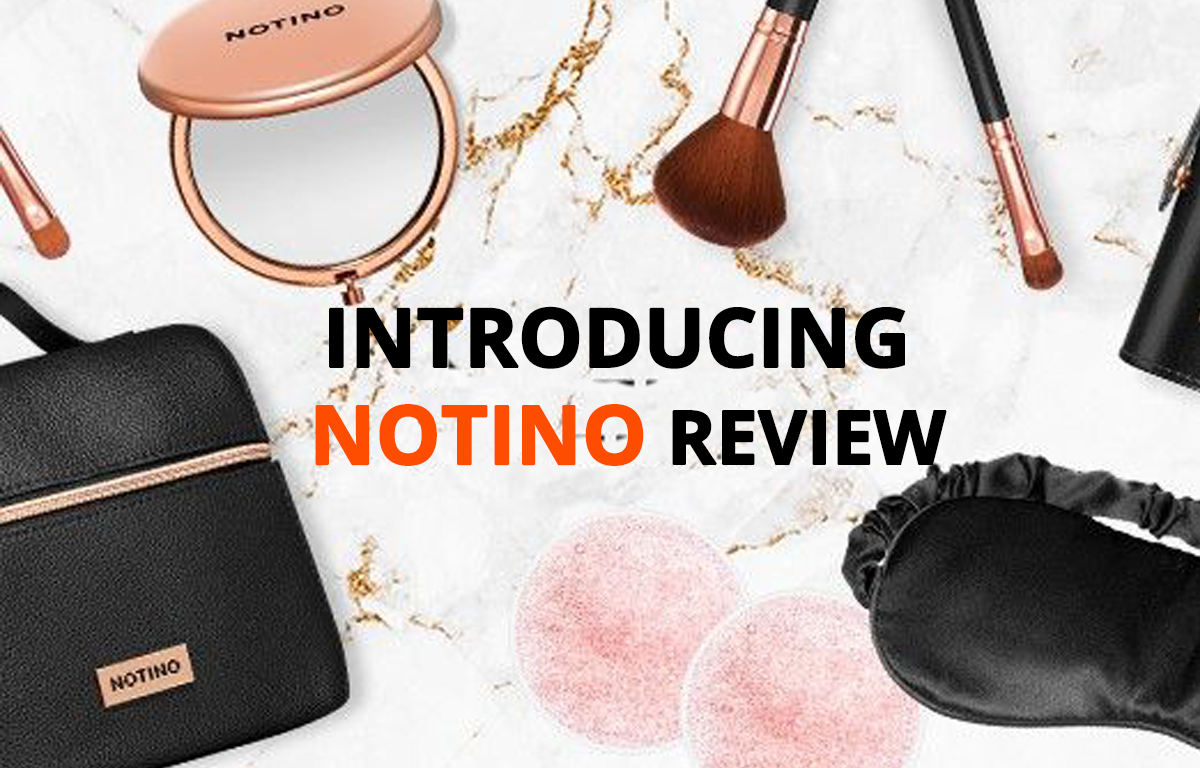 Here I am, sat here incredibly excited that I am collaborating with a brand packed full of products that I am in love with. Introducing Notino!
Now full disclosure guys, Notino sent me these products to review in my own words, with my own thoughts and you guys know I always review honestly.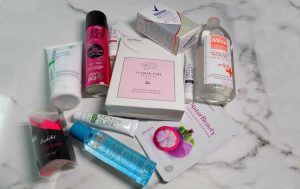 Notino is a luxury brand website that sells a large array of brands in the luxury bracket – a lot of brands that I absolutely adore!
From fragrance to skincare and even make up. Just the brands I love!
I am quite particular with fragrances for example, I do like to wear certain perfumes and even brands and have to admit that my range of perfumes is high end. So finding Notino is actually selling these, I am elated!
Stocking up this Christmas and purchasing my family their favourite perfumes also.
Now the best part is certainly the discounts – the sales are incredible and the prices are really good.
I will discuss obviously how I got on so far and excited for future posts!
Introducing Notino – What I received?
Notino sent me the most amazing little gift pack for my 'Introducing Notino' post.
Skincare and hair care – how they know me so well already and we just started working together guys!
Literally, I came out of hospital after an operation and was so excited to open this wonderful box which by the way was so beautifully packaged and protected. I wish other brands would take notice of this. Brilliant service.
Fast shipping from confirmation of when the package had been sent out, I received it 2 days later (If it came the day before, I am not sure as I was in hospital)
Okay so you want to know what I got right? Of course you do! I will review each item shortly for you!
Spiritime Flower Time – Body Milk & Shower Gel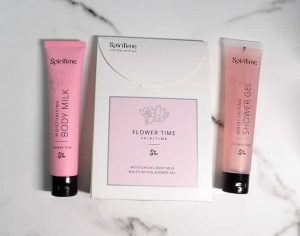 I adore shower and body sets, this is a cute little package with both a moisturising body milk and moisturising shower gel.
I have never heard about this brand before but my goodness, the scent!
Do you remember back in the 90's – impulse had a pink type spray. Can't remember what it was called. It was floral, slightly sweet but very fresh. I know you can think of it! Tell me what it is if you remember!
It smells exactly like that. I showered with it after getting out of hospital and the scent was still on my skin after. Cleansed so well and my skin was left clean and ready to moisturise!
Then I got into moisturising – of course the scent is the same. Glided on perfectly over my skin and sunk in right awat leaving skin soft, smooth and hydrated!
Can we have this as a perfume please?
Dermacos – Deep Cleansing Gel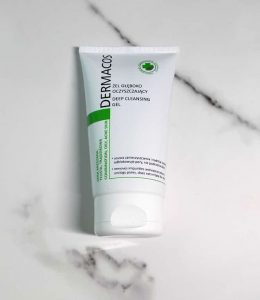 Funnily enough, I had heard Dermacos mentioned a few times now and have always been curious of the products but never got round to buying it.
Tailored for combination, oily and acne prone skin, this deeply cleanses with willowbark and tea tree oils. The key ingredients to fresh, clean skin but has the antibacterial properties needed.
The scent is personal preference, but I do love the smell of tea tree oil.
Now the gel itself is light green and clear with tiny beads in to gently exfoliate the skin as well as deeply cleansing.
I don't have acne but I get big, large, red and painful spots which cause me a lot of problems when wearing make up.
I had gained one whilst in hospital so this was a good time to use this and see how it worked.
After one use, my skin felt cleansed, but also the big angry spot I had was feeling less sore, not as red or irritated. Generally mine last a week or longer. This one lasted 4 days and was competely gone.
Nothing else had changed other than using this as I wanted to see how well it worked.
Fabulous little product and really enjoy using it. Keeps those pesky spots at bay for me now.
Mixa – Micellar Water Anti Dryness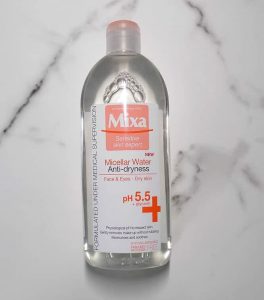 Micellar water I use all the time. Literally even after cleansing, I use this just to make sure my skin is properly cleansed and ready for my serious and so forth.
Mixa is a French brand that specialises in skincare for sensitive skin so this was right up my alley.
Scent wise, this reminds me of baby products. You know that soft, clean but powdery scent babies have just out of the bath? It reminds me so much of that.
Clear, water consistency and cleanses my skin well. I also found that even after washing my face, I still found it pulled dirt out of my skin.
Very gentle and soothing, perfect for when my skin is acting up.
I could keep repeating with the use over and over.
Avene – Micellar Water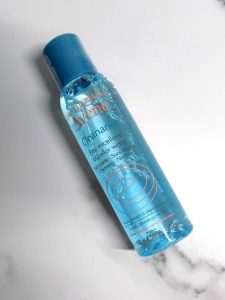 I love the brand Avene and do have quite a few cleansers as they are so gentle and super cleansing.
In my cleansing drawer, I do have an anti-redness cleansing milk which I love but never tried a micellar from Avene.
I do use other brands, but after using this I am switching and you will see why.
It smells clean. Almost an aqua type scent. Perfect for the morning.
Works gently to cleanse my skin but also hydrates at the same time.
I use this to take off make up and takes it all off gently, but works so well on even the stubborn make up like eyeliner and mascara.
Girlz Only Haircare – Dry Shampoo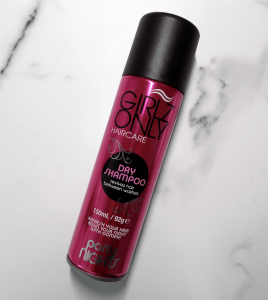 Another new brand to me, this brand I have honestly never heard of before.
A fruity fragranced dry shampoo that doesn't leave hair looking grey, dull or full of dust like some can do.
It's easy to spray, give your hair a good rub and then brush through. Leaves hair looking like freshly washed but without the frizz I get.
I would re-purchase this when I start to run out of the current supplies I have!
Rexona – Maximum Protection Anti-Perspirant
Rexona is also known as Sure but in other countries it's known as Rexona. I have this already and just started running out.
Both are exactly the same, exactly the same fragrance and works the same.
But this is cheaper!
It's a cream based anti-perspirant that gives you maximum protection and one I have used for a good few years now.
I sometimes have sore underarms from shaving and this is perfect for settling the skin and it's so gentle. Much better than sprays but so light and helps to prevent sweaty underarms!
A lovely, fresh powdery scent. Perfect for all year round.
Brush Art – Blending Sponge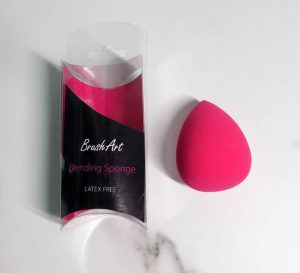 I am a sucker for a good blending sponge, I have loads but some are either too soft or too hard.
This particular blending sponge is medium in firmness and perfect for applying my foundation and concealer.
Firstly, no colour run when washing and cleanses so very well.
When applying my foundation or concealer, this is so very good at giving me the perfect, flawless base and doesn't absorb loads like the softer ones can.
But it's not hard on my skin like others can be, bouncing literally a hard ball… whereas this is nice and soft but firm enough to give good coverage.
Medi Blanc – Toothpaste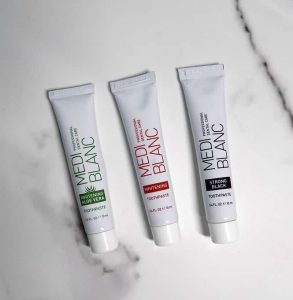 I also received 3 different toothpastes. Whitening, strong black and aloe vera.
Now I have seen these before and know that toothpaste is becoming all the rage with charcoal or aloe vera.
All 3 have a more natural mint taste so not your usual toothpaste you get.
The strong black is scary to use but my goodness this really did help whiten my teeth.
After this, I used the aloe vera which is great if you have issue with your gums. I do get inflamed gums due to medications and this was great in helping them feel less sore and inflamed.
Then finally the whitening which really worked in giving me lovely, white gnashers.
I am so repurchasing this you know, it's fabulous. Love the taste, how it worked and will be buying more.
Korika – Calming Sheet Mask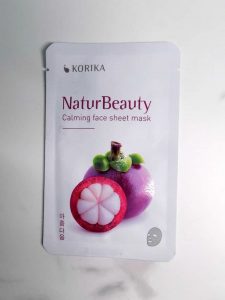 I have a large collection of sheet masks. I know, I am mad. But there is nothing I love more than taking my break at work, shoving on a face mask and enjoying 10 minutes of peace and quiet.
This particular face mask is enriched with glacier water and natural extracts.
Korean skincare is amazing and something I enjoy using. But harder to get hold of in the UK as it is so expensive!
I just wish I had more than one because I loved it so much that I felt that I needed to buy more.
I cleansed my skin, popped it on and left it for 20 minutes to sink in.
Then I took it off and my skin was so soft, so smooth and very hydrated.
Introducing Notino – Final Thoughts
When doing this review and playing with all these products, I sat there and was like so how can I do my 'Introducing Notino' post and a review was of course the best way forward.
The prices firstly on the website are incredible, I have a long list ready for my Christmas haul for my family and going to spend some serious money here.
I was so impressed with shipping and how much care went into protecting my lovely items.
So excited to the future and working together with a – so far – amazing looking brand!
Have you had a look at Notino yet? What do you think?
*Products were sent for me to review of the brand Notino and the items in exchange for an honest, unbiased review