Jimdo Review — Everything You Need to Know About Jimdo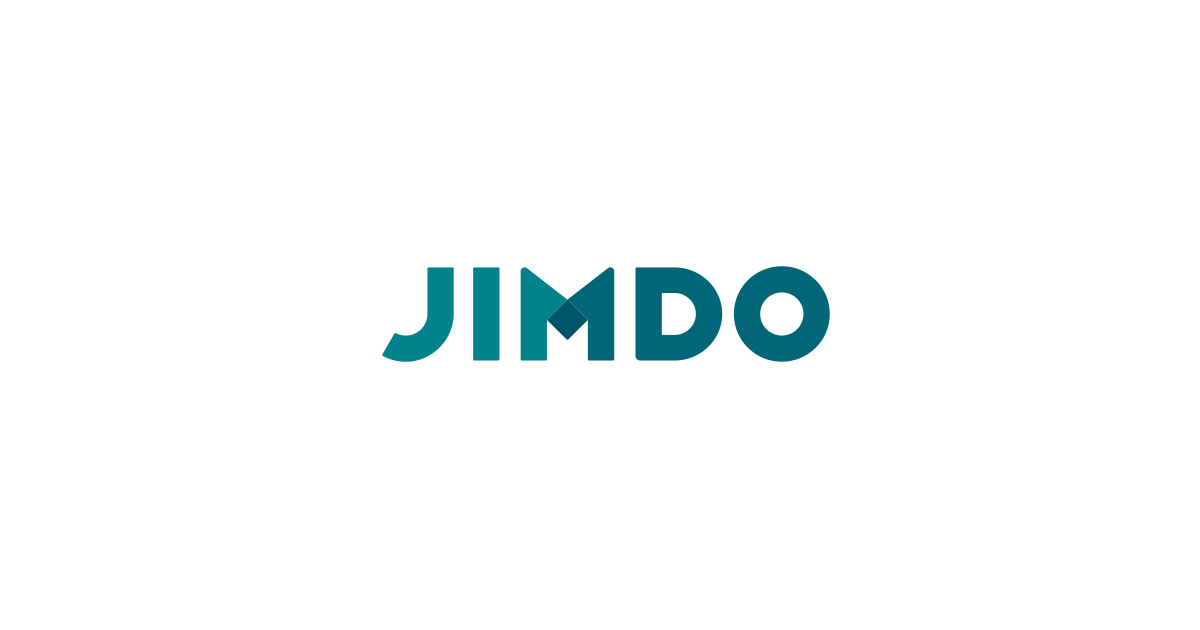 Jimdo is a one-stop shop for building a website or creating an online store. You can use it to
buy a domain
design and host a website
blog
sell products online.
You can also use it to manage email accounts.
This platform allows you to use 'out of the box' templates provided by Jimdo or your own CSS and HTML code.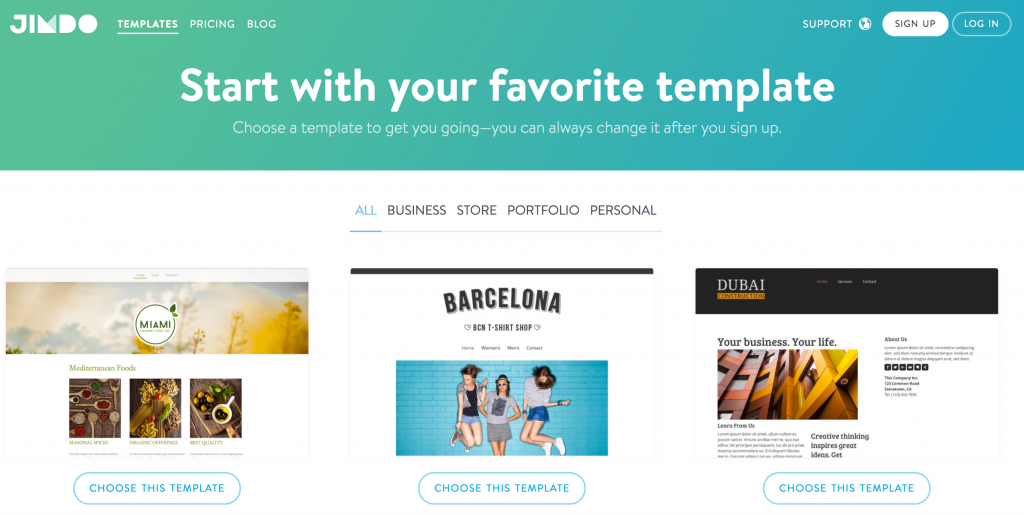 Jimdo

Alternatives
There are a lot of similar website building solutions available.
Although it's more expensive, Squarespace is definitely worth investigating. Its templates are slicker and its feature set is more extensive. I find Squarespace particularly good for users who want to build a content-driven or portfolio website (note: if you're interested in working with the Squarespace platform, do check out our Squarespace review and our Squarespace web design services).
If you're looking for something similarly priced, but with a larger range of templates to choose from, take a look at Wix. Its e-commerce functionality comes in a bit cheaper too. See our Wix review for a full run-down on the pros and cons of this platform. (Our WordPress vs Wix comparison, Wix vs Squarespace and Wix vs Shopify posts might also be of interest).
For a those interested in a highly professional e-commerce solution, we'd recommend Bigcommerce or Shopify over any of the aforementioned.
And finally, if you're thinking about creating an online publication involving multiple authors and requiring sophisticated content management and publishing functionality, then WordPress is probably your best bet.

There are five Jimdo plans available: 'Play', 'Start', 'Grow', 'E-Commerce',and 'Unlimited'.
I've listed US prices below, but Jimdo costs vary rather a lot by country — for example, the entry level plan costs
$9 in the US
£9 in the UK ($12 USD)
€9 in Eurozone countries ($10.30).
So, how expensive Jimdo is will very much depend on your location: the company doesn't really seem to go in for currency conversions which are appropriate for local markets. This contrasts negatively with other similar platforms — several of Jimdo's competitors do make allowances for currency variations.
All plans include the following basic features:
Access to a wide range of templates which you can use to build your site.
Storage for your content and bandwidth for your visitors to access it (limits vary by plan)
Https:// security
Responsive design (where your website is automatically resized to suit the device it's being viewed on — mobile, tablet, desktop etc.)
Blogging functionality
Photo galleries
As you go up the pricing scale, you get access to more features. So let's take a look at the key differences between the three plans.
Jimdo's free plan lets you build a 5-page website using a Jimdo subdomain (i.e., www.yourdomainname.jimdo.com rather than yourwebsite.com). It comes with 500MB storage, 2GB bandwidth and https encryption. Interestingly, you also get support on this plan, although you may have to wait a while for it (more on that later).
There is enough storage provided on this plan to host a small but functional website; and the bandwidth is adequate for sites that receive a relatively low number of visitors per month. If you plan on offering your visitors large downloads however, you won't really be able to do this using this plan.
Jimdo Start – $9 per month
Jimdo Start is the cheapest paid-for Jimdo plan. It includes a free domain name for the first year along with 5GB storage and 10GB bandwidth; and your site can have up to 10 pages in it, which will be adequate for most small businesses.
You also get Jimdo's standard support, which means you'll receive an answer to support queries within 1-2 business days. Your website will also be ad-free.
Storage and bandwidth will be adequate for a lot of small and medium-sized business, but having to wait for 1-2 days to get an answer to a query is not ideal if you need to fix something quickly.
Jimdo Grow – $15 per month
The 'Business' plan isn't terribly different from the 'Start' plan — all its features are the same, but there are more generous limits for storage (15GB), bandwidth (20GB) and the number of pages you can put on your site (50).
To be honest, unless you desperately need more than 10 pages on your website, or expect a reasonably high number of visitors from the get-go, the 'Start' plan is just as good as this one.
Jimdo Ecommerce — $19 per month
As the name of this plan suggests, it's the first one to offer e-commerce functionality.
With this plan, you get all the features of the 'Grow' plan (the same bandwidth and storage limits apply) but crucially you can build an online store with it too. Your store can host an unlimited number of products.
Jimdo Unlimited — $39 per month
This plan is basically the same as the Jimdo Ecommerce plan, but provides you with unlimited storage, bandwidth and pages.
Now, unless your site is insanely successful from the moment of launch, you'll probably find that you don't have a big need for unlimited storage and bandwidth. If you want to use e-commerce with Jimdo I'd probably be inclined to start with the 'Ecommerce' plan and see how things progress before paying an additional $20 per month for the unlimited bandwidth, storage and pages.
More useful perhaps is the 'professional design analysis' service that is included in this plan. This gives you some consultation time with a Jimdo designer, who will sense-check your site design to ensure that it is of a suitably professional standard.
Content management and interface
To build a site using the Jimdo interface, you can choose between two modes: 'Dolphin' and 'Creator'.
• In 'Dolphin' mode, the system uses what it terms as 'AI' to build a basic website for you, based on your answers to a handful of questions and material pulled from your social media profiles. This only takes a few minutes.
• In 'Creator' mode, you build your website yourself, using one of Jimdo's 40 templates; these allow you to include significantly more features including galleries, background videos, a blog and an online store.
When you choose Jimdo's Dolphin 'AI' mode, a chat window pops up, asking you a few questions about yourself, the kind of site you would like to build and the style you'd like to apply to it ('playful', 'elegant', 'modern', 'minimal' etc.).
Based on these answers, and material pulled from your social media accounts, Jimdo will then build a site for you.
This can be a bit hit and miss. When we tried using this mode, Jimdo built a website for a dog training school, a hotel and – this baffled us the most – the Haringey Green Party (to which we have no connections at all).
Although the resulting site looked professional and took under three minutes to build, the content was fairly irrelevant.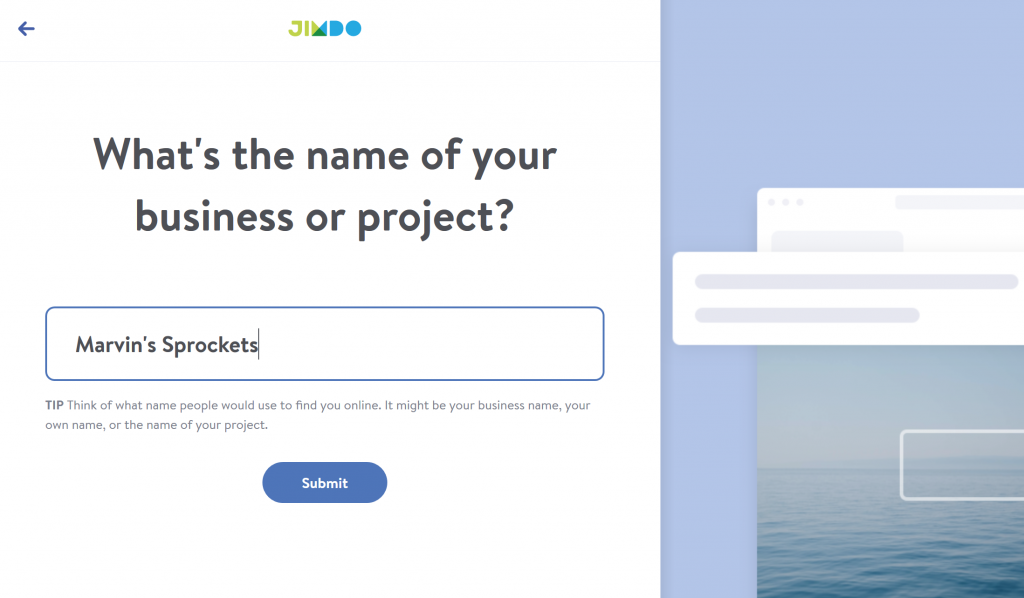 Building a website using Jimdo's Creator mode
In 'Creator' mode, you can build websites using Jimdo's templates and a full website builder. It's also easy to use, but offers a much broader range of features than 'Dolphin.' It provides significantly more control over the design of your website, along with full e-commerce and blogging functionality.
Overall, Jimdo's Creator interface is clean, and very user-friendly and intuitive to use, even for people with no web design experience.
A photo editor allows you to set slideshows or videos as backgrounds, and a drag-and-drop tool allows you to move content around your pages reasonably easily. (The drag-and-drop editor is reasonably good, but it isn't as flexible as some competing products, especially Squarespace.)
Templates
When you start building your site in Jimdo's 'Creator' mode, you are asked if you'd like to build a website, store or blog and, on the next page, what your field is (for example Photographer and Portfolio, Bar and Restaurant, Community and Clubs, Fashion, etc.). You are then presented with a choice of 15 appropriate templates.
Once you have chosen one of the initial 15 templates, you are not stuck with it — you can choose from a total of 40 templates at a later stage if you wish.
It's worth noting here that other website builders offer a far greater choice of templates. For example Wix, which operates at a similar price point, offers a selection of 500+ templates. Squarespace provides around 80 very professional-looking templates.
Jimdo's limited offering in the template department means there may not be one that appeals to you, suits your business or can be configured to accurately reflect your brand.
E-commerce
If you plump for one of the more expensive Jimdo plans (the $19 per month 'E-commerce' or $29 per month 'Unlimited' options), you get access to e-commerce functionality.
Setting up an online store using Jimdo is a fairly painless process — and you can do it quickly. You can add products, set terms and conditions for your store and create automated response emails easily.
When somebody places an order on your website's store, you will get a notification on your site dashboard, and via email too. You can easily access store orders and tick them off, or export your list of orders in CSV or XML format if you'd like to process them externally.
You can also track your inventory via Jimdo and specify the number of items currently in stock. If you run out of a particular item, Jimdo will automatically place a 'sold out' notice next to it.
Jimdo doesn't have its own payment gateway, but facilitates payments via PayPal and Stripe. These companies take a small percentage of each transaction, but unlike some competing website building products, Jimdo does not charge any fees for sales made from your site.
Integrations
Unlike other site and store building platforms, there's no 'app store' available containing integrations with third-party tools and add-ons to beef up the functionality of your site.
That's not to say that you can't integrate your Jimdo site with other tools; many third party apps provide code snippets (or widgets) which can be added to a Jimdo site (via its 'widget' or 'HTML' elements) to provide additional functionality.
This is fine for adding things like forms, calendars or maps to a Jimdo site (capturing basic data or displaying it, essentially); but if you're looking for deep integration between a Jimdo site and an accounting, CRM or dropshipping app, you're likely to be disappointed.
---
Data capture
Jimdo allows you to add forms to your site easily; these allow visitors to message you or subscribe to newsletters.
You can add several different types of field to your form, with one notable exception: a file upload field. If you want to allow users to send you files through your forms, you're going to have to turn to a third party solution such as Wufoo or Jotform.
Form submissions are automatically emailed to an address you specify; they are also saved in the back end of Jimdo. Unfortunately, there's no automatic way to send the data you capture via a Jimdo form to an email marketing app like Getresponse, Aweber or Mailchimp.
SEO
Jimdo's SEO features are pretty comprehensive.
On all Jimdo plans except the free one you can
use SEO-friendly headings (H1s, H2s etc.)
add alt text
create Google-friendly URLs based on your page titles
add page title and meta description
edit page URLs
create 301 redirects (which are used to tell search engines when a page has moved to a new location)
use robots.txt to tell search engines not to index a page
What you won't have control over is the speed of your hosting — unlike a WordPress setup you won't be able to host your site on ultra-fast servers (you'll be stuck with Jimdo's setup, which whilst acceptable, won't necessarily be the fastest hosting on the block). But that's part and parcel of using any hosted solution really.
Jimdo

Pros
It's very cheap.
A generous free plan is available.
It's easy to use, especially for those without any previous experience of website building.
You can edit the HTML and CSS of your site.
You can switch between templates quickly and easily, without losing content.
All templates are responsive.
There is a good selection of mobile apps available for managing your site on the go.
Jimdo is a well-established company with a large customer base, which makes it likely that the company will regularly update its offering and is less likely to fold (thus future-proofing your site).
Jimdo Cons
A rather limited number of templates is available.
You can only sell in one currency: Euros.
You can only use two levels of navigation.
Support is limited to email and is not available 24/7.
There is no import / export functionality.
E-commerce functionality is not as professional as that provided by other solutions, especially where tax rates and dropshipping are concerned.
There are no third party apps available.
You can't have multiple contributors to a Jimdo site.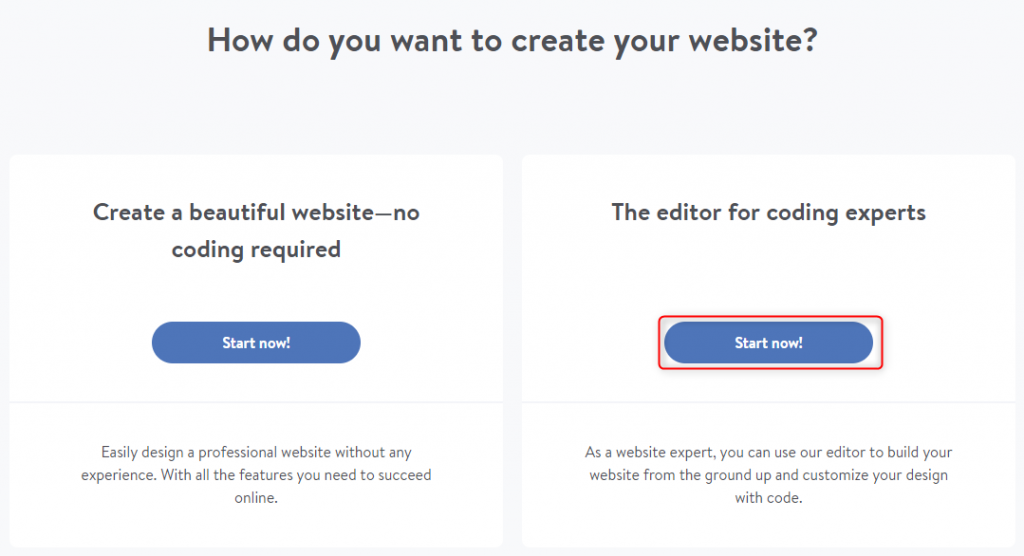 Support
When adding or editing elements of a Jimdo site, a "?" icon is displayed. Clicking on this gives you basic help on the element you're working with. This is usually pretty good.
You can also make use of Jimdo's Support Centre when creating your site – this contains useful videos and articles to help you build and edit your site.
Jimdo provides a useful blog called '8 Days', which deserves a mention here. This well-written and informative blog provides good advice for online businesses, covering key subjects such as SEO, online marketing and automating workflow.
The Support Centre can be occasionally a bit confusing at times however, because a lot of the resources still seem to refer to old Jimdo plan names ("Free", "Business" and "Pro"). And Jimdo seems to be unsure as to whether its 'Dolphin' website building tool (which as discussed above creates your site automatically for you based on questions you answer) is called 'Dolphin' or 'AI'. The end result is more confusing support materials!
---