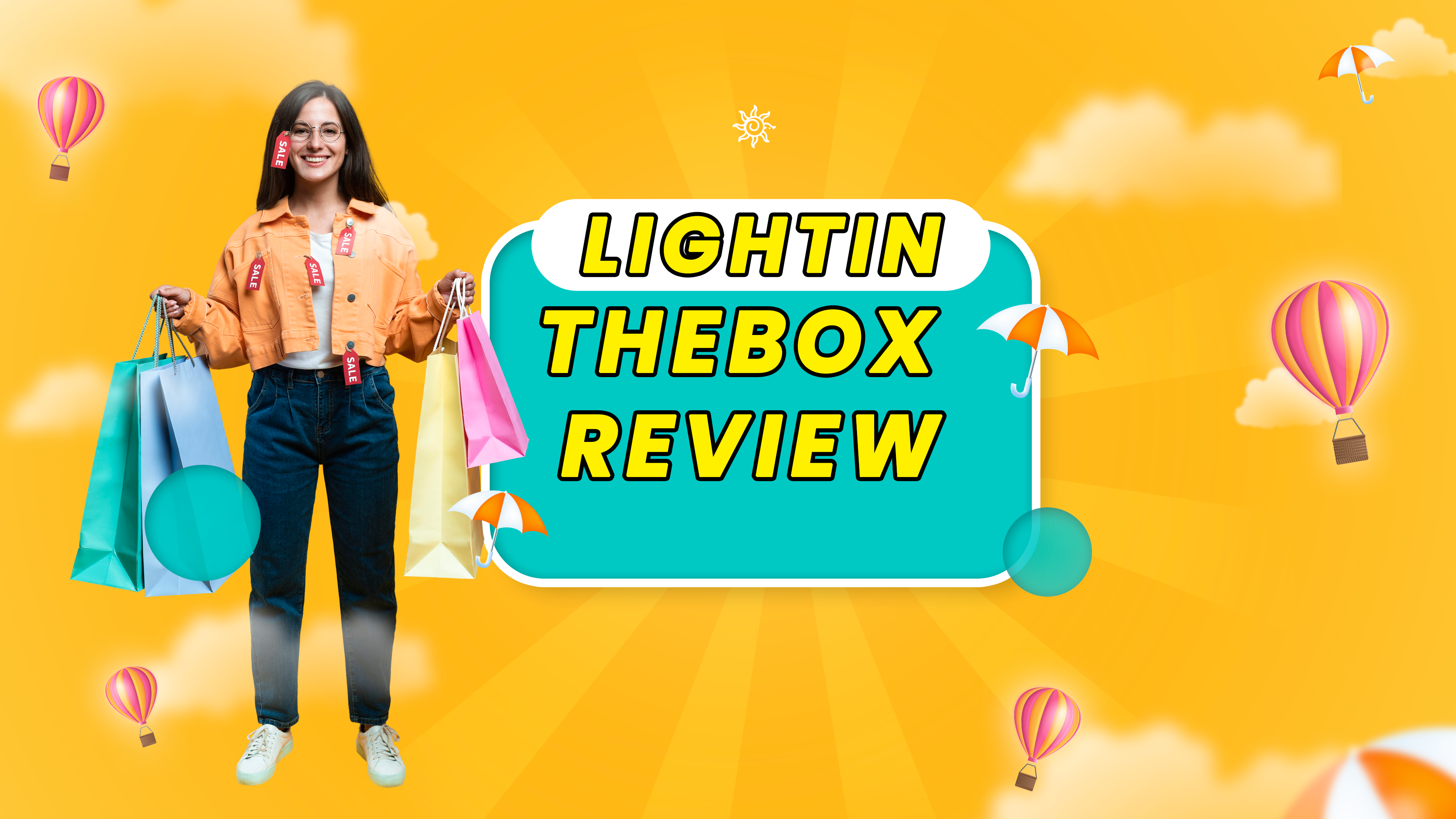 About LightInTheBox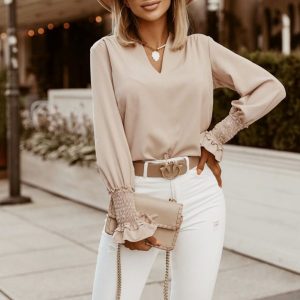 LightInTheBox is an global online retailer catering to anything your heart desires. Consider it a major competitor for the behemoth, Amazon, with the principle of cutting out the middleman so the customer gets all the savings.
Featured in notable online outlets like The New York Times, Wedding Bee, and Chictopia, it's apparent the brand is pretty popular.
Not only that, but with its massive following of 629k on Instagram and 8.4M likes on Facebook, this LightInTheBox review can definitely say that people like what they provide.
Of course, all the good attention can only take you so far but does the brand really live up to the hype? This LightInTheBox review will give you a good hard look at the popular brand—its policies, products, customer reviews—to see whether they're worth your time and money.
Overview of LightInTheBox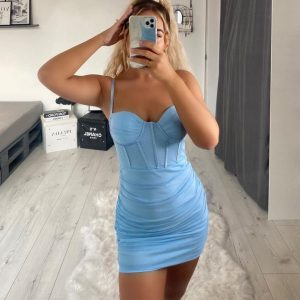 Similar to Amazon, the main purpose behind LightInTheBox is to provide people around the world with great quality at wholesale pricing.
Their large inventory includes clothing, sporting goods, home goods, wedding items, lights, jewelry, electronics, and LightInTheBox handbags—and that's not all! You can spend hours on their site discovering even more.
Founded in 2007 by co-founders Alan Guo, Liang Zhang, Kevin Wen, Jun Liu, and Chit Jeremy Chiu, the group wanted to create a company that could build on the growing manufacturing and supply chain industry in China.
And with that, the company grew exponentially, going from 220,000 products in 2013 to adding over 14,000 every month.
Before we get into the details about the products the brand offers, this LightInTheBox review will provide you with a pros and cons list.
Pros
Super accessible (sells to over 200 countries)
Boasts fast delivery
Direct-to-customer model
Tons of sales
You receive 10% off using their app
Can order through the app
Affiliate program
Good return policy
Rewards & credit membership
Certain items have free shipping over specific amount
Cons
Limited contact information provided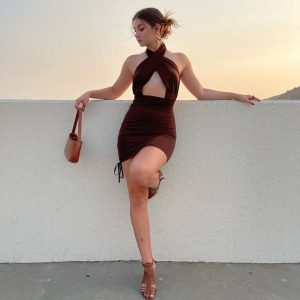 Now that you have an overview of what the company represents and its pros and cons, this LightInTheBox review will dig deeper into specific categories you'll find interesting.
As the brand has such a vast inventory, this review will only focus on dresses (including wedding), wigs, shoes, and jewelry.
LightInTheBox Dresses Review
Every wardrobe needs dresses you can return to again and again, without stressing about how they look on you. That's where LightInTheBox shines! The brand has a wide variety of dresses for you to go through without worrying about not finding something you'll like.
In this section of our LightInTheBox dresses review, we will go over a couple of their best sellers to show you the incredible range of styles they offer.
LightInTheBox Women's Wrap Dress Review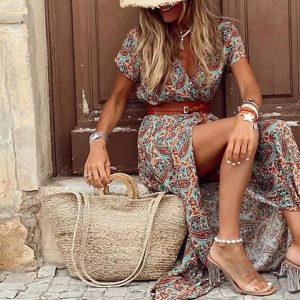 A good bohemian maxi dress is something every boho chic woman would love to have in their closet. It's comfy, they know they look good in it, and it's easy to throw on at a moment's notice, perfect for any spring or summer outings.
This LightInTheBox Women's Wrap Dress is made from satiny fabric with elasticity so it flows over your body with ease. The v-neck dress even has the belt included to help break up the print and give you a beautiful waist.
Available in two colors, the brown has a paisley print on a light blue background, while the red has sweet flowers emblazoned on a white background. The dress comes in US sizes S to 3XL.
Step into your boho chicness with this dress for $28, currently on sale for $20.
LightInTheBox Women's A Line Dress Review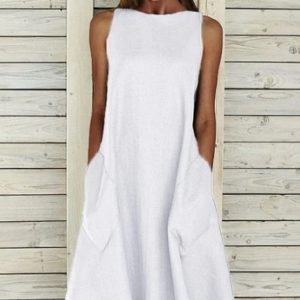 The perfect summer dress has the perfect silhouette and can be thrown on to head out to a party in a matter of seconds. Enter the A Line Dress from LightInTheBox.
A sleeveless, A-line dress that comes with pockets (what every woman loves in a dress!), it's the best outfit to wear when you just want to be comfy—at a dinner party or hanging out in the backyard.
Made from cotton, this midi-length loose fit dress is available in US sizes S to XXL, and comes in four colors:
The A Line Dress retails for $29, currently on sale for $20.
LightInTheBox Wedding Dresses Review
Weddings hold a lot of stress for the bride, especially when they're shopping for their wedding dresses. Finding one that fits perfectly is one thing but the astronomical price is another thing to consider. Not to worry, LightInTheBox wedding dresses are here to rescue you from the torture that is paying for overpriced items.
In this section of our LightInTheBox dresses review, we will go over two of the brand's more popular wedding outfits. Who knows? With their wide selection, you might even be able to find LightInTheBox evening gowns as well!
LightInTheBox Mermaid / Trumpet Wedding Dress Review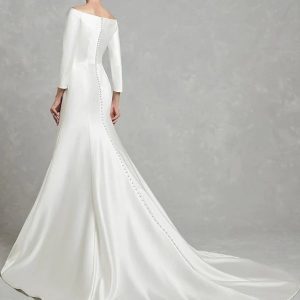 A silhouette to rival Kate Middleton's wedding outfit, you will definitely feel like a princess in this stunning dress.
The Mermaid/Trumpet Wedding Dress is ideal for those who want to embody the royal vibe on their wedding day. With its easy silhouette that contours to your body, it has a Sabrina neckline that displays your collarbone to perfection. Its three-quarter length sleeves will keep you warm for those winter wedding nights and the chapel train is elegance personified.
Made from satin, this custom-made wedding dress is available in US sizes 00 to 16, and 16W to 26W (which come with a surcharge of $8). It also comes in eight colors:
White
Ivory
Blushing pink
Candy pink
Champagne
Red
Royal blue
Black
The Mermaid/Trumpet Wedding Dress retails for $360, currently on sale for $171.
LightInTheBox Two Piece Jumpsuit Wedding Dress Review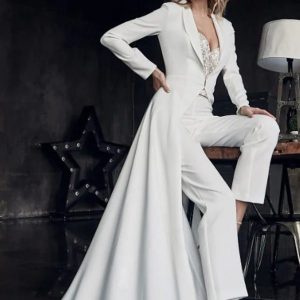 When you want to look fierce on your wedding day and want to toss aside conventional wedding dresses, this Two Piece Jumpsuit might just be up your alley instead.
Made from stretch satin, this pantsuit will have people looking at you with new eyes. The v-neck top has a built-in bra and the coat has long sleeves, with a graceful train that flows down your body. You will feel beautiful in this pantsuit without resorting to any old-fashioned ideas about how a wedding dress needs to look.
This custom-made jumpsuit is available in U.S. sizes 00 to 16, and 16W to 26W (which has a surcharge of $7), and comes in eight colors:
White
Ivory
Blushing pink
Candy pink
Champagne
Red
Royal blue
Black This wedding pantsuit retails for $380, currently on sale for $177.
LightInTheBox Wigs Review
Not only reserved for Halloween, wigs can be an everyday necessity for many people. Whether you require it on a daily basis or just want to wear it for fun (à la Nicki Minaj), LightInTheBox wigs are here to help you out.
In this section of our LightInTheBox review, we will be going over a couple of the brand's top sellers. If you're in the mood for a little Halloween magic (who isn't year-round?), then you will want to check out the brand's wig section.
LightInTheBox Synthetic Wig Review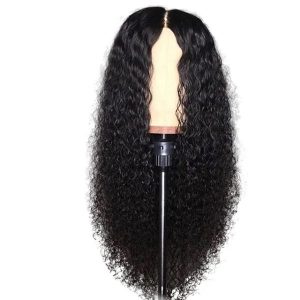 For anyone who doesn't want to spend a load of time in front of the mirror every morning, some days, it's just nice to don a wig instead. You can still appear professional and you won't have to roast your hair with a straightener or curling iron.
For those times you want the right mix of curls and waves, then this Synthetic Wig Water Wave is just right for you. This beautiful wig parts in the middle but can be adjusted to the side if you prefer. It doesn't come with a cap and is resistant to heat, and its stunning 26 inch length has lots of volume to give you that extra oomph in the looks department.
Only available in black, this Synthetic Wig retails for $44, currently on sale for $22.
LightInTheBox Wig Blonde Long Light Review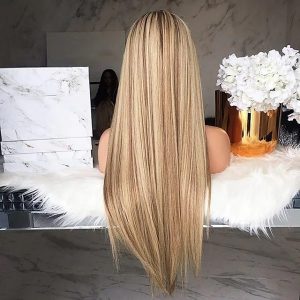 The quintessential wig that needs to live in every woman's closet. When you're in the mood to dress up your look with balayage hair, this Blonde Long Light Golden Wig is the perfect way to do it without putting down the big bucks.
Made from synthetic hair, this machine-made cap comes straight but since it's heat resistant, you can use a curling iron on it without any issue. The only thing you can't do is perm it. But with this middle part wig on, you will look like you belong in a magazine as you walk down the street.
Coming in a variety of colors, including:
Ombre light golden
Ombre red
Ombre blue
Ombre burgundy
Ombre pink
Black
This 26 inch wig is the perfect addition to your growing or beginner wig collection. The wig retails for $33, currently on sale for $16.
LightInTheBox Shoes Review
When you're wearing a great outfit, you don't want to ruin it with the wrong pair of shoes. That's a big no-no. Which is why LightInTheBox shoes have almost any style you could ever imagine.
In this section of the LightInTheBox review, we will go over two of their more popular styles. Who knows? You might even locate your favorite pair you can't live without.
LightInTheBox Boho Bohemia Beach Flat Sandals Review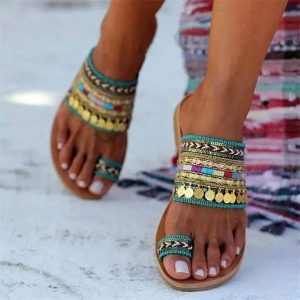 Nothing says 'I live a carefree life' than a pair of Boho Bohemia Beach Flat Sandals. With its artistic flair, this pair of shoes will have you walking like the beach goddess you are.
This easy slip-on and off pair of sandals will last you as long as you stay by the beach. The beautiful woven detail over the instep will add that extra bit of sparkle to your walk, and its simple thong-like style leaves your other toes as free as any other bohemian. The artificial leather upper is comfortable and the rounded toe will have you dancing into the night.
Available only in green, this boho beach flat comes in US sizes 5.5 to 10. The Boho Bohemia Beach Flat retails for $24, currently on sale for $17.
LightInTheBox Open Toe Wedding Sandals Review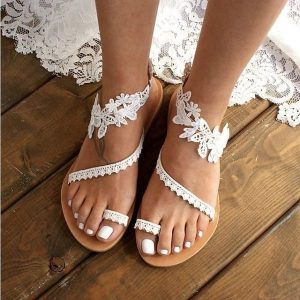 Having a beach wedding means not wearing heels, or else you'll just be fighting with the sand the entire time! Luckily, you can say goodbye to wedding stress with this pair of LightInTheBox Wedding Sandals.
These Open Toe Wedding Sandals will save you a lot of headaches, beach wedding or not. No one can handle high heels for over five hours. The delicate lace decorations across the ankle and instep will coordinate well with any wedding after-party. With their fake leather soles, you can definitely put these LightInTheBox dancing shoes on and party the night away.
Pick up these sandals for $24, currently on sale for $17.
LightInTheBox Jewelry Review
No outfit is ever complete without jewelry—it's the icing on the cake. It just wouldn't be the same without it. If you're currently lacking in the jewelry department, this LightInTheBox review can help you out!
As their inventory for adornments is too vast, this review will only look at a couple of their best sellers.
LightInTheBox Feng Shui Pixiu Black Obsidian Wealth Bracelet Review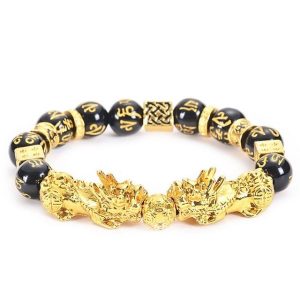 Whether you're missing out on some luck or need a bit more, this Feng Shui Pixiu Black Obsidian Wealth Bracelet will be right up your alley. This lucky bracelet has many features, most importantly the dragon, which is an important symbol of luck, power, and strength.
The gold-plated dragons and obsidian beads are strung together on an elastic band so it's easy to pull on and take off. With multiple variations to the design, you can be sure this bracelet is popular.
Bring in more luck with your new wealth bracelet for $9, currently on sale for $4.
LightInTheBox ​​Women's Pendant Necklace Review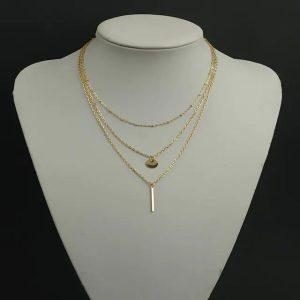 Pendants are a beautiful addition to any outfit—they can be dressed up or down, always providing you with an elegance in its simplicity. It's what the Women's Pendant Necklace from LightInTheBox promises.
The dainty chain has three layers to it: the single chain, a chain with the round pendant, and a chain with a short rod pendant. Made from alloy, this necklace comes in golden or silver, and would look beautiful with any v-neck tops.
The Pendant Necklace retails for $4, currently on sale for $2.
Who Is LightInTheBox For?
This LightInTheBox review found the site is really for anyone who loves a good deal. The inventory carries anything you could possibly think about and all of the prices are priced competitively.
Comparison: LightInTheBox vs. Made In China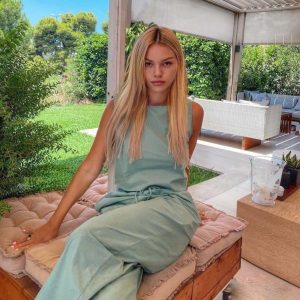 Now that you have an idea of what the brand offers, this LightInTheBox review will take a look at one of their competitors: Made In China (MIC).
Made In China is a global marketplace that creates business opportunities by connecting suppliers in China with buyers from overseas. Launched in 1998, Made In China is also similar to Amazon, where it has suppliers from over 27 industries, and buyers can find what they're looking for to sell in their store.
The biggest difference between the two companies is that Made In China is strictly business to business versus LightInTheBox, which is business to consumer. The pricing for Made In China is cheaper by comparison as it depends on the volume of units you're buying.
In regards to pricing, if you thought LightInTheBox was cheap, you will be even more surprised to find MIC is even cheaper! For instance, one supplier sells their mermaid wedding dresses at the following prices:
1-9 units: $166 per piece
10-29 units: $133 per piece
30+ units: $79 per piece
As you can see, the more you purchase for your store, the more savings you'll have! Of course, it only works if you're a retailer and not a consumer.
LightInTheBox Reviews: What Do Customers Think?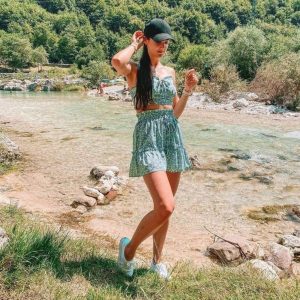 Though the brand's website boasts impressive 5-star ratings for nearly all their products, this LightInTheBox dresses review will give you an actual behind-the-scenes look at what their customers are really saying.
With a 3.8 star rating from over 71,000 reviews on Trustpilot, it appears people are pretty pleased with the company. Gary M. writes, "Cool products at reasonable prices, and a nice coupon to boot!"
And Linda M. agreed, stating, "Product was exactly what I wanted at a very reasonable price."
And L. was happy with her purchase, saying, "Bought several tiaras from LITB for a photoshoot and some friend's birthdays. Everyone commented on how high quality and expensive they looked (my friend got annoyed because she thought I'd spent so much money!!) They arrived very quickly and in perfect condition. Would purchase from here again."
Is LightInTheBox Worth It?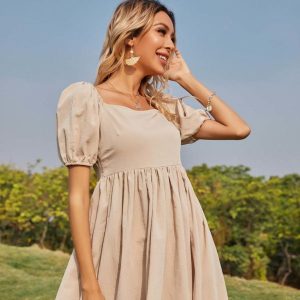 When it comes to good deals online, there is always some sort of trade-off—at times, it's delivery times, quality, or an overall bad experience. The question you need to ask yourself is: is it worth your time and money to buy something cheap online?
With that in mind LightInTheBox is worth it if you know what to expect. We recommend that you give them a try and see for yourself.
LightInTheBox Promotions & Discounts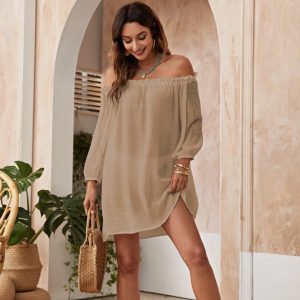 There are several promotions and discounts going on at the moment:
To code HAW2 lets you:

Receive $5 off for orders over $45
Receive $10 off for orders over $80

When you order through their app, you receive 10% off orders over $10
There are flash sales where you can get certain items at 50% off
Where to Buy LightInTheBox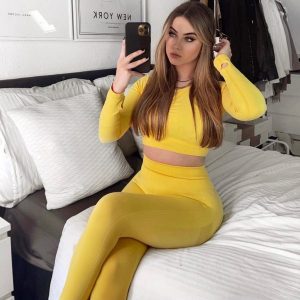 LightInTheBox products are exclusively available through their website.
FAQ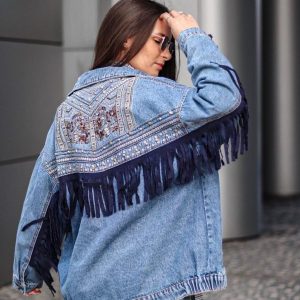 Where is LightInTheBox based?
LightInTheBox is based in China. It has two head offices in Shenzhen and Beijing, China.
Where is LightInTheBox made?
LightInTheBox is manufactured in China. This is also where all of the products are shipped from.
What sizes does LightInTheBox have?
LightInTheBox offers an online shopping guide that contains all of the details about sizing for menswear, womenswear, and children's apparel you can access here.
What is LightInTheBox's Shipping Policy?
LightInTheBox offers the following shipping methods:
Global Postal Service (No Tracking): 10-20 business days (best for smaller packages)
Global Postal Service-Tracking: 10-18 business days
Global Expedited Postal: 5-8 business days (best for orders over $60)
Priority Line: 4-7 business days
Global Expedited Express: 3-4 business days (best for orders over $40)
The company recommends you purchase the Duty and Tax Insurance so any additional customs charges can be covered. The shipping costs will vary depending on the weight of the item, shipping destination, and how you want it to be shipped. All of the costs are calculated when you checkout.
What is LightInTheBox's Return Policy?
You have 30 days from the day you receive the order to return items that fit the specific criteria the brand has laid out:
Any broken, damaged, or dirty items that arrived in that condition
Incorrect sizing or color
Otherwise you have a 1-year warranty for the following items:
Faucets
Lights & lighting category (not including light bulbs, LED strip lights, string lights, décor and night lights)
The brand does offer a 7-day return (no questions asked) from the day you receive your order, but only if the items have not been worn, are unwashed, and are in the original packaging.
Any swimwear, covers, or cases have a 14-day return window from the day you receive your order.
Any returns have to be approved by the LightInTheBox team first.
How to Contact LightInTheBox
There are a couple of ways to contact LightInTheBox:
Live chat option through their website
Through their Help Center on their website