Nasty Gal Review: Clothing for Women & Men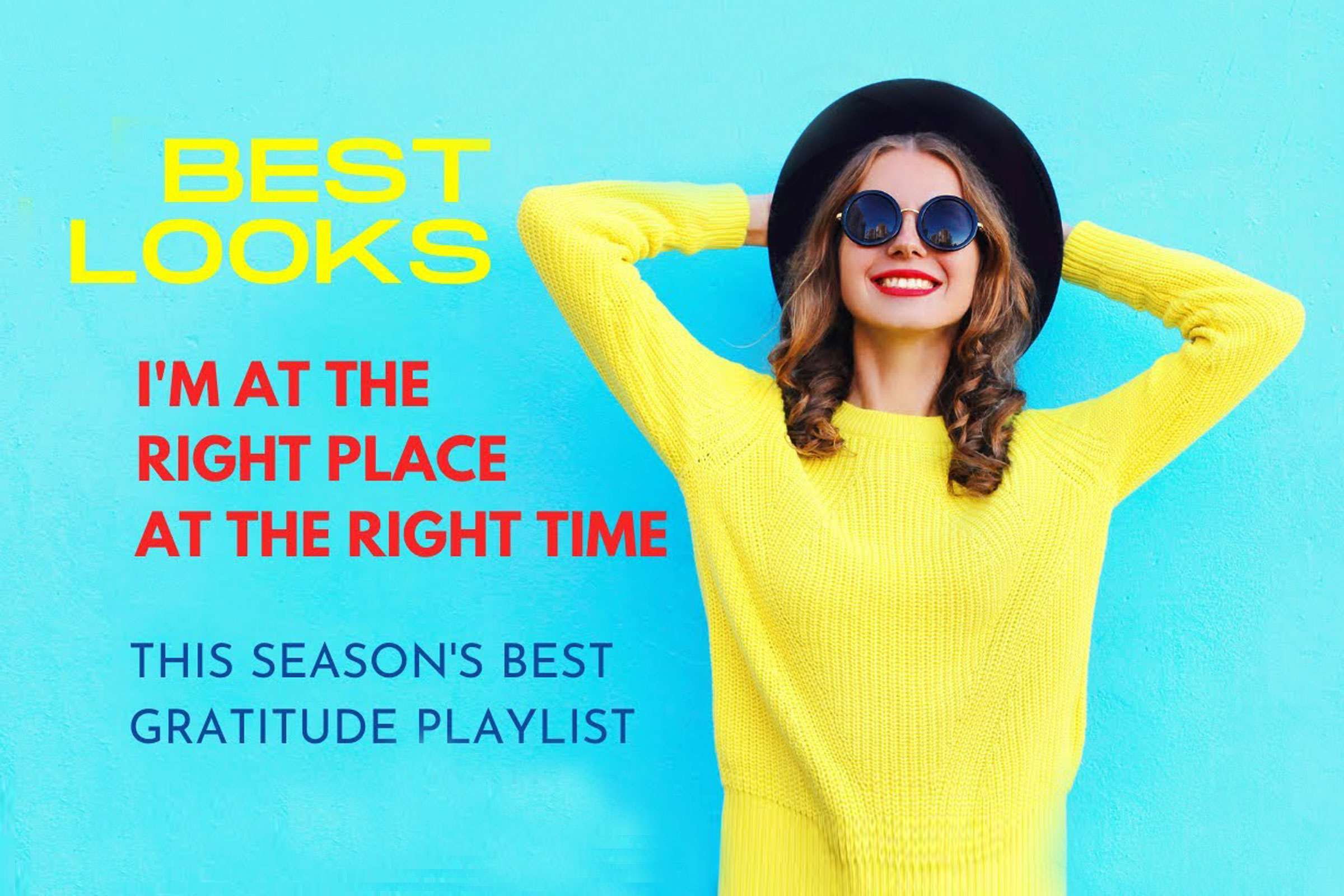 We've discovered another online clothing brand called Nasty Gal, which has gained a lot of popularity all over social media. Many influencers and media personalities claim to love this brand. Also, there are several posts of positive Nasty Gal reviews all over the internet.
You will find out everything you need to know before making a purchase with our honest Nasty Girl review below. We have provided important details you need to know about Nasty Gal and how well they compare with other brands. Keep reading to find out if Nasty Gal is really worth the hype.
About Nasty Gal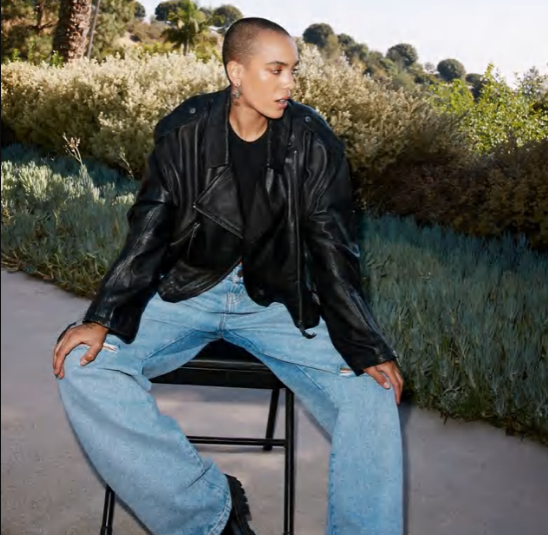 Nasty Gal is an edgy, fashion-forward store that offers budget-friendly apparel to modern-day women. Nasty Gal was founded by Sophia Amoruso and it began as a small eBay store in a small apartment in San Francisco.
After thirteen years, it has grown into an established shopping label in LA with its own clothing line and accessories.
Nasty Gal has become a household name all over the internet with a large customer base. They have a following of 4.9 million followers on Instagram and have earned a total of 1.4 million likes on Facebook.
It has continued to flourish long after its owner retired as CEO. Nasty Gal also has features on major publications like Forbes and Business Insider.
They compete with other sister brands in supplying bold and trendy dresses, tops, shoes, and accessories. It is also remarkable that Nasty Gal has been able to keep up with fashion movements since its creation. Now it is one of the leading independent stores with designs and products that every girl wants in her wardrobe.
Pros
Elegant fashion-forward pieces
International Shipping
Diverse and extensive apparel
Offer Karna, AfterPay, and Zip payment options
Effective Return Policy
Cons
Poor customer service
Poor product policy
Slow refund process
Nasty Gal Clothing Review
Nasty Gal focuses mainly on women's clothing supply a wide variety of styles and looks in their clothing apparel. Nasty Gal clothing features, business casual outfits as well as sultry pieces for all sizes and types of modern women. They distribute clothing with bold fashion statements that empower women to be strong and confident always.
Our Nasty Gal clothing review takes a closer view of the brand's surplus inventory and focuses on the popular and eye-catching pieces. They offer new products releases and apparel every new season but our nasty gal review does not include them all.
We only feature some of the bestsellers and more affordable pieces that are available on the nasty gal website.
Nasty Gal Dresses
Nasty gal dresses are well-known and they have a wide selection of dress styles from party dresses to business casual dresses. Here are some bestsellers in the Nasty Gal dress collection!
The Ombre Tassel Short Sleeve Mini Dress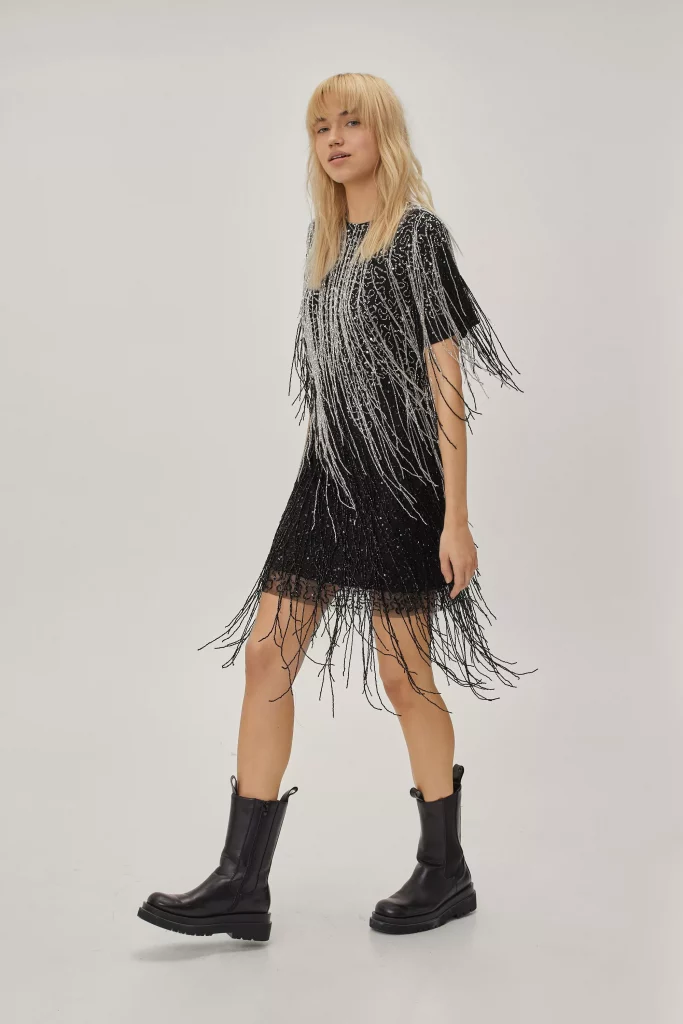 We found this in the daily icons collection which offers some of the most exclusive and elevated products from Nasty Gal. While it is under the party dress section, it offers versatility with an effective day-to-night look. The style gives a calm, soothing silhouette, with the crew neckline, short sleeves, and metallic tassel details.
The chic rocker girl style is complete with classic biker boots and the tassel fringe design is a nod to old 90s rock trends. The fabric is made with 100% polyester and it is one of the high-price items Nasty Gal offers at €299.
But the fit is relaxed and the mini length offers dual looks and multiple styling options. The sequin tassels make the dress even more exquisite and trendy.
Shoulder Padded Satin Mini Shirt Dress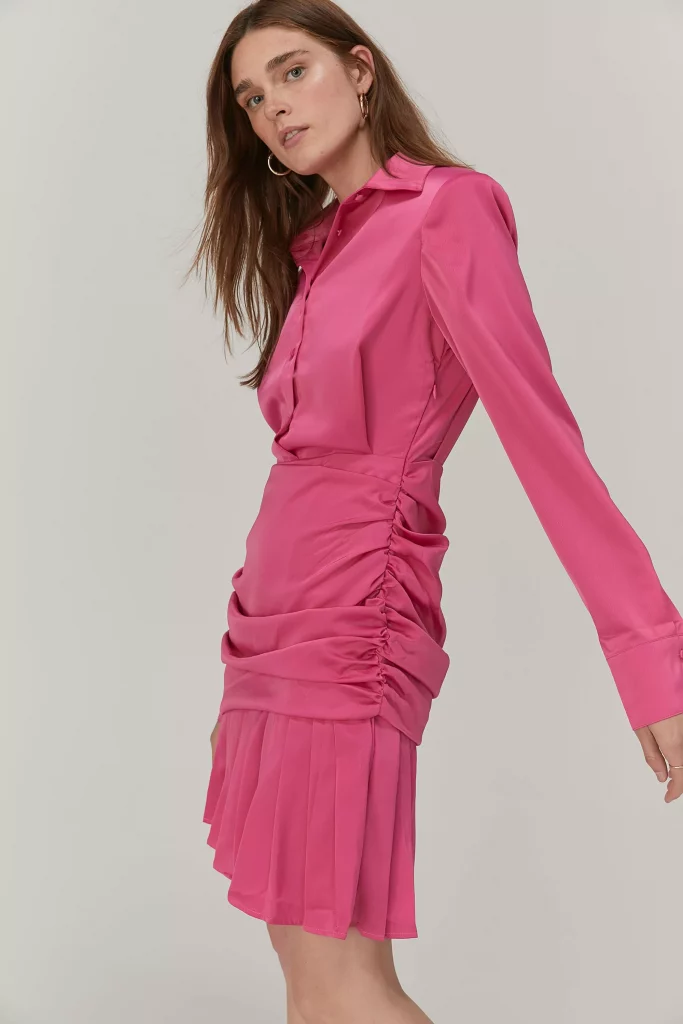 Nasty Gal offers an eclectic shirt dresses collection, with sharp and powerful designs. The shoulder pads with the shirt dress give a classic boss-girl look. The design of the dress is plain and understated with a firm detailing.
This Nasty gal satin shirt dress features a plunging V neckline with a pointed collar, blouse sleeves, fitted cuffs, and a pleated asymmetric hem.
This look offers power dressing with a comfortable mini silhouette, complete with padded shoulders and ruched detailing. It is a great choice for anyone looking for an elegant going-out dress and it offers a perfect relaxed fit.
It is also one of the budget-friendly dresses on Nasty Gal at €89 compared to the higher-priced Ombre Tassel Mini Dress above.
Open Back Mesh Tie Dye Midi Dress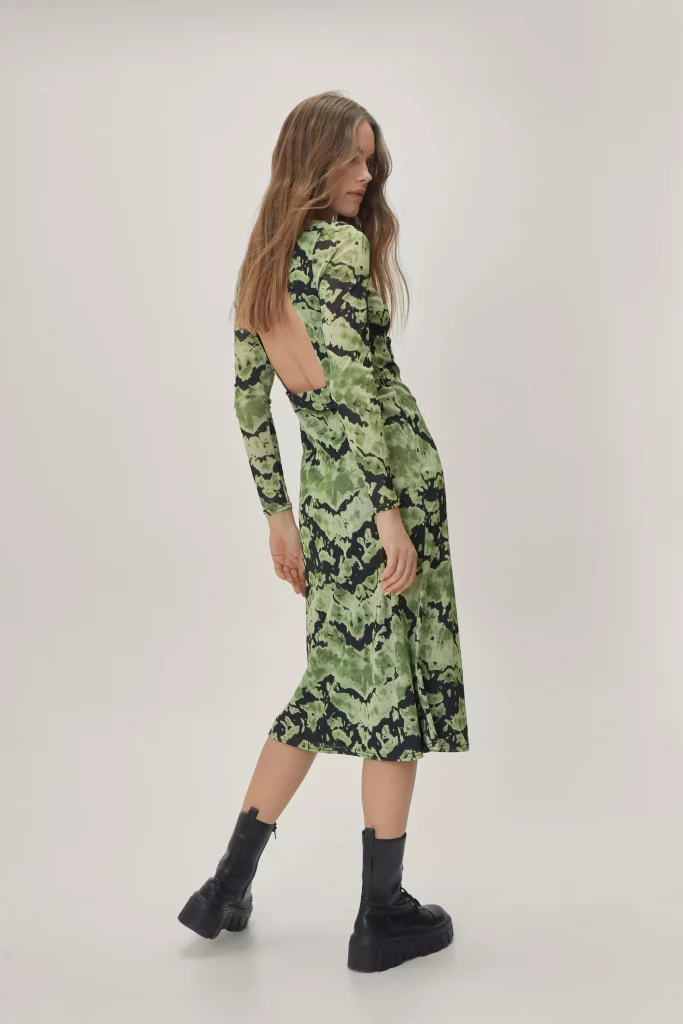 The last dress we examined in the Nasty Gal dresses selection is an open-back mesh dress in the backless dresses category. It is a beautiful dress outfit with subtle detailing where all the party goes on at the back of the dress. It is a body-skimming midi-length dress with a modern, chic mesh jersey fabric which creates a sultry look.
The green tie-dye background includes a blend of bold colorful patterns to give a magnetic thermal print. It features a high funnel neckline, long sleeves, an open-back design, and a vintage midi hemline.
The dress is perfect for the fall weather and it can be styled with a leather jacket and chunky biker boots.
The open-back mesh dress comes at an affordable cost of about €99 with several size options to ensure a perfect fit. The mesh jersey fabric consists of an equally light and heavyweight thickness. It is a trendy minimalist style that offers both functionality and a bold fashion statement.
Nasty Gal Tops
Faux Leather Oversized Long Sleeve Shirt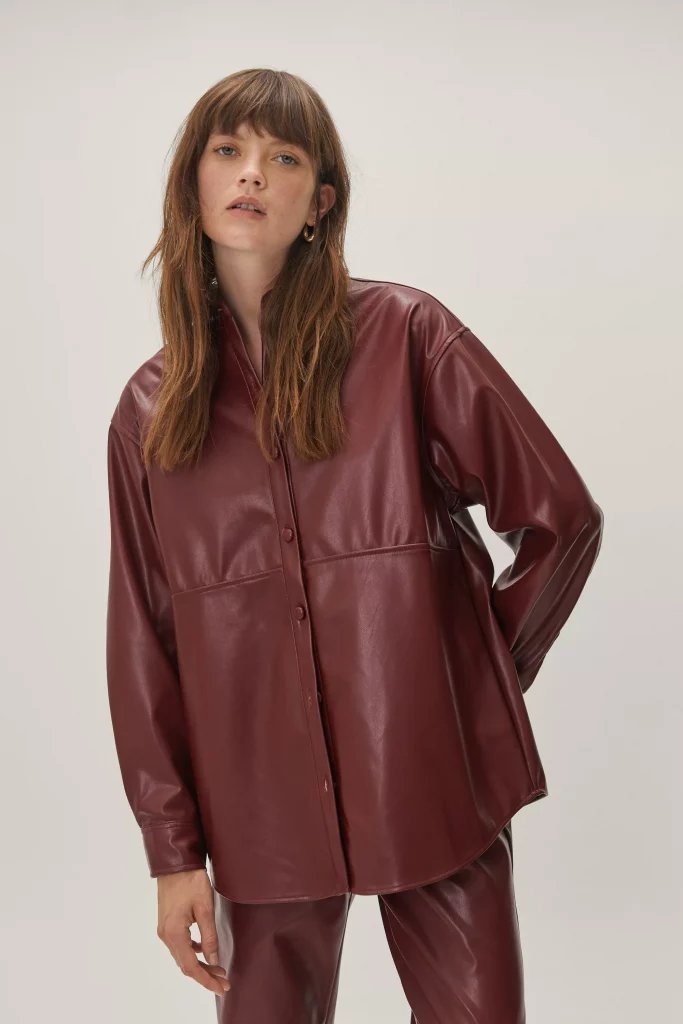 One of the raving bestsellers in the nasty gal tops selection is the oversized long-sleeved faux leather shirt. It is placed in the brand's regular oversized t-shirt catalog but it steps out of the normal street style trend to offer a more sophisticated look. The shirt features an oversized long-sleeved shirt and cuffs with button closure.
The shirt is made with faux leather which is a vegan and cruelty-free way to wear leather. The style incorporates a large silhouette and you can create a layer with faux leather pants.
Faux leather fabric is a more expensive option but the nasty gal leather shirt costs a low price of €100. The faux shirt comes winter-ready for all fashionable women of different shapes and sizes.
Stripe Print Ribbed Roll Neck Top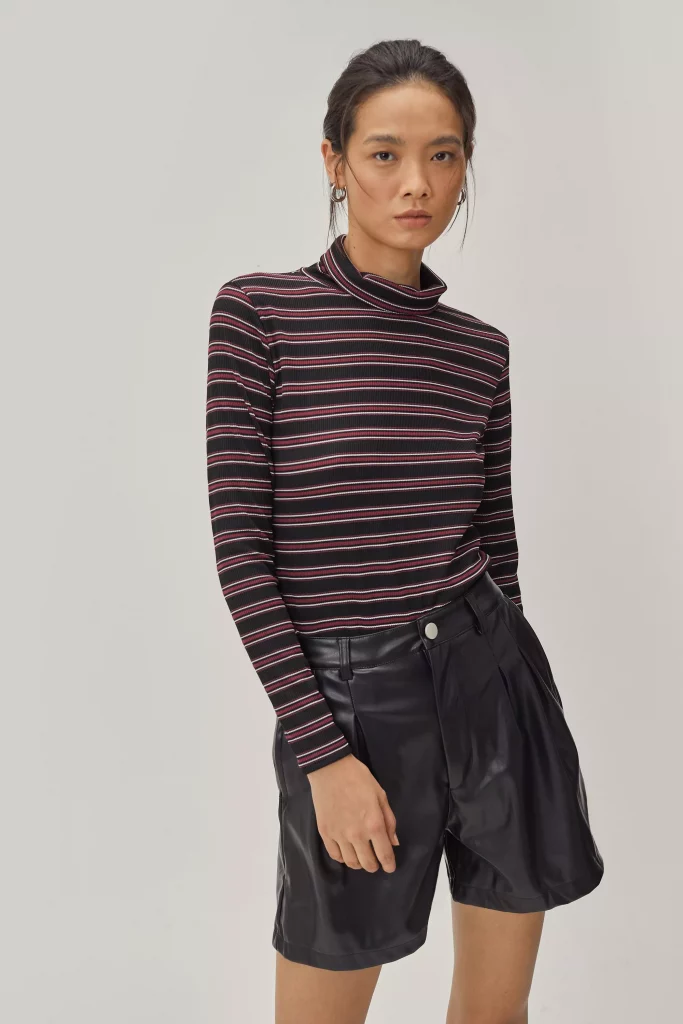 Stripe prints are in current fashion trends and fashion designers are adding stripes to their looks. Nasty gal is also following the stripe trend with this ribbed roll neck top with loveable stripe patterns.
The top comes in a ribbed jersey fabric which offers a light thickness suitable for fall and early winter weather. It is one of the new releases but it has become a fast bestseller.
The top style features a high roll neckline with long sleeves and a stripe detailing throughout the design. It creates a snug-fitting silhouette that layers nicely with faux leather shorts or vintage loose-fitting jean trouser pants.
You can wear this nasty gal ribbed top for a coffee date or a casual outing with friends. It is also pretty cheap at a minor sale price of €44.
Recycled Slinky Double Cut Out Bodysuit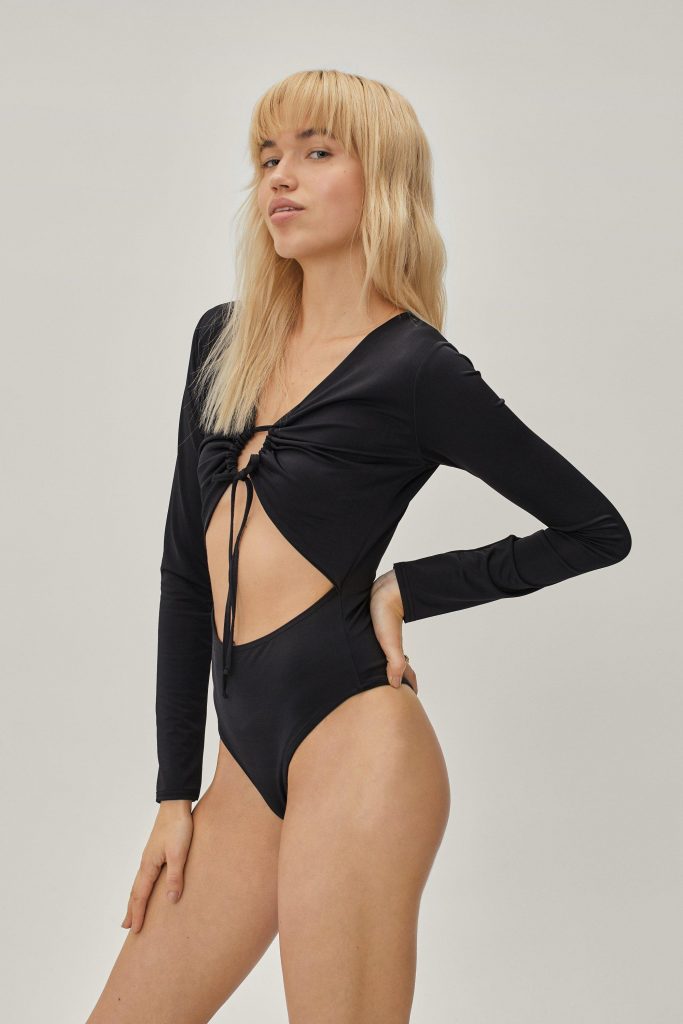 The slinky double-cut-out bodysuit top shows off the nasty gal image as no other style does. It is a high-fashion, sexy chic design with a fully covered back and a smart cut-out torso.
The style also gives a smack fitting in a plain back high-leg silhouette with long sleeves and a deep V neckline. It also has an intricate O ring detailing for the front closure that is sure to turn heads on any occasion.
Nasty Gal released this piece in the all things considered collection, which includes a selection of sustainable and eco-friendly clothing. It is noteworthy that the bodysuit was intentionally crafted with recycled materials to protect the environment.
This top costs €66 which is a cheap budget-friendly option when compared to other brands.
Although the top has a minimal and simple plain design, it's perfect for both night and day outings. You can create a stylish going-out outfit by pairing the top with skinny high-waist pants and high-heeled boots. Apart from black, it is also available in dark brown and beige color options.
Nasty Gal Hoodies
They offer a wide selection of comfortable and stylish hoodies for petite, medium, and plus-sized women. Nasty Gal hoodies incorporate prints, natural color palettes, and trendy fashion details into their hoodies design. Below, you'll find the best seller designs we picked out for the three major sizes.
We Throw We Rub Graphic oversized hoodie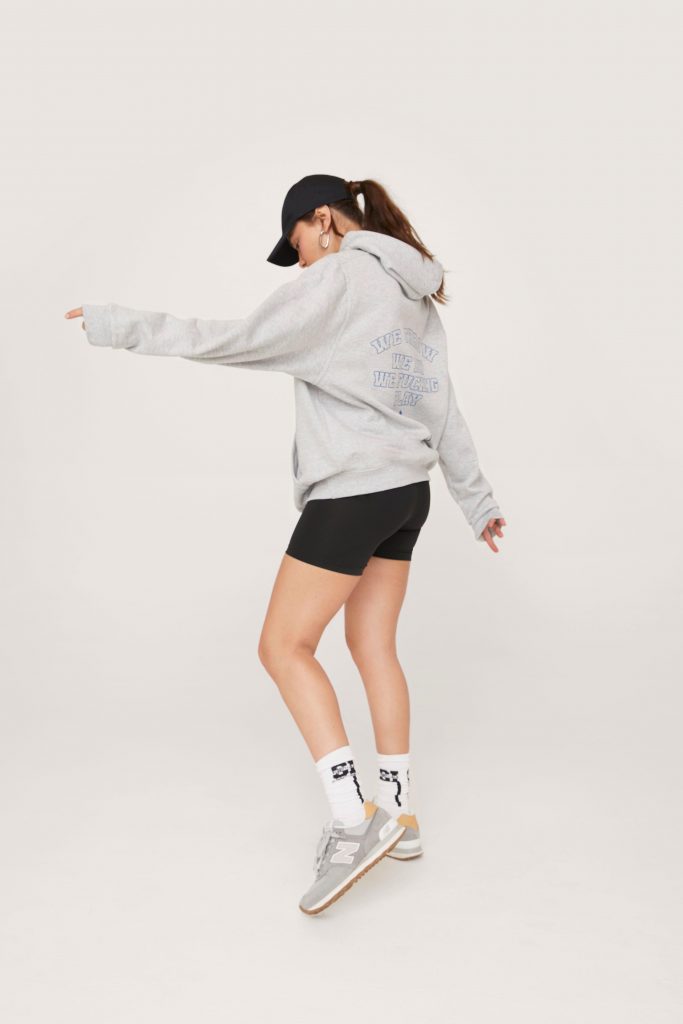 One of the fan favorites in nasty gal hoodie selection is from the nasty gal collaboration with sports illustrated. It comes in different size options including plus sizes and the graphic text on the hoodies states; 'We throw, we run, we fucking play'. It also has a fitted cuff with long sleeves and gives an oversized casual fit. It costs €69 and is only available in gray color.
Nasty Gal Cropped Drawstring hoodie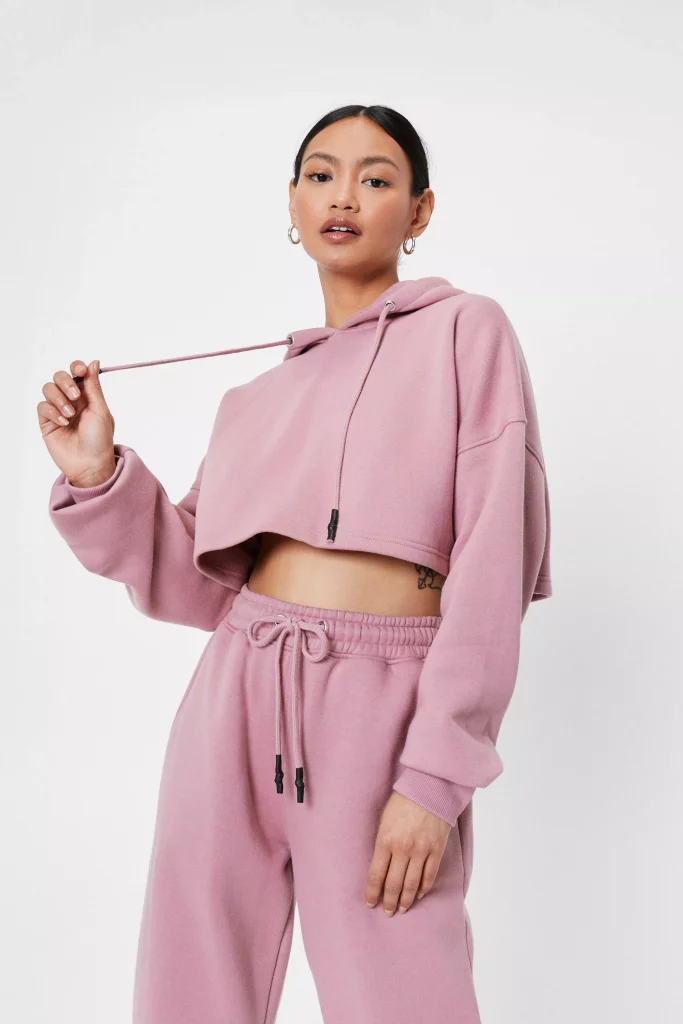 The Nasty gal cropped drawstring hoodies are a major hit among the brand's large following. They offer a chic casual hoodie style and they come in petite sizes options.
Nasty gal offers a variety of cropped drawstring hoodie designs from graphic drawings, to tie-dye prints and plain color designs. They offer a functional and stylish look for women athletes.
Nasty Gal Hoodie Dresses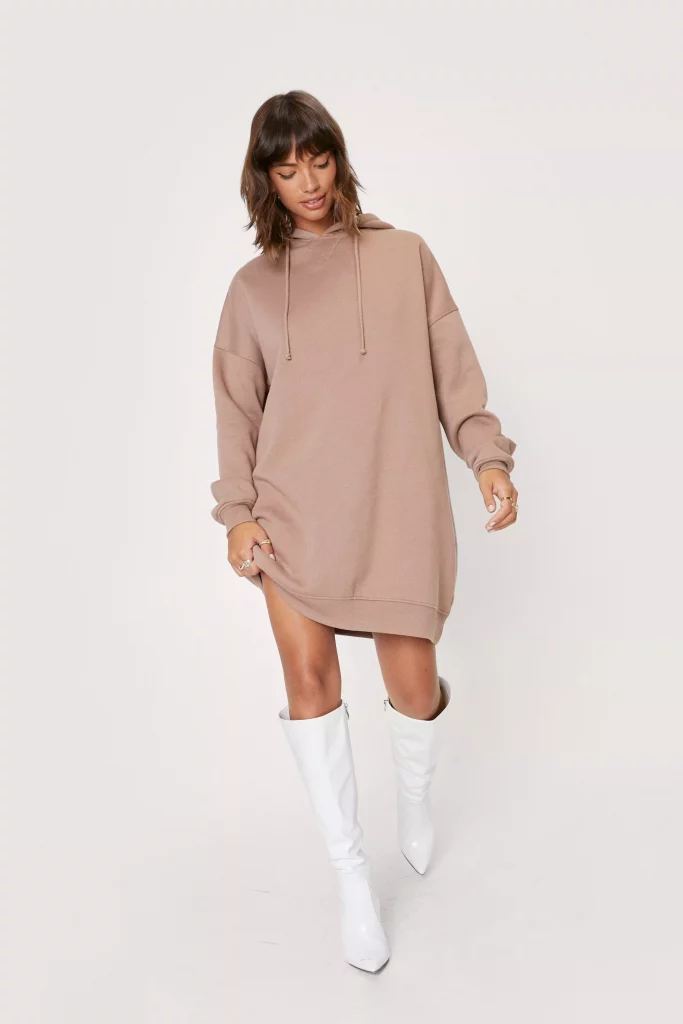 Whether it is the belted mini hoodie dress or the oversized mini hoodie dress, they have a simple selection of hoodie dresses. They make a bold statement for alternative street fashion and come in different styling options. There are also different colors such as green, black, brown, lilac, and wine that you can select from.
Nasty Gal Shoes Review
You can never have a complete outfit without the appropriate footwear. Nasty Gal shoes offer a wide selection of styles and footwear options. It is somewhere you can go if you are looking for a new pair of shoes to add to your closet. With many rival brands, you would expect to pay top dollar for these shoes but nasty girl offers budget-friendly financing.
This part of the nasty girl review deals with the nasty gal shoe categories and examines some of the brand's boots and heels.
Nasty Gal Boots
Nasty Gal Roll With It Platform Ankle Boot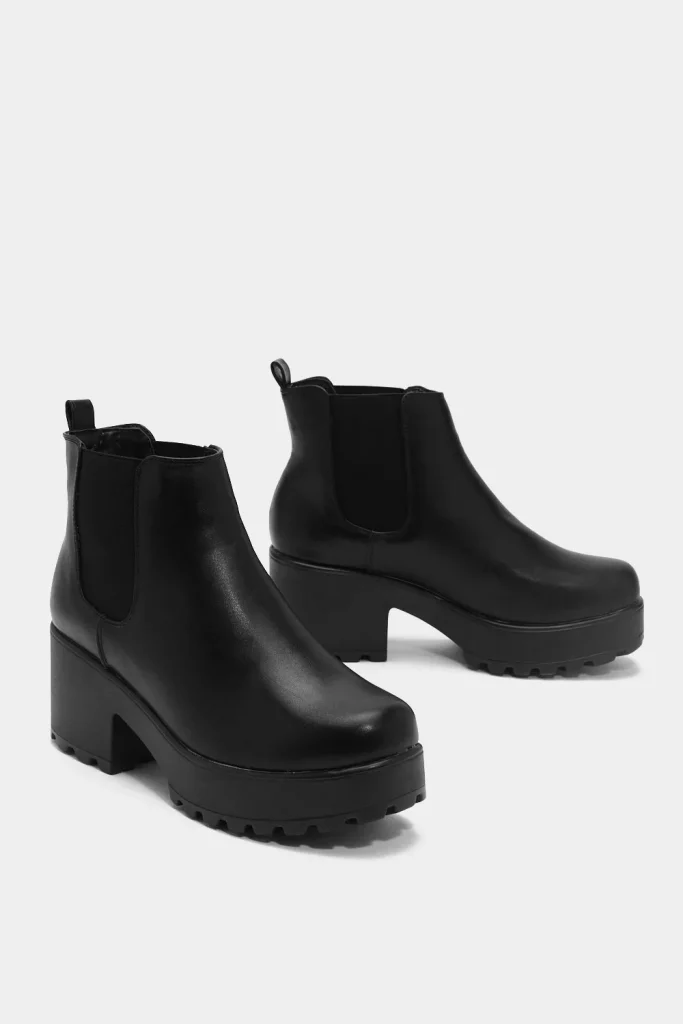 These boots are made for the rebel woman who doesn't mind breaking the rules. They are built for walking and they have a great stomp action which is good if you're starting a revolution.
The roll with its platform ankle boots is hot in action with modern fashion trends. The chunky platform heels give off a badass outlaw vibe with a dash of high fashion.
Also, the roll with its platform ankle boots is made of faux leather so they are well suited with people with vegan preferences. They also help to promote cruelty-free and conservative fashion.
They feature a rounded toe which gives a comfortable fit and a band detail for easy pull off. These bad chic boots are only available in black with fixed retail of €79.
Suede Contrast Lace Up Hiker Boots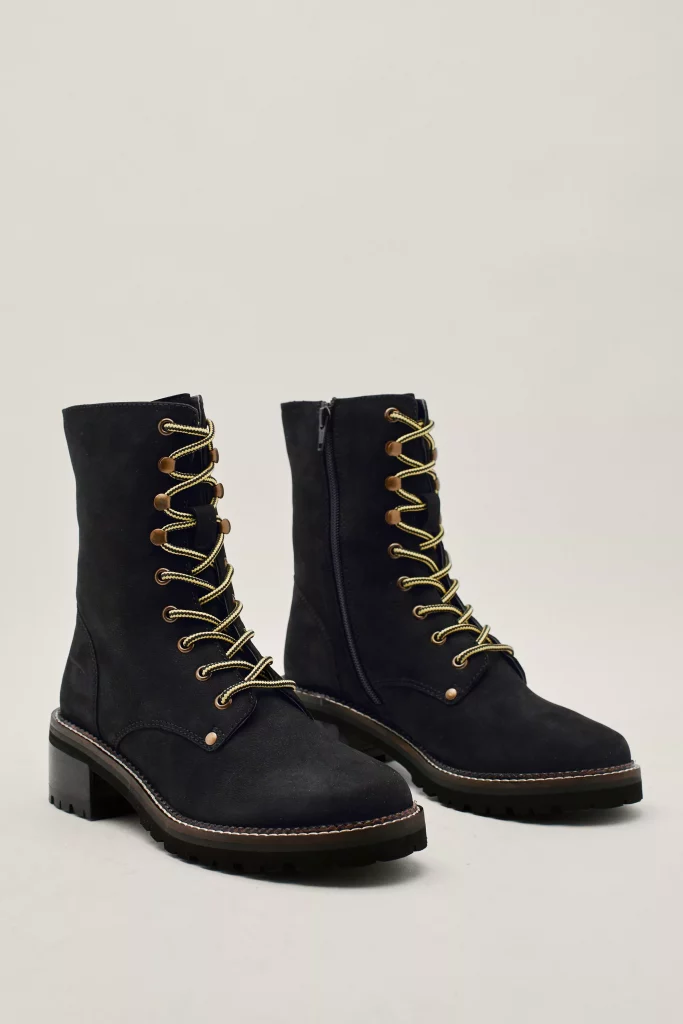 Nasty Gal boots have an all-around feature of different boot trends and styles. The suede contract hiker boots are high lace-up boots that offer a relaxed fit. The boots are made with soft suede so they are not suited for working in forests and swampy areas. The shoes offer a comfortable round toe frame and a flat sole with a short block heel.
The boot also features cleated detailing, contrast stitching, and a lace-up front with inside zip closure. While these boots are not good for grazing the forest, they are perfect for a going-out occasion like a fashion show or even a blind movie date. The nasty gal suede contrast lace-up hiker boots costs €210 and it comes in the US sizes 36-41.
Nasty Gal Block Heel Croc Embossed Ankle Boots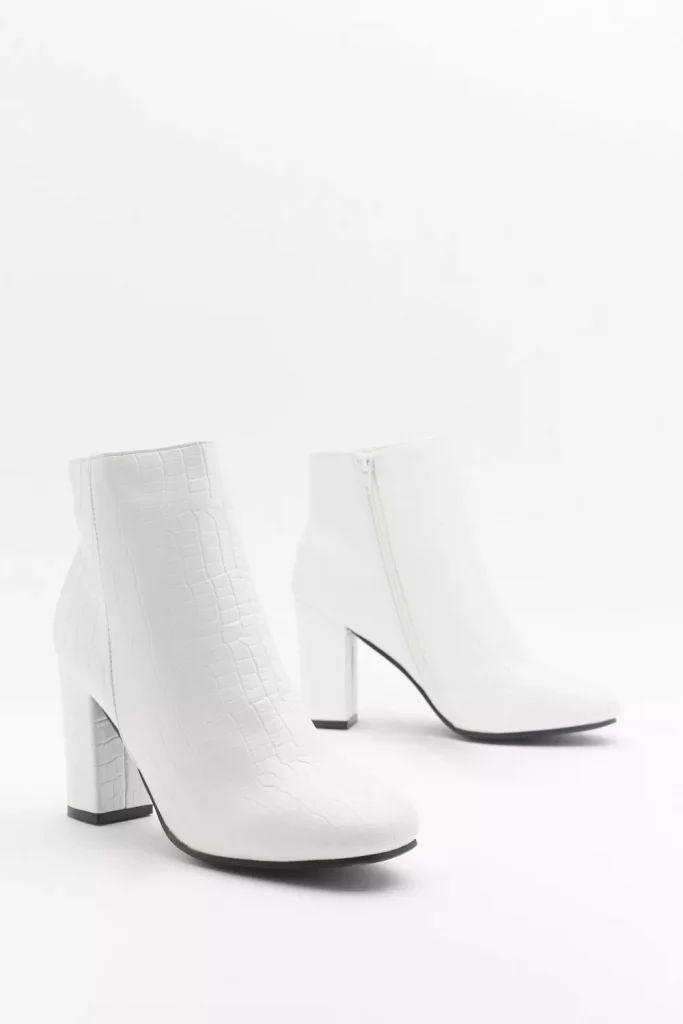 The hot vintage season is back and you can style your outfits with the new Nasty Gal Block Heel Embossed Ankle Boots. This is a look for chic modern fashion enthusiasts who love the old 70's and 80's classic boot trend. The boots are made from faux leather croc material and they do not have animal skin or produce.
The block heels are comfortable for walking long distances and have an included side zip for an easy pull-off design. It features a sharp rounded toe which gives a funky cool-girl look.
It has a minimal but elegant design that will draw interest and appreciation on any occasion. It comes at a fair retail price of €79 and it is only available in the pure white color.
Nasty Gal Heels
Nasty Gal Raffia Square Toe Heeled Mules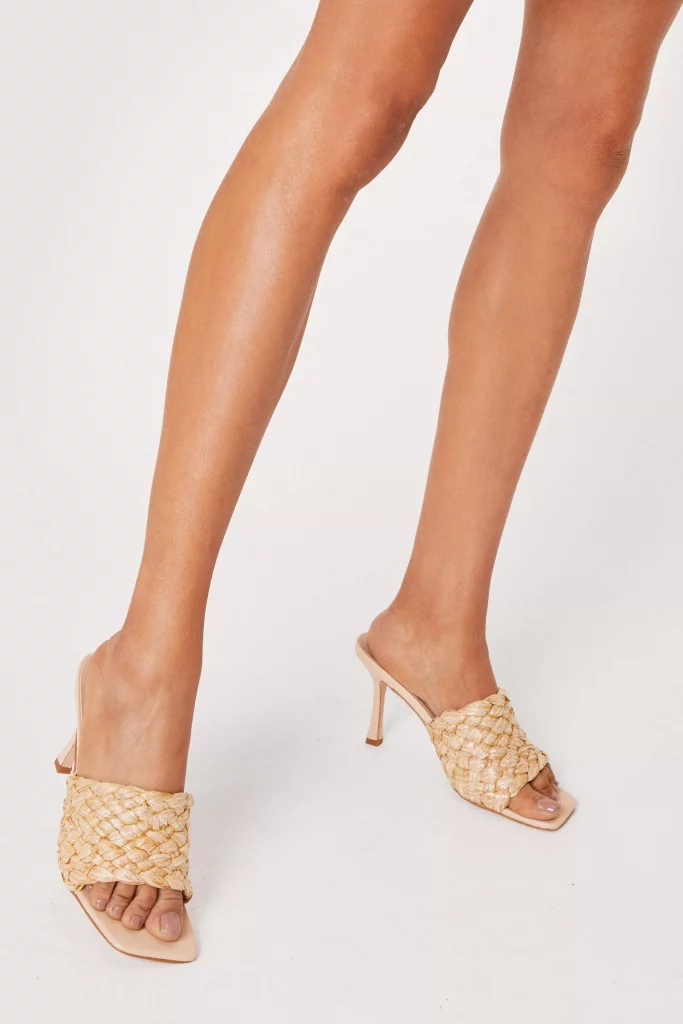 Nasty Gal heeled mules provide easy wear and pull-off style without the need for fasting straps or laces. In the Nasty Gal footwear section, heeled mules are a popular feature and they come with different designs and embellishing. The raffia square toe heeled mules are built with woven raffia designs and they involve intricate weaving patterns.
The raffia mules feature a slip-on, open toe with a flat sole and low stiletto heels. They help to elevate an outfit from basic to high-fashion and they are the most comfortable going out shoes.
The raffia fabric is also gotten from sustainable textile raw materials and comes in white, beige, and brown colors. It costs €70 and comes in different sizes from small size 36 to size 41.
Faux Leather Strappy Block Heels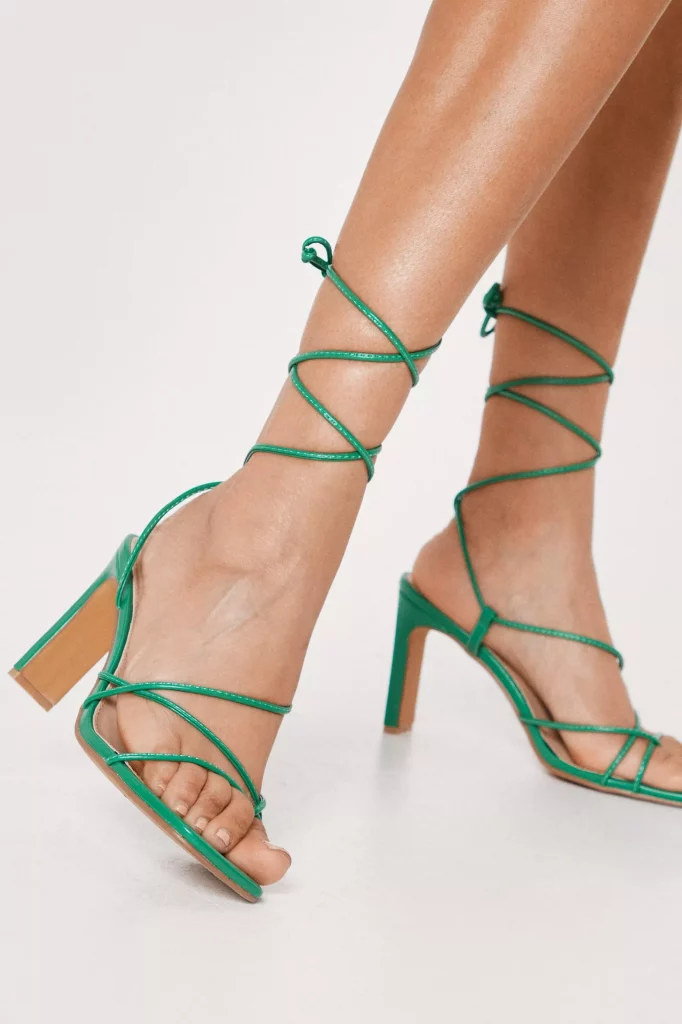 Nasty Gal offers a wide selection of strappy heels to complete all your going-out looks. From platform block heels, stiletto heels to strappy sandal kitten heels there are many choices for selection.
But the faux leather strappy block heels are a bestseller design. It is also an ethical, animal-friendly option since it is not built with animal leather.
It consists of a square toe, strappy lace-up design with a tie fastening and it also has a toe loop with a tiny block heel. These shoes come high at 4 inches and they are perfect with a short mini dress frock for a fun night out or party. It costs a fair price of €59 and comes in grey, green, and orange color options.
Nasty Gal Hats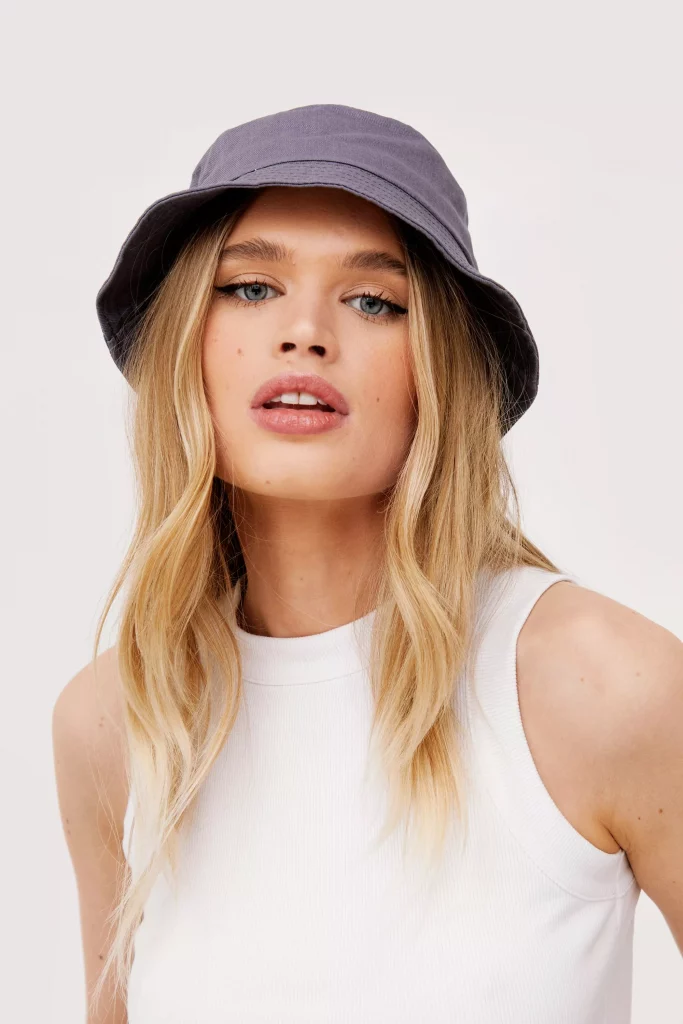 Nasty gal also sells cute hair accessories on their website. They offer bucket hats, fedora hats, cowboy hats, and stylish scarves at cheap budget-friendly prices. They also provide beanies, scrunchies, and headbands for their women's hair section. It is a complete apparel store that supplies you with looks from head to toe.
The Cow Print Fedora hat is available for sale on their site at €40. It has a wide brim with a pinched crown and it's covered with a full cow print. It comes in a black and white one size fits all option that you can style as you like.
Nasty Gal Review From Customers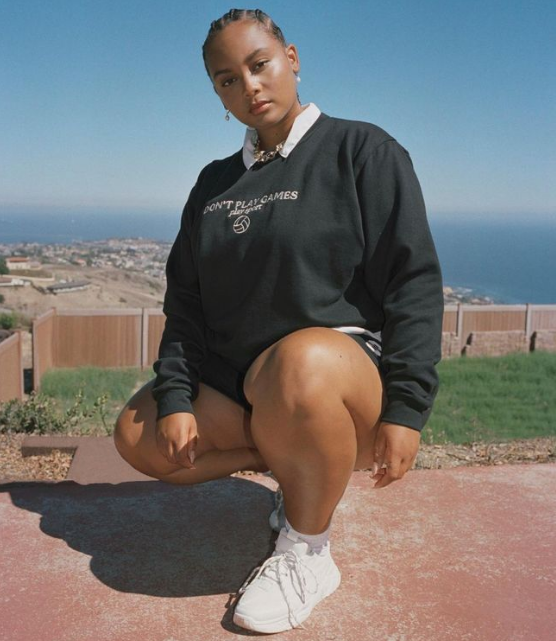 To find out if Nasty Gal is truly worth the hype and we looked at what actual customers had to say. Nasty gal reviews from customers also include additional facts about Nasty Gal and its services.
On Trustpilot, Nasty Gal has a rating of 3.9/5 stars from 8, 272 customer reviews. Many customers left positive reviews but there were also quite many negative reviews.
One customer stated, "Vile. Bought a pair of boots from them, wore them for less than 12 hours and both soles came off. Contacted them nearly 24 hours ago with details and on multiple channels and still no response- would never order from them again." There were also several similar comments on their poor product quality and poor customer service.
Among the Facebook community, Nasty gal has a rating of 1.9 out of 5 from 309 customers. Several users received their orders on time and are satisfied with the quality of their orders.
But, there are many poor complaints from unhappy customers who do not feel that the brand is up to standard. At the end of the day, you can choose to try Nasty gal first hand or opt for a better clothing brand.
Sign Up for Nasty Gal
You have to create an account to shop and receive updates from Nasty gal at Login Page.
Where To Buy Nasty Gal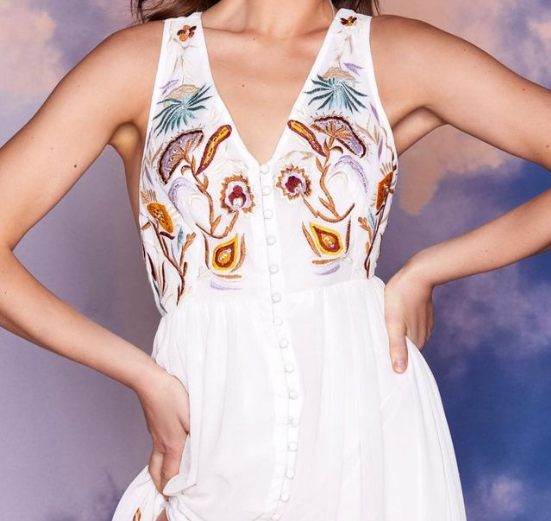 You can shop for nasty gal products directly on the brand's retail website. All you'll need is to go through their sales catalog and select the products you want.
Nasty Gal Shipping and Return Policy
How long does it take nasty gal to ship is a common question many purchasers ask? Nasty gal local deliveries take about 7 days. European and International orders however may take 10 to 17 business days. They also offer 28 days returns on unwashed items and it takes 14 days to complete the refund process.
Nasty Gal Promotions and Discounts
You may receive a nasty gal promo code with limited-time offers to receive discounts on your orders. Nasty gal also offers timely sales and there is currently an ongoing 50% off sale on all items available on their website.
Nasty Gal Customer Service
Nasty gal customer service features a virtual assistant to help you track your order and start a return. You can also contact a customer service rep through Facebook, Twitter, or email at [email protected]
Is Nasty Girl Good: Editor's Verdict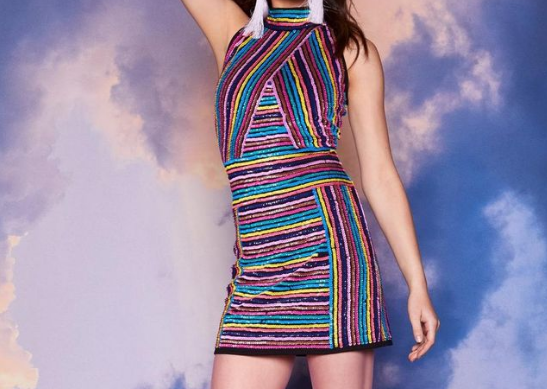 As we're rounding up our nasty gal review, it's time to answer the big question; is nasty gal good quality? Nasty gal offers great cheap clothing and fashionable pieces however the durability of their products is not the main focus. Our verdict is that nasty gal is worth the purchase if you're only interested in fashion and have no interest in long-lasting pieces.
If you are ready to continue searching for the perfect clothes brand, check out our most exciting reviews of Sezane, Lulus and Reformation.
Nasty Gal FAQ
Is Nasty Gal legit?
Yes, it is! Nasty gal is a legit independent retail clothing company that offers products you can get exclusive on their website.
Does Nasty Gal Run Small?
Nasty Gal products come in various size-inclusive options and they fit true to size. You can check their size finder on their site to find your perfect size.
Is Nasty Gal ethical?
There is no certain proof that Nasty gal has an ethical mode of operation since there is no clear info on how the brand's supplies are produced. It also supports fast fashion and although it offers sustainable clothing it's not clear on what eco-friendly methods are used in production.
Do I have to pay duties on Nasty Gal?
Duties and taxes for EU deliveries are all paid for by Nasty Gal. As far as US orders, Nasty Gal also covers all duty costs. Taxes might be applied according to local legislation.