Sellfy Review: How Good Is This Ecommerce Platform? Features, Pricing, User Reviews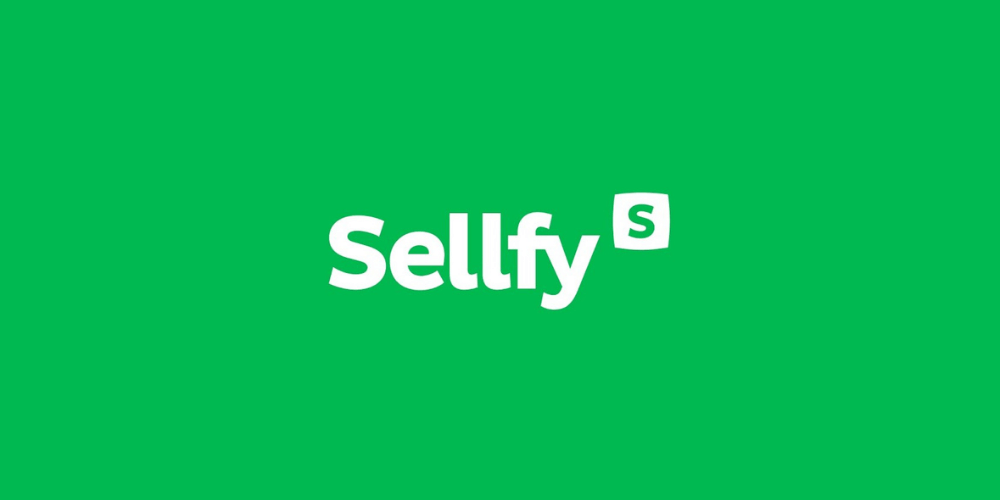 Sellfy is a cloud-based eCommerce solution designed to enable digital content creators, including writers, illustrators, designers, musicians, and filmmakers, to sell their products online. Users can set up a customizable Sellfy storefront to display their digital products, and add product widgets or embedded "Buy Now" buttons to their own website or blog. Sellfy storefronts include individual product pages, enabling users to showcase their products from different angles with multiple images and previews from Soundcloud, Vimeo, and YouTube. Product files of up to 2GB can be uploaded, and Sellfy also offers unlimited bandwidth and secure product storage. Users can also embed their entire store or individual project widgets in their own site, with the ability to preview and edit how widgets will be displayed.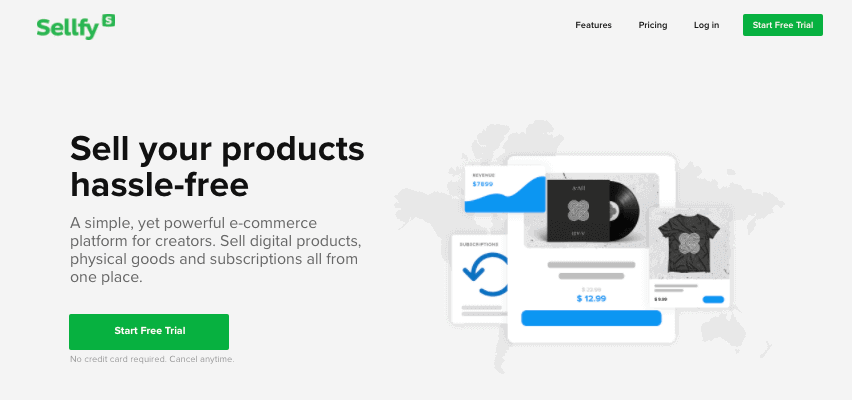 Ease of Use
Thankfully, you don't have to pay anything to get started on Sellfy. It offers a 14-day free trial period to help you try out its features without submitting your credit card information.  
Well, the signup process is pretty straightforward and it should direct you to Sellfy's onboarding guide, which comes in the form of a 7-part checklist. The point here is to guide you through the basics of creating and customizing an online store, as well as managing plus selling your digital products.  
In essence, the entire onboarding process takes about two minutes or so. And just like that, even beginners who've never worked with an e-commerce platform before should be able to proceed accordingly.
Speaking of which, managing your store is not a problem at all. Sellfy has designed its dashboard to provide a favourable balance between simplicity and functionality. As a result, you'll notice the system is not only refreshingly simple and well-organized but also fairly intuitive.  
Customizing Your Online Store
The default Sellfy storefront is clean, simple, and organized. You can jump right into the customization process and start editing the layout as well as its content. Apart from adjusting the layout's colour schemes, Sellfy allows you to work on the header, buttons, logo, page style, etc. Just the basic stuff.  
Embedding Products
Sellfy makes it easy for online merchants to set up a dynamic selling framework made up of multiple holistically-connected channels. You're free to sell directly from your blog, SoundCloud page, YouTube channel, or any other third-party platform you can think of. And that alone translates to unlimited growth potential.  
Now, to save you the cumbersome process of coding the integrations, Sellfy offers you three pre-built templates. You can embed your products through either its Store View, a Product Card, or a Buy Button. Whichever you choose, Sellfy will generate a relevant code to place on third-party platforms.
Product Management
Sellfy has one of the simplest product management systems we've seen so far. The interface is pretty straightforward and its accompanying functions are all self-explanatory. So, of course, you won't need any guidance here.  
Now, when you try to upload your digital items, you'll notice that Sellfy comes with the same old physical product structure we're used to. It essentially allows you to specify not only the item name but also the corresponding description and product price. Plus, you can also introduce a descriptive image for a more intuitive product page.  
Marketing and Promotion Tools
Ok, I must admit that at first, I didn't expect to find any outstanding marketing tools on Sellfy. Most of its competitors offer just the standard social media sharing functionalities along with typical SEO tweaks.   
Sellfy, however, takes it up a notch by including email marketing capabilities, as well as product discounts, plus promo coupons. And if you'd like to encourage your customers to spend more, there's even the option of using upsells. 
Sellfy offers a 14-day free trial period without requesting your credit card information.  
You can process online payments in more than 20 different currencies. 
Sellfy integrates with Google Analytics, Facebook Pixel, Facebook Live Chat, Zapier,andTwitter Ads Conversion Tracking. 
Payment information is adequately secured through SSL encryption and PCI DSS compliance. 
Sellfy supports both PayPal and Stripe payment processors.  
You can boost your sales volume by taking advantage of Sellfy's upselling, cross-selling, and discount tools.  
Sellfy comes with tracking and analytics capabilities for accurate insights. 
The platform provides decent email marketing tools.  
The default Sellfy system is SEO-friendly and mobile-responsive.  
It's possible to set up a fully-fledged online store without a custom domain name.  
Sellfy allows you to embed your online store onto third-party platforms.  
You can proceed to sell without a your own website.  
Sellfy accommodates an unlimited number of products. 
The platform is optimized for selling digital items (digital download or access) and membership subscriptions.  
The whole interface is neat, well-organized, and refreshingly simple to use.  
The number of app integrations is very limited.  
Sellfy supports only two payment processors.  
Your website customization capabilities are extremely restricted.  
The free trial period lasts for only two weeks, after which you're required to purchase one of the premium plans.  
Sellfy does not provide tools for setting up and managing affiliate programs.  
The good thing about Sellfy's overall pricing is, there are no transactional fees or hidden costs. So, what you see is what you get over the long haul.  
The only transaction fee you're bound to pay here are the standard charges levied by PayPal and Stripe. That translates to about 2.9% + 30¢ for every single transaction.
Well, the unfortunate bit is that you won't find a free package on Sellfy. While it's understandable that maintaining the platform's resources costs the company money, I bet they'd afford to provide a free package with limited features.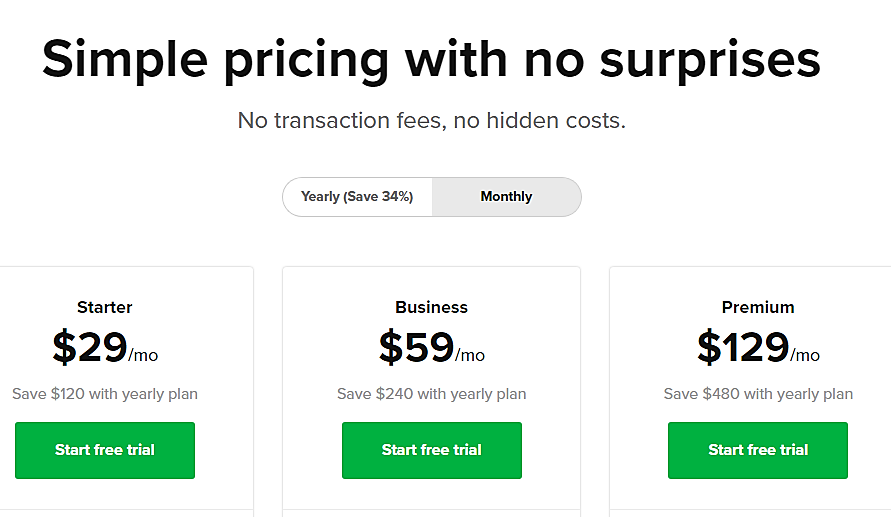 Or instead, possibly offer a reasonably long free trial period. 14 days seems like a very short time frame for anyone who'd like to get a good feel of the platform's features.
That notwithstanding, I'd say the prices here are pretty fair. The most you could pay for the entry-level plan is $29 while high volume sellers making over $200,000 annually are charged slightly above $130 for their custom packages. The intermediate package, on the other hand, charges businesses making up to $50,000 annually about $59 per month.
But guess what? You don't have to pay any of that. It's possible to reduce your subscription costs by 34% through Sellfy's yearly billing option.  
Therefore, the Starter plan goes down to about $19 per month, while the Business plan drops to $39 per month, and then the Premium plan applies a Sellfy discount of $40 to sell at $89 per month.  
Sellfy Alternatives
If you want to check out Selffy alternatives and have a look at other eCommerce platforms, you can check out the reviews on these different platforms and tools. These are some other popular and great eCommerce tools you can use.
Podia: an all-in-one platform that can host all your digital products, courses and memberships in one place.
SendOwl: easy-to-use eCommerce platform with advanced marketing features. It is especially good if you already have a website.
Gumroad: both an eCommerce platform and marketplace for creators to host and sell their products and services.
Selz: allows you to quickly start selling along with your own storefront Selz. You can also embed the store on your WordPress website or sell on social media.
LearnDash: WordPress LMS plugin that can host all your digital products courses, courses and even memberships all inside your own website. It has additional features such as badges, grouping students and more.
Payhip: Great starting point with their free forever plan that comes with all the features, allowing you to sell anywhere you'd like.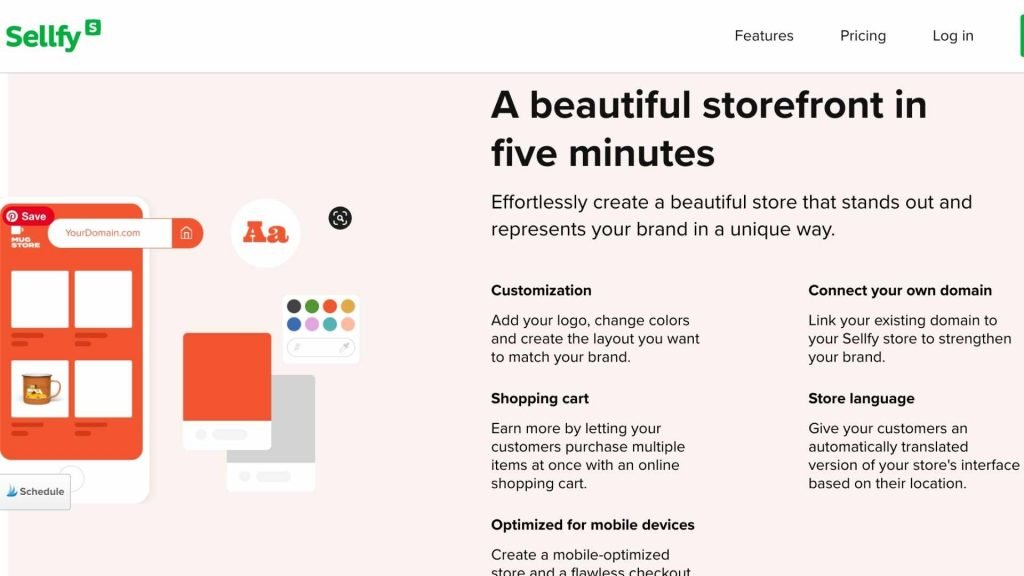 Conclusion
In conclusion, I think Sellfy is a great option to help you start creating an online store quickly, without the steep learning curve. For those of you that don't want to bother building a website or don't need one, then Sellfy is great for you.