Shopify Review: Best Ecommerce Platform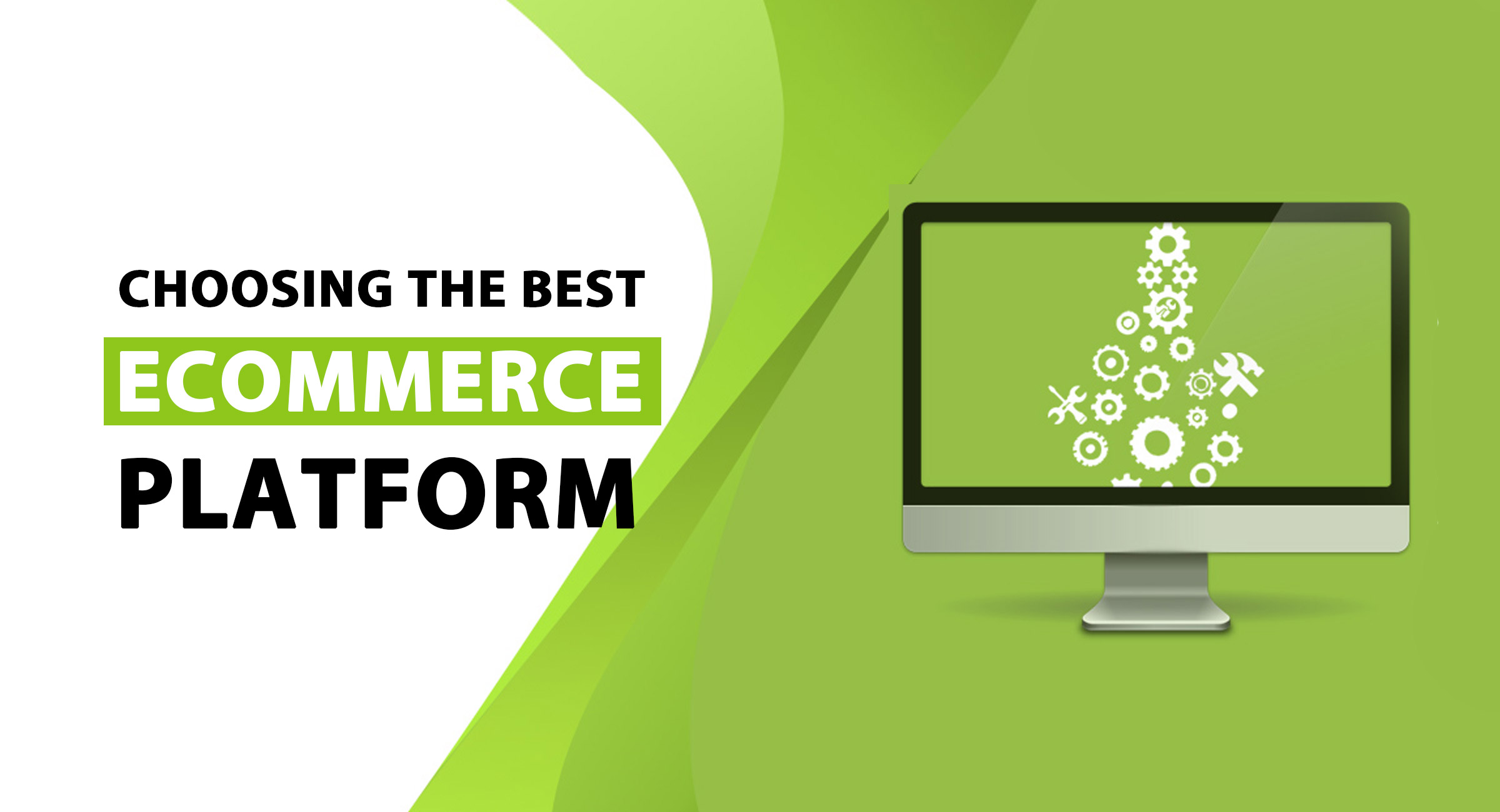 In this Shopify review, I look at one of the most popular online store builders available and provide a complete overview of its key pros and cons. Is it right for your business?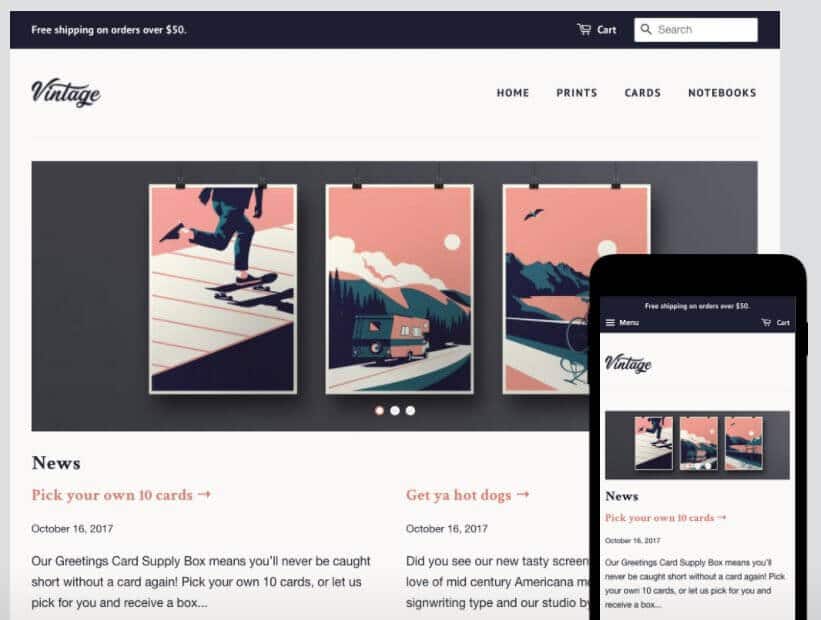 There is a huge number of online store building tools now available, and choosing the right one for your business can feel really difficult. Shopify is probably the best-known ecommerce solution currently on the market — but is it actually the best fit for you?
In this review, I'm going to help you find out. I'll cover the platform's pricing, templates and selling features in depth, and by the end of this post, you'll have a clear idea of whether Shopify is the right ecommerce solution for your project – or whether you'd be better off with an alternative.
Let's dive in with an important question. What is Shopify?
What is Shopify?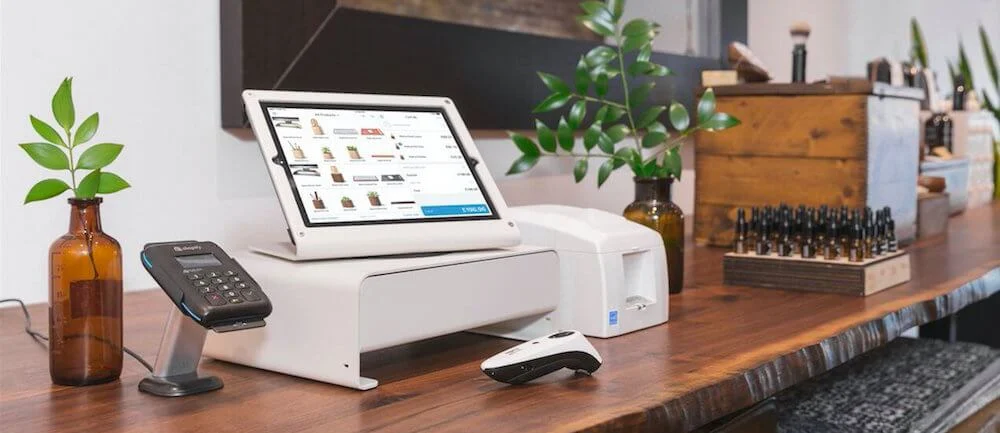 Shopify is a web application that lets you create your own online store. It provides you with a wide range of 'themes' that can be customized to meet your own branding requirements, and allows you to sell either physical or digital products.
The platform aims to let beginners build an online store themselves — you don't need to know how to code to use Shopify. However, the platform also caters for developers, as it provides full access to CSS, HTML and Liquid (Shopify's templating language).
How does Shopify work?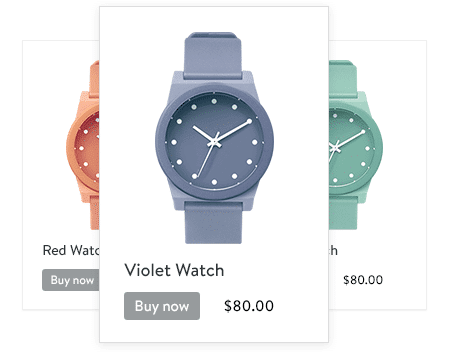 Shopify is a 'hosted' solution. This means that it runs on its own servers and you don't have to buy web hosting or install software anywhere to use it.
You don't own a copy of the product, but instead pay a monthly fee to use it — and, so long as you have access to a web browser and the internet, you can manage your store from anywhere.
With Shopify, the key things you need to build and market an online store — like templates, a payment processor, a blog and even email marketing tools — are provided 'out of the box.'
That said, you can customize your store more extensively through the addition of apps — more on these later — or using custom code. The number of Shopify users — and why this matters
Shopify was founded in Canada in 2006 by German-born entrepreneur Tobias Lütke, who realized that an ecommerce solution he created to sell snowboards could actually be used by — and sold to — other businesses.
Fast forward to today, and the platform has generated over $450bn in sales, and is now used by millions of merchants — according to tech stat company Builtwith.com, Shopify currently powers around 3.9 million online stores. Over 10,000 staff now work for the company.
These numbers matter because when you choose a hosted solution for your online store, you are placing a large amount of trust in the company providing it.
There have been instances in the past of similar services closing down — for example, Magento Go — resulting in serious problems for their users, who had to migrate their stores over to a different platform at very short notice.
However, Shopify's large user base and market share makes the prospect of this happening very unlikely.
Now: how much does Shopify cost to use?
Shopify pricing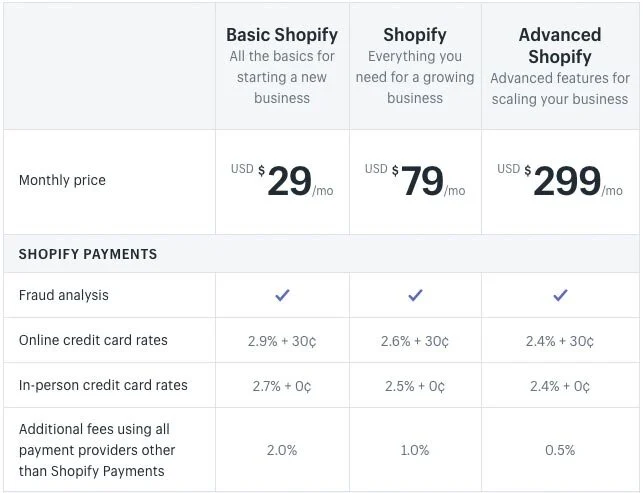 There are five Shopify pricing plans available, with the following monthly fees:
There are a couple of things it's worth mentioning quickly here:
If you pay upfront for your plan, you can avail of a discount — 10% if you pay for one year, or 20% if you pay for two.
Additional fees apply to make the most out of Shopify's point-of-sale features, which let you sell goods in a physical location. (I discuss these in more depth later on in this Shopify review).
There is also a free trial available, which lasts for 14 days (and can usually be extended if you need more time to complete a store).
You can access this free trial on the Shopify website.
Key differences between Shopify plans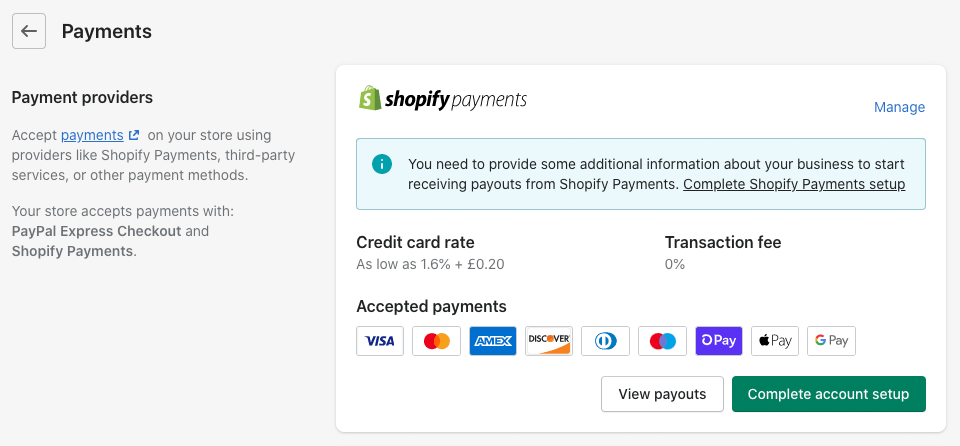 All the Shopify plans provide the core ecommerce functionality you'd expect — on all plans you can create catalogs of unlimited products, accept credit card payments, sell gift cards, offer discount codes on purchases and make use of a wide range of third-party apps.
But there are a few key features to watch out for — and not miss! — by selecting the wrong Shopify plan.
These are:
A standalone online store — The 'Lite' plan doesn't let you create one. Instead, you can use the Lite plan for inventory management, selling on social media and adding a 'buy button' that you can embed on existing websites.
Staff accounts — the number of 'seats' you get varies by plan (from 1 user on 'Lite' to 15 on 'Advanced').
Reporting — professional reporting functionality is only available on the $79+ plans.
Third party real time carrier shipping — this is only available as a paid-for add-on, via an annual purchase of a 'Shopify' plan, or on a monthly 'Advanced Shopify' plan.
Shopify Plus, the enterprise-grade version of the platform, provides additional functionality and elements aimed at big corporations, including:

the option to host and manage ten stores using one account
guaranteed server uptime
enhanced API access
'white glove' level of support via a dedicated 'Merchant Success' programme
access to more apps and integrations
more sophisticated options for selling in multiple currencies
sales automation tools.
(Our Shopify vs Shopify Plus comparison gives you a more detailed overview of all these differences).
I'll explore all the core Shopify ecommerce features shortly, but before that, let's take a quick look at how Shopify lets you accept payments for your goods.
Accepting credit cards using Shopify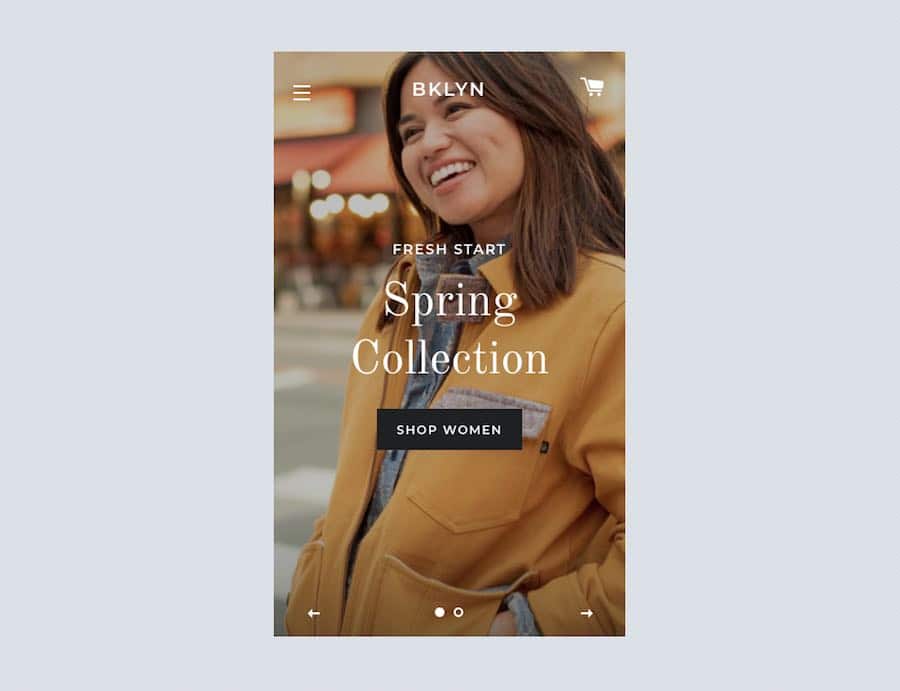 There are two ways to accept credit card payments with Shopify. The cheapest and easiest option — for users in countries where it is supported — is to use Shopify Payments, Shopify's built-in payment system.
If you use this, you don't have to pay any transaction fees at all. However, there is still a credit card rate to factor in — in the US, depending on your plan, you can expect to pay a rate of between 2.4% and 2.9% of each transaction.
Alternatively, you can use a third party 'payment gateway' to process card transactions — of which there are over 100 to choose from. If you do this however, Shopify will apply a transaction fee as well — between 0.5% and 2% depending on the plan you're on.
And an important thing worth noting about Shopify Payments is that it is only available only to users based in certain countries / territories.
So if you're not selling from one of those countries then you will have to use a separate payment gateway provider, and you will encounter additional transaction fees. Now that we've gone through pricing and payment functionality, let's discuss how Shopify stores actually look.
Shopify themes – how good are they?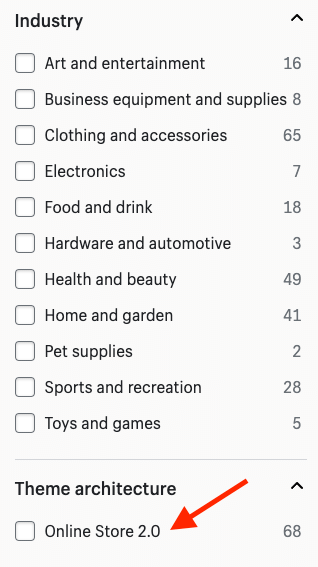 Shopify provides 15 free ecommerce templates (or 'themes') that you can use – and some of these come in two or three different variants, giving you a reasonable number of template options to choose from.
That said, the number of bundled templates on offer is small by comparison to other online store builders like Wix or Squarespace.
The bundled themes are attractive however, and they are fully responsive too, meaning that they will automatically adjust their layout to suit the screen size of the device they're being viewed on (smartphone, tablet, desktop computer etc.).
If the free templates don't appeal, you can use a paid-for or 'premium' theme — of which there are 74 (and again, each theme comes in a few variants). These range in price from $150 to $350 and, as with the free themes, they are all fully responsive.
In the Shopify theme store, you can browse all the free and paid templates using a range of filters, including:
industry type
catalog size
layout type ('minimal' or 'content-rich')
design ('classic' store style or more 'unique').
This means that you should be able to find a suitable theme for your store without too much difficulty.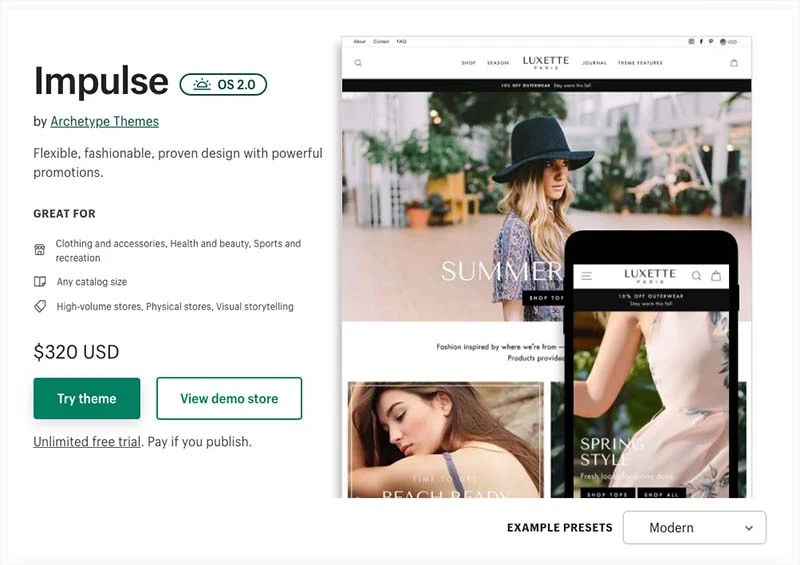 One thing to watch out for is that there are currently two types of Shopify themes available — 'traditional' ones, and new 'Online Store 2.0' themes (you can use a checkbox in the theme store to display only the latter type).
I discuss Online Store 2.0 in more depth later on in this review — but to sum it up briefly it's a new theme format that provides more sophisticated editing capabilities via a new drag-and-drop editor.
In terms of the aesthetics, the Shopify templates are all professional in appearance, easy on the eye, and very contemporary in nature — no complaints at all here. You can browse all the Shopify themes here.
All in all, Shopify's template offering is of a high quality — but if you are not content with the options provided and wish to create something that is truly unique, there is always the option of building your own theme.
It's easy to access the Shopify theme code, and a lot of support materials and tutorials are provided to help you develop your own template (or modify an existing one so that it contains the features you need).
Once you've started a Shopify trial, picked your theme and decided upon a plan, you can focus on selling with the platform.
Interface and ease-of-use
Shopify is pretty straightforward to use – it's got a clean, intuitive interface and provides a generally good user experience.
In common with many other contemporary content management systems, a menu on the left allows you to access features or content, which you can then customize or edit on the right.
The interface lets you set up and manage a variety of 'sales channels'.
Key ones include:
An online store: this is your main website, which you can host on your own domain.
Facebook: a tab on your Facebook page where users can browse and buy your products.
Buy Button: this channel allows you to embed ecommerce functionality — via 'buy buttons' — on any website or blog.
Instagram: this allows you to make your Instagram posts 'shoppable.'
Wholesale: this lets you create a separate, password-protected storefront where you can sell products B2B (note: Shopify Plus customers only).
The above list covers the key sales channels that you can use 'out of the box.' Several others — including big-hitters like Amazon, Ebay, Etsy and Pinterest — are available via third-party apps.
All in all, it's fairly easy to use these sales channels — and the interface in general — but there's a couple of issues worth zooming in on, to do with content layout and images.
Content layout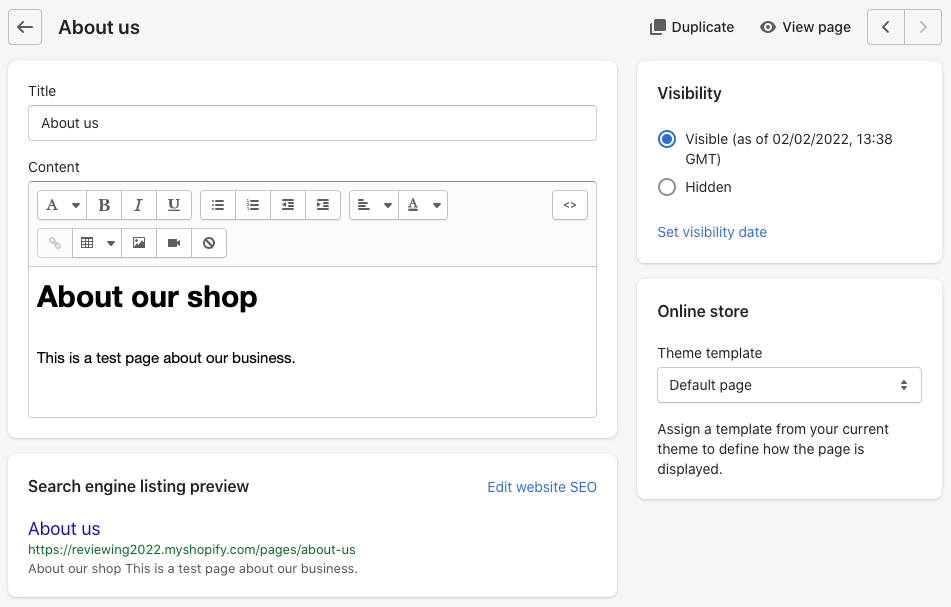 In over half of the free Shopify themes, you are still dealing with a WYSIWYG (What You See is What You Get) editor which, while working perfectly well, doesn't provide the kind of flexibility that other website builders now give you when it comes to laying content out around a page.
However, if you use one of Shopify's new 'Online Store 2.0' (OS 2.0) themes, you can avail of drag-and-drop functionality.
The OS 2.0 format unlocks a lot of extremely useful content presentation options that you won't find in 'regular' Shopify templates. Its page builder lets you add blocks and sections to pages and move them around with ease, and is far less clunky than the old WYSIWYG editor.
But most of the paid-for templates have been updated to the new format — 68 of the 74 premium themes now come in the OS 2.0 format. There is a slightly confusing aspect to page editing in Shopify's new OS 2.0 format though.
In order to access the drag-and-drop page builder, you have to use the 'customize theme' option (in the home section of your Shopify dashboard) rather than simply finding your page and editing it in the more obvious 'pages' section.
If you navigate to the latter, you'll end up encountering the WYSIWYG editor again. So watch out for that! Another improvement that could be made to the new drag-and-drop editor involves forms — at the moment you can only drop a simple 'contact' form into pages.
It would be better, as the case with other platforms like Squarespace or Wix, if a fully-fledged form builder was available for creating more bespoke forms (or even the option of dropping in a newsletter sign-up form).
So, if you need to create add custom forms to your Shopify store, you will currently need to resort to some coding, or the purchase of an app. Overall though, the new Online Store 2.0 is a really big step forward for Shopify, however — and hopefully these issues will be ironed out soon.
Product images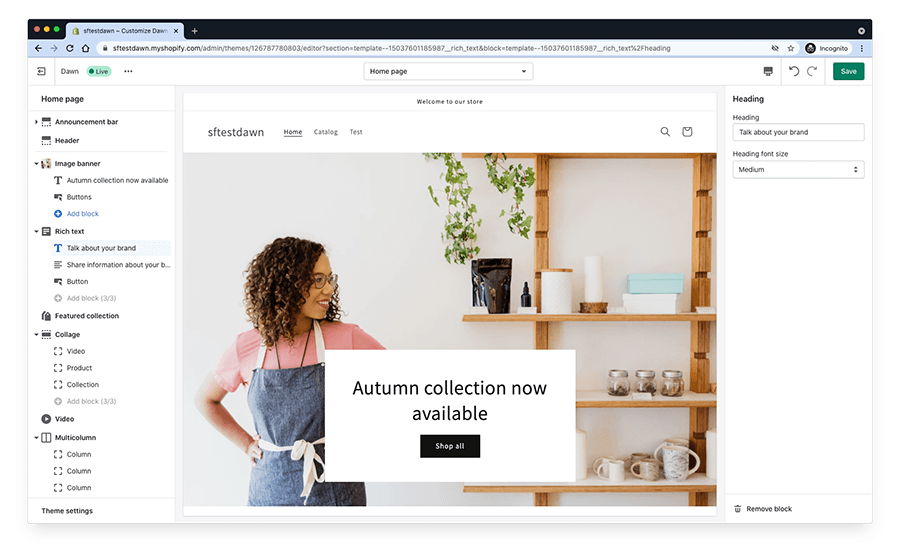 If you upload images to Shopify with different aspect ratios, they won't be cropped automatically to a uniform ratio. In other words, your product catalogs will consist of a series of differently-shaped images — something that can impact negatively on your store design.
You can get around this problem by cropping your all your images to a uniform ratio using a photo-editing app (like Photoshop) before you upload them — or afterwards, using Shopify's built-in photo editor (pictured below). You could also add a bit of code to your template to force images to display in a certain ratio — but this won't be ideal for those without technical skills.
There's also the option of using a paid-for app to standardize your image ratios (of which quite a few are available from the Shopify app store) but this will obviously increase your costs a bit.
These issues with drag and drop and product images aside, the interface is fairly user friendly. It shouldn't present too much of a learning curve to users who are setting up an online store for the first time. Now, let's take a look at using Shopify in another way: in a physical location — at 'point of sale.'
Shopify Point of Sale (POS)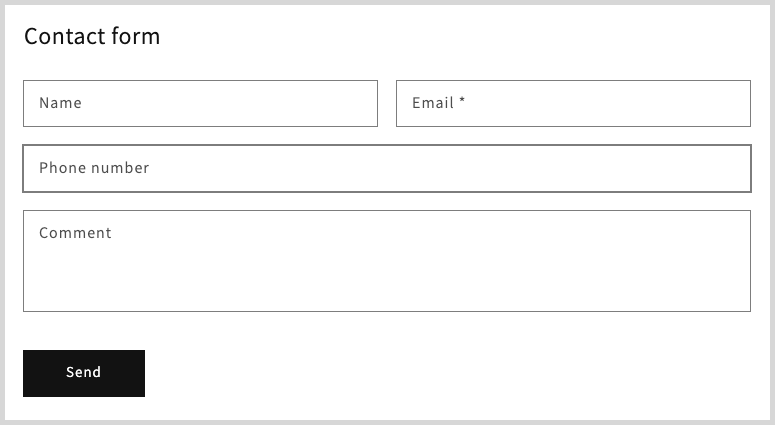 One particularly strong feature offered by Shopify that deserves a special mention, and helps it stand out from its competitors, is its comprehensive Point of Sale (POS) functionality and hardware.
Shopify's POS hardware lets you use the platform to sell not just online but in physical locations too, using your iOS or Android device. A wide range of hardware is available to purchase — barcode readers, tills, receipt printers etc. — to help you do this.
If you live in Australia, Belgium, Canada, Denmark, Germany, Ireland, the Netherlands, New Zealand, Spain, the UK or the US, you can buy these items online directly from Shopify's hardware store (pictured below). If not, you will need to find an authorized reseller.
And all whilst keeping your offline and online sales data in sync, and your inventory figures accurate.
It's important to note however that you need to pay for a 'Shopify POS Pro' add-on get the most out of Shopify's point of sale features. The cost for this is quite high: $89 per month, per location. So, if you run a few physical stores, your monthly POS outgoings can increase substantially with this add-on.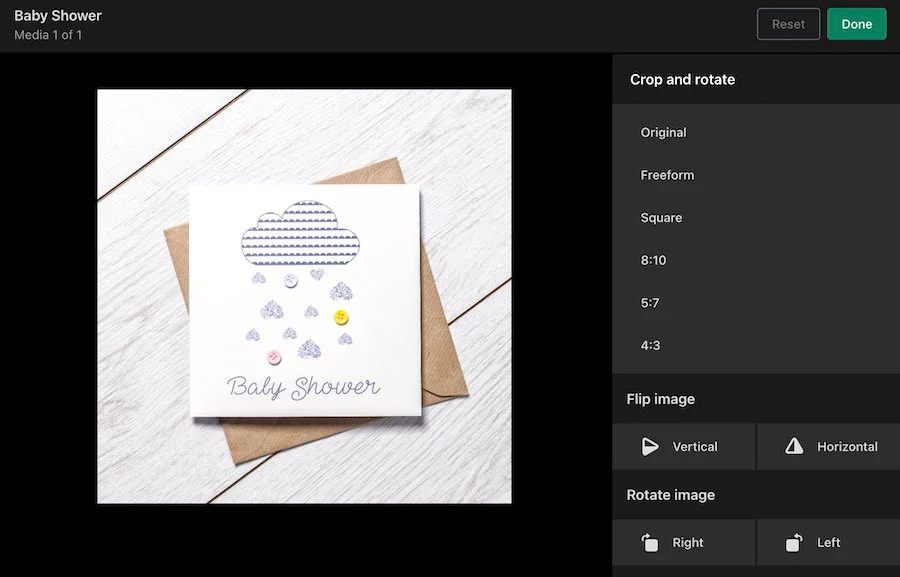 Although the built-in POS features ('Shopify POS Lite') cover the basics, and will be fine for merchants with simple needs, you will need the add-on if you want to: The below video provides a demonstration of the Shopify POS system, or you can learn more about its features here.
This is useful if you want to bulk upload a lot of new products to your store, or are migrating data from another ecommerce platform.
Another option for moving product data across is Shopify's 'Store Importer' app, which allows you to bring data across from a wide range of popular online store builders, including BigCommerce, Squarespace, Square and Etsy.
As for text-based data, If you want to import posts from a blogging platform such as Bloggr, Tumblr or WordPress, your options are to:
copy and paste content
use the Shopify API
invest in a third-party app (such as the ExIm app).
Exporting products and data
You can export product data to CSV file very easily with Shopify.
When it comes to exporting pages and posts though, this isn't doable out of the box. If you have the relevant technical skills however, you can make use of Shopify's API to get them out of the platform.
Alternatively, you can use a third-party app to export your content (Exlm is again a good choice here – it gives you a wide range of options for getting your content out of the platform).
The Shopify app store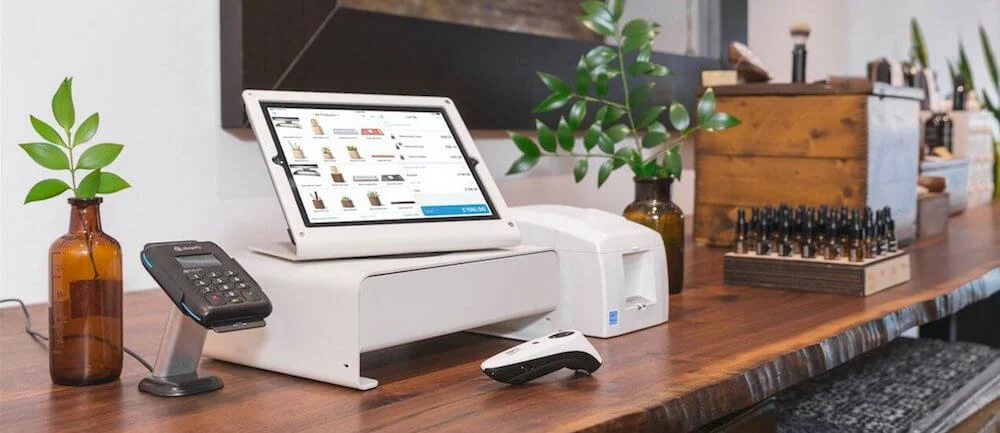 In addition to Shopify's core functionality, there is also an app store that store owners can visit to obtain apps — both free and paid-for — that add new features. This contains a huge number of apps (around 8,000) — making Shopify's app store bigger than those of all the other ecommerce platforms we've reviewed. These apps either add specific functionality to your store or let it work with other key business apps.
This wide range of apps is one of the strongest arguments for using Shopify over its rivals — but it's also possibly an argument against. On the plus side, it means that you have a fantastic range of options not only when it comes to adding functionality to your store but when it comes to integrating it with other tools and platforms too.
On the downside, it inevitably leads to lot of situations where getting the functionality you need — relating for example to product reviews, AMP, additional product options and custom fields — involves installing a paid-for app.
And, the more apps you add, the slower your store can perform. Competing platforms like Wix and BigCommerce, by contrast, tend to include more functionality like this out of the box — meaning that you don't end up spending quite as much on apps.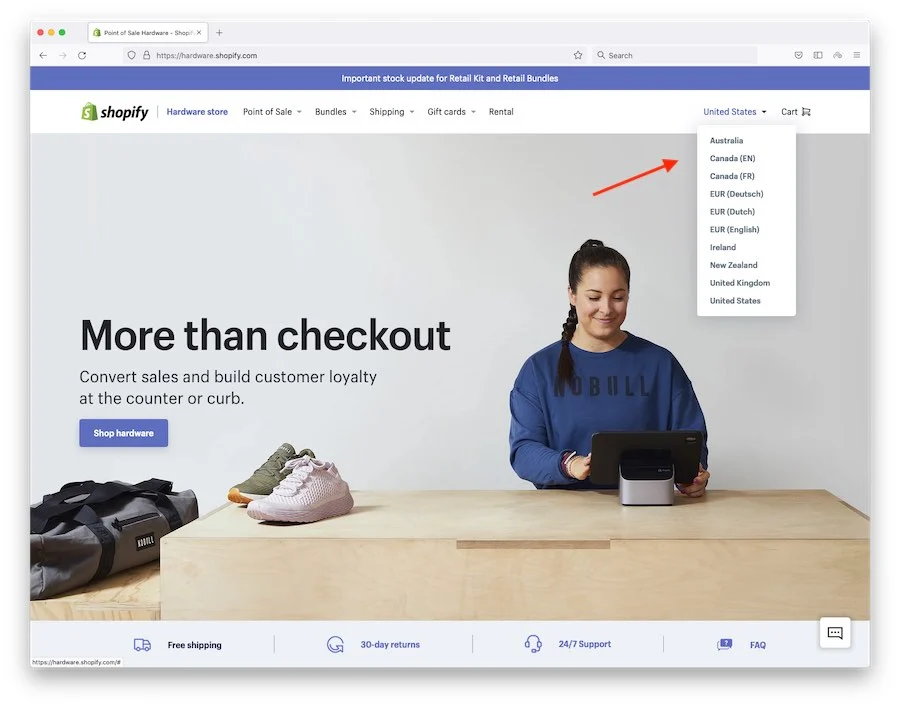 Examples of Shopify apps available include:
data capture apps
accounting apps
abandoned cart saver apps
multi-currency selling apps
advanced reporting apps.
Key business admin apps that are supported via integrations include Xero, Freshbooks and Zendesk. The app store also lets you integrate Shopify with leading email marketing solutions like Mailchimp, GetResponse, AWeber and Campaign Monitor. However, with the introduction of a new email marketing feature, you might not actually need to integrate an email marketing tool with Shopify.
Email marketing in Shopify: 'Shopify Email'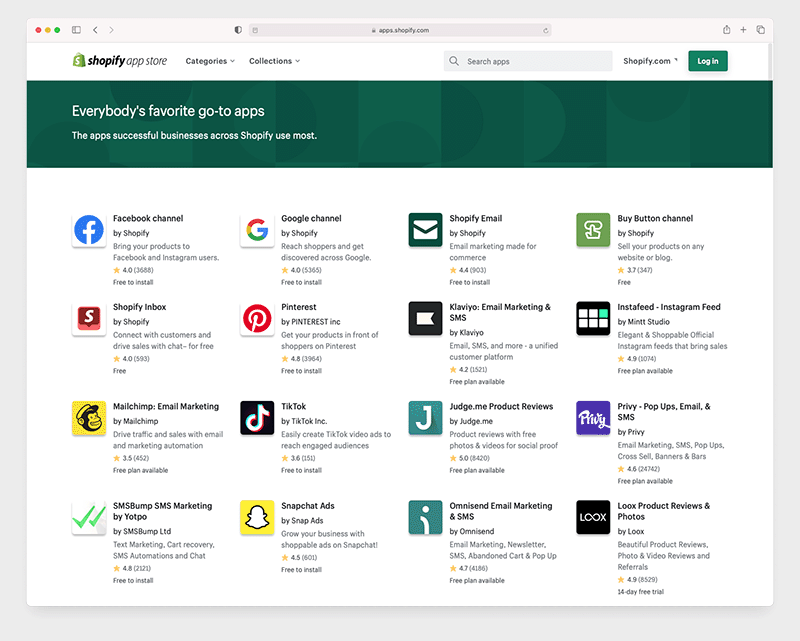 An absolutely vital part of running an online store is email marketing: sending e-newsletters to your mailing list is key to generating sales.
Recognizing this — and perhaps the fact that other leading platforms like Squarespace and Wix both offer built-in email marketing features — Shopify recently introduced a new tool, 'Shopify Email,' that allows you to create email newsletters 'out of the box'.
This started out a very basic email marketing tool, which simply allowed you to send branded e-newsletters. But in recent months it's evolved quite a lot, and now offers you the option to segment your mailing list more extensively, and automate your mailouts using conditional logic (for example, you can configure Shopify Email so that it sends welcome emails, upsell emails etc., based on particular subscriber actions).
Whilst not quite up there yet with dedicated email marketing tools like Getresponse or Mailchimp, the built-in nature of the feature is great, and it will definitely prove useful to some merchant. If you're a store owner who likes to manage all aspects of your ecommerce business in one place, you'll really like it.
But arguably the best thing about Shopify Email is the price: you can use the feature to send up to 10,000 emails per month for free, with a $1 fee applying to every additional 1,000 emails sent after that (this is a per-send fee — there's no ongoing monthly costs to worry about).