Shopify Review: Ecommerce Platforms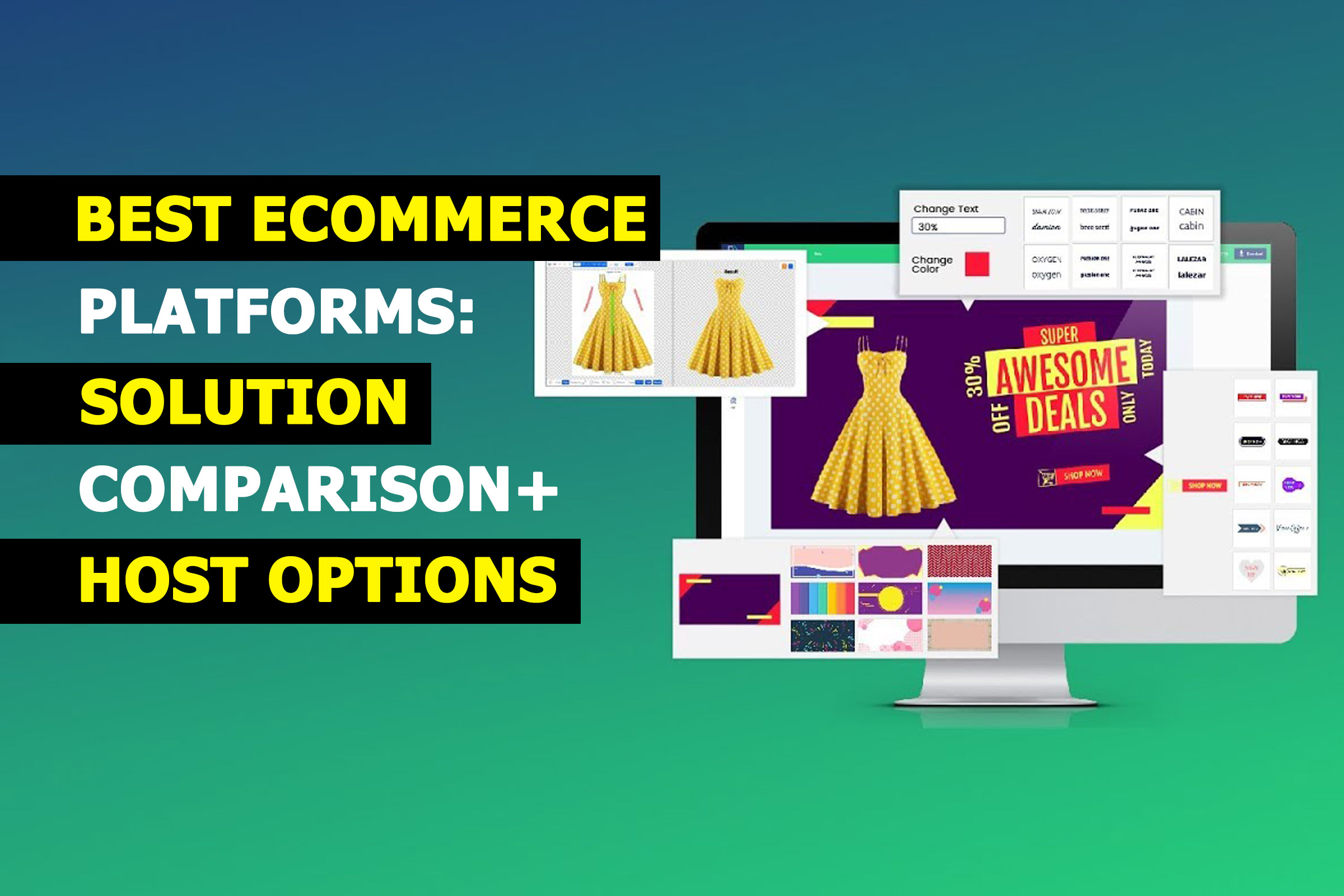 About Shopify
Shopify is an all-in-one ecommerce solution for which you don't need any technical skills, design knowledge, or significant investment to sell products or services. It's made so anyone in the world can build a potentially successful online store.
The platform offers over 100 optimized themes for your website, allows you to accept online payments (with credit cards, Paypal, etc.), and integrates with third-party apps so you can extend your toolkit without slowing down your website.
On the backend, Shopify has a Storefront Renderer infrastructure that accelerates site speed, making your website load x2.97 faster than the average. And it has built-in SEO features that help you optimize your website for search.Using Shopify is as easy as registering on their website, following an effortless setup process, and customizing it to your likings with its highly intuitive interface.
There are a lot of options for running an online store – Shopify is an all-in-one eCommerce solution that I've used to run several online stores & consult with clients since 2009. Here's my review of Shopify – with 11+ Shopify pros and cons for your online store.
There are a lot of options for running an online store, and your choice of the best eCommerce platform can have just as big of an effect on your business as choosing a building or location for a physical store. It's not the end-all of the business – but it certainly can make or break your business – and can either expand your opportunity or severely kneecap your business.
Overview of Shopify
Shopify is a hosted eCommerce platform that provides everything you need to create an online storefront. To set up and start selling your products by creating an online catalog. See Shopify's plans. I've written a full post on what Shopify is and how Shopify works.
It's sort of like hiring a general contractor to build your house, over being the contractor and hiring sub-contractors yourself. You're still in control, but you let the general contractor use their expertise to make the project happen. My go-to analogy is with real estate.
There are pros and cons to the approach – which is what we'll get into. But basically know that Shopify directly competes mainly with BigCommerce and Volusion – all three of which provide turn-key eCommerce solutions, which in turn compete with non-turnkey solutions (like setting up your own store with WordPress + WooCommerce). These hosted solutions compete with eCommerce "marketplaces" like Amazon, eBay, and Etsy. I wrote more about how Shopify can work with Etsy here and how Shopify competes with website builders like Wix.
Aside – Shopify also has a "Buy button" functionality that allows you to use Shopify as a Point of Sale (POS) / Inventory option – and let customers click to buy your products anywhere online (Pinterest, Facebook, WordPress blog, Tumblr, etc) and anywhere offline like Farmer's Markets, tradeshows, etc.
I'll be looking less at that – and more at Shopify's full online store package. You can get the Buy button only as part of the Lite Plan, but it really competes with PayPal & Square rather than full online store options.
Pros
Fully-hosted, so you won't have to worry about server maintenance and costs
Very easy to use and beginner-friendly
The platform is very secure when handling sensitive data
A great selection of themes to choose from
Low monthly fees
Numerous Shopify partners that can provide support
Highly engaged community
Many options for third-party integrations from their store
Support of multi-channel retailing — i.e. online, offline, social
It is optimized for excellent site speed and SEO
Cons
Additional transaction fees for using external gateways
No free plan available (just free trial)
Although the plans are very accessible. Costs can get very high before your business is ready to scale
Customization limited to theme and platform capabilities
Transaction fees
It's not B2B friendly
You might have to wait for a longer time to get a response from tech support
You can't mess with the backend of the store. As you'd be dealing with proprietary code
On the backend, Shopify has a Storefront Renderer infrastructure that accelerates site speed, making your website load x2.97 faster than the average. And it has built-in SEO features that help you optimize your website for search.Using Shopify is as easy as registering on their website, following an effortless setup process, and customizing it to your likings with its highly intuitive interface.
Yes, Shopify is a publicly-traded company with audited software and industry-leading security. However, do be aware of any get-rich-quick schemes involving Shopify. With Shopify's ubiquity, it has attracted its share of scammers and fraudsters. The issue is primarily with shoppers dealing with dropshipping business and chargeback issues.
For legit Shopify store owners though, Shopify is software. It's an eCommerce solution – not a turn-key business. A successful Shopify store still needs to do the work to find a product and a market, and sell whatever you have to sell. Shopify is a safe and legit way to make the process easier.
Is Shopify Worth It?
It depends! That is a maddening answer, I know. But it's true. Shopify is a tool. It might not be for you. If you are selling a single digital product on your blog, then Shopify is probably not worth it.
A PayPal button or a WooCommerce plugin on your WordPress site would work. But if you need to run a multi-product eCommerce store with inventory, marketing tools, customer records, etc – then Shopify is absolutely worth it…if the pros and cons balance out for you based on your goals, resources, expertise, etc.
Shopify Pricing
There are only 4 Shopify plans. As with many online services, you can upgrade your account as your business grows. Be aware the Lite plan is really an intro to using Shopify and does not include a product catalog but rather a replacement of a service like Stripe or PayPal. Ecommerce pricing can be extremely confusing. Between the fees here and subscriptions there – it can get frustrating fast.
Now, in many ways, Shopify does much better than competitors with pricing transparency and overall value. If you fully buy into the Shopify platform, you can get the best pricing in the industry….but there are a few caveats to consider. And it's those caveats that put Pricing into the cons / negative tradeoffs.
First, your monthly price – the sticker price you pay every month for a certain level of features. Shopify's plans start with the Lite Plan at $9 USD per month and go up from there. But note that the Lite plan is only for Buy button sellers. Really, I'd say that Shopify starts at $29/mo for the Shopify Basic Plan and goes up. This price is the simplest to compare to other providers.
Second, your platform transaction fees – the additional fee you pay to a platform as a percent of sales. Shopify used to charge a transaction fee on all their plans, but no longer does…if you use Shopify as your payment processor.
The difference between these pricing plans is quite high as they're designed for different segments and the size of the business. However, the cost of using Shopify isn't limited to the plan you choose. There are premium themes, features, and third-party apps that you'll probably need to keep your store efficient that you're not accounting for.
For example, a premium theme can range from $140-$180. Premium plugins from the store might add $10-$30 to the monthly cost. Plus, the transaction fees behind Shopify's payments. So if you're trying to set up a budget for your ecommerce, it is advisable to check on the additional features you're going to need to run it efficiently.
Fast Web Hosting & Security
Here are the results of a speed test for my local coffee shop that runs their store on Shopify:
One of the challenges of running an online store is that you have dual needs from your hosting: you need it to be screaming fast and you need it to be super secure if you are processing credit cards.
For every extra tenth of a second that a customer waits for your page to load is a second that they might very well leave and go to your competition. In fact, most studies show that people will only wait up to 4 seconds for a site to load before leaving – and this gets even tighter for eCommerce sites.
On the flip side, you also need to route your customer's credit cards through extra layers of security to remain PCI compliant and process credit cards. Many stores outsource payments to a third-party vendor (such as PayPal or Google Wallet), but even that connection can be slowed if your store isn't set up correctly.
An all-in-one solution like Shopify allows you to turn that side of the business over to the pros and just let them worry about hackers, caching, compliance, and a whole range of issues that come with hosting an online store. Shopify can do things like pay bounties to security researchers to hack-proof their systems. Shopify is safe and legit. They are a publicly traded company with huge investments in software & security engineering.
There are a ton of factors that go into website speed, but, since Shopify can handle speed & security at a "global" platform level – they can do it especially well. They provide 100% SSL, keep their sites screaming fast, and integrate with payment providers well so that you can always get paid, and customers are never waiting for their page to load.
All The Necessary Features
Whether you are building your own eCommerce solution or shopping for an all-in-one solution, getting all the pieces of an online store together can actually be a bit challenging.
Sure, you can strip the bare bones down to having a product up to buy, and allow someone to pay and give you their information – but to do it right – you're going to want other features on top.
You're going to want integrated payments; you're going to want an easy way to add and remove products; you're going to want to be able to customize the look of your store; and you're definitely going to want to have solid, easy to implement analytics to track everything (something that Volusion makes it tough to implement).
Whenever I have run stores for clients or myself in the past, Shopify had everything I needed to run an amazing online store – without being nickel and dimed in upgrades or left out to dry without a key feature.
Great Customer Support
When I contrast my experiences between building an eCommerce store myself (with something like WordPress + WooCommerce) and running it with something like Shopify – customer support is one of my top reasons to go with something like Shopify.
When you are building it and running it yourself – you have no one to turn to, except $$$ developers and often unresponsive online forums. With Shopify – you get answers fast. And all my customer support experiences with Shopify have been really fast, correct, and helpful – from both a developer and storeowner perspective.
They have a huge database of FAQs, email/chat support…and phone support – with a real, knowledgeable rep on the other side.
When you are focused on running your online store – this safety net of always having someone at your back with answers is basically worth the Shopify subscription price alone. And on this point, Shopify especially shines.
Marketing
What good is an online store if you can't get anyone to show up? That's what marketing is for – and it's something that Shopify really excels at. Shopify doesn't offer the fanciest marketing tools on the planet (as part of the main package – they offer more in the App Marketplace) – but they do include the essentials – and they make sure they do the essentials really well. For example, SEO:
For marketing campaigns (such as email, Google Ads, Facebook Ads, etc), Shopify allows you to quickly and easily create landing pages, which is a key differentiating factor between other all-in-one platforms (and some DIY platforms).
And for SEO – Shopify creates 100% crawlable, clean code. They allow custom Title tags, and meta descriptions (see screenshot) – even on collections, in addition to other essentials like Search Console, sitemaps, and the prevention of the perennial bane of eCommerce SEO…duplicate content (for SEO geeks, they use canonicals properly).
Even though they don't allow "root" or FTP access, as an SEO consultant, I've always been able to implement even technical items via their front-end code editor. Or – they actually already have all the advanced technical items are done for me (e.g., Schema, SSL, Canonicals, Sitemaps, etc) so that I can focus on things like content strategy. If you're looking for an all-in-one platform that does good marketing for SEO, Google Ads, and anything else up your sleeve – Shopify is a great choice in my experience.
Design
I think that good web platforms should always offer at least 2 levels of customization: first, it should look fine out of the box; second, it should be easily improvable without having to employ and professional graphic designer or developer.
WordPress is a good example of this – it looks great out of the box; it has tons of custom themes that you can buy and apply, but it also has the ability to be wielded by a professional designer to create a really high-end website.
Shopify has this ability as well, and I give a huge pro to Shopify for that. Shopify runs off a theme system. It has a default Shopify theme plus a few free Shopify themes bundled out of the box to choose from, and a wide variety of custom-built themes to purchase through their marketplace. In addition, as you can see in the screenshot above, Shopify makes its theme system available so that a designer or developer can customize it and create any type of shop you want – whether you are a tiny niche boutique or a multi-million dollar enterprise.
If you are just starting, you can make do just fine with a free theme and upgrade as you can justify/need it or you can use their drag & drop layout tool if you are more comfortable there.
Shopify Analytics and Reports
Selling is one thing, but knowing where your business stands and reviewing it regularly is another. Shopify has you covered here as well.Everything happens in the reports section of the dashboard, where you can find many types of professional reports such as:
Sales reports
Customer reports
Marketing reports
Search data reports
Finance reports
Abandoned cart reports.
With the advanced report builder, you can find every piece of data you might need as an online store manager. You can browse through your gross sales by product title, by month, by channel, by payment method, taxes by rate, by traffic, and track any metric you need.
The caveat here is the limitation with plans. Shopify Basic won't give you access to any data, while the standard plan will only show essentials such as traffic data or sales. The only way to access all the data is by upgrading to the Shopify Advanced plan, which is only worth it if you can truly leverage the data to grow your business.
Shopify FAQ
Is Shopify a Good Solution for Dropshipping?
Yes, it offers multiple dropshipping apps such as Ali Express and Oberlo. In fact, Shopify is a perfect option for users who want to do dropshipping. You only need to go to the app store and search for your favorite dropshipping app, and Shopify will take care of integrating everything.
Shopify is what's known as a cloud-hosted ecommerce platform, so it does include web hosting. This means that you don't need to sign up for any external web hosting service, given that everything is neatly handled in just one place.
Shopify uses an optimized server structure built specifically with ecommerce in mind, so you know that you're getting the good stuff.
Yes, and it's free using the "Downloadable digital assets" app from the store.
Is Shopify a Good Platform for Beginners in Ecommerce?
Yes. Shopify is one of the most user-friendly ecommerce builders to help beginners and small business owners set up and run their online store for the first time. Shopify is user-friendly, and even those with no prior ecommerce experience or coding knowledge can create an online store fairly quickly.