Spocket Review: The Coolest App for eCommerce Sites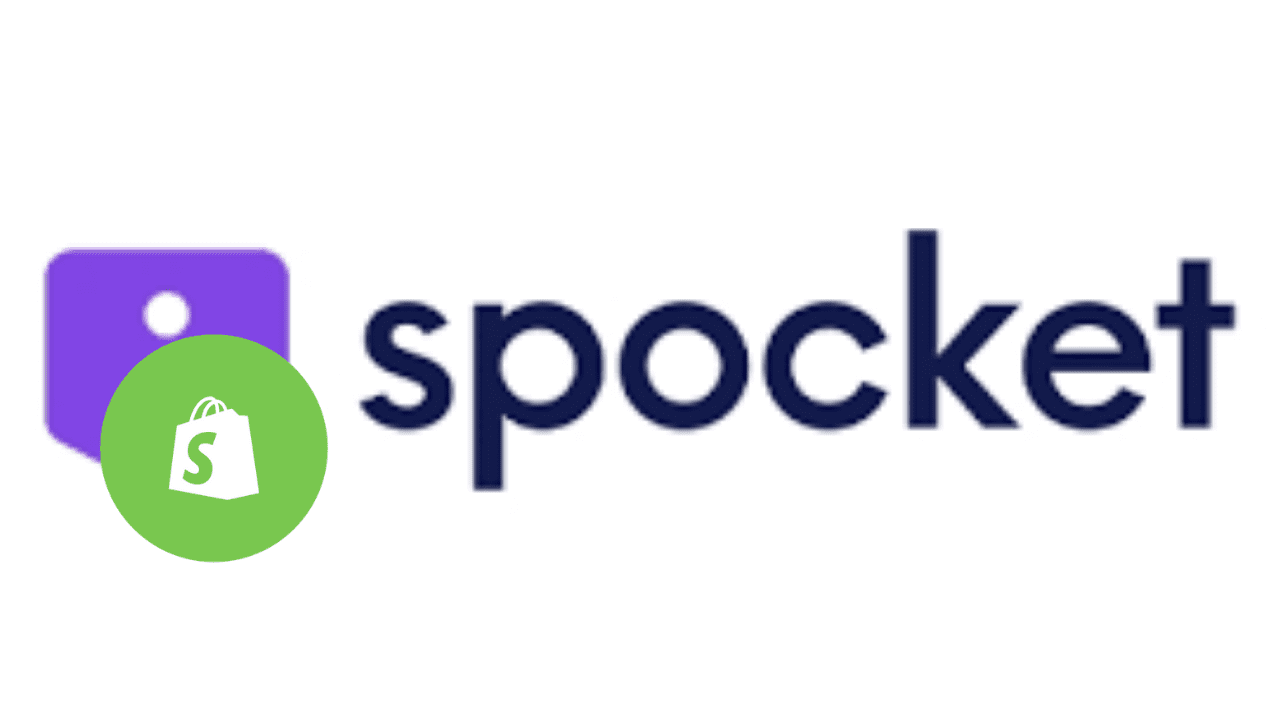 FBA isn't the only option when it comes to finding a dropshipping fulfillment service. If you're thinking about opening a Shopify store, then you can use third-party warehousing and fulfillment centers that operate as efficiently as Amazon.
Private companies recognized e-commerce entrepreneurs needs to third-party warehousing and logistics services, and many companies emerged to take up the battle and provide fulfillment services to the e-commerce market.
Spocket is an an app designed to help connect e-commerce entrepreneurs with suppliers and fulfillment centers that take the hassle out of running an e-commerce business.
Spocket is a dropshipping app which integrates with WooCommerce and Shopify stores, which are some of the more popular independent retail platforms available to e-commerce entrepreneurs.
With a few clicks of your mouse, you launch your dropshipping business. Spocket puts you in touch with suppliers of products based in the US, UK, and the EU, as well as Australia and New Zealand.
By working with suppliers on Spocket, you dramatically cut down your lead and shipping times, and you can rest assured that your customers are receiving goods, thinking that the product is coming from you, and not a third-party provider.
There are thousands of products available from suppliers on Spocket, and print-on-demand products are available as well. Spocket also permits samples from most of its suppliers, allowing you to benefit from checking the quality before you add the item for sale on your website.
All the products available from Spocket suppliers are high-quality, and nothing like the rubbish you get from AliExpress and other Chinese suppliers that focus on cost over quality. Spocket also negotiates discounts with suppliers on your behalf. In some cases, you might find discounts on retail pricing of up to 60%.
However, the most significant advantage of using Spocket is that your customer waits only a few days for delivery. There's no more losing business to 4-week delivery times that leave your customers furious and asking for a refund.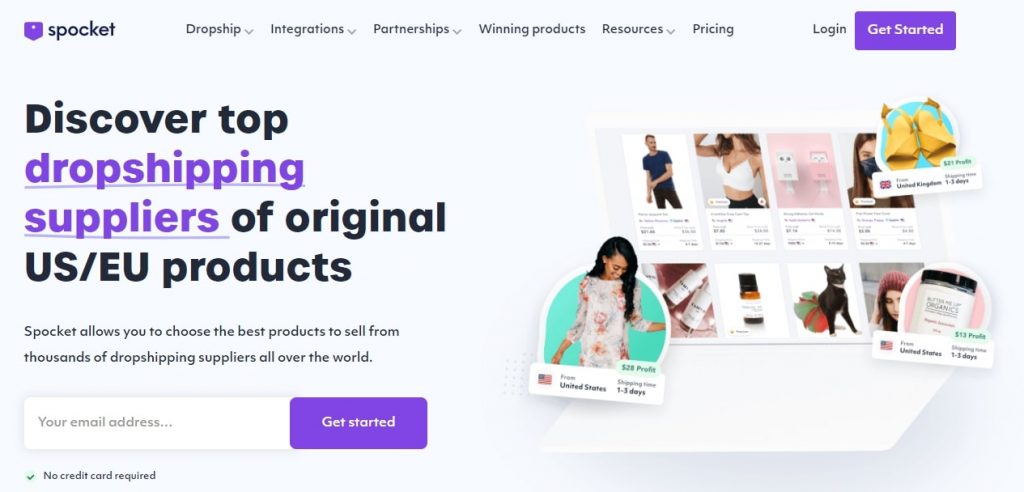 Fulfillment Centers – A Blessing for Dropshippers
Therefore, many e-commerce entrepreneurs decided to start importing goods from China to their locations in the US or Europe. The entrepreneur would then handle all the shipping and customer returns themselves.
Unfortunately, this model lacks in its ability to scale, and the more orders you get means you'll need to start employing people to manage the picking, packing, logistics, and customer service. Building a company is exciting, but it sounds like plenty of hard work that you don't need in your life.
Enter the fulfillment center. The fulfillment center offers Dropshippers a logistics and warehousing solution. As a result, the drop shipper doesn't need to store their goods in their garage or basement.
The fulfillment center warehouses all your goods, allowing you to place bulk orders with suppliers, and create a stockpile for your business that stays at the warehouse, not in your home.
Fulfillment centers take the model one step further. When someone buys something on your online store, the store sends an automatic order to the fulfillment center. The center then picks, packs, and ships the order to your customer, without you needing to lift a finger!
Doesn't that sound incredible? In return for doing all the hard work, the fulfillment center takes a cut. The transaction fee can be anywhere between 5% to 25% of the sale, depending on the services offered by the center.
Fulfillment centers also have customer support teams, taking the duty of dealing with customer complaints off your hands as well.
The most common example of fulfillment centers in action – is Amazons FBA (Fulfillment by Amazon). This complete fulfillment service operates as described above. However, as an FBA agent, you're limited to selling on the Amazon platform only.
Therefore, what if you want to set up your dropshipping business with a Shopify storefront? Amazon doesn't let sellers sell various types of products that they feel are offensive or don't fit the Amazon brand. Therefore, you might have to think about another option if you want to open a dropshipping store.
After signing up for Spocket, you get the option of selecting high-quality consumer products and print-on-demand goods. The POD options all work alongside Oberlo and Printful, ( Read our review of Printful Here) giving you more options for your POD business.
However, if you want to sell other companies' products, there are plenty of items available to help you start. Do your product research, and then look for products in any of the following categories on Spocket.
Clothing and Fashion
Tech and Electronics
Garden and Home
Automotive Accessories and Spares
Children's Toys
Gaming and Computing
Look through the platform to see what's available. You can use the keyword search bar on the site to filter results and find specific products you're interested in selling.
With a 30% to 60% discount available, there's plenty of room for you to make a healthy profit margin.
Starting with Spocket is as easy as sourcing products from the supplier network. All you need to do is complete a simple registration process and start sourcing products for your site.
The Spocket app integrates with your WooCommerce or Shopify store, makes a seamless transition providing a user-friendly experience for site owners and customers.
Follow this step-by-step guide for starting with Spocket on your e-commerce platform.
Link the App to Your Online Store
If you already have a Shopify store or WooCommerce store, simply click the "My Shop" button and enter the required info to populate your store with products from Spocket.
The system requests your login information and then links the app to your account after confirming your request.
After installing the Spocket app on your store, you can browse the Spocket catalog and start adding products to your listings.
Take a Dashboard Tour
Spocket provides you with informative tutorials on how to start using the Spocket app. Take the dashboard tour when you open Spocket for the first time. The tutorials help you learn how to make the most out of using Spocket on your WooCommerce or Shopify store.
Source Products
After brushing up your knowledge base with the tutorials, open the app, and start browsing the catalog categories. After you locate the products you want to sell on your website, add them with one click.
Make your searches effective using some of the filters available in the search options. Filter by product category, location., price, and premium Spocket products – which are essential top-rated products with a solid reputation on the app.
List Products in Your Store
After finding the products you want to sell, add them to your store by hovering the cursor over the listing, and then clicking the "add to import list: icon that appears.
When you click this, that specific product will save to your "import list." After researching more about your product, make your listing live on your store by clicking the "Push To Store" button.
One of the best features of Spocket is that you can start using the app for free right now.
It's a great idea to test the app for a bit before you decide if it's the right fit for your e-commerce store. When you select the free plan option, you get access to the following features on the Spocket app.
You can import up to 25-products to your e-commerce store
Inventory updates in real-time
Customer support via email
Unlimited product orders
Worldwide pricing regulations
Tracking numbers on all your shipments
As your e-commerce venture expands, you can upgrade your Spocket membership, allowing you to scale the app with your business as it grows.
The Spocket "Pro Plan" allows you to import up to 250-products directly to your WooCommerce or Shopify store, all for $49 per month, or $29 per month if you pay for an annual subscription upfront.
If that's not enough for you, then the "Empire Plan" provides you with an unlimited number of products to add to your store. However, the Empire Plan will set you back $99 per month, or $79 per month if you take an annual subscription upfront. The pricing is affordable and well worth the money when you consider the value on offer with the Spocket supplier network.
When you sign up for the Pro or Empire plans, you get the following additional features with your subscription.
Email support and live chat
Branded invoicing
Access to the Spocket range of "Premium Products."
Invitations to exclusive product deals
We fell that the addition of the personal note addressed to your customer and the branded invoicing makes Spocket a real win. As a result, the customer gets a professional experience to their online shopping, making them feel confident about ordering with your store again.
Automatic Inventory Updates – Access your inventory levels 24-hours a day. You get results in real-time, allowing you to place new orders for stock as supplies on your shelves are starting to dwindle. The automated option automatically handles the ordering process, allowing you true hands-off management of the inventory for your online store.
Real-Time Order Tracking – Track the status of your customer's orders through every step of the logistics process.
Import Products with One Click – The days of e-commerce entrepreneurs manually uploading each product are over. With Spocket, you upload your images, descriptions, and product information, all with one click. If you want to change your description, then there's an option to edit the text to an SEO standard that suits your campaign.
Automatic Order Fulfilment – This feature of Spocket makes the service a premium offering that stands out from the competition. After your customer completes their purchase on your webstore, Spocket notifies both you and the supplier of the order. On receipt, the supplier picks, packs, and ships it to your customer. You track the delivery until it gets to your customer, allowing you to send a thank you email to them after they receive the product.
Automate Your Pricing Processes – The markup feature on Spocket is a great way to save time estimating your selling price. Set your preferred markup percentage, and Spocket applies that markup across all the items in your store catalog.
Automating your pricing process simplifies the work you do online, allowing you to focus on the more essential functions of your business – such as marketing your products and store. Spocket gives you the option of finding your profit markup using a multiplier, and percentage, or a fixed pricing rate.
Using these tools can help you set affordable and competitive prices. Always ensure that you take the time to check on your pricing compared to your competition. The last thing you want is to overcharge your customers for items they can get elsewhere for cheaper.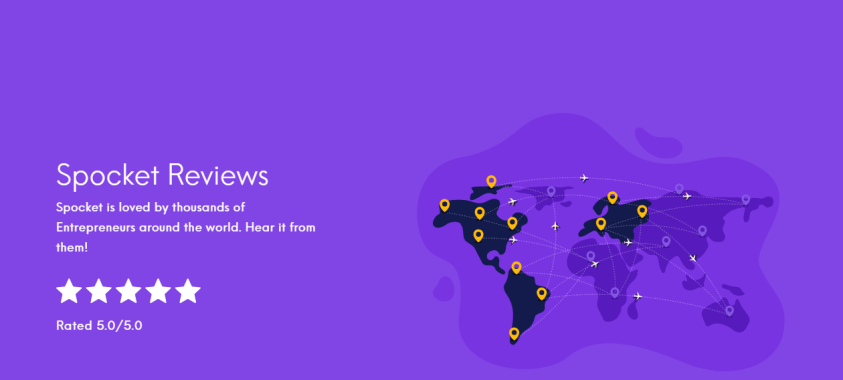 Spocket Cons
Limited Supplier Locations – As mentioned, Spocket works with suppliers in the US, UK, and continental Europe, with some suppliers based in New Zealand or Australia. Therefore, you might find it challenging to get a good reach into Africa of Australasia. Shipping from outside of these areas increases the pricing of your goods. Fortunately, most e-commerce stores focus on the European and American markets, so it's not a train smash.
Prices Don't Include Taxes and Customs Duties – When your customers place orders, the amount they pay doesn't include any taxes or duties, the customer needs to pay when they receive their order. You must notify the customer of these issues before they place their order.
Not Compatible with All E-commerce Platforms – Spocket is a fantastic app, but it doesn't work with big-name e-commerce retailers like Amazon, Etsy, eBay, Groupon, or Wish.
No Option for Customized Packaging – We love that you can send personalized messages and invoices to your customers. However, we feel that offering branded packaging would be a nice touch to supercharge the offering.
No Direct Contact with Spocket Suppliers – As a Spocket user, you have no contact with the supplier network. That might not seem like an issue, but it leaves a bit of uncertainty with the setup. If you have any problems with a specific vendor, you'll need to contact the Spocket support team and have them sort it out for you.
Conclusion
If you're looking around for options to start an e-commerce business, make it easy on yourself. Spocket should be on the top of your list of handy online tools you can use to boost your e-commerce career. With Spocket, you take the challenge out of sourcing and distributing your products.
With fast shipping times, exceptional discounts, and a global supplier network, Spocket is a valuable service for any online entrepreneur thinking about getting into the dropshipping game. If you already run a Shopify or WooCommerce store, and you're looking for ways to boost your income, give Spocket a try.
We recommend Spocket to both new and established e-commerce professionals. Take the hard work out of sourcing products and dealing with suppliers.
Spocket does everything for you. With this app, it's possible to build out an e-commerce store using Shopify or WooCommerce, in less than a day. You could be making your first sale within a few days of starting your new venture. With the free Spocket plan, it won't cost you a cent to start!