Squarespace Review 2022: Pros & Cons of the Website Builder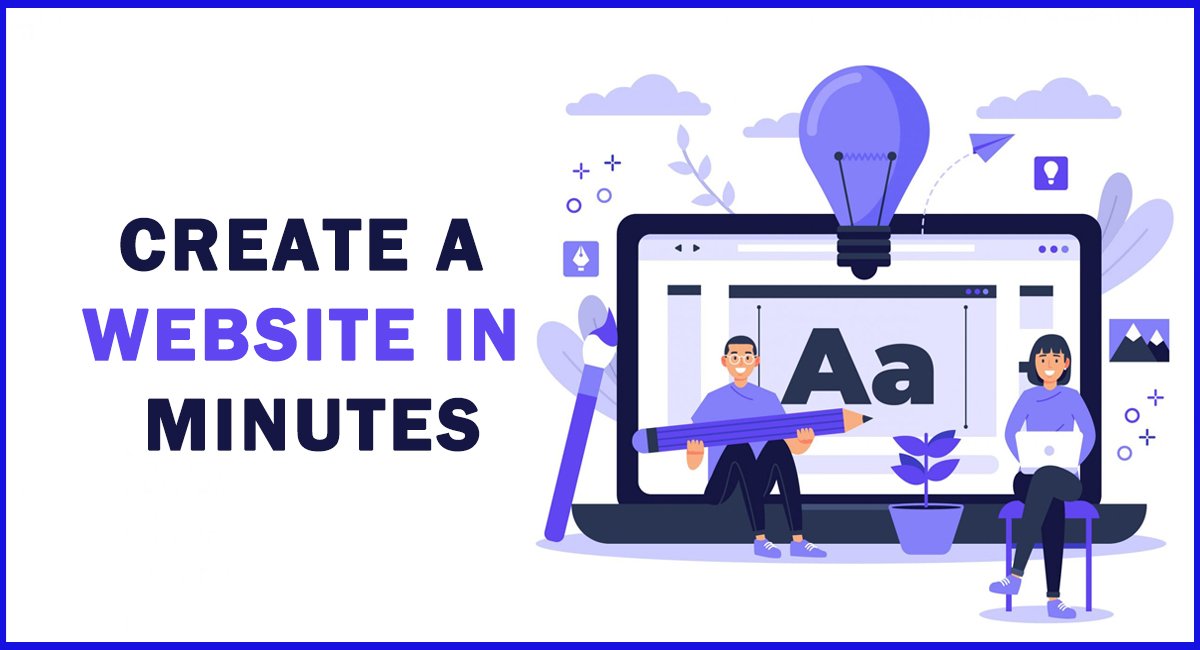 About Squarespace

According to our thorough product research and testing, the Squarespace website builder scores an incredible 4.8 out of 5 for its overall rating, and there are ample reasons why.
Not only will your business have access to over 100 visually stunning prewritten templates to build your website, but you'll also benefit from the best customer support available on the web builder market – with Squarespace scoring full marks (5 out of 5) in the help and support category of our research.
Well, all of the website builders we review, including Squarespace, have been subjected to rigorous user testing, and then ranked on the six key factors that our small business audience told us matter most: ease of use, features, value for money, design flexibility, help and support, and customer score (i.e. how likely a user would be to recommend the product to a friend).
So without further ado, read on to learn how Squarespace ranks in terms of the factors that really matter to small business owners.
Squarespace stands out thanks to its stylish, design-oriented templates — in fact, we've concluded that it's the best for design flexibility out of all the web builders featured in our research, earning its mighty fine score of 4.7 out of 5 in this area. It also offers a competitive range of features, top-of-the-class support and pricing options.
Squarespace Review Summary

With plans that start at $12/month and 113 beautifully designed, mobile-optimized website templates, Squarespace is renowned for being one of the best-looking builders. But it's also feature-rich and easy to use, thanks to recent improvements to its editor.
Overall, Squarespace scores 4.7 out of 5 in our research, meaning it has the second-highest rating of all the builders we've tested so far.
There are a lot of qualities that make Squarespace such a winner. Below, we'll use our extensive research to take a deep dive into everything Squarespace, exploring its ease of use, pricing, design, tools and features, and help and support. Everything to make sure you've got all the information you need to decide whether Squarespace is the right website builder for you.
Pros
Stunning templates optimized for desktops, tablets and mobile devices
Excellent marketing features, including email and social media support – perfect for business growth
The best help and support out of all the builders we've tested
Cons
Doesn't give full customizability – you'll only be able to customize within your template's preset rows
The editor can be a little too manual – for example, you'll be prompted to save your work after each change, but it doesn't autosave on its own
Squarespace is a website builder designed to help creatives build their own websites and showcase their work, no matter their technical ability. Squarespace's latest version, 7.1, makes it easier than ever to enact sitewide design changes.
We carry out hours of in-depth research on every builder we write about, and Squarespace is no exception. We even got other people to use it and tell us what they thought, to make sure we're giving you facts you actually want to know.
Before we start dishing out truths, here's a quick overview of how Squarespace scored:If you're already sold on Squarespace as a platform, but aren't sure which plan to go for, hit the 'Start Now' button below. We'll quickly cross-reference your needs with the features of each plan to deliver you our recommendation:
Who Is Squarespace Best For?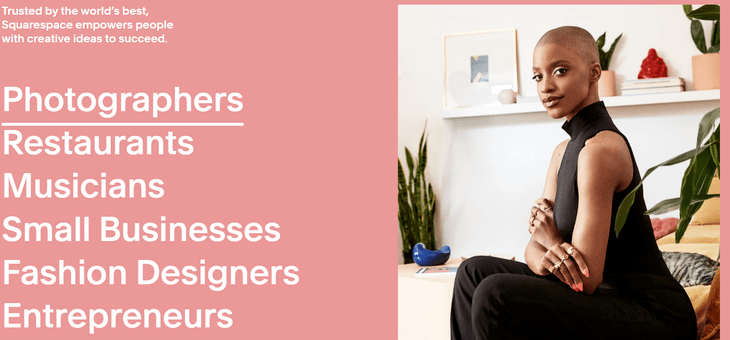 Squarespace is one of our top-rated builders, with high scores across all of our research categories. However, that doesn't mean it's the right choice for everyone. So who is Squarespace best for?
Squarespace is great for photographers, artists, and anyone who loves design and wants their website to look as good as the content they're showing off online. This is where Squarespace shines – there's a reason it was ranked #1 in our list of the Best Photography Website Builders! However, this does mean that if you don't have high-quality images – or if you have a very text-heavy site – you may struggle to make the most of Squarespace's visual designs.
It also comes with a good range of ecommerce tools, making it a great choice if you're planning to open a store that has a small inventory, or only sells digital products. We wouldn't recommend it for very complex or large stores.
Mostly, though, there's something for everyone: More than 3.5 million people pay to keep using Squarespace after its free 14-day trial, and that's a solid testament to the quality of results it delivers.
That said, there's also a range of other functions that Squarespace websites do really well, and we're going to review each one below.
Blogging
Squarespace has a ton of built-in tools to support blogging. It's especially effective if your blog features a lot of images – which is convenient, since 32% of marketers say visual images are the most important form of content for their business.
You can support multiple contributors, sync and share with social media, and use the Blog App to manage your blog from your mobile device. There are templates especially designed for blogging, making it easy to start a blog that flourishes!
Calling All Students! If you're a student and have a valid school email address, then you can get 50% off your first year of Squarespace. That's any new website or online store! Check out this special student discount to learn more about Squarespace's awesome savings (terms and conditions apply).
Business
There are a lot of small business websites that use Squarespace – you can see a selection on Squarespace's "Our Customers" page.
Squarespace gives you everything you need for your business to succeed right from day one. Not only can you use Squarespace's designs to create a unique brand, but you'll have plenty of tools to make your life as easy as possible, including:
Email campaigns
Built-in analytics
Ecommerce functions
SEO tools
Integrations with online tools such as G Suite and PayPal
eCommerce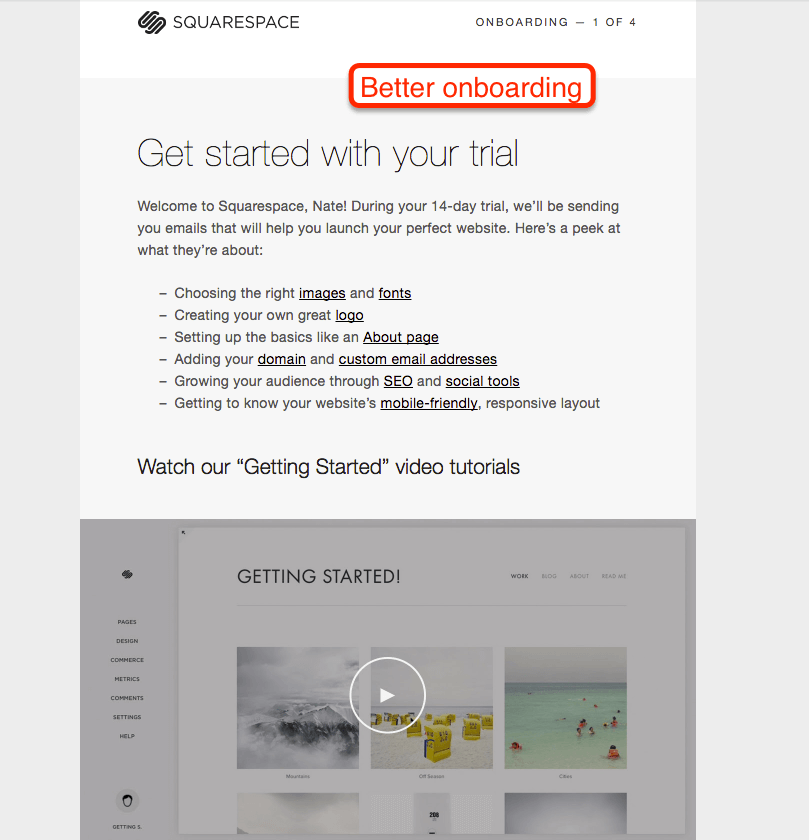 We took a special look at how Squarespace performs for ecommerce sites, and we found it combined some really powerful features – such as its inventory system – with stunning ecommerce-specific designs. The result is a builder which makes your products shine, and gives customers a great idea of what they're purchasing before they click the buy button.
According to our research, Squarespace easily keeps up with some of the biggest ecommerce names out there, sitting just behind Shopify with an impressive score of 4.5 out of 5. It's a top choice for small or growing stores that want a truly on-brand storefront. Squarespace's two ecommerce plans come with useful tools automatically included, from inventory management to abandoned cart recovery.
By pairing the Squarespace Commerce app with your Square account, you can even sell offline and keep it all synced in one place. You can easily take card payments on the move, and any sales will sync up with your online inventory. Check out this short video for more on how Squarespace and Square work together:
Want to sell online with Squarespace? For a full look at how this builder performs check out our Squarespace Ecommerce Review. Want to sell online, period? Check out our guide to selling online for tips on getting started.
Personal
As you've probably already figured out, Squarespace is ideal if you're creating a portfolio or photography website. All its templates are created by in-house designers, and you can customize them to your heart's content to make them as unique as your work.
Replace images, change fonts and colors, share on social media, and integrate with third parties such as Adobe Creative Suite and Google Drive to build a unique personal brand and establish your online presence.
Want a few tips? We've covered everything you need to know in our guide to starting a photography website.
What About a Scalable Website?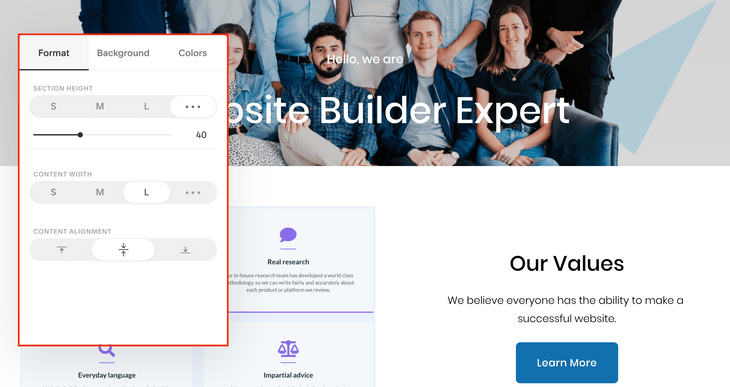 Squarespace offers unlimited storage and bandwidth straight away on its cheapest plan, so you don't need to worry about running out of space. And its plans offer a healthy amount of features, meaning you shouldn't need to upgrade too often.
Online stores can also sell unlimited products with no transaction fees, so you won't hit a product limit as you would with some other website builders.
If you're looking to launch an ecommerce empire, however, you may want to look at switching to a dedicated ecommerce platform like Shopify or BigCommerce to help maintain long-term growth.
Want to see more of Squarespace's additional features? We've ranked the best Squarespace Extensions for easily adding more ecommerce functionality to your site.
Or, see how Squarespace compares to a top ecommerce builder with our Squarespace vs BigCommerce review.
Ease of Use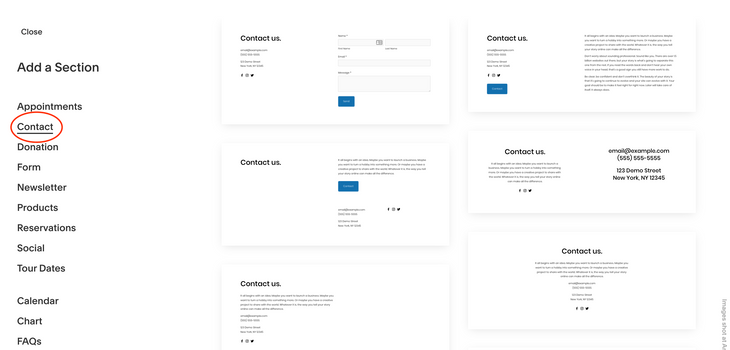 Using the Squarespace Editor
Once upon a time, Squarespace had a reputation for being a bit "difficult." The editor wasn't the most intuitive, and users often complained that it took a long time to ride a steep learning curve before you could really get anywhere with it. But we're pleased to tell you that such problems are now a thing of the past.
In recent years, Squarespace has made huge improvements to its overall UX. So much so, that since the last time we carried out our user testing, Squarespace's ease of use score has jumped up by a massive 14.6%. It now has a score of 4 out of 5, meaning that it's simpler to use for both beginners and experienced users alike.
We noticed the biggest difference when it came to navigating Squarespace's editor. It has a handy tutorial when you first get started, helping you to find your way around. It also provides a checklist, which beginners will appreciate.
Squarespace is a drag-and-drop website builder, but unlike other builders (such as Wix), you can't just drag anything anywhere. It's more section-based, which takes a little longer to get to grips with. Once you've spent a few minutes exploring, however, the added structure helps to keep your overall site design clean and tidy. In fact, during testing, many of our users said they "found this way easier to use than Wix and much less overwhelming".
While Squarespace's interface is modern and minimal, it can feel a little too clean at the start. It takes a few clicks to find the elements you're looking for, and at times we wanted it to be more obvious where to find certain features.
That said, once you know what you're doing, editing becomes fast and easy, and you'll come to appreciate the uncluttered menus!
This means that your website appears in the editor exactly as it would appear once it's published, and you see any changes happening right in front of you.
The best part is, you don't need to know a single line of code. You can use code if you want to, but one of Squarespace's greatest strengths is that anyone can use it to create a professional website without ever worrying about their coding skills.
This is a very straightforward way of creating a website, as you know exactly what changes you're making as you make them. And as our user testing revealed, you won't be left in the dark trying to build distinct pages, either:
"Squarespace offers structured content for you, so if you select a "Contact" page for example, it won't just give you a form. It will give you multiple options regarding different fields you may want to enter and different designs to choose from to make that page."
Customer Satisfaction
Our research doesn't just mean analyzing data and comparing prices. We got everyday people to test Squarespace and tell us exactly what they thought.
Overall, Squarespace was a big hit with our users. Many of them highlighted the aesthetic strengths of the templates, and the majority felt that it was easy to produce a good-looking website because of the structured editor. However, some would have liked to see more consistent prompts or tips when in the editor , to help them along with building their website.
When users were asked how likely they would be to recommend Squarespace, the builder scored full marks.
People mostly agreed the editor was uncluttered and simple to use, although others still thought it might take some time to learn your way around. Overall, though, they agreed the builder really shines in terms of design, as well as the features provided within templates.
Squarespace's Pricing and Value for Money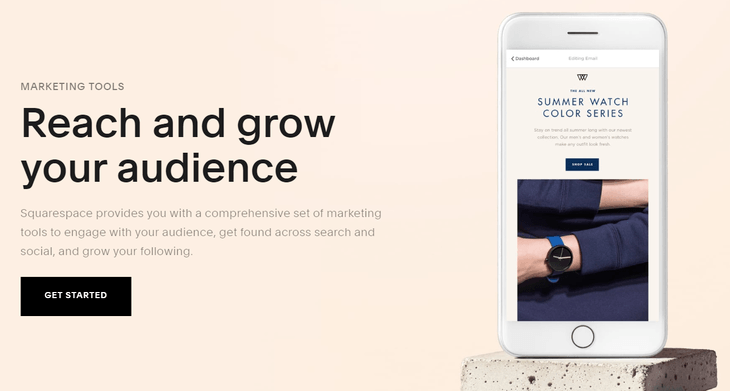 We'll summarize Squarespace's pricing plans here, but for an in-depth look at each plan, check out our full Squarespace Pricing Review.
Squarespace has four price plans, ranging from $12 to $40 per month (billed yearly).
All yearly plans come with unlimited storage and bandwidth, a free custom domain, and SSL security. You'll unlock extra features as you upgrade, including ecommerce functions and promotional pop-ups.
The cheapest Squarespace plan is the Personal plan at $12 a month, which has website features but no ecommerce functionality. For an online store, the lowest plan is $26 a month, which includes unlimited products, no transaction fees, label printing, and more.
Website Builder Plans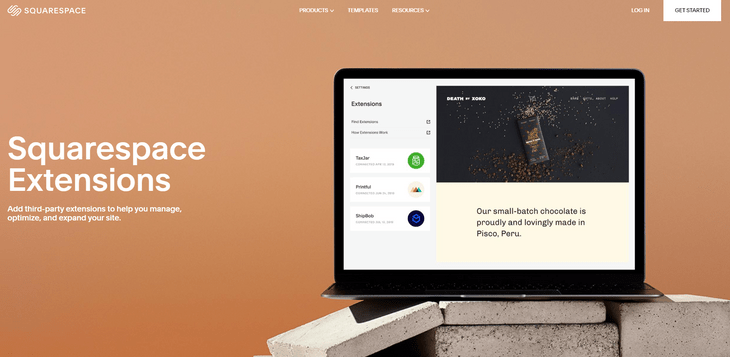 Squarespace has two plans dedicated to website building (rather than creating an online store):
Personal plan: $12/month, billed annually – best for setting up a new website
Business plan: $18/month, billed annually – best for a growing business
Squarespace's $12 per month Personal plan gives you everything you need to set up a straightforward but fully fledged website. Unlike other builders, which tend to restrict the features on their starter plans, Squarespace offers unlimited storage and bandwidth on its Personal plan.
As the name suggests, the $18 per month Business plan is best for businesses! If your website is growing and you want to start selling a few items online, the Business plan has everything you need to succeed.
Ecommerce Plans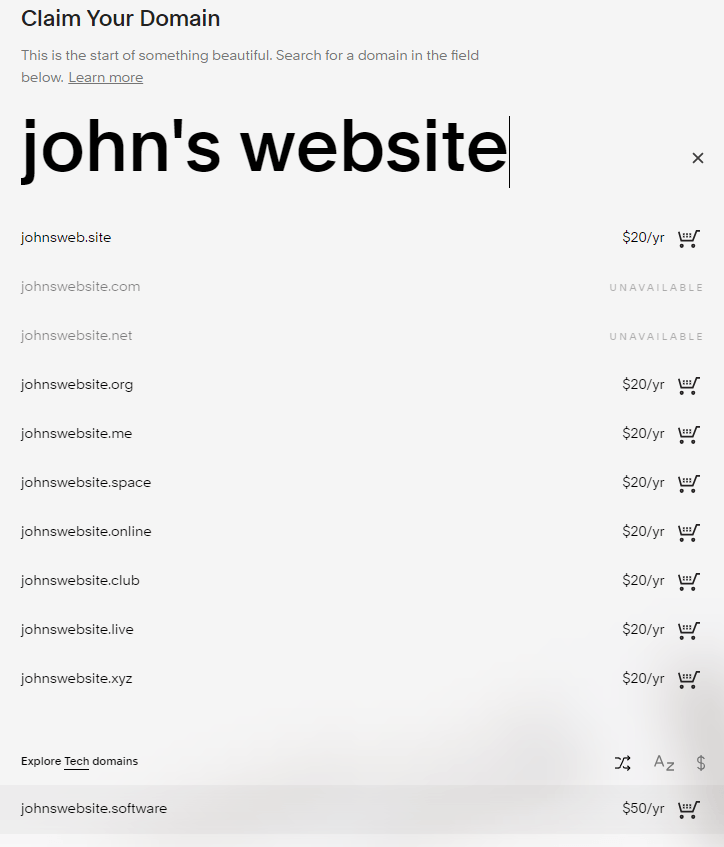 If you want to really dive into selling online, you'll need one of Squarespace's ecommerce plans. These are specially designed for building online stores, and are the two most expensive plans:
Basic Commerce plan: $26/month, billed annually – best for small online stores
Advanced Commerce plan: $40/month, billed annually – best for growing stores
The $26 per month Basic Commerce plan is the cheapest option for setting up an online store. It has all the features from the Business plan, but removes transaction fees and adds extra ecommerce features, including POS, customer accounts, and the ability to sell on Instagram.
The Basic plan is best for setting up an online store and starting to grow your ecommerce business.
The Advanced Commerce plan is the most expensive at $40 per month, and has the most features. It has all the features from the Basic Commerce plan, plus tempting extras including abandoned cart recovery, subscriptions, and advanced shipping.
Is Squarespace Good Value?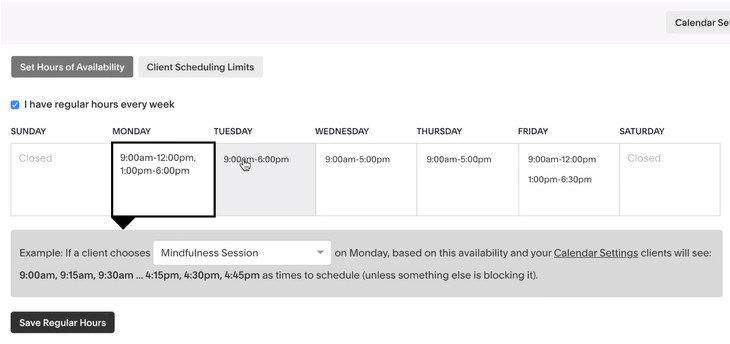 In our opinion, yes. It's not the cheapest builder, but you definitely get what you pay for with Squarespace. In our research, we found it offered good value for money, especially when compared against platforms like Wix, which costs $2 more per month on the cheapest plan. Overall, we awarded it a score of 4 out of 5 in this category. For $12 a month, you get great designs, features, and service for your money. We consider that to be a bit of a bargain!
The main drawback to Squarespace's prices is its lack of a free plan. This means that once your 14-day free trial is up, or you want to publish your website, you'll need to commit and upgrade to a premium plan. This puts Squarespace at a slight disadvantage when weighed alongside builders like Wix and GoDaddy, both of which offer a free plan.
Despite this, Squarespace's plans are very competitive. When judging value for money, we suggest looking at the features you're getting. For example, Squarespace's cheapest $12 per month plan gives you unlimited storage and bandwidth – in comparison, Wix's $14/month plan only gives you 3 GB storage!
While Squarespace sadly doesn't have a free plan like some website builders, it does offer a 14-day free trial on all its paid plans – all you need is an email and password to get started.
Once you're ready to choose a paid plan, you can save money by purchasing an annual plan, or applying a discount code. There's also a 14-day money-back guarantee, so you'll get a refund if you cancel within the first two weeks.
How Good Are Squarespace's Templates?
Templates Overview
When it comes to design, Squarespace excels. It wiped the floor in this category, scoring 4.7 out of 5. To put that into context, none of the other builders scored anywhere above 4.4. Part of this is down to its 113 professionally designed templates. This might seem like a very small number compared to Wix's 500+ templates, but Squarespace goes for quality over quantity – and succeeds beautifully.
Our users didn't just praise Squarespace's templates for being pretty – they were impressed by the quality of features as well as the design:
"My template not only provided me with an incredible-looking site, but also all the features I'd need to be successful."
However, despite the templates' aesthetic strength, some users found it frustrating that features weren't consistent across all of the designs:
"It's worth highlighting that not all the templates come with the same features or have the same capabilities. In my experience, you should pick your template based on its features and not necessarily its design, because the design is customizable whereas the features may not be."
With their sleek, stylish, and modern designs, all of Squarespace's templates are created to meet its standards of "great design, usability, and performance." All templates are free to preview and edit, as this is included in your monthly subscription.
Most of the creatives we've spoken to appreciate how Squarespace templates are designed to accentuate visual elements, with many of our users commenting that they "enjoyed the wealth of white space and simple, minimalistic layout."
Design Customization
Squarespace's templates are highly flexible, meaning you can easily make them your own – you can replace images, add and delete sections, enter text, and manage multiple pages at once.
While it's not a "pure" drag-and-drop builder, you can drag certain elements around, and can reformat the image layout by changing your design settings – for example, by creating a collage or making images overlap.
However, Squarespace doesn't afford the same kind of creative control offered by Wix or WordPress. Its editing process is more structured, and you won't be able to drag elements wherever you like. Instead, you'll need to work within the template's basic layout.
One benefit of this is that it makes it pretty hard for you to create a bad-looking site, but if you have a particular design in mind, then these restrictions can become frustrating.
If you have some coding knowledge, you can go the extra mile and use those skills to tailor fonts, colors, and backgrounds for a truly unique style. Squarespace recommends only using custom code for more cosmetic changes like these, as trying to edit the layout of your site could have harmful effects.
Squarespace's Tools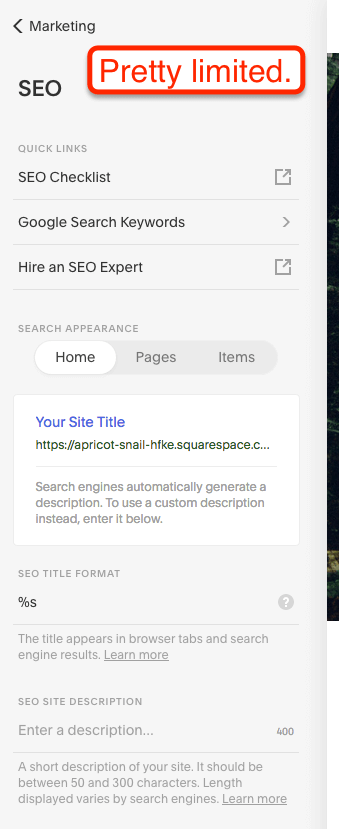 Although design is Squarespace's strong suit, that doesn't mean it has neglected its features. After all, what good is a stunning websit that can't actually do anything?
Squarespace scored a 4.4 out of 5 in the website features category of our research. It was only beaten by Wix, which scored a frankly astounding 4.9 out of 5. However, a lot of this is due to the fact that Wix also comes with a very extensive app market.
Squarespace comes with a much smaller offering. However, this is another case of quality over quantity: All of Squarespace's features are top-notch and jump across a number of different industries, so there's something to suit everyone. If you need further convincing, let us just tell you that the website builder in third place for this category only scored 3.5 – a massive jump down from Squarespace's store.
Social Media Integration
Squarespace makes it easy to share the joy by linking your accounts from over 20 social platforms, including Facebook, Twitter, Instagram, and YouTube. You can sync with Dropbox for simple access to photo collections, or import content straight to your site from Instagram, Twitter, and more. You can even host your own podcast on your Squarespace website, and publish it to Spotify and Apple Podcasts.
As well as this, you can feature social feeds on your website, making it easy for visitors to keep track of your updates all in one place.
SEO & Marketing
SEO stands for Search Engine Optimization, and is what gets your website ranking higher in search results.
Squarespace has good SEO, and its pages all follow SEO best practices. It gives you a wide range of abilities, such as managing titles and adding keywords and alt text, that can help make your website easier to find on search engines. Out of all the website builders we tested, Squarespace placed top three in this area.
However, there's always more room for improvement! Squarespace isn't the most beginner-friendly if you've never had to deal with SEO before, so beginners will need to be prepared to adopt a hands-on approach to their site's ranking.
We'd have liked to see some SEO best practice prompts in the editor when you're building your site, although there are guides to help you in Squarespace's support pages, which offer a very thorough introduction to SEO. This might seem a little overwhelming for beginners, so make sure to take some time to read through it all.
Email Marketing
When it comes to marketing, you can either integrate Mailchimp or use Squarespace's all-in-one Email Campaigns platform to run – you guessed it – email campaigns.
This in-house system is a great way of unifying your brand across all aspects of your website, from your homepage to your marketing messages.
Combine this with SEO tools and social media integration, and the internet will really have to sit up and pay attention.
Squarespace Extensions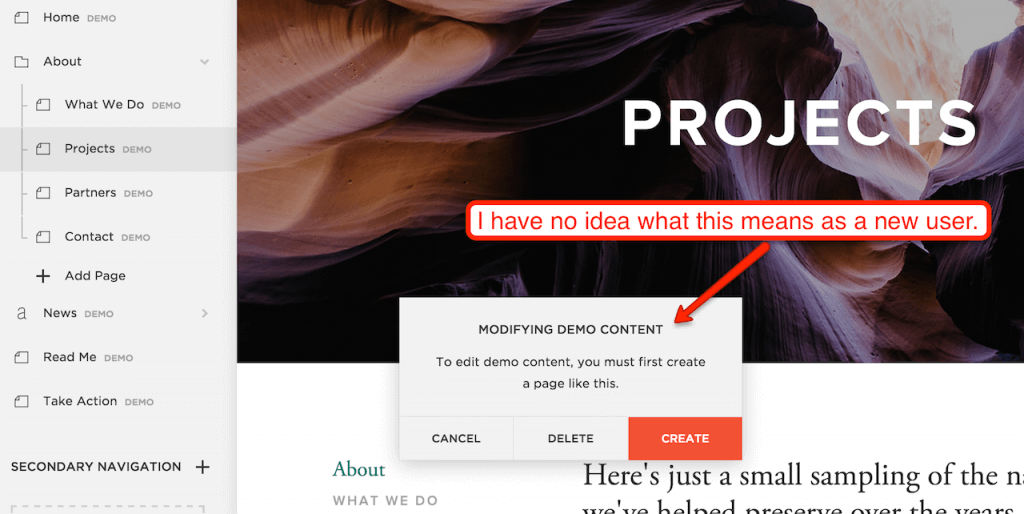 Although the majority of Squarespace's features come built into its platform, it also has an app store in case you want to add any extra features. In the Squarespace Extensions store you'll find 24 carefully chosen third-party apps (or 'plugins') designed to help you manage, grow, and optimize your site.
You'll find a mix of free and paid apps including Printful, Quickbooks, ShipStation, and TaxJar – so although the selection isn't huge, you should find enough to give your website a boost!
Domains
Your domain name is the website address people use to find you – for example, ours is websitebuilderexpert.com. You can easily buy a domain from Squarespace, or connect your own domain if you already have one.
You get a free domain for a year if you sign up to an annual paid plan. This is only free for the first year – after that, your domain will renew at the standard rate.
Domain prices vary between $20 and $70 per year – this is more money than you'd pay for a domain from a third-party registrar, but you're paying for the convenience of registering it in-house. More specific domains, such as example.legal or example.salon, are more expensive than basic domains like example.com.
Security
All Squarespace and third-party domains come with free SSL certificates when connected to your Squarespace site.
SSL stands for Secure Sockets Layer, and it encrypts any information entered on your website. SSL is particularly important for sites which process payments, such as online stores.
Squarespace has built-in security to fight off malware and unwanted bugs, and DDoS protection to help protect your site from malicious traffic. (DDoS stands for Distributed Denial of Service, an attack whereby your site is flooded with traffic to make it unavailable to its users.)
Squarespace doesn't leave you to fend for yourself – it has quality protection in place to keep your website safe.
Backups & Restores
Unfortunately, Squarespace doesn't include autosave in its editor. This puts the responsibility on the user to remember to hit 'save' regularly. It seems a pretty basic feature to include in its editor, so we're unsure why Squarespace doesn't autosave for you.
However, Squarespace does let you restore deleted pages and blog posts up to 30 days after they've been deleted – so there's no need to panic! Squarespace makes backup copies of your website and stores them in primary and secondary servers, as well as storing files in physical and off-site storage disks.
And if you're editing on the go from your phone, you won't lose your work if the internet cuts out!
Event Planning
If you run a business that revolves around customer appointments, fear not! Squarespace has you covered with its Squarespace Scheduling feature, which was launched in early 2020 after Squarespace acquired the online booking platform Acuity Scheduling.
Squarespace Scheduling makes it super simple for your site visitors to book appointments and classes, displayed by the times that you're available. It also allows them to pay online and reschedule if they need to.
Squarespace's Help and Support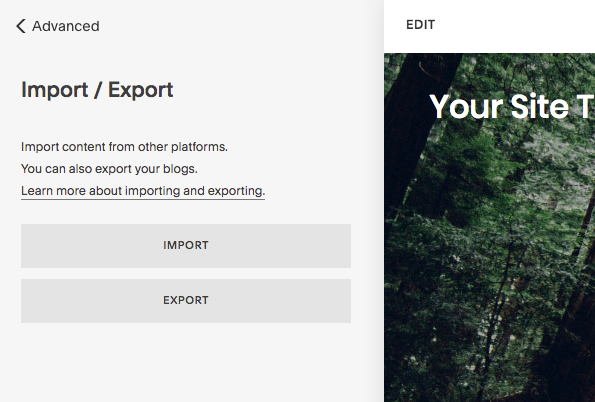 Squarespace earned a very comfortable first place in our research for help and support, earning a perfect 5/5. Why is this builder the reigning monarch here? It all comes down to its small but high-quality range of support options:
Live chat Monday to Friday
24/7 social media support via Twitter
24/7 email support
In-depth knowledge base
Community forum
Video tutorials
Now, previously, Squarespace missed out on that perfect score because it didn't offer phone support. This hasn't changed, so what has? Well, firstly, Squarespace's knowledge base is one of the best on the market. It offers a wide range of high-quality, in-depth help articles, as well as guides and video tutorials. Whenever we have an issue or a question, this is the first place we go – and we're very rarely disappointed!
If you try Squarespace's 14-day free trial and find it's not for you, you can check out these alternative website builders instead (click on the links to read each builder's full review):
Wix – comes with a wider range of website features than Squarespace, but its designs aren't as good
GoDaddy – has an ADI function for faster website creation
Weebly – cheaper starting price than both Wix and Squarespace
Zyro – a cheaper but more basic builder that uses the same drag-and-drop system as Wix
Jimdo Dolphin– another ADI builder, but at a cheaper price
Squarespace FAQs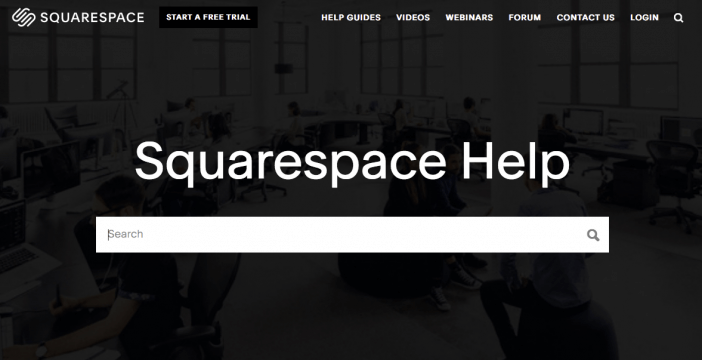 Is Squarespace free?
Squarespace doesn't have a free plan, meaning you have to sign up to one of its four premium plans. However, Squarespace does offer a 14-day free trial, so you can try out the website builder and all of its features before committing to a paid plan.
How much does Squarespace cost?
Squarespace has four premium plans. The cheapest is the Personal plan, starting at $12 a month (billed annually). The Business plan is $18 a month, with more advanced features than the Personal plan. The two ecommerce plans are the Basic plan at $26 a month, and the Advanced plan at $40 a month.
Read our Squarespace Pricing Review for a full breakdown of how to choose the right price plan for you.
Is Squarespace good value for money?
Squarespace isn't the cheapest website builder out there, but the level of customization and professional designs available means you're paying for a high-quality service. You can save money by signing up for a yearly plan – plus check out our official Squarespace offer code for a discount.
Which languages does Squarespace support?
Squarespace currently supports six languages: English, French, German, Italian, Portuguese, and Spanish. You can create multilingual sites by creating different pages for each language.
Is Squarespace good for ecommerce?
Yes! Squarespace is not a specialized ecommerce builder like Shopify, but it does offer great ecommerce features which are integrated into its professional template designs. These features include a built-in shopping cart, unlimited products, and the ability to sell physical, digital, and service-based products. Read our in-depth Squarespace ecommerce Review for more details.
Is Squarespace good for SEO?
Yes! Squarespace has all the standard SEO tools built in to help your page rank in search results, such as title tags, keyword targeting, and mobile-friendly pages. But Squarespace also goes the extra mile, allowing you to customize your website title to be different from your URL (among other inspired touches).
Although it doesn't come with any inbuilt SEO best practice prompts, it does offer a handy SEO checklist in its knowledge base.