Stio Review: Outdoor Apparel for Men, Women & Kids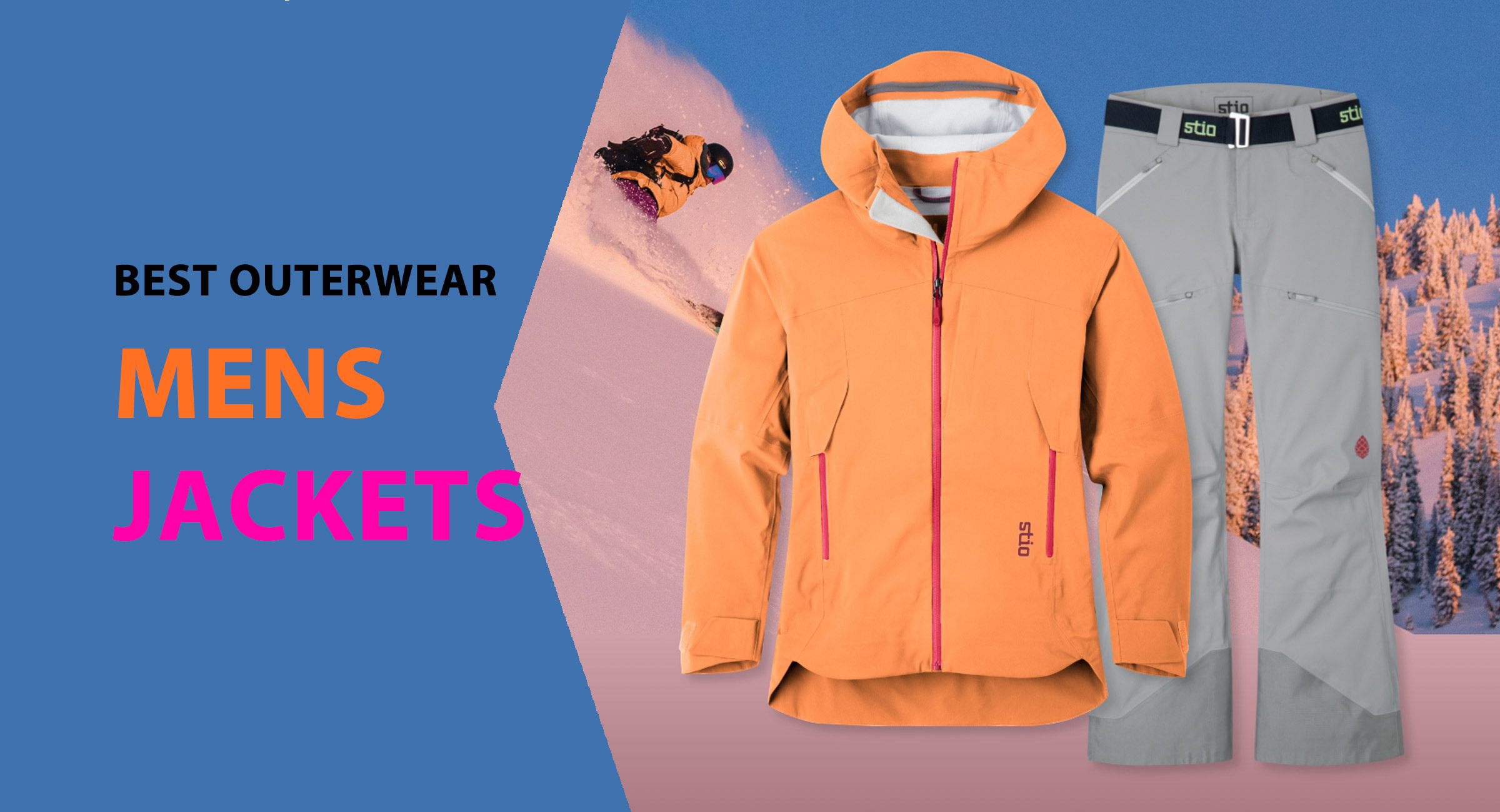 About Stio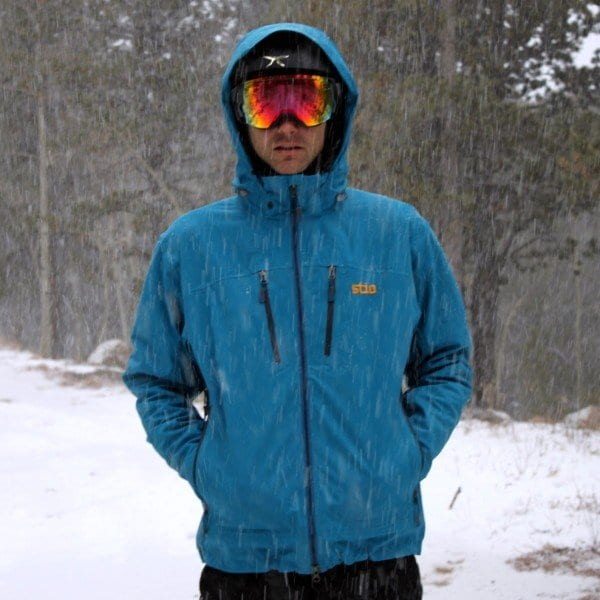 Wyoming-based Stio clothing specializes in designing quality technical clothing for people living mountain and outdoor lifestyles, inspired by the mountains, trails and rivers of the Teton Mountains in Wyoming.
Stio is based in Jackson Hole, Wyoming. This part of the world is rugged, outdoorsy, and extreme. The perfect place to develop a world class ski jacket in my opinion. If you want to get technical, Stio is actually located in Wilson, WY. This is right inbetween the town of Jackson and Teton Village. Jackson is home to the small yet steep Snow King Ski Resort, and the Million Dollar Cowboy Bar.
In Teton Village you will find the Mangy Moose (great wings and beer), but you'll also find some of the best resort skiing in North America! Another reason I can relate is that after college during my one ski bum season, I happened to live in Wilson. Hence, I am very excited to put the Stio Environ Ski Jacket to the test here in the equally beautiful Colorado Rockies.
First Impressions of the Stio Environ Ski Jacket
My first look at the Environ provided me with a clean design and crisp lines. A second look, and I noticed the attention to detail and many great technical features. From the water resistant zippers and sealed seam stitching, to the hidden drawstrings to allow for numerous hood and jacket adjustments.
Performance and Features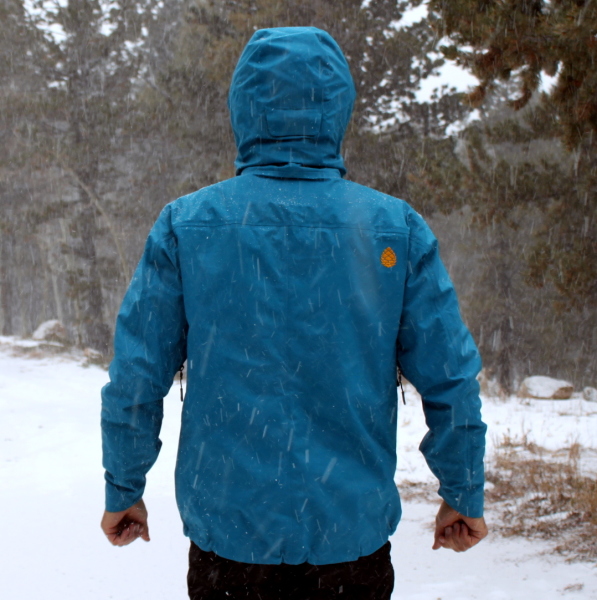 My first time out provided a wide range of conditions to test the versatility of the Stio Environ Ski Jacket. I had a chance to hit the slopes at Keystone Resort in Colorado for some early season skiing. A chillier cloudy morning allowed me to use my jacket to the fullest extent.
I bundled up with all the pull cords nicely tightened to prevent any wind or cold to creep in. Around lunch time a clearing gave us a beautiful blue sky with the sun beaming down. I decided to do a bit of hiking to get to some fresh powder. I quickly realized how nice those zipped armpits are to provide ventilation. It really made a difference.
The detachable hood is great. At first glance, it appeared that it was one continuous jacket and hood design. The seamless integration was so nicely done, and the zipper and buttons were cleanly tucked away. I really like having the option to remove my hood when the weather is nice.
On any decent day in the mountains having that extra material removed allows for great freedom and movement while slicing through the snow. In addition, the various drawstrings for the hood provided great versatility and adjustment, and it covered my helmet without any issues.
The velcro straps at the sleeve cuffs have a really wide range for tightening. Without thick gloves or mittens, the cuffs closed nice and tight. With gloves or mittens, the cuffs were able to close with room to spare.
The Stio Environ Ski Jacket comes right up to my chin. For hard core snowing and blizzard conditions, I would have liked to see another inch or two to cover the rest of my face up to my goggles. A very minor item from my point of view, and easily compensated for by wearing a balaclava for seriously adverse conditions.
Stio Environ Ski Jacket Scientific Technical Features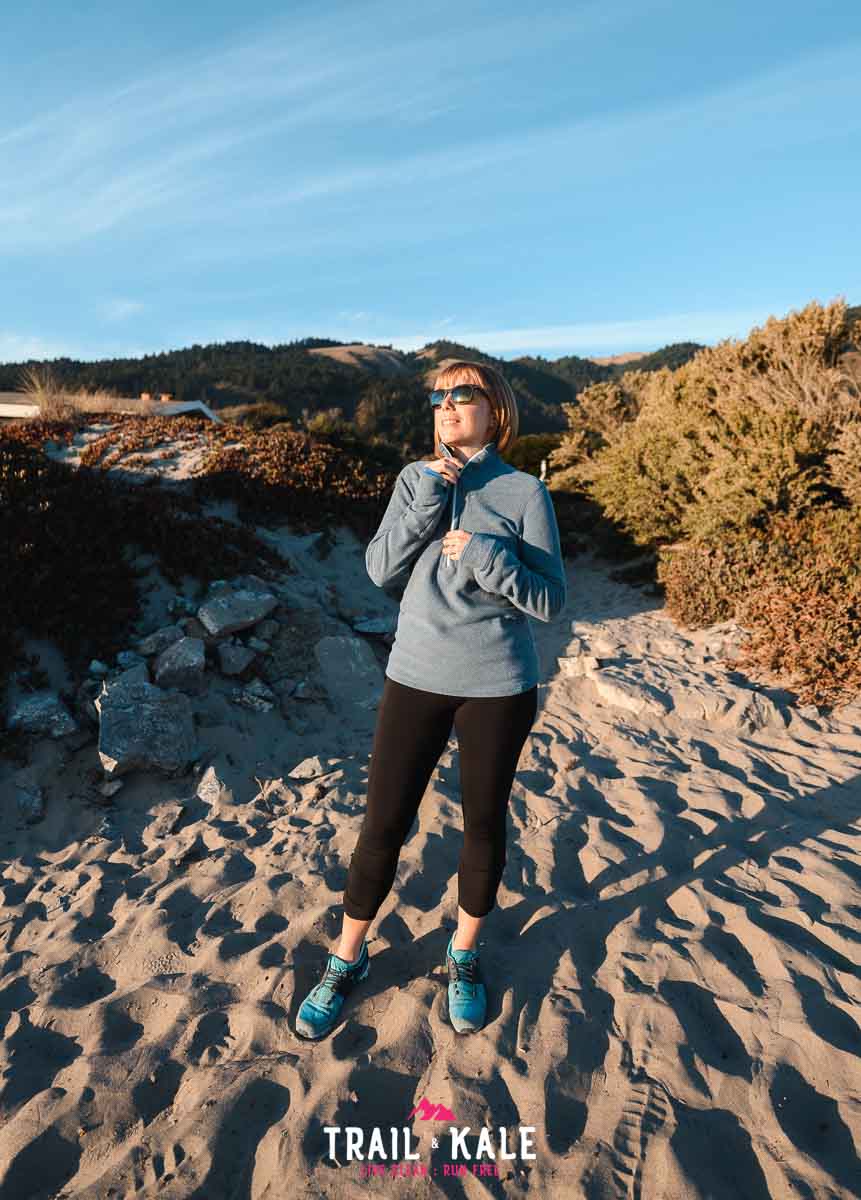 The Stio Environ Ski Jacket is coated with a PU laminate that has a waterproof rating of 10,000mm. Meaning, it is waterproof under light pressure, and will handle a light rain and an average snow.
The technical science behind that is quite amazing. If you put water in a square tube on top of the jacket with an inside dimension of 1″ x 1″ and 10,000 mm tall (32.8 ft.), it would not leak through. Good enough for me!
The second scientific geek factor that is equally important is the breathability rating of 10,000 g. You can surely make a jacket completely waterproof. However, you'd quickly be soaking in your own sweat with any kind of activity. Cover your ears now for more scientific mumbo jumbo.
Breathability is measured by how many grams of water vapor can pass through a square meter of fabric in 24 hours. The higher the number, the more breathable the apparel. It appears that the Stio Environ Ski Jacket is created with a delicate balance in mind. Weatherproof while still giving enough breathability for me to go chase some fresh powdercc.
The Stio Environ Ski Jacket list of Pros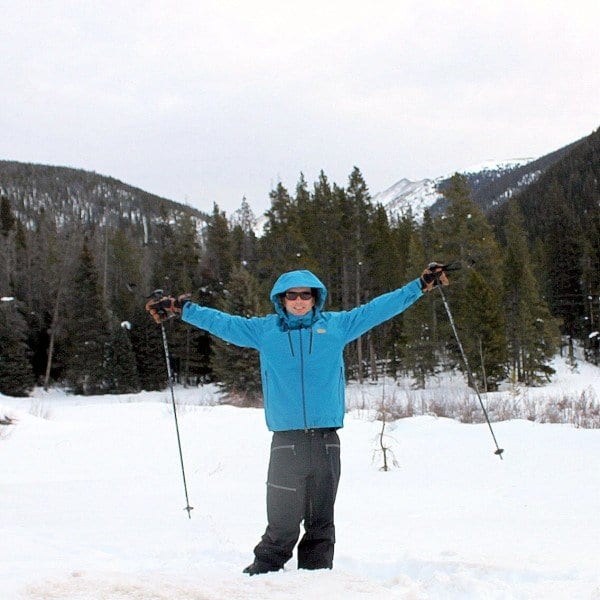 I love the fact that I have to option to shed some gear during nice conditions with the detachable hood. The zipper to attach is nicely tucked away. The hood is anchored on both sides with heavy duty snaps, and even those are covered as part of the design. You can tell some real thought went into this.
The interior collar has a lining of brushed Tricot which adds softness and warmth.
Underarm venting is pretty standard on any coat these days, but without it you'd be in serious overheat mode.
The fully sealed seams are super nice to prevent any moisture to work its way through.
6 Pockets total: enough for all your essentials, but not so many that you don't know what goes where. Two
lower hand pockets which I like. Some ski coats have those pockets placed a little too high for my liking. 2 chest pockets for phones, camera, or music. Although I would have liked to see an internal slot in one of those
pockets to thread some headphones through. Not a huge deal, but wanted to mention it. And finally, 2 internal stash pockets (one zippered and one with a stretch band) Large enough to safely tuck your goggles away, and ski lift munchies.
I am still amazed at the water resistant zipper technology. The main front zipper is heavy duty, and made with water-resistant Vislon® with an interior draft flap. The hand warmer and chest pockets have Aquaguard® water-resistant zippers.
A couple of fun little features are the custom Stio® silicone zipper pulls, and the simple yet distinctive Pinecone Logo.
One final but very critical feature that I love is the mechanical stretch fabric for freedom of movement and added performance.
Final Thought for the Stio Environ Ski Jacket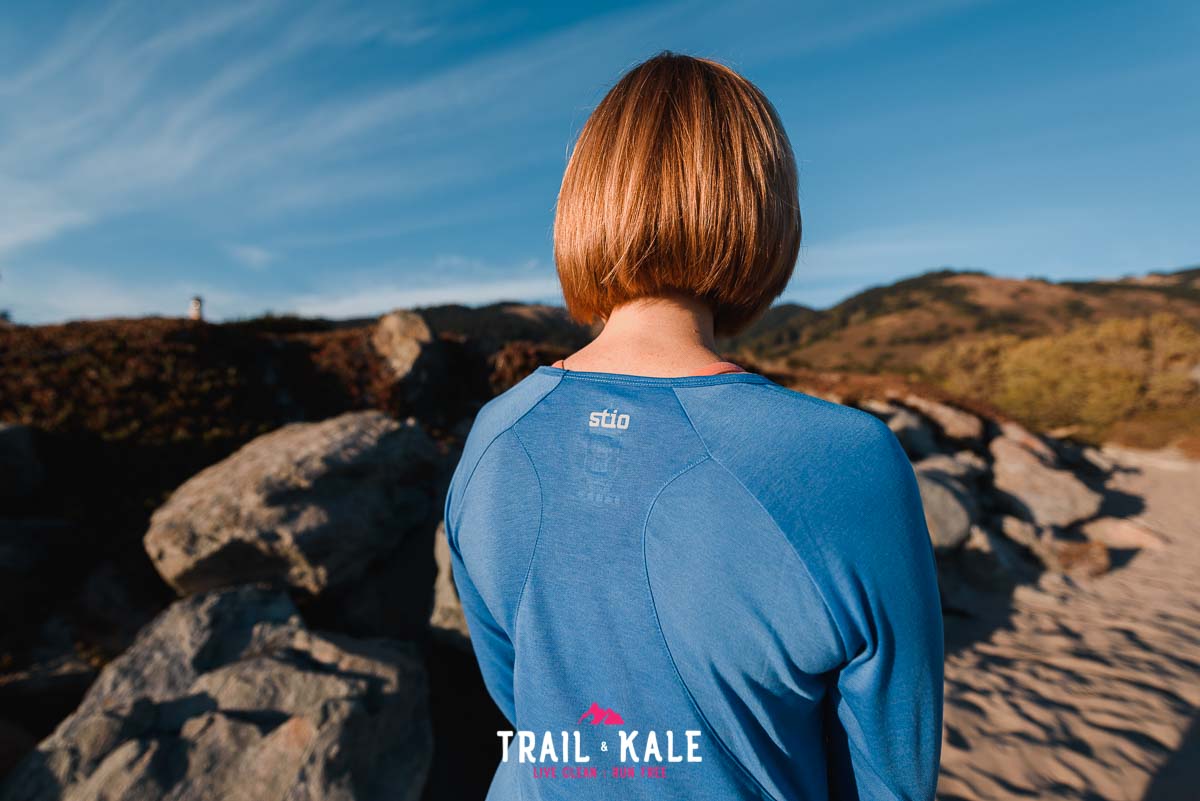 If you want the perfect all-mountain jacket this is one that delivers. Water and windproof with great breathability will allow you to tackle any mountain and weather condition.
Along with great fit and comfort, the numerous amenities and features will provide all you need for a wonderful day skiing the resorts or backcountry. A super shell made in beautiful Jackson Hole.
What more can you ask for?!? I am super happy with my Stio Environ Ski Jacket, because of the crisp design and fantastic technical features.
Available Colors: Citronelle, Eiffel Tower, Poinciana, and Saxony Blue. Sizing: Medium, Large, X-large, and XX-large
For more information and purchase please visit: www.stio .com
Divide Tech Tee Design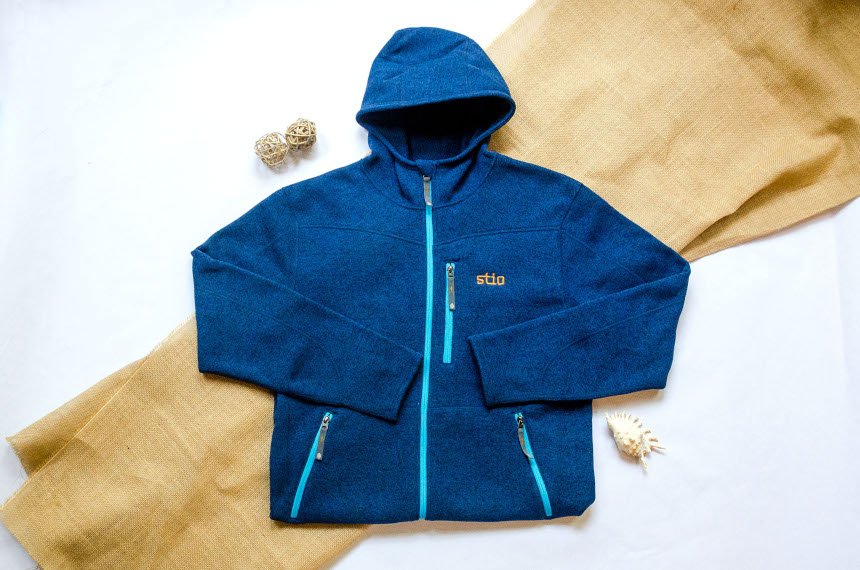 Stio's Women's Divide Tech Tee LS (long-sleeved version) is ideal for Fall/Winter layering. It looks like a normal casual top but is made with a sweat-wicking poly-cotton fabric blend, which means you can wear it to do active pursuits such as hiking, cycling and running.
The large scoop neck is flattering, and I love the thumb-loops, which are particularly useful for keeping my hands warm when worn on its own in cool weather, as well as for keeping the sleeves pulled down when wearing a layer over the top.
Although I find it rarely cold enough in California to run in long-sleeved tops, the Divide Tech Tee is also ideal for a winter run in chilly conditions. You can wear it alone, or it is also great layered under a windproof layer or body-warming gilet/vest.
Fabric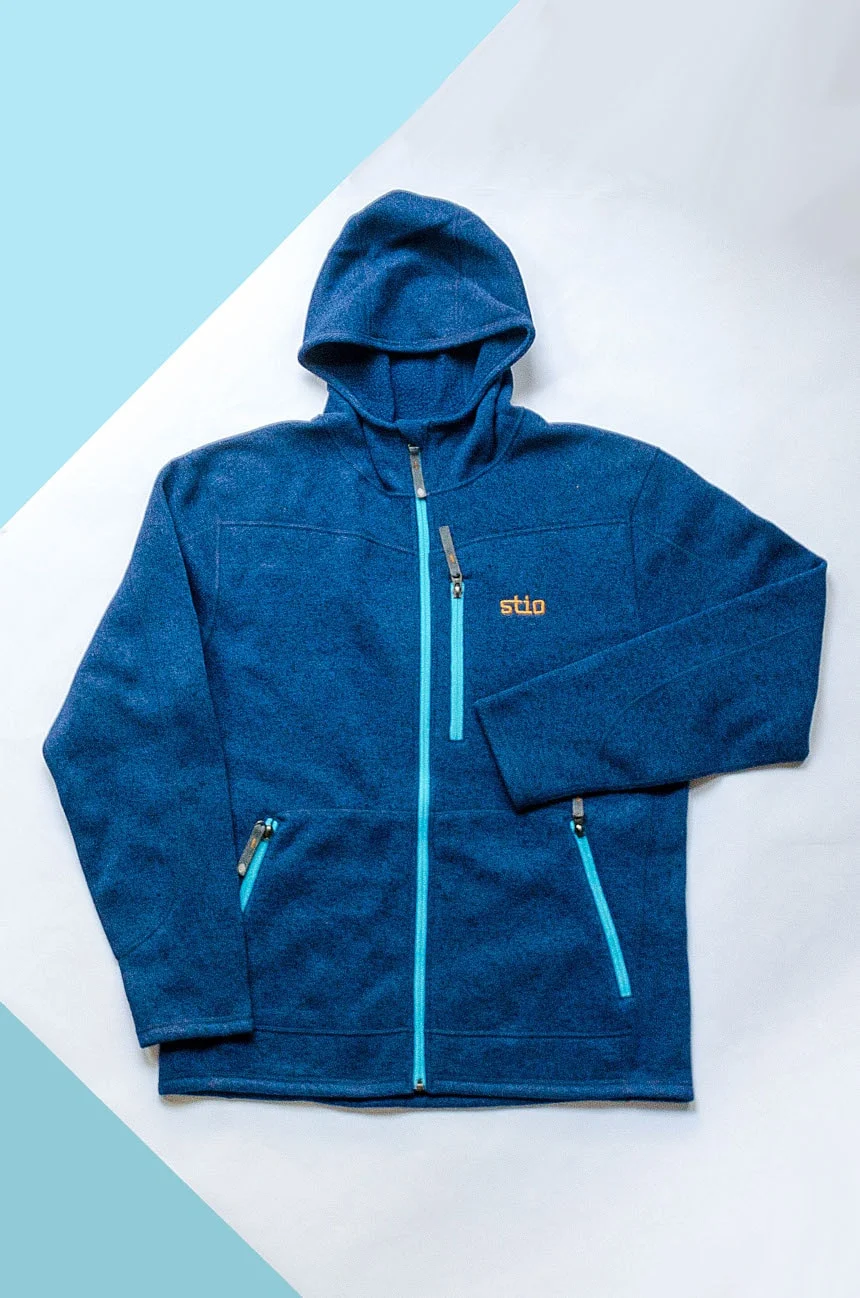 Stio has managed to keep the Divide Tech Tee's fabric thin (which helps it give a flattering fit) but ensured it is not see-through or clingy, which is often an issue with other, similar base layers. It also does not crease as much as regular cotton clothing, which is great because (a) I dislike ironing, and (b) it looks good even if worn after being folded or packed in a suitcase.
I do a lot of air travel for my day job, and have found myself reaching for this top as I know it will keep me comfortable and warm (or cool) enough, even if the airplane climate control makes the cabin too warm/cold.
The Wilcox Fleece Hoodie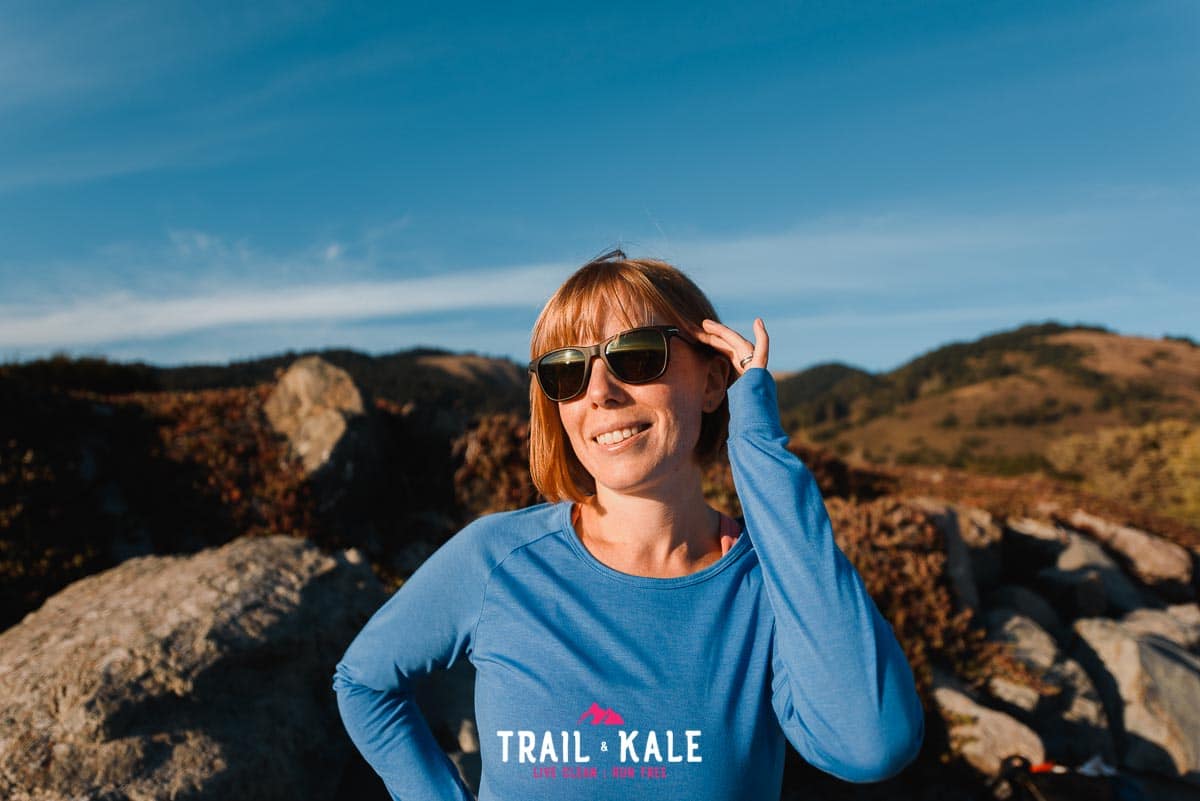 Y'know those sweater hoodies that look and feel lightweight but are actually really warm and soft against the skin?
That's exactly what Stio is going for with the Wilcox Fleece Hoodie. It combines a knit outer face with soft fleece inner goodness.
The official name of the material is Lofton™ Sweater Fleece—a 100% polyester textile with hydrophobic (don't worry, it's the first time I'd ever heard the word too) qualities to deflect moisture and dry quickly.
The zippered sweatshirt design makes for easy wearing while the full front zip closure and zippered hand pockets (YKK zippers again, of course) add extra utility for securely carrying around your phone, keys, and whatever else.
The Wilcox also features a relaxed fixed hood and flatlock seams which make its edges look more subtle. There's an embroidered Stio logo on the chest pocket and the brand's trademark Pinecone logo stitched squarely on the back. The soft fleece interior keeps you nice and warm but because of the light outer layer and the ability to zip it down, we found it to be light enough to wear in any weather.
It fits well (our model is in a medium) and it's not too bulky either so you could easily use it as a mid layer underneath a shell in colder climates.
The front pocket zippers are all durable and move smoothly and the full front zip closure connects with ease (how annoying is it when they don't?). The whole hoodie is designed well—it's got a really high quality feel to it.
My Overall Thoughts on Stio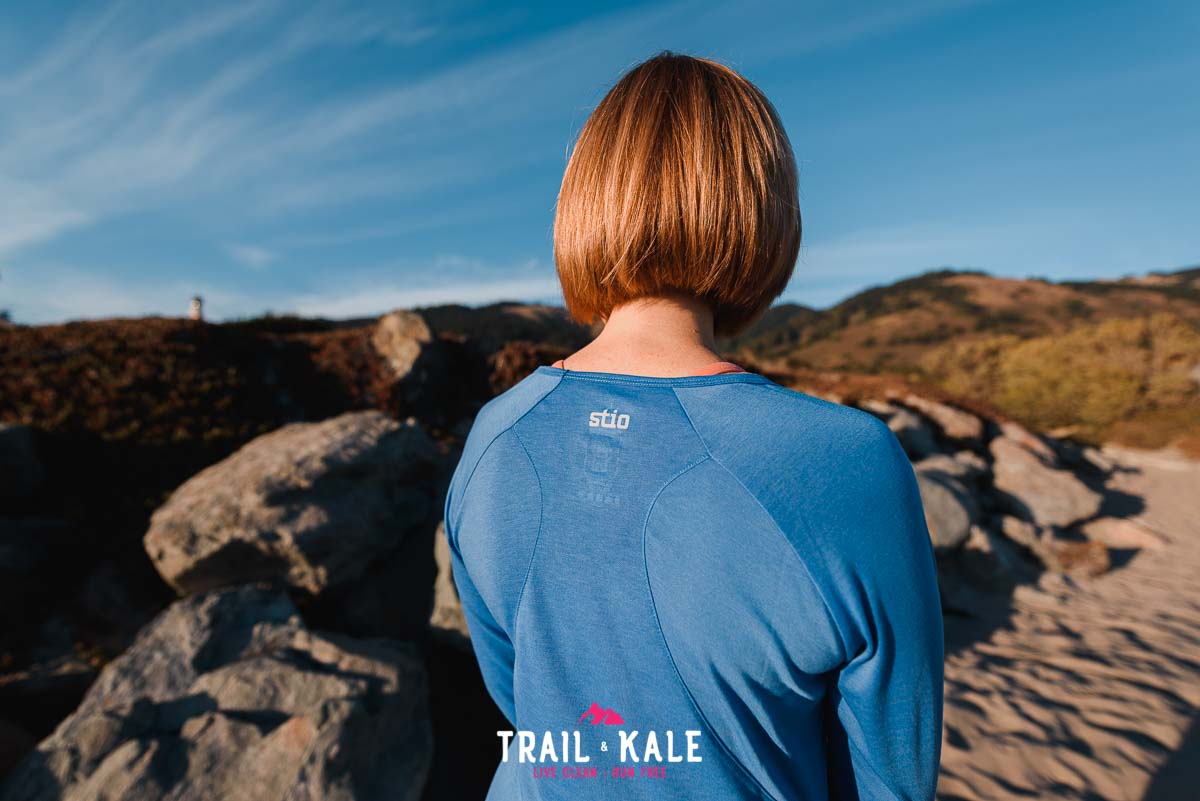 What I Like
Consistently high quality of fabrics and materials used. Everything feels durable and built to last.
Both pieces tried are super comfortable.
The versatility. The board shorts performed in the water but they're suitable to almost any outdoor activity. And the hoodie can easily be worn year round or as a layer.
The colors are vibrant, the designs are stylish, and the branding elements are tastefully placed.
Each item fit well and in line with sizing descriptions (at least for us).
What I Don't Like
The pricing may place Stio out of reach for some guys on a budget. They're a premium brand after all, but they do back up the price tag with the quality of their clothing.
The Verdict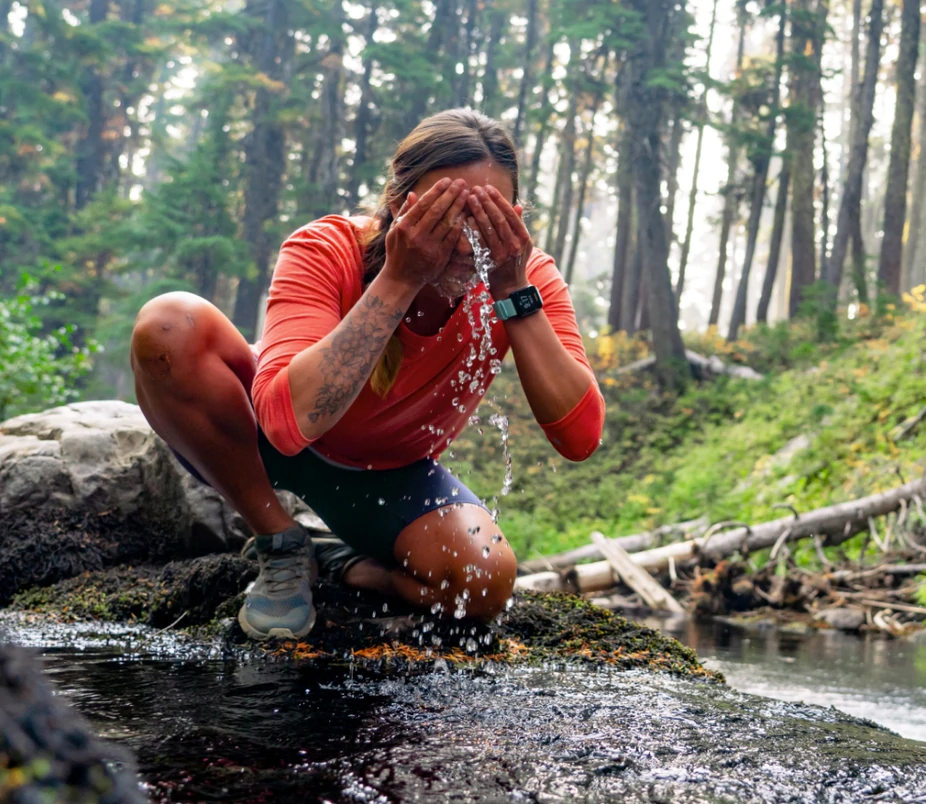 The older I get, the more I subscribe to this rule when buying any clothing:
It's a lot better to spend a little more on a quality piece that will last than it is to go for a cheaper item that is bound to have some issues.
The issue may be fit, comfort, design or the fact that it'll have holes after a year (or all of the above). The point is that when you opt for cheap, you're usually sacrificing something.
Ideally, all of the clothing in your wardrobe should be things you actually wear. Every item should earn its place. If it doesn't, ditch it. If it's versatile, it's even more valuable.
If I was giving any advice to my younger, much more naive self, these nuggets of wisdom would be on the list. I definitely would've saved myself both dollars and wasted wardrobe space.
So how does this all relate to Stio?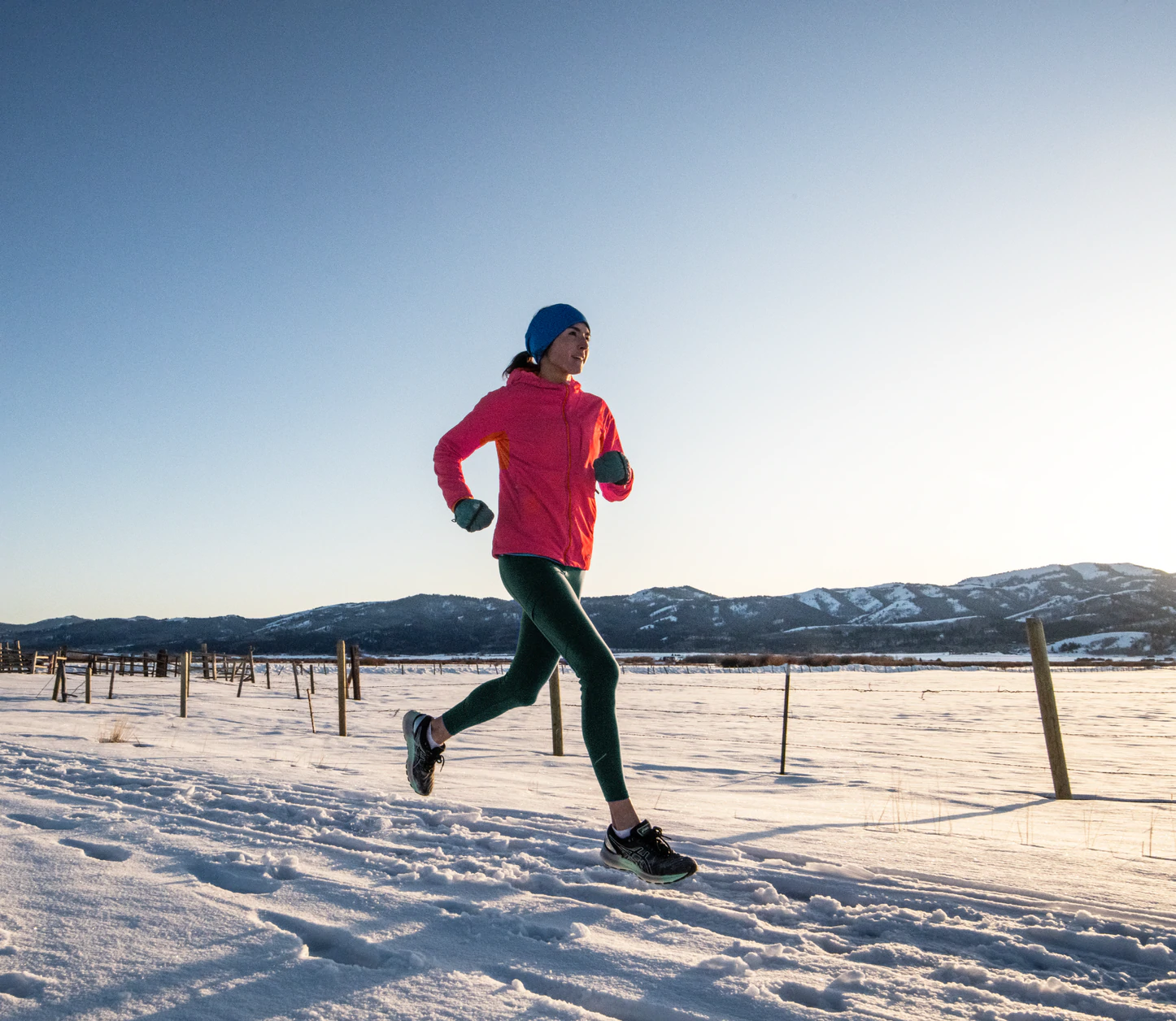 Yes, it's a premium brand and the pricing reflects that. But it's backed up with quality apparel that performs when you need it to, and is also versatile and stylish enough for everyday wear. These are the qualities you should be looking for in any clothing you allow into your wardrobe rotation.
Stio seems to understand what outdoor apparel brands should be focusing on with their clothing. There's real attention to detail here—down to each fabric, pocket, and zipper choice. And the brand gets these choices right because the people that run it in Jackson Hole are clearly living the outdoor lifestyle themselves. And you should always trust the walk more than you trust the talk.