Ulla Popken Review: Plus Size Womens Clothing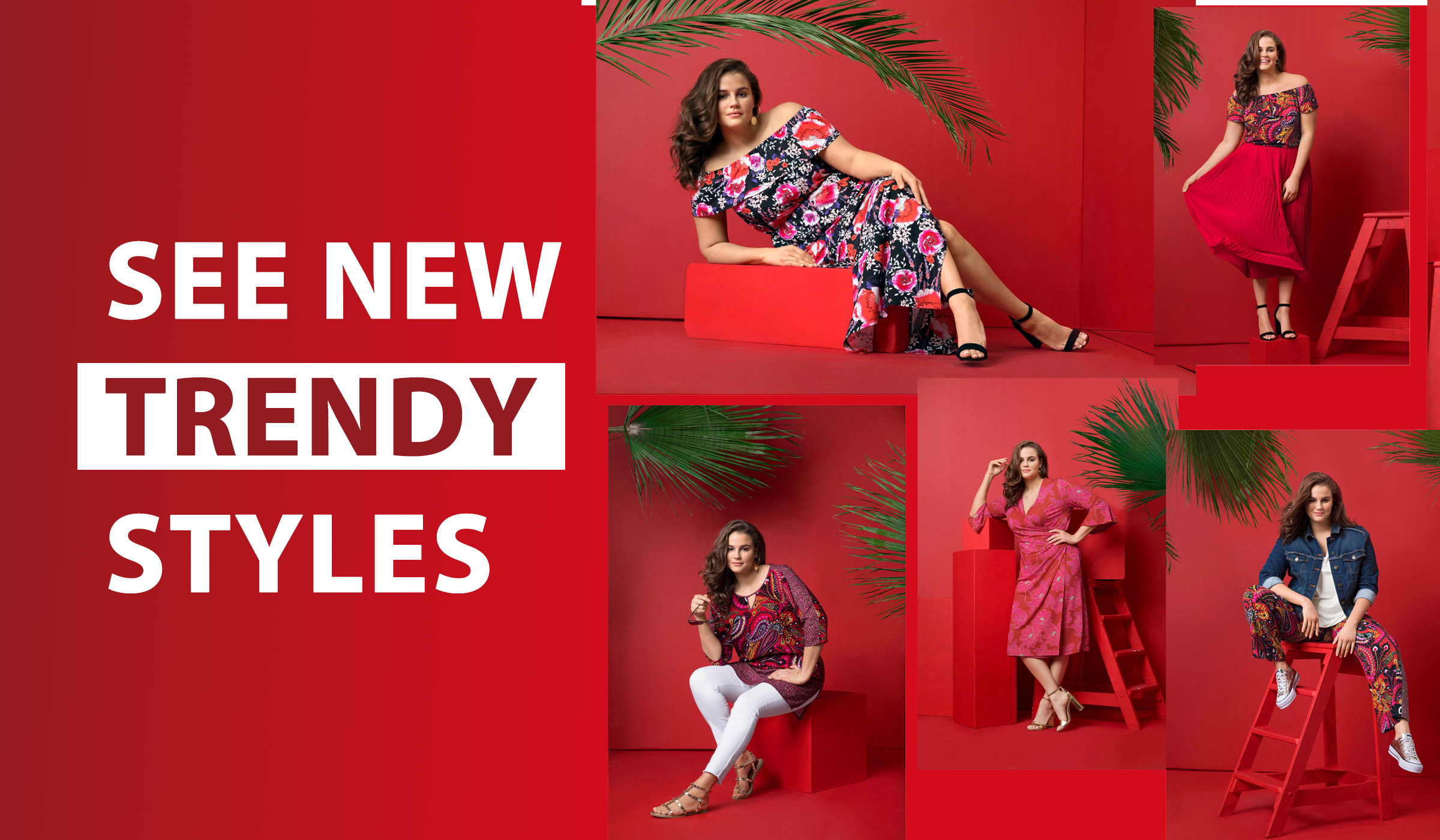 About Ulla Popken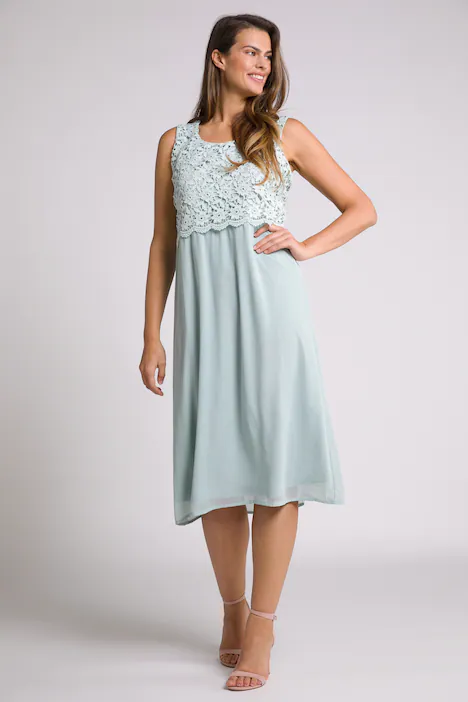 Even if you have a larger size you want to look as nice as possible. But sometimes it's hard to find clothes in a larger size. Ulla Popken wants to do something about this. But what will the quality of their lingerie be? Will those coats be as warm as they seem to be? How comfortable will those shirts be? Will you finally be able to find strings and underwear that fits?
How long will you have to wait until the delivery service of Ulla Popken delivers your new bathrobe at your home? And how will the delivery service of Ulla Popken respond if the pants don't last as long as you thought? Only people who have visited Ulla Popken can tell you more about this clothing shop. Read their reviews to get an impression of their thoughts on Ulla Popken. Their reviews, opinions, ratings and experiences can show you what you can expect from Ulla Popken.
Overview of Ulla Popken
Ulla Popken is a fashion store that offers clothes in larger sizes. The history of the company goes back to the time Johann Popken decided to establish a textile house in Hamelen. After a few changes, it became a department store for maternity clothes in 1977.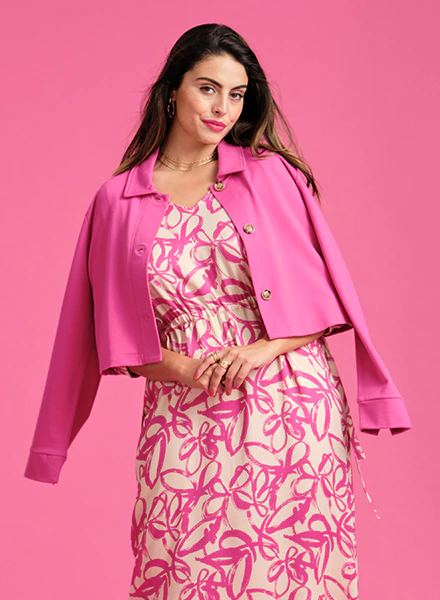 One of the employees noticed that a woman bought lots of their clothes and did so very often. It turned out that the woman was not pregnant; she just couldn't find clothes her size anywhere else. Therefore, Ulla Popken decided to create young clothes in plus size version.
Now, there are over 300 shops from which Ulla Popken clothing is sold, both in and outside of Europe. In total, the company had over 2.000 employees. Their shop contains every-day clothes but also some feminine business outfits. You can choose from blazers, shirts, vests, bodywarmers, shoes, coats, tops, trousers, pullovers, skirts, ponchos and a lot more.
Of course, they have a selection of festive clothing and party clothes. Their swimwear section contains tops, bathrobes, pyjamas, bras, homewear, slips, strings etc. And their range of sports clothes includes ski fashion, outdoor jackets, trousers and shirts. So whether you want to attend a wedding, look fashionable for work or have a leisurely day at home, Ulla Popken can provide you with some fashion.
Ulla Popken Dresses Review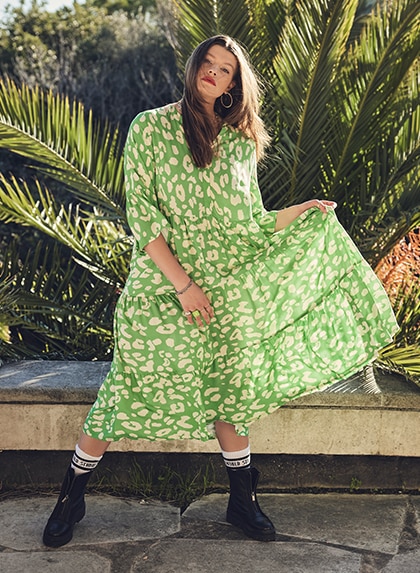 Popken Fashion Group combines the plus size brands Ulla Popken, GINA LAURA, Studio Untold, and JP1880 all under one roof. A vertical business structure, grown steadily over many years, as well as the more and more differentiated multi-channel strategy have been the decisive factors for our expansion up to this point. Teamed with our skilled know-how about fashion and proper fits, innovative spirit, keen sense for trends, and customer accessibility, we have an ideal basis for future success.
With approximately 600 stores worldwide in more than 30 countries, we are used to the challenges that come with setting up new stores. We use our extensive know-how, accumulated in our long-standing branch business, to support our partners during planning, realizing and managing their own concept.
Lizards Stretch Knit Tank Tunic Dress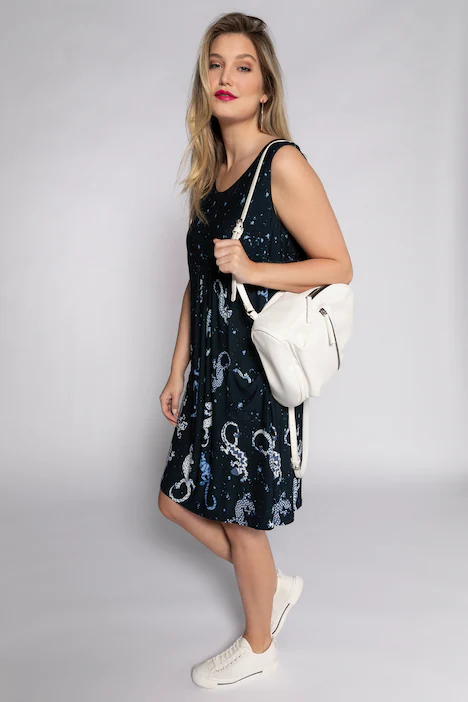 Lizards Stretch Knit Tank Tunic Dress – girls can like lizards, especially in a playful print. Round neck, full coverage shoulders, no-show armholes, all around front gathered empire seam, and patch pockets. A-line fit. Soft silky stretch knit.
Ulla Popken is a plus size women's brand based in Germany but that ships internationally. Think of them like the Lane Bryant or Woman Within of Europe. Over the past several years, they've worked to expand their presence in the US market. I partnered with Ulla Popken on a year-long campaign a couple years back and got a good sense of the brand, as well as their sizing and fit. The brand aesthetic has a Scandinavian lean, so you can expect a lot of long layers like tunics and leggings, longline cardigans, and duster coats.
A-line Fit Floral Print Dress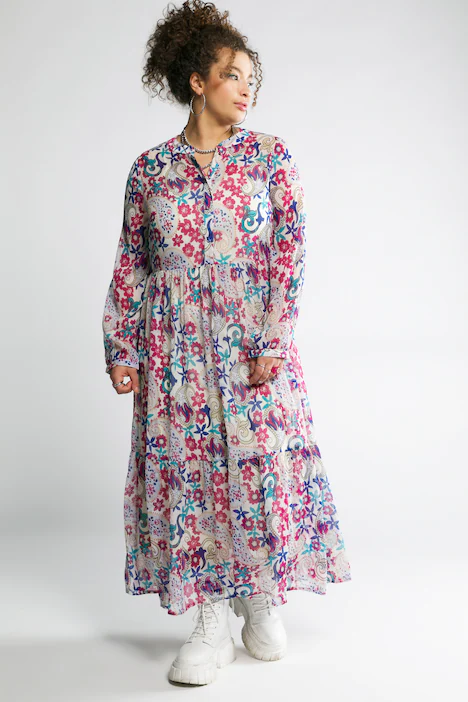 A-line Fit Floral Print Dress. Double layer model with open stand-up collar and button placket to cross seam. Wide flounce at hem, long sleeves with cuffs. Opaque underdress.
Today I'm excited to bring a spotlight to a plus size brand I've not worn before, Ulla Popken. They're not new to the world of plus fashion – in fact, this German brand has been around since 1993, has over 300 stores in Europe, and offers sizes 12W–38W! Yes, friends – extended plus size options abound at this company.
I've received Ulla Popken catalogs in the mail (they send them ten times a year across the US) but hadn't ever seen anyone cover them so I was unsure about sizing. I suspect this might be the case with others as well so I was excited to try some of their items.
One thing Ulla Popken does remarkably well is textiles, and you can feel the quality in their weighty cotton knits, breezy linens, and wool fabrics. That makes Ulla Popken a great place to shop for tanks, tees, sweaters, and woolens.
They're also one of my go-tos for all manner of jackets and coats. With the exception of their Studio Untold line, Ulla Popken is more essentials driven than trend driven, but you can trust them for everything from everyday apparel, to special occasion dresses, to intimates and pajamas, to winter outerwear.
Elastic Inset Slim Leg Sienna Fit Stretch Capri Jeans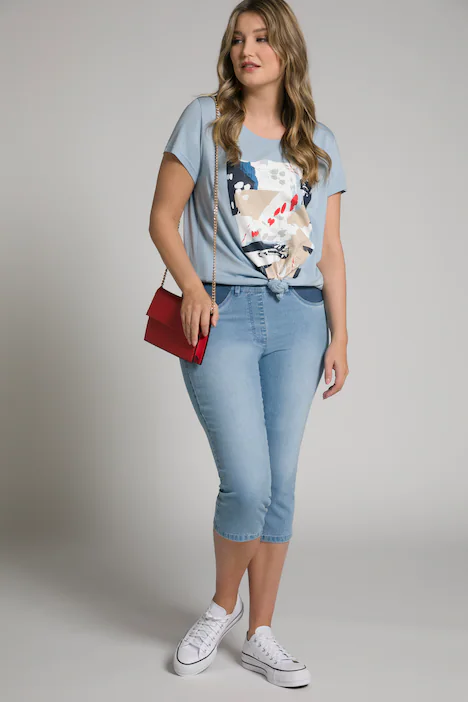 Boyfriend Stretch Jeans – a comfortable fit creates a relaxed attitude! 5-pocket design, fixed waist, belt loops, front button-and-zipper closure, and casual fit.
Jeans have established themselves as one of the most commonly worn articles of clothes – which does not surprise, as plus size jeans for women are comfortable, easy to wear, and practically fitting for almost any kind of outfit. However, their popularity does not dictate that everyone has to wear seemingly identical pants. Our selection of jeans for curvy women combines comfort with style, whether you like:
Plus Size Bootcut Jeans
Plus Size Mom Jeans
Plus Size Boyfriend Jeans
Plus Size High Waisted Jeans
The best jeans for curvy women are those, which compliment your silhouette and emphasize your feminine charms. In general, a pair of white plus size jeans directs attention towards your legs, while black plus size jeans redirect eyes away from them and towards your upper body. Given that plus size jeans for women are extremely versatile, there's a fitting piece for everyone:
Water Repellent Zip Front Hooded Lightweight Jacket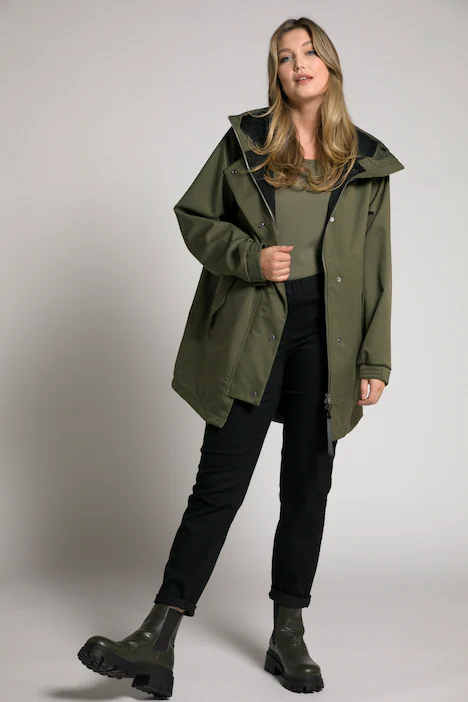 Throwing on a jacket is a quick and easy way to transform a look. You can easily take a classic pencil skirt and blouse to a new level by adding a chic plus size blouson. With the plus size jackets for women from Ulla Popken you will have a fitting piece for any kind of situation, any time of the year.
If coats simply aren't your style, then a long plus size quilted jacket for women might be right up your alley. They will keep you warm throughout frigid winter days, while putting a lively accent into snowy landscapes with their vibrant colors. However, if rain and wind rule the weather, you best opt for plus size softshell jackets for women. Perfect for Spring and Autumn, these functional plus size rain jackets will protect you from catching a cold by keeping you dry.
Whether fighting off the cold or simply adding a fashionable touch to an outfit, plus size jackets for women are the way to go.
From a timeless plus size denim jacket for work
over cushy plus size fleece jackets,
a trendy and lightweight plus size waterproof jacket for rainy weather,
to classic plus size leather biker jackets for colder days
As a rule of thumb, you should pick lightweight materials such as cotton in the summer, whereas it's best to look for plus size jackets for women with a high degree of wool in the winter. When warm summer days blend into chilly nights, jean jackets are always a fashionable choice, as is a faux- or genuine plus size leather jacket for women.
Our collection encompasses a variety of styles, materials, and fits: therefore, everyone is able to find just the right large size jacket for ladies they are looking for! Ulla Popken is committed to making fashionable, high-quality clothing for the modern plus size woman, so shop for your new favorites here.
Ulla Popken Shoes Review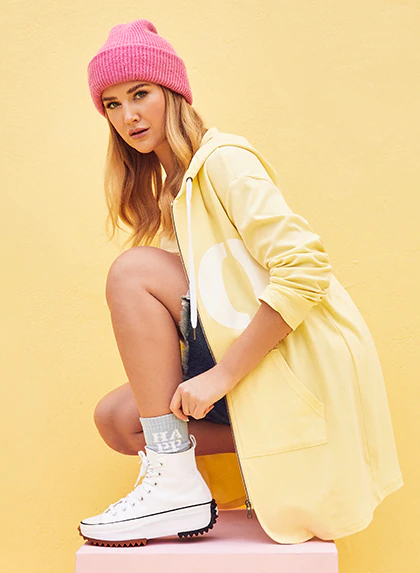 I have such problems ordering shoes to fit my unusual feet. having poor feet with bunions etc,, it is so hard to find a comfortable dress shoe,, I usually look for something with a wide toe cup & my right foot is smaller than my left one,, but these shoes fit & are comfortable, I do not even need to place an orthotic support in it. They are a nice well made shoe. Yes, I would buy these again,
I mean, I don't know who was working the shipping department that day, but I don't know if they still working there or not. Heck, I waited many days beyond Prime for my new kicks, and they were unreasonably too big. I can't even make this work, I am telling you.
I would have to wear them both on the same foot to make this work, this is not a size 8 women's. I can fit, my whole foot, plus a can of soda behind my heel, and that would make it fit, but throws the look off quite a bit. The shoe size is not marked on the shoe, so I think they had a hard time with it too, but man, just take a sharpie and run that size number on the sole somewhere so folks know what they are sending out. I have never had an order go so badly for size, I don't know whether to laugh or cry.
Ulla Popken Goat Deerskin Two Tone Ballerinas Shoes Review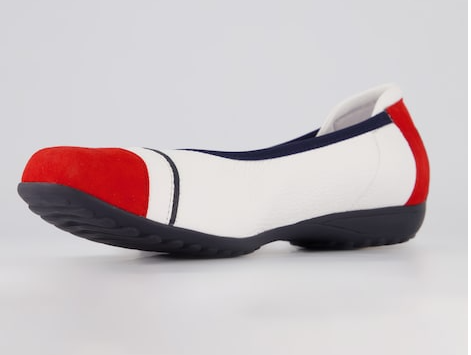 Goat Deerskin Two Tone Ballerinas. Elasticated entry, profiled removable insole. Flexible rubber sole (driver's sole) with approx. ¾" wedge heel. Comfort width K.
Laces? Please. I'm not into back pain. For those who hate the 'bend, crouch, and snap' task of re-tying shoes, the Suede Warren Sneaker requires no extra knotting.
This elevated sneaker features a thick rubber platform, a padded heel collar, and a convenient slide-on design for easy on-and-off removal. It's made out of supple suede in order to provide that cloud 9 walking experience.
Need some styling ideas? This Ulla Popken shoes review suggests pairing the $225 Suede Warren Sneaker with some cream cargo pants and a cropped tee. For accessories, a pair of sunnies and a 90s style Prada bag will help finish the whole look off.
Ulla Popken Beads Detail Nappa Leather Moccasins Shoes Review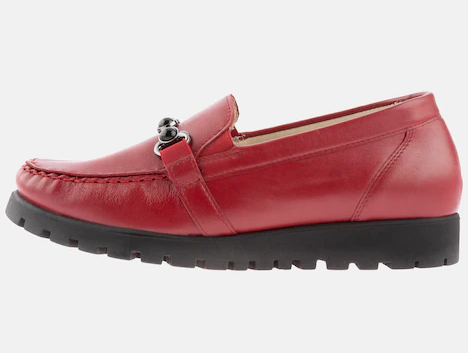 Beads Detail Nappa Leather Moccasins. High quality leather lining with profiled removable insole. Flexible and softly cushioning rubber sole with approx. 1¼" wedge heel. Comfort width K.
There's a few things to look forward to in the morning. A freshly brewed cup of coffee, your dog waking you up with kisses, and the first bite of hot breakfast is just to name a few. If you want to live inside a Folgers commercial, the Gibson Suede Slipper provides that buttery-soft, cloud 9 feel as soon as you hop out of bed. Cold floors are so yesterday.
Lined with lamb fur, this ultra-plush sandal comes with a rubber outsole for added grip. The Gibson Suede Slipper requires no styling since it can pair with any loungewear set. Unfortunately, these slides are currently out of stock on Ulla Popken's website.
Ulla Popken Caprice High Top Leather Sneakers Shoes Review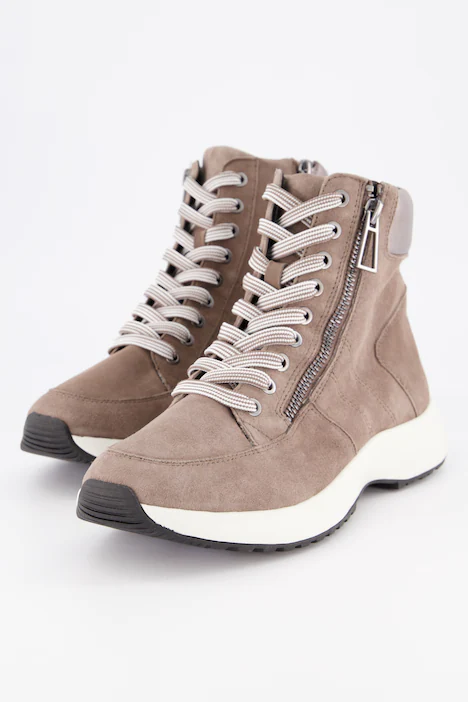 High Top Leather Sneakers made of genuine calf leather with shiny upper part and zipper next to lacing. Soft textile lining, profiled removable insole, antibacterial cushioning pad with genuine cedar wood particles. Fashionable, white rubber sole with approx. 1¼" wedge heel, comfort width G.
The Suede Parker Sneaker is oh so skater boy chic. Considered a staple of streetwear fashion, these stylish lace-ups are built with sport leather accents, contrast heel tabs, and an elevated platform. It comes in a subtle beige hue, which pairs well with jeans, joggers, or khakis if you're feeling fancy.
This Ulla Popken shoes review doesn't recommend wearing these in the rain due to obvious reasons, but I'm sure they'll hold up in sunny Los Angeles.
Ideally fashioned with tailored jeans, a graphic tee, and a hipster beanie, the Suede Parker Sneaker retails for a hefty $250. For a complete streetwear look, this Ulla Popken shoes review suggests pairing them with a skateboard as an added accessory.