Unbound Merino Review: The Best Clothing for Travel?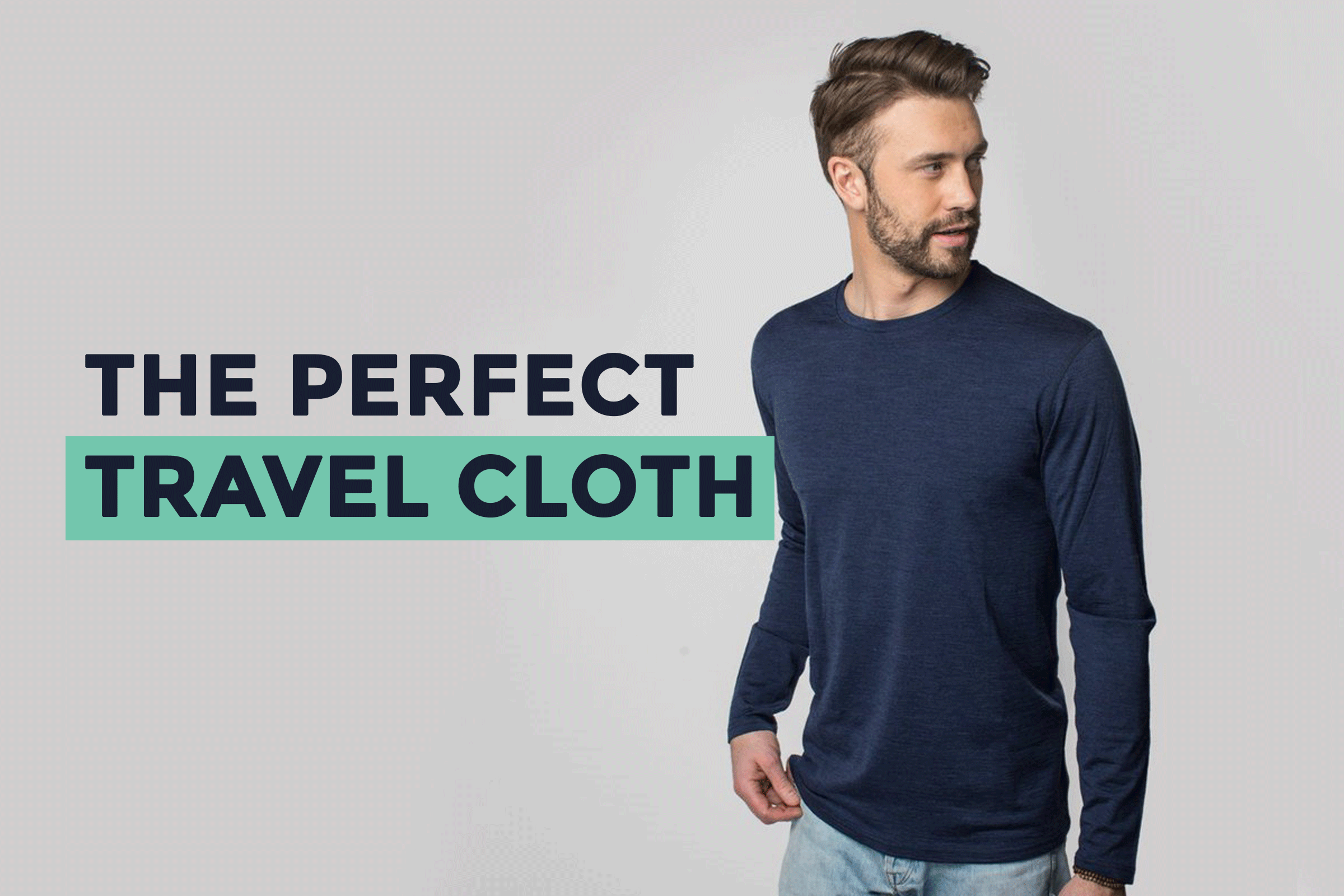 With fast fashion and cheap materials taking up such a big chunk of the menswear market, well-made clothes seem to be fewer and further between. Unbound Merino makes upmarket basics out of one of the most durable fabrics around. But are they any good?
I picked up some threads from Unbound Merino to give them a try and see if they live up to their brand statement of "Simple Clothing. Extraordinary Performance," and whether they're worth shopping with.
About Unbound Merino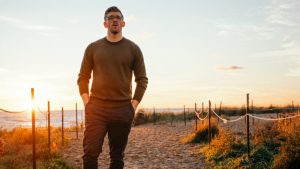 Bottom line: Unbound Merino has turned a material previously reserved for luxe sweaters into a utilitarian fabric, pumping out stylish clothes that are a breeze to maintain. I'd love to see some more color and pattern options, but the fit and fabric are top-notch.
Pros:
Unbound Merino offers durable, long-lasting clothes that look great
Their hoodies have a slim, athletic fit but still keep you warm
Merino wool fabric is excellent for travel and outdoor activities because it's breathable, moisture wicking, and keeps the chill off
Sourced from sustainable farms in Australia, they offer eco-friendly production
Cons:
The sweater's fit was a little boxy for my taste, but would be great for someone searching for a classic fit
I'd love to see a more versatile pant from this brand, as their current sweatpants lineup is cut more like pajama bottoms than a pair of joggers.
After a year traveling throughout Europe and another throughout Asia, I feel like I'm qualified to say that hitting the road with the right clothes is crucial.
Finding clothes that can stand up to half a day in the Thailand jungle and a casual dinner back in town was tough, which led to me packing a lot of clothes and carrying around a backpack that weighed as much as a small child.
Threads that can stand up to adventures without stinking up the bar I hit for post-trek drinks are invaluable. Unbound Merino offers up travel-ready clothes that give you the same benefits of hiking gear with a sleeker, more versatile look.
But how do their clothes actually stack up? Check out my review to find out.
What Is Unbound Merino?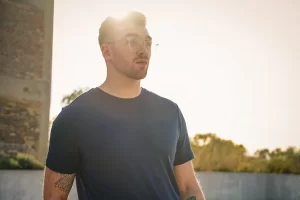 Unbound Merino was created by three friends who saw the potential of Merino wool as something more than label-laden hiking gear.
They wanted to make clothing that could look great in a casual setting while still offering the numerous benefits of Merino wool fabric. And with a full range of functional, stylish clothing that's built for travel, their mission seems to be just about accomplished.
While they offer mostly staple basics like tees, socks, and underwear, their casual options like button-downs, sweaters, and polos can help you take away the classic decision between functional and stylish—especially when on the road.
Fast-drying, breathable, wrinkle-resistant—it's a wonder we make clothes from anything besides Merino wool.
Things to Consider Before Buying Clothing from Unbound Merino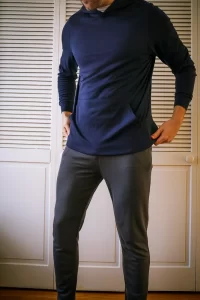 Upscale basics are very on-trend right now, and new brands with promises of basics that are more than basic are popping up left and right.
How does Unbound Merino fit into the mix?
First and foremost, while they do offer many basics, they're a bit of an investment. These are pieces that will last you, and because of that, their prices are higher than you would expect with cotton or synthetic basics.
Another thing to consider before buying clothes from Unbound Merino is the type of fit you like. While their hoodies offer an athletic fit, their tees and sweaters sway towards a more classic fit.
I think they both look great, but you may want to order a size down in some pieces if you prefer a more tailored fit.
Unbound Merino Review
MerinoTencel Sweatpants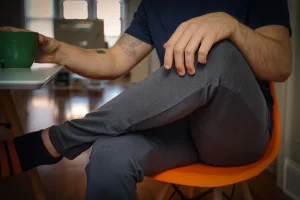 Unbound Merino currently offers one pair of pants: their MerinoTencel pants.
Multi-purpose sweatpants are filling more roles than ever in their owners' respective wardrobes, with joggers being a fashion staple of 2021.
The MerinoTencel sweatpants take a more traditional approach to fleshing out a wardrobe. These are sweatpants – nothing more, nothing less. But they may be the highest-quality pair of sweatpants you'll ever own.
Constructed with 68.5% Tencel, 29.5% Merino, and 2% spandex, these ultra-comfortable sweats may bring your relationship with cotton PJs to a bitter end. They have just the right amount of stretch and the fabric feels great against the skin.
Also, due to the added benefits of their Merino construction, they outperform cotton PJs on a technical level.
Their temperature regulating, anti-wrinkle, and odor resistant construction means that they'll look and smell nicer for longer while washing them less frequently. Who could say no?
One area of improvement for Unbound's MerinoTencel pants, however, would be the fit. While they're ultra-comfortable as sweatpants, they lack the kind of cut that I'd readily take to the streets.
They fit more like pajama pants than a pair of multi-purpose joggers, and while they'll get plenty of wear at home, I doubt these pants will be seeing much action in public.
Merino Wool Crew Neck T-Shirt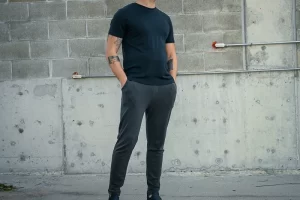 Due to the basics market effectively exploding in the last two years, we no longer have to settle for Hane's Heavyweights tees. Nothing against them (I've still got my trusty 3-pack), but there are nicer options out there.
Unbound Merino's Wool Crew Neck T-Shirt is a definite step up from the mainstays of yesterday. The ultra-fine 100% Merino wool isn't as soft as some of the other luxury fabrics out there, but its functionality is next-level.
I'm sure I'm not the only one who has looked at a carry-on full of t-shirts and thought, "there must be a better way." This is that better way.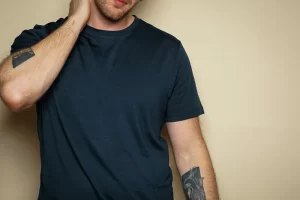 By regulating your body temperature, wicking moisture, drying fast, and resisting odors, this pulls its weight and then some in any travel bag.
In terms of everyday wear, it sways towards a more classic fit with more room all around. If you like a more tailored fit in your tees, you may want to try a size down from your true size.
Also, if you're as picky about sleeve length as I am, you can rest assured that this tee doesn't extend past the midway point of the bicep.
I wore this shirt for three days straight and it didn't lose its shape—a shirt that can do that and still look nice enough to throw on with some sneakers and chinos is a winner in my book.
Lightweight Kanga Hoodie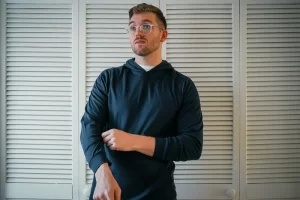 Lightweight hoodies have become a staple piece in my wardrobe.
Why?
Thin hoodies generally offer an athletic fit that provides some extra worth without bulking up your silhouette, making them excellent for layering.
Unbound Merino's Lightweight Kanga Hoodie has just confidently stepped to the front of my thin hoodie rotation—I can't get enough of it.
The 100% Merino wool jersey provides surprising warmth while remaining super cozy. It ticks every box I can think of when it comes to what you'd expect from a lightweight hoodie, while also adding a few boxes of its own.
One of my biggest problems with lightweight hoodies has always been wrinkles, especially when I'd chuck one in my bag for an extra layer to get me through a summer evening or an autumn afternoon.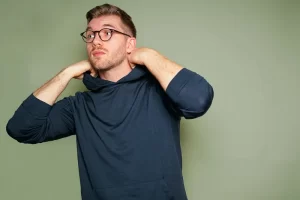 The all-Merino construction of the Kanga hoodie effectively keeps wrinkles at bay; and, in the unlikely event that wrinkles do show up, a few spritzes of water will get rid of them in a matter of minutes.
The fit of this hoodie also has plenty to offer—it's an athletic fit that sticks close to you but doesn't squeeze your forearms if you're a perpetual sleeve-scruncher like I am.
I'll admit it, when it comes to hoodies, I can be cheap, and this one certainly isn't the cheapest on the market. But with its feel, its look, and the benefits of Merino wool, I'm sold.
Compact Travel Hoodie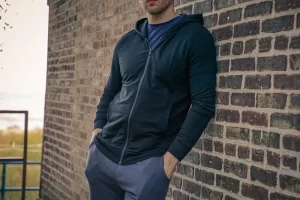 Wait, another lightweight hoodie? Yes and no.
While Unbound Merino's Compact Travel Hoodie may seem similar to their Kanga Hoodie at a distance, closer analysis sings a different tune.
This hoodie offers a structured cut and a heavier fabric. While still not as heavy as your run-of-the-mill zip-up hoodie, the Compact Travel Hoodie has substance enough to get you through chillier days without becoming a sauna in higher temperatures.
Extra panels running down the sides of this hoodie provide an athletic silhouette without the fabric being overly stretchy or tight, and its durable YKK zipper allows you to confidently toss this hoodie in bags without worrying it will get bent or snap off.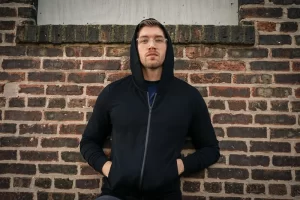 I've only taken one trip with the Compact Travel Hoodie, but it delivered on its promises of resisting odors and wrinkles, and it still looked great after a few days of wear-and-tear, and it will surely be accompanying me to my terminal in the future.
Easy care is another perk—when you get home from your trip, you can simply toss it in the washer at the normal cool setting and lay flat to dry, and it will be ready for your next trip.
Heritage Knit Sweater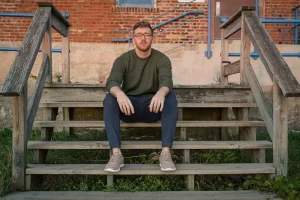 As the weather cools off, classic, great-looking sweaters are wardrobe essentials. Throw them on with a contrasting tee underneath, rock them by themselves, or toss an Oxford underneath to dress them up.
The Heritage Knit Sweater from Unbound Merino is just about as classic as sweaters get.
With 100% Merino wool that's just as ready for Alpine sightseeing as it is for your favorite cocktail bar, this sweater is a winter staple that is built to last.
From collar to cuffs, the Heritage Sweater just looks and feels like the high-quality sweater it is. No flash, no bells and whistles, just a beautifully-simple cold-weather basic that does its job incredibly well.
However, with a classic design comes a classic silhouette, which is where I'm not completely in love with this sweater. It looks great with the right look, but it has a slightly boxy fit that may be a little off with your slim fit jeans, especially if you're a slimmer guy.
Although guys with a slimmer, athletic build may not be in love with the fit, I can see this sweater being the ideal cut for guys who have either larger frames or smaller frames and tend to wear oversized clothing.
What do Other Reviewers Say About Unbound Merino?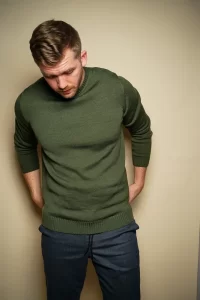 There aren't a ton of reviews online for Unbound Merino, but the reviews I found all gush over how comfortable their clothes are, and how happy they are to only have to wash them every few weeks.
Many reviews also bring up the price point, acknowledging that the price point does make their clothing an investment that's ultimately worth it.
My Thoughts Overall On Unbound Merino
What I Like
Unbound Merino offers functional basics that look great and bring longevity to your wardrobe.
Their stylish cuts and Merino wool fabrics make their pieces extremely versatile, especially in travel situations.
You only have to wash Merino wool clothing every few weeks to preserve them and keep them looking great, taking a fair bit of hassle out of maintaining them.
What I Don't Like
These pieces are definitely expensive. While I do think they're a worthy investment, backpackers staying in and out of hostels may find these pieces out of their price range.
The cut of the sweatpants and sweater left a little to be desired for me, but others may find the fit exactly what they're looking for.
Who is Unbound Merino for?
Although elevated basics are everywhere now, few are offering the sheer utility offered by Unbound Merino. If you're looking to travel with fewer pieces of clothing or invest in some clothing that will perform better on weekend adventures, this brand certainly has you covered.
The Verdict
I've traveled more than my fair share, and I've seen plenty of clothes come and go.
The Lightweight Kanga Hoodie and Compact Travel Hoodie are both great values for the price and have both found places in my wardrobe. They look great and ooze functionality, making them invaluable for those who aren't into having clothes that only serve one purpose.
The feel and weight of the Merino Wool Crew Neck T-shirt, along with all the benefits of being made of Merino wool, sold me.
The sweatpants and the sweater, while they look great and certainly serve their purpose, weren't my favorites. I like more versatility in my sweatpants (especially for the price), and the sweater's fit isn't quite as tailored as I like.
Overall, Unbound Merino offers long-lasting clothes that are functional enough for trekking and look good enough for more casual applications. They're an investment, but their functionality pays dividends.
FAQs
Does Unbound Merino offer any basic bundles?
They sure do, take a look at their travel packs here. These travel packs can help you gear up for your next trip and save a little bit of dough off the full price at the same time.
Color options are limited in some of the pieces, but they've got you covered in the standard blacks, blues, and greys.
Is Unbound Merino a Sustainable Brand?
Unbound Merino sources their wool from ethical, mulesing-free farms in Australia. And because sheep will grow it back and wool is biodegradable, their clothes are some of the more sustainable options out there.