Who Gives A Crap Review: Toilet paper that builds toilets
Let's talk toilet paper. We don't use as much of it as we used to thanks to our bidet attachment.
I bought a 24 roll box of Who Gives a Crap eight months ago, and finished the last roll yesterday so Who Gives a Crap couldn't have timed their gift any more perfectly.
This post was sponsored by Who Gives a Crap, as always all thoughts and opinions are my own. For more information please see my disclosure page.
Who gives a crap review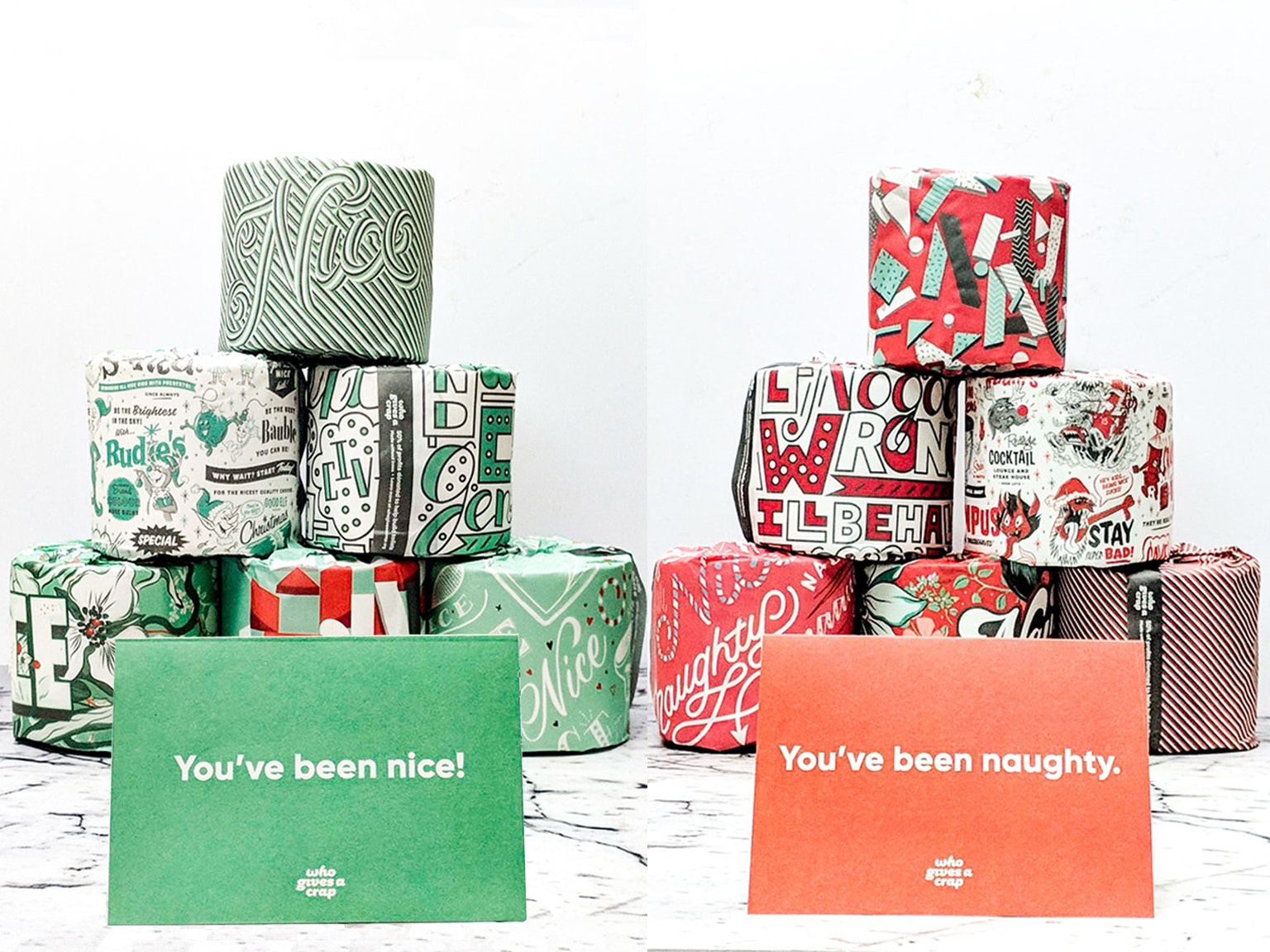 They sent me a box of their exclusive holiday line. (The holiday line isn't available anymore, but their regular line is just as cute and colorful!)
is it really plastic free?
Yes! The rolls come in a cardboard box, wrapped in paper, with a cardboard core, and no other packaging. Everything is recyclable and can be composted in a backyard bin for your garden.
how does it arrive?
It arrives in a cardboard box that's clearly branded which sparked a great conversation with my mail lady.
I always love easy conversation starters when it comes to reducing waste. I spoke with my mail lady for a couple of minutes about the problem with normal toilet paper. Did you know we flush 27,000 trees down the toilet each day?
We can break this habit by buying bamboo or 100% recycled toilet paper, both offered by Who Gives a Crap. My mail lady was so intrigued, that I opened the box and gave her a roll to try! I know she's going to love it.
In a similar spirit, you can get $10 off your first subscription with the code 'GOINGZEROWASTE'!
how do you store it?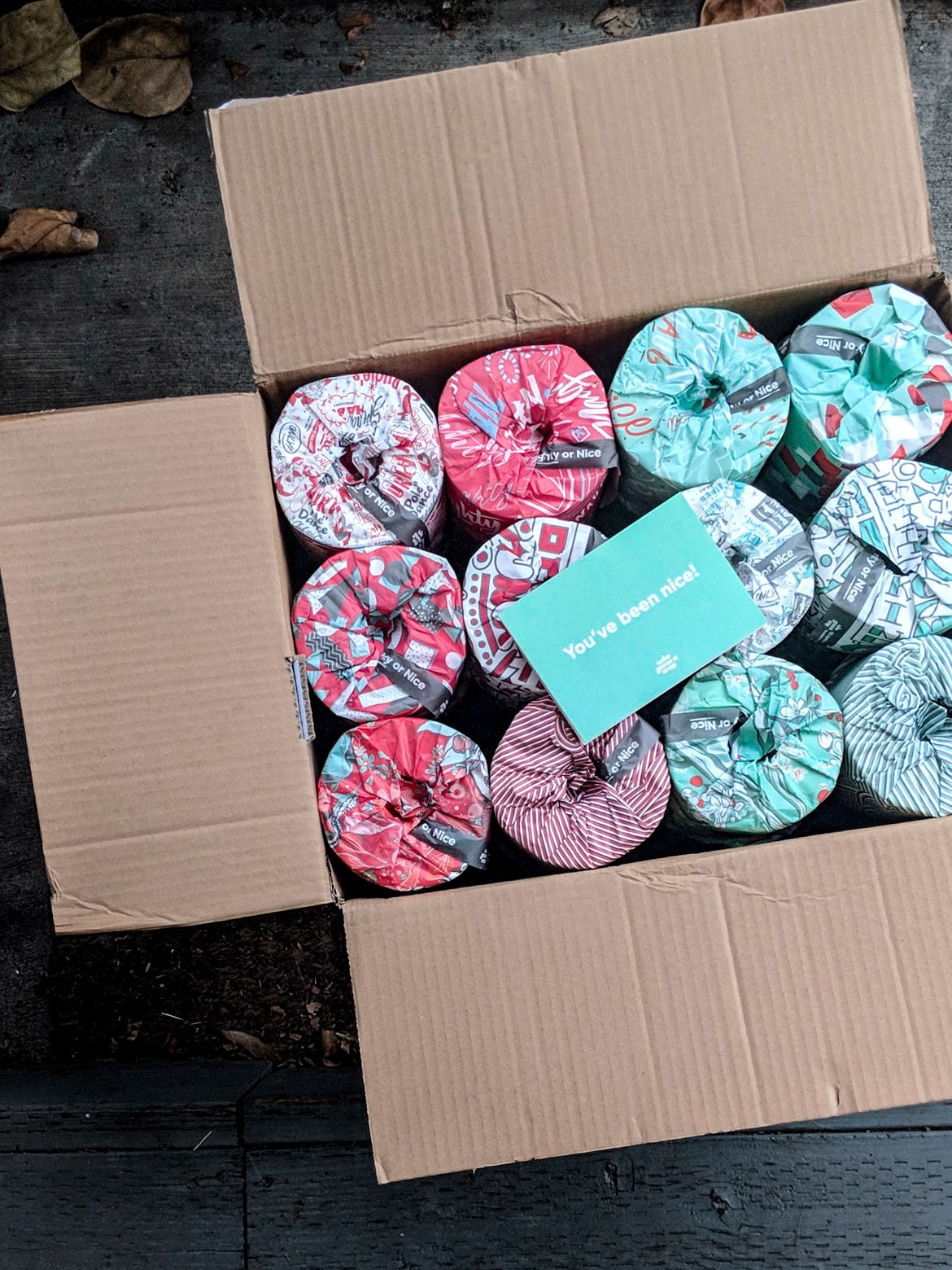 Another thing I love about Who Gives a Crap is you have the option of ordering half a case! I've heard many people complain about living in small spaces and not having the ability to store 48 or 96 rolls of toilet paper.
I currently live in 300 sq. ft. so I completely understand your plight.
I'm storing part of the box under my bed, and the rest on my bathroom shelf. I have the very festive holiday rolls. I'm embarrassed to say, right now, it's the only holiday decoration I have up in my tinyish home.
These festive wrappers can be upcycled to make a cute wrapping paper for smaller gifts or even darling little bows.
I'm working to change that this weekend. I have been feeling the holiday spirit in other ways though! Have you seen all the holiday content I've been cranking out??
how well does it work?
When you use a bidet, your bottom is very wet. You need a strong toilet paper that's not going to fall apart. Who Gives a Crap's bamboo toilet paper absorbs water without tearing and falling apart. As a bonus, it has all all the softness of a 3 ply without the guilt.
do they walk the walk?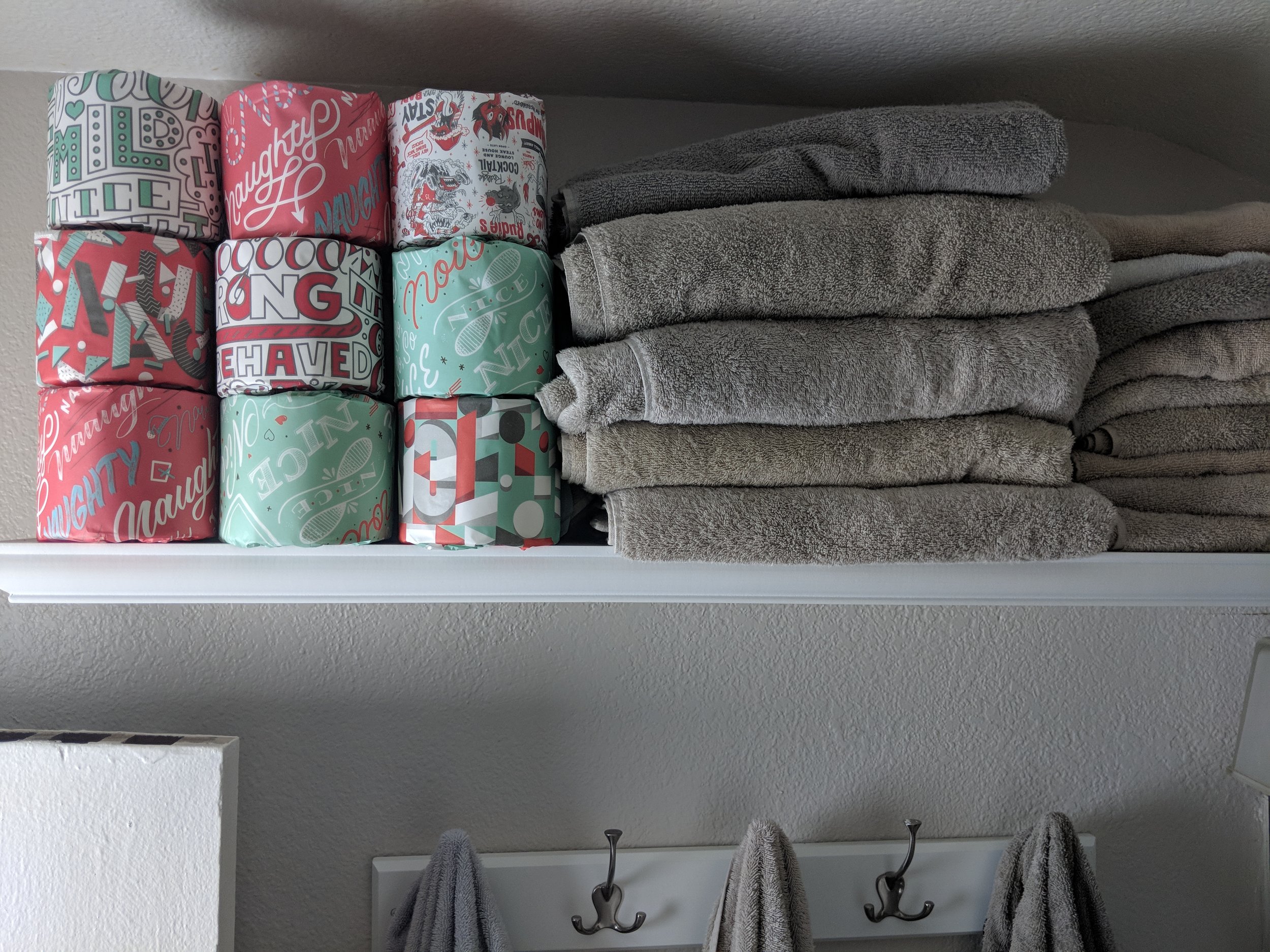 It's important to make sure the companies you're supporting are really working towards making a difference. I can 100% stand behind Who Gives a Crap and their mission.
Who Gives a Crap has already donated over a million AUS dollars to their projects. They donate 50% of their proceeds to fund hygiene and sanitation projects like clean water and toilets. Did you know, 40% of the world's population doesn't have access to a toilet?
You can read more about their impact report here.
Beyond just their amazing philanthropic side, based on the materials they use, Who Gives A Crap has calculated they've produced enough to save over 50,000 trees, and saved 98 million liters of water and saved almost 6,000 tons of greenhouse gas emissions.
what's the catch?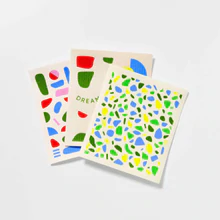 No catch! It's a total steal. Price wise it costs .25 cents for 100 sheets. It's a great value so you can stay in budget, go plastic free, and help people in need.
I think it's pretty clear to see why Who Gives a Crap, will always be on my bathroom shelf. You should grab a box and don't for get to take $10 off with the code 'GASTROINTESTINAL'. Just a little gift from me to you.
Why is toilet paper bad for the environment?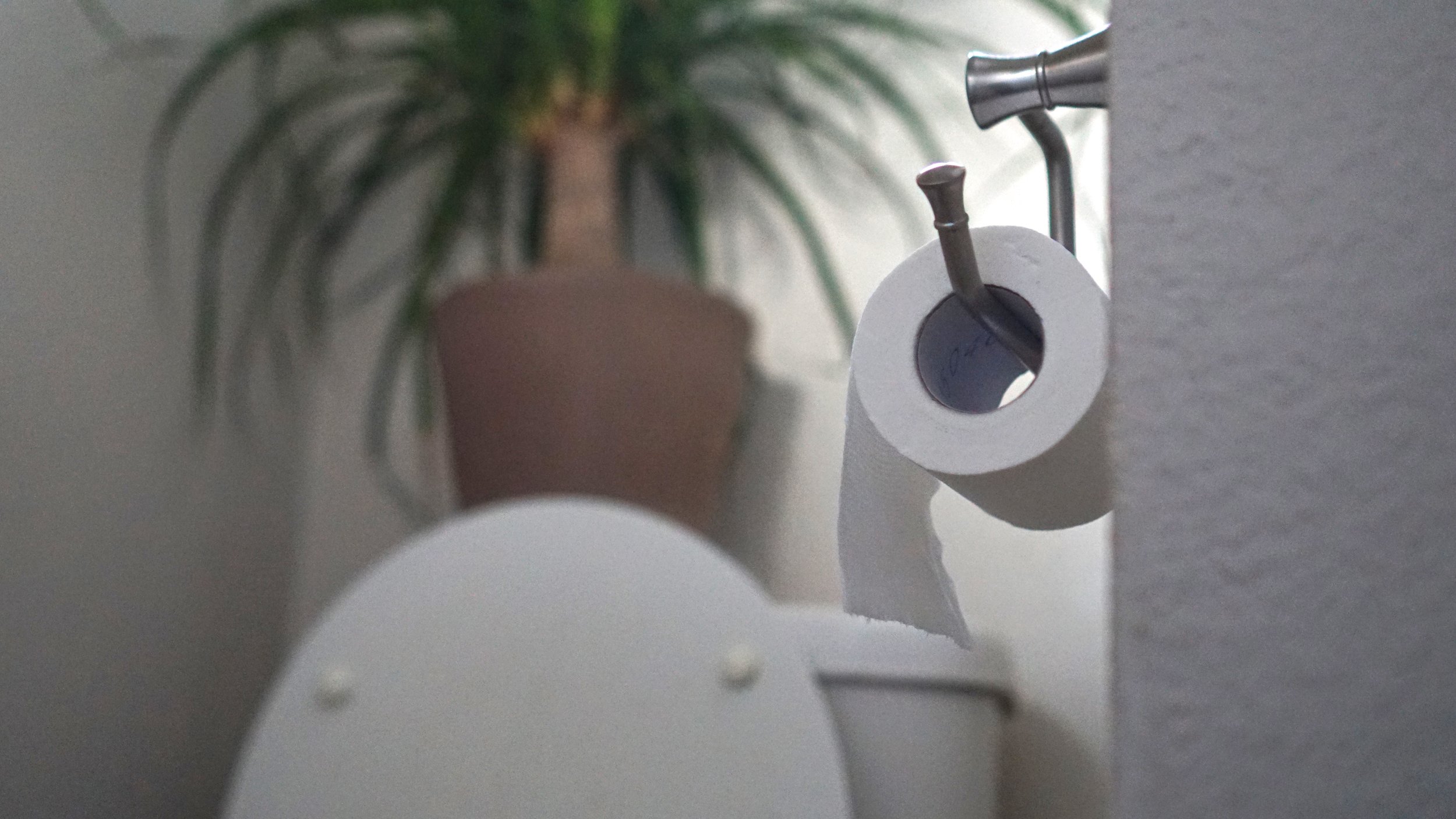 Before we start talking about Who Gives A Crap, we should probably answer the following question first:
Why did we swap out our toilet paper when we started on our zero waste journey if it's not really a "zero waste" swap?
Originally, we were just thinking: "oh, our toilet paper comes in plastic packaging, so, since we're doing zero waste, we should find a toilet paper that doesn't come wrapped in plastic."
It wasn't until after we bought our first plastic-free toilet paper (Sustainable Earth by Staples) that we found out that traditional toilet paper is actually really bad for the environment. This is because traditional toilet paper is made from virgin tree pulp taken from trees cut down in forests, like Canada's boreal forest.
So, basically that means trees are being cut down just for the purpose of wiping our bums. They call this the tree-to-toilet pipeline.
When I read about this, I was shocked. I guess I had never really thought about where toilet paper was coming from. If I was asked where I thought toilet paper came from a year ago I'm not sure what my answer would have been, I just never thought about it. But thankfully, this is where brands like Who Gives A Crap come in.
About Who Gives A Crap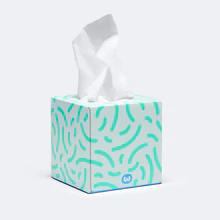 Who Gives A Crap is an environmentally friendly tissue products company based in Australia. They also have bases in the UK and USA, and they now even have a Canadian website too.
They are mainly known for their toilet papers. They sell both 100% recycled toilet paper and 100% bamboo toilet paper. In addition to toilet papers, they also sell forest friendly tissues, forest friendly paper towels, and a reusable paper towel alternative.
Who Gives A Crap was started when they learned that over 2.3 billion people in the world don't have access to a toilet. This is a serious health issue, as "289,000 children under five die every year from diarrheal diseases caused by poor water and sanitation."
So, through a crowdfunding campaign, Who Gives A Crap was started with the goal that 50% of their profits are to be donated to build toilets and improve sanitation where it's needed. You read that correctly!
They donate 50% of their profits! That means, when you purchase Who Gives A Crap's products, you're technically making a donation as well as purchasing toilet paper. So far, Who Gives A Crap has donated over $10 million Australian dollars to date! That's about $9.4 million Canadian dollars or $7.4 million American dollars.
What is recycled toilet paper?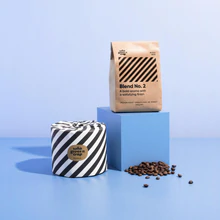 Recycled toilet paper is toilet paper made of paper-type content that has been recycled. The recycled content is classified into two categories: post-consumer and pre-consumer.
Who Gives A Crap's 100% recycled toilet paper is made from ~95% post-consumer recycled paper and ~5% pre-consumer recycled paper (just an FYI, the distinction between "post-consumer" and "pre-consumer" means a lot, check out why here under "Recycled Content" on page 13).
Who Gives A Crap primarily gets their post-consumer recycled paper from local schools, so they mainly use recycled textbooks, workbooks, office paper, and the like.
Recycled vs bamboo: which is better for the environment?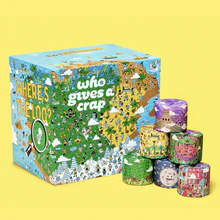 Both recycled and bamboo have their pros and cons with respect to the environment, and a great place to read more about that is in the 2019 report by the NRDC, "The Issue with Tissue: How Americans are Flushing Forests Down the Toilet."
But just for simplicity's sake, recycled toilet paper is currently best for the environment overall as it repurposes waste rather than making a whole brand-new product. Remember the R's of sustainability!
That doesn't mean that all recycled toilet papers are more eco-friendly than bamboo toilet papers. It depends on factors such as how much of the recycled content is post-consumer vs pre-consumer material, and whether or not the bamboo is farmed sustainably, etc.
In the case of Who Gives A Crap's 100% recycled and 100% bamboo toilet papers, their 100% recycled TP is much more environmentally friendly than their bamboo TP.
If you'd like to read more about it, the NRDC recently released their third sustainability "report card" for common toilet paper brands and both Who Gives A Crap 100% Recycled TP and Premium 100% Bamboo TP are on the list: "The Issue with Tissue 2021 Scorecard."
The Bottom Line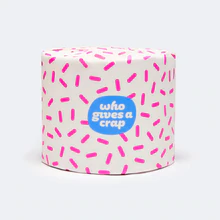 Remember that living zero waste is a journey, just like all lifestyle changes, and part of that journey is being mindful of the products we choose to buy and the brands we choose to back. Overall, Who Gives A Crap delivers on being the kind of brand that I feel good about spending my money on. They promise that their toilet papers are "good for the world", "good for people", and "good for your bum", and they definitely deliver on this promise.
While the price is a bit steep compared to the various brands we used to pick up in Walmart's aisles, both the 100% recycled and bamboo options are close to being on par with the most popular brands found in YourBestDigs.com's study on "The Best Toilet Paper."
And even though Who Gives A Crap's 100% Recycled TP is more expensive than 2-ply 100% recycled brands like Sustainable Earth by Staples and Cascades Pro Perform, the quality of Who Gives A Crap's toilet papers is very noticeably superior.
Therefore, after trying out a variety of plastic-free toilet paper, both 100% recycled and bamboo, and learning more about the environmental impacts of each, we've decided to continue using Who Gives A Crap's 100% recycled toilet paper, and we really recommend that you try it out too!
We've chosen their 100% recycled toilet paper over their bamboo toilet paper because the recycled option:
is much more environmentally friendly
costs less
is almost equal in quality, even though the bamboo is softer and stronger
However, we're open to suggestions and evaluating alternatives if you use something else or are interested in using something else (as long as we have access to it in Canada). Let us know below in the comments!